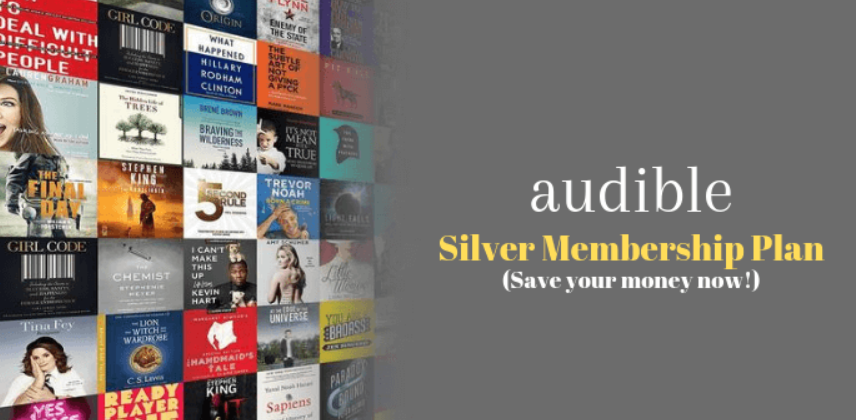 As we know, Audible has a monthly plan as well as an annual plan and each of them has two levels, Gold and Platinum. So, generally speaking, there are 4 options for Audible membership: Monthly Gold, Monthly Platinum, Annual Gold, and Annual Platinum. But do you know there is a Silver Membership? Audible Silver Membership is like the secret menu that you won't see any advertisement of it on the website. In this passage, we will include all you need to know about Audible Silver Membership.
What is Audible Silver Membership?
As Monthly Gold is the regular plan and the choice of most of the Audible users, here we will make a comparison between Monthly Gold and Silver to help you better understand what is Audible Silver Membership. Every month, Monthly God gives you 2 free Audible Originals and 1 credit to buy whatever audiobooks you like. The price for Monthly Gold is $14.95 a month.
Silver Membership, however, is not a monthly plan as it billed $14.98 every 2 months. Therefore, the credit will be slashed to 1 credit for 2 months, but you still can get 2 Audible Originals every month. That is, you'll get 1 credit and 4 Audible Originals every 2 months at $14.98.
Silver Membership is especially suitable for those who don't listen to Audible books that often or those who have already had too many Audible books. You may ask, why not cancel Audible membership then? The truth is, you will lose all the unused credit and other membership benefits if you cancel the membership while you can save all of them by changing to Audible Silver Plan.
As Audible premium member, the benefits you can enjoy:
1) Access to Member-only sales
2) 30% off on any additional purchase
3) Audible daily deals notification.
How to Unlock Audible Silver Membership?
Somehow, Audible doesn't want you to know about this plan as it is actually a special offer for the users who are planning to cancel their Audible membership. This means that you need to go through the canceling process to see this offer. Now, we will teach you how to activate Audible Silver Membership.
Step 1 Sign in Audible Account on Desktop

To change your membership to a silver plan, you need to go to Audible.com on your computer and sign in to your account. Then, hover your cursor over your ID and click "Account Detail" from the drop-down menu.
Step 2 Go through Cancelling Process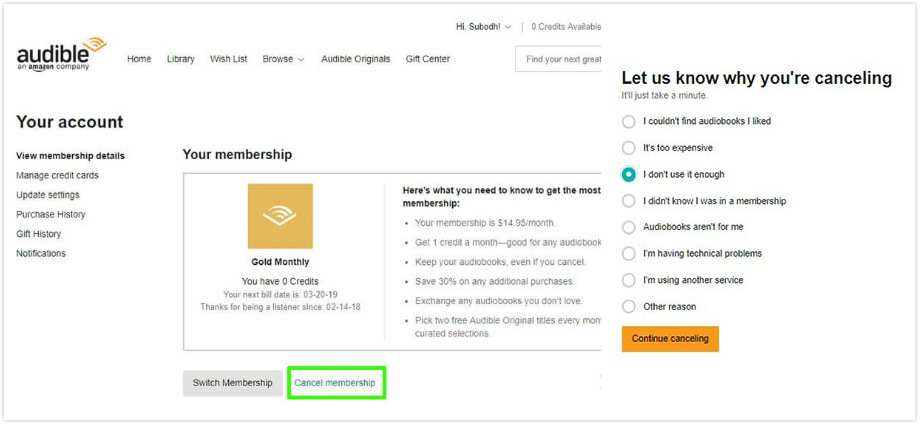 When you get to the membership details page, you will see the "Cancel Membership" option. Click on it and next, you will be asked to choose the reason why you want to cancel. Select "I don't use it enough" and click "Continue canceling"
Step 3 Choose "Switch Membership"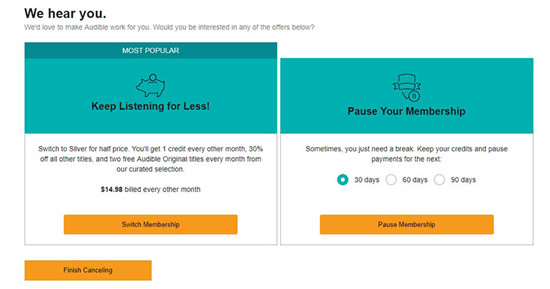 When you get to the next page, you will see the pausing Audible membership option also appears here alongside with the Audible Silver Membership Plan. Hit on "Switch Membership" and then accept the offer. If you failed to find these options during the process, you can contact Audible Customer Care and they will change the plan for you.
Extra Tip
Take good advantage of the Silver Membership and pausing the membership for a while can save you a lot of money. Here we have another tool to help you make full use of Audible books you've already had. ViWizard Audible Converter is it! It can convert Audible audiobooks to a common format and then you'll be able to share and listen to them without device limit or format limit. Check it out!
What ViWizard Audible Converter Can Do for You
Losslessly remove DRM from Audible without account authorization
Convert Audible audiobooks to common formats at 100× faster speed
Freely customize lots of parameters of output audiobooks
Split audiobooks into small segments by time frame or by chapters
More Audible Audiobook Tips