Audiobooks offer much benefits compared to e-books such faster way of listening, more entertainment and so on. They help us obtain new knowledge and make a long trip less boring. Because of these, audiobooks are great gifts for any book lovers. You can send audiobooks as birthday gift, Christmas gift to your friends or the ones you care most.
But if you are new to audiobooks, you may be not so sure how to do that. Here we have curated the top 5 best ways to send audiobook gifts for your reference.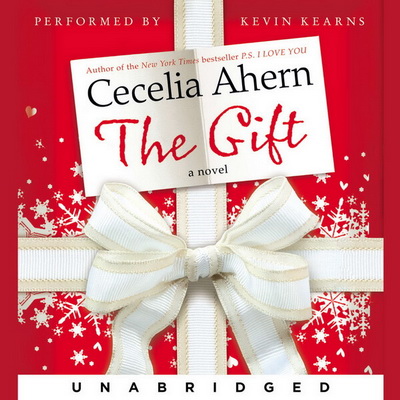 Top 1. Apple Audiobooks
Apple offers high quality audiobooks with M4B format in iTunes. If you are looking for the option to send a digital audiobook, this will be the best and easiest way. First, you can launch iTunes, then switch to the audiobook section and click 'Store' to locate the audiobook you want. Next, go to the audiobook introduction page, you can simply click the arrow button and select 'Gift This Audiobook' on the pop-up menu. But please note since Apple Audiobooks are DRM protected, they are only playable on iBooks on Mac computers or IOS devices. To enable your friends or family to listen to the iTunes audiobooks anywhere, you may use ViWizard Audiobook Converter to remove the FairPlay DRM protection. It would be a best idea to send both the audiobook and the ViWizard Audiobook Converter as a gift together.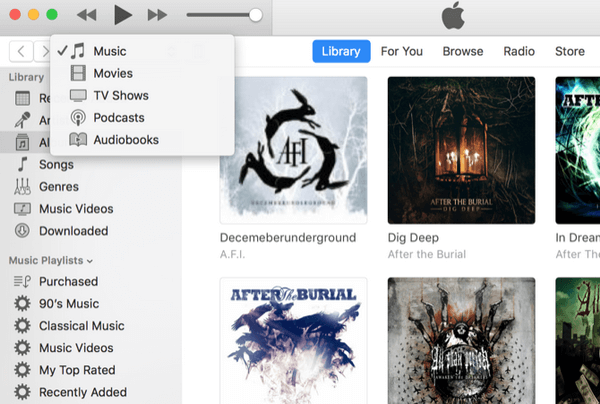 Top 2. Libro.fm Audiobook Gift
It is another great audiobook provider which has over 70,000 audiobooks. It supports independent bookstores, making it best experience to gift individual books without subscription required. It is so easy to give a gift of audiobook. Just find the audio you want from the page and then click 'Gift this Audiobook' button to buy the gift audiobook. One thing you need to note is that please make sure you select your favourite independent store so that you can get credits after purchasing.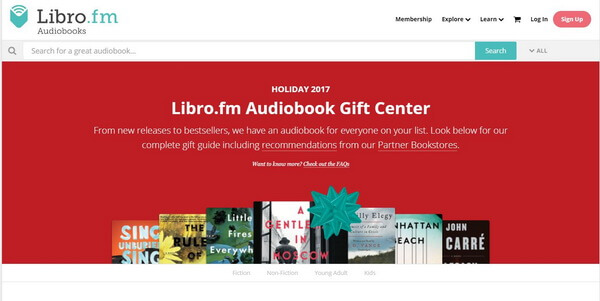 Top 3. AudiobooksNow
If you want both options to gift an audiobook or the membership, AudiobooksNow will help you perfectly. It integrates more than 80,000 audiobook bestsellers and classics for on-demand listening, download to read on the go. You can search the audiobooks and then you can click the 'Give as Gift' option under 'Add to Cart' button send it to your friends or family directly. For the membership gift, you can go to the AudiobooksNow Gift Center to buy it at the cost of $5/month or $35.99/year. The recipient will be able to pick up their favorite audiobook with the membership.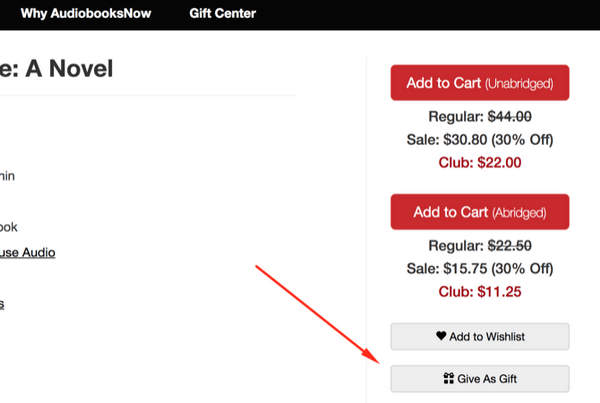 Top 4. Amazon Audible
Amazon Audible is the powerhouse in the audiobook field. If offers more than 150,000 audiobook titles in the library. Originally it has the option 'Give as a gift' for users to send a free audiobook to anyone. Unfortunately it was removed. The only way to send an Audible audiobooks you can buy a CD edition from Amazon store and deliver it by mail. Another alternative option is to purchase a gift membership for your friends from Audible. Just head to the Audible Gift Center, select the gift membership you want and click 'Give as a gift' button. After that, you can choose to deliver it by email or print it out. Finally you can input your payment info to pay for it. Similarly, if you want to remove the DRM protection from Audible audiobooks, you can use ViWizard Audible AA/AAX Converter for Windows/Mac to help you.

Top 5. Downpour Audiobooks
Downpour is one of the best audiobook apps which provide fantastic library of DRM free audiobooks. After purchasing, you can technically play them anywhere with the great Downpour player offline. There is not an official way to buy a gift from the store. But since all the audiobooks are free of DRM protection, you can send the purchased audiobooks to anyone you like. Just download the audiobooks you purchased and then send them via USB drive or online.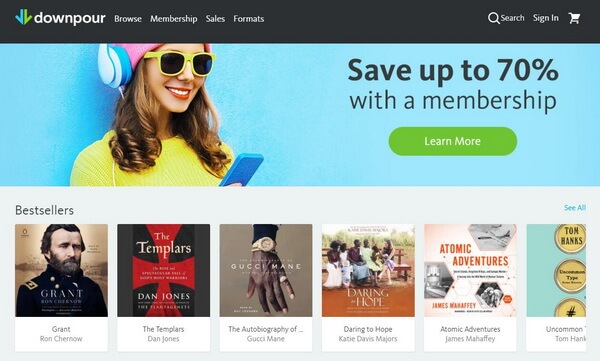 Sum Up
All in all, these are the top 5 best ways to send a gift of audiobooks. They are different in some aspects when it comes to gift audiobooks. You can compare them to find out the difference and then select the best way you want to send a gift to people you care most in this Christmas or the coming new year. Whether the recipient is a longtime audiobook listener or audiobook newbie, sending audiobook to them is perfect to fulfill their holidays and express your feelings to them. If you are not sure which audiobooks to send this Christmas, you can also take a look at our Top 5 Best Christmas audiobooks of 2017. Do you still have any questions? If so, just leave your comments below.