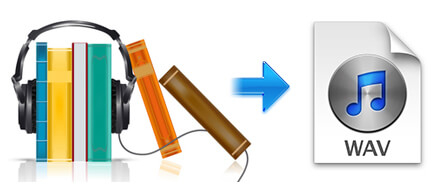 "Can I convert Audible audiobooks to WAV format for playing on my professional high-definition speaker and how can I do that? I hate to lose any output quality even for nuance difference, thanks." - Asked by Nolan Anderson.
WAV is known as Waveform Audio File, is developed by Microsoft and IBM for high definition audio files in 1991. As a format with popular familiarity and simple structure, many users regards it as the best format for audio editing as well as audio enjoyment in dozens of software applications. If you also want to convert Audible AA/AAX to WAV, you can follow me to find out how to do that directly.
Why Convert Audible AA/AAX to WAV
Some users may ask why convert Audible audiobooks to WAV files? One of the top reasons is that AA/AAX is not recognized by other third party players without authorization. By converting to WAV, it is possible to get access to the auduiobooks in an easy way as well as keeping 100% quality. You can learn more about the advantages and disadvantages of WAV files below.
Pros:
1. WAV file contains not only the audio part but also much metadata info including the bit depth, sample rate, channels, number or tracks. It will keep all the nuance details of your audiobook files after converting.
2. WAV supports lossy compression internally, you can use a software such as Audio Compression Manager to compress it. But normally it is used uncompressed by default. You won't loss any quality by converting Audible books to WAV audio files. Also, editing is very easy as it doesn't require encoding or decoding.
3. WAV is derived from the Resource Interchange File Format (RIFF), it is a generic container for storing sound in chunks. As a result, it is supported by Windows, Mac and Linux system etc. you don't need to struggle to find a special player for it.
Cons:
It is very large in size. If you don't have enough space on your computer, it would be hard for you to save the files on your computer for listening any time. Considering that all computers have large capacity nowadays, this is not a big problem for most users.
How to Convert Audible Audiobooks to WAV Format
If you have decided to convert your Audible files, you just need to use a DRM audiobook converter. Thanks to the ViWizard Audible Audiobook Converter for Mac/Windows, it has never been easier to convert Audible books to WAV. It comes with 100X faster converting to save you time substantially.
convert Audible files to WAV step by step:
1

Import your Audible files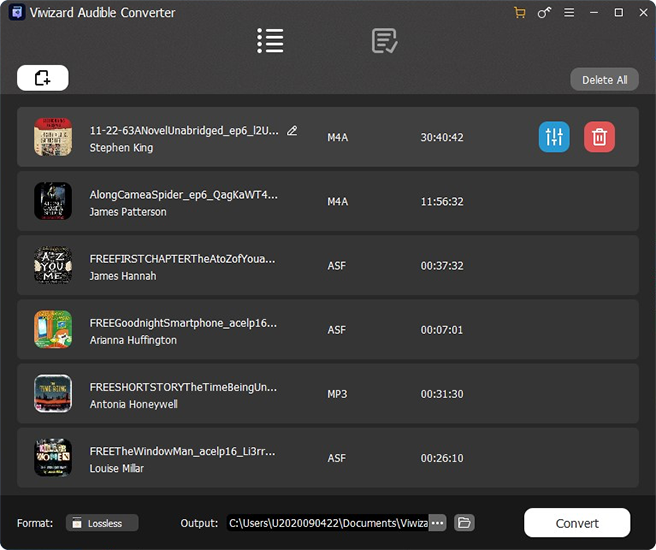 In order to convert your Audible audiobooks, you can drag and drop your downloaded audiobooks to the ViWizard Audible AA/AAX Converter main screen first. If you haven't download Audible books yet, you can refer to this instruction: How to Download Audible Audiobooks Easily.
2

Set output format as 'WAV'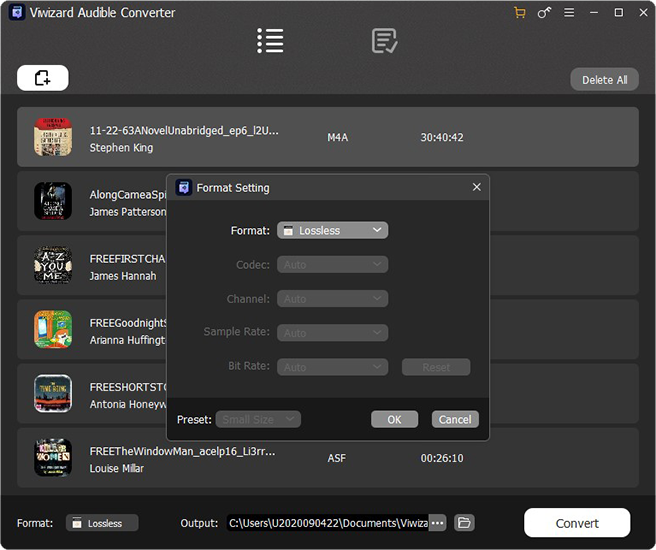 ViWizard software supports couples of popular formats such as MP3, M4A, AAC, AIFF, WAV, FLAC and so on. You can select one of the format you want. Here I will choose 'WAV'. Besides the output format, you may customize other settings such as splitting files, editing metadata etc.
3

Export the Audible audiobooks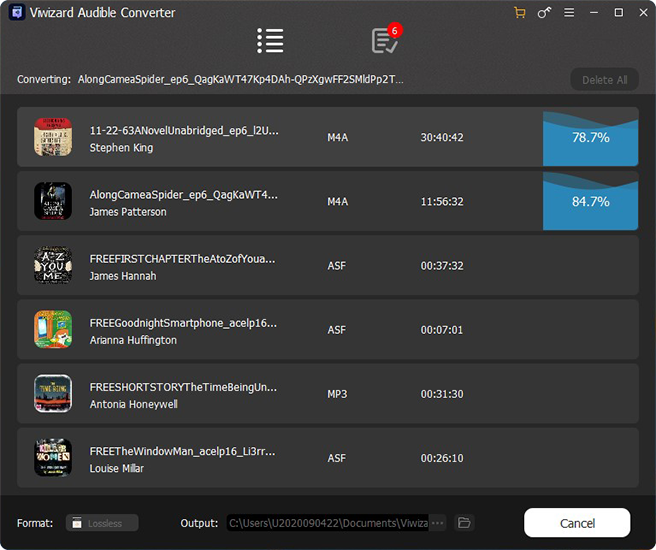 After you have done the settings, you can click 'Convert' button to export the Audible files to new WAV audio files. The WAV has rather large size. Please make sure you have enough space on your destination folder.
How to Play WAV Audio Files
There are many players supports WAV files. To play WAV audiobooks on your professional speaker, just open them on any compatible player to play it. Following is a list of the top 3 WAV players.
Windows Media Player. It is the official player for WAV files. It is usually available on Windows computers and Windows-based mobile devices.
VLC Player. It is the most popular cross-platform player, you can use it on Windows, Mac, Linux. With it, you can play WAV and plenty of other formats of files.
iTunes. It is a digital media store as well as a great player. It comes with Mac computers by default. For Windows computers, you need to manually download and install it from the official website.