When it comes to audiobooks, Audible is the largest producer and seller of downloadable books. No matter the quality or quantity of books, Audible is superior to other competitors. Besides, it offers 30 days free trial for new users to evaluate the audiobooks for free. So this is a great value for audiobook novices. But some new users may find it confused on how to download and listen to Audible audiobooks since the downloading methods are different. To reduce this pain, we will provide an ultimate tutorial here for your reference.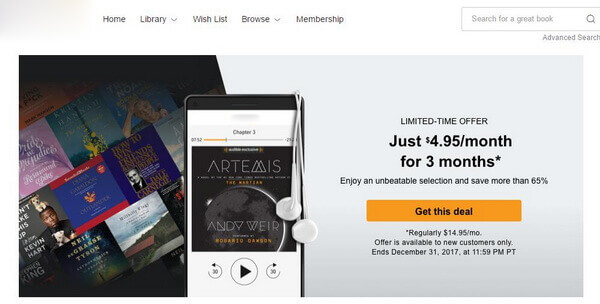 How to Download Audible Audiobooks to Mac
This is pretty easy, technically you are just a click away to download the files after you buy the audiobooks on the Audible store.
1. Sign in Audible website from your Mac computer.
2. Go to the Library page, you will find all the books you have bought.
3. Click the Download button in front of the Audible audiobooks you want to start the downloading process.
4. It may take some time depends on the internet speed and the size of the books. When it is done, you can find it in the audiobook section in iTunes or in the Finder.
Note: If this is the first time you download Audible audiobooks to Mac computer, it will prompt you to authorize your account on the computer. Please input your Audible account name and password and click 'OK'.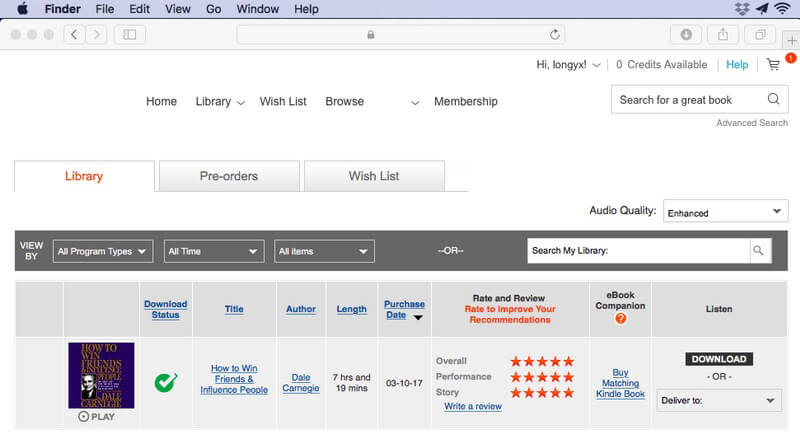 How to Download AA/AAX Books to Windows PC
Different from Mac computer, you can't download Audible files to Windows PC directly but have to use the official tool Audible Download Manager to help.
1. Download and install Audible Download Manager on your Windows computer.
2. Launch the tool and then click the General Settings. You will see the menu to customize the output location as well as the options to import your download files to Audible Manager, Windows Media Player and iTunes. Just follow the screen instruction to do it.
3. After that, you can follow the same instruction above to go to the Library, My Books and find the audiobooks you like. And one-click to download Audible AAX to Windows.
4. Finally you can find the downloaded audiobook on the folder you selected. And you can see it on iTunes, Windows Media Player, or Audible Manager.
If you are on Windows 10, you can also use Audible app to download. Just sign into the app and go to My Library. And click the audiobook to download it.
How to Download Audible Files to Mobile Devices
You can use Audible app to download Audible book to Android, iOS and other mobile devices including Windows phones and tablets.
1. Download and install Audible to your device. You can download it from the App Store, Play Store, or Windows Store according to your devices.
2. Click the menu button, the Library tab. Tap the Titles and the All/All Titles button and you should see the audiobooks you have purchased.
3. Simply click the cover of audiobook to download the audiobook.
How to Listen to Audible Audiobooks on Any Devices
After downloading the Audible audiobooks, you can start to play them on the related players. Usually, you can play Audible audiobooks with iTunes on Mac and with Audible on mobile devices. For Windows users, you have multiple choices such as Windows Media Player, etc.
As you see, there is not a universal player which supports to enjoy Audible books everywhere. There will be a lot of hassles if you want to listen to audiobooks on different devices from time to time. Someone may ask is there a best solution for this?
The answer is positive. What causes this trouble is Audible AA/AAX format. So you just need to use a converter to covnert AAX/AA to other formats. Here I will recommend the leading ViWizard Audible AA/AAX Converter for its fastest 100X faster speed and lossless output quality. The trial version is totally free. Wanna find out how does it work now? Just click the download button below. And you can visit this tutorial to learn more info: How to Convert Audible AA/AAX to MP3.