Everyone loves stories! Perhaps this culture was instilled in most people during their tender ages. If you are one of those who could only fall asleep after bed-time stories then probably this culture can't just fade away. This is why most people get it right with a gift audible book. For one, it is very unique and does not have boundaries. If you are thinking of gifting your friend an Audible audiobook for their next birthday gift then this is the right place to be.
Method 1. Send the Gift Using the Audible App
The Audible app gives more options including gifting a friend or family. Here's how to gift Audible books within the app.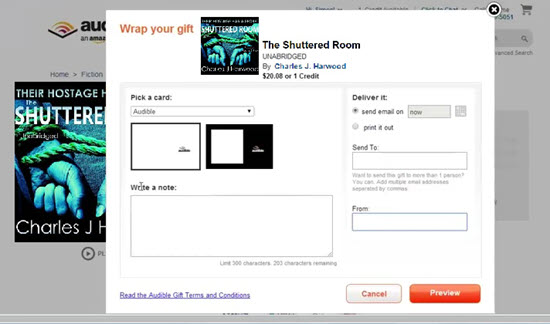 Step 1. Log in to your account and then click on 'My Library'. Your library will populate lots of books that you had previously purchased with credits.
Step 2. Click on the three dots for you to see various options. Pick on 'Send this book'.
Step 3. Choose the platform via which you want to send that gift audible. The options include Facebook Messenger, Email, Message or WhatsApp.
Step 4. A link to the book will then be sent to your friend. He/she will be asked to log in to their Audible account. Once they have an Audible subscription, they will have access to the book.
Method 2. Gift an Audible Audiobook CD
Compact disks are also very good forms of gifting your friend or family. It is possible to buy a CD version of the audiobook from Audible you need to gift out.
Step 1. Log in to your Audible account.
Step 2. Place an order of the CD that you want to gift. Remember to indicate that it is a gift audible book being sent to another person.
Step 3. Indicate the address of the recipient to ensure the gift goes to the right person. It is better to include other details like the phone number and street address.
Method 3. Send Audible Gift Cards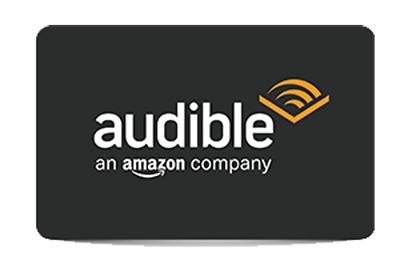 This is a good opportunity if you are gifting someone who already has an Audible account.
Step 1. Once you have logged in to your Audible account using your username and password, scroll through the screen to the 'gift center' button.
Step 2. Click on it and you will be redirected to other 3 options. These include buying 3, 6 or 12 additional credits. Each credit equals one audiobook.
Step 3. Pick the option that corresponds to the number of credits you need to send as a gift card.
Method 4. Gift An Audible Audiobook You Already Own
It may require a bit of tech knowledge when you settle for this option because of DRM protection. It is a wise idea to give out what you think really helped you so that another person can also get help. You know best an Audible audiobook that you have already listened to. By the end of the day, you can give or send that audible book as gift to your friend. All you need to do is to convert its AA or AAX file into a usable format, such as MP3. In this case, look for a third-party tool such as ViWizard Audible AA Converter to convert the Audible files from AA/AAX to MP3 so as to remove the DRM protection that may hinder the Audible audiobook from playing at your friend's car or other devices.
How to Gift Audible Membership
The beauty of gifting Audible membership is that both Audible membership owners and non-owners have an equal opportunity of enjoying the give-aways. In the event that you send such a gift to someone who hasn't subscribed to the membership, he/she will enjoy the perks of membership for the entire duration of the gift.

Step 1. To gift Audible membership, log in to your account using your username and password.
Step 2. Click on the 'Gift center'.
Step 3. Several options will be opened. You need to select the gift membership that you like to give. There up to four options which include 1 month, 3 months, 6 months and 12 months. These equate to 1 credit per month for the corresponding number of months.
Step 4. Once you have decided on which plan to give, click on 'Give membership'.
Step 5. Then key in the information regarding the gift that you are giving. When everything seems fine to you, click 'Continue'.
Step 6. You will then need to select a card. This you will find on the following page. Remember to provide the necessary details and message on that card as this is what will accompany your gift. Next, click 'Continue'.
Step 7. The final step is to verify that you are buying the audible gift card. Click on 'Buy Now for the amount of dollars you wish to buy' and complete your purchase.
Conclusion
Gifting Audible books is easy especially with the aforementioned steps. Many people have come to love this because it offers numerous ways to offer gifts to your loved ones. Audible gift card or membership will not only offer entertainment to your loved ones but will enable them enjoy exclusive discounts as well as receive one credit for every corresponding month. Furthermore, there is additional unlimited access to Audible channels and complimentary audio subscription as well.