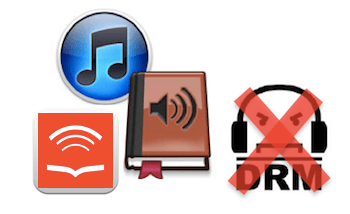 Q: How can I keep chapter points during the conversion of DRM audiobooks?
"I want to put my audiobooks purchased from iTunes to my car stereo for listening. But due to the DRM lock of those iTunes audiobooks, I had to remove the DRM copy protection at first with some DRM audiobook converter tools. However, there were no chapter breaks when I played the converted audiobook files in my car. It's 36 hours long and I really don't want to listen to the whole book without being able to move ahead chapter by chapter. So it would be great if you could recommend a converter for DRM audiobooks capable of saving chapters during conversion."
Save Audiobook Chapters During Conversion with ViWizard
Chapters, or book marking, of an audiobook is a great way to mark the points of the audiobooks when we are listening. With which, we don't need to go back to the very beginning of the audiobook the next time when we continue the book. Since we can't always listen to a whole audiobook once, the basic chapter feature of audiobook is necessary and important. For people who bought audiobooks from iTunes or Audible, you need to convert the purchased audiobook files to common MP3 or M4A formats because they are protected with DRM technology. In this case, a DRM remover for audiobook with the ability to keep chapters info is of great importance. Although there are many DRM audiobook converter claim to remove DRM from iTunes and Audible audiobooks, few of them could preserve the chapters in the converted books. Among the most professional DRM audiobook converter software which can save chapter info while removing DRM from protected audiobooks, ViWizard DRM Audiobook Converter is the best one that you could give it a try.
ViWizard DRM Audiobook Converter (Mac & Windows) is a specially developed audiobook DRM remover and converter dedicated to convert DRM-ed iTunes and Audible audiobooks, including M4B, M4A, AA, AAX files to MP3, AAC, M4A, WAV and other formats without losing any quality. It's the fastest DRM audiobook converter works at 30x faster speed to convert DRM-ed audiobooks. With the help of ViWizard DRM Converter for Audiobook, you are able to enjoy any DRM-ed audiobook on as many MP3 or media players as you like.
Steps to Convert DRM-ed Audiobooks with Chapters Kept
Now you can begin to convert the DRM'd audiobooks from iTunes or Audible to DRM-free formats with chapters preserved by following the steps below.
1

Add DRM Audiobooks to ViWizard Audiobook Converter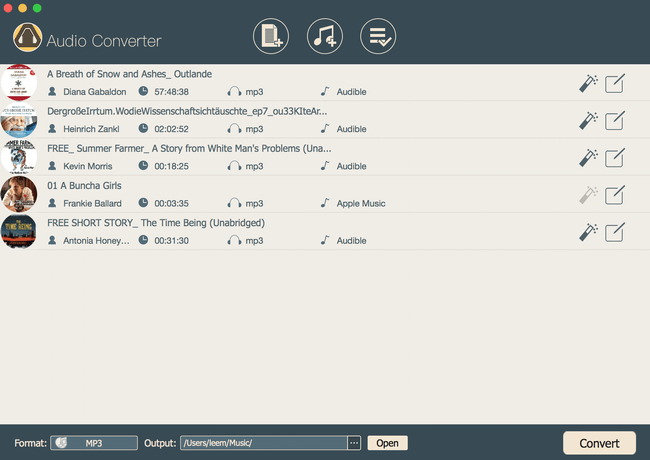 Launch ViWizard DRM Audiobook Converter and click Add Files button to load the iTunes library to select those audiobooks you want to convert and click Add. You can also directly drag and drop the audiobooks to the converter.
2

Select Output Format as M4A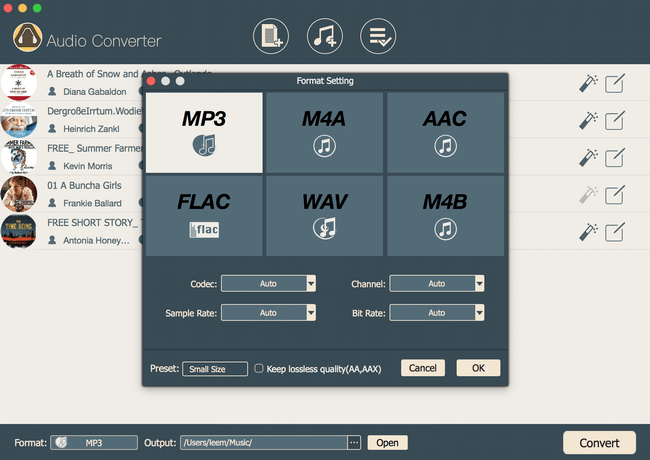 When the DRM audiobooks are loaded successfully to ViWizard, you may choose the output format as M4A in order to keep the chapters by clicking the "gear" icon behind the audiobook name. You can also set the output formats in advance via the Preferences of ViWizard DRM Audiobook Converter.
3

Convert DRM Audiobooks to M4A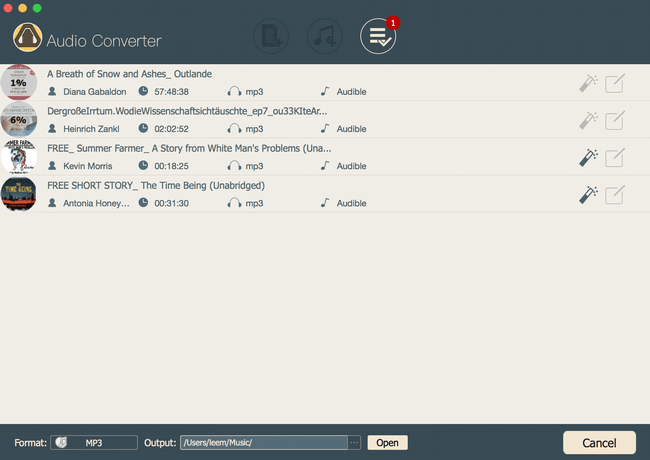 Now you can begin to convert the DRM-protected audio books to common M4A format by clicking the Convert button.
The conversion will take a while to complete mainly depends on the total numbers of the audiobooks in the conversion list. Normally, it will convert at 30x faster. And once the conversion finishes, you'll get the DRM-free audiobooks with chapters so as to import them to any media players for playback.