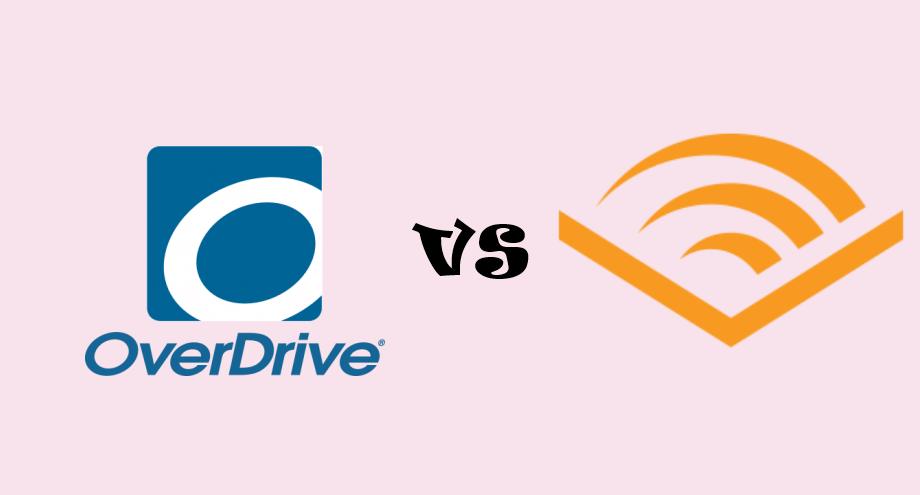 Have you felt it expensive to listen to an audiobook from audiobooks platforms like Audible? Search Audible on Reddit and Quora, and you will see many questions complaining about Audible: Why is Audible so expensive and limited? To listen to audiobooks, except for buying them from Audible, audiobook.com or other platforms that sells audiobooks, you can also borrow audiobooks from the library or school at home and through an app - OverDrive. Buy audiobooks from Audible or borrow audiobooks from the local library with OverDrive, in other words, OverDrive vs Audible, which one is a better choice? You will see the comparison from multiple aspects between OverDrive and Audible. After reading this post, you will definitely find an answer.
Part 1. OverDrive vs Audible: Introduction
At the very beginning, considering some readers may be new to either these two audiobook services or one of them, let me give a brief introduction to OverDrive and Audible.
Audible is the biggest online audiobooks provider owned by Amazon. Audible started to offer audiobooks as early as 1997. Until now, it has a catalog of 200,000 audiobooks and 100,000 podcasts. It allows users to buy audiobooks with or without a subscription.
OverDrive is a platform that offers digital content including eBooks, audiobooks, magazines, and streaming videos. It is founded by Steve Potash in 1993. You can borrow any audiobooks from your local library with simple clicks with the OverDrive app or online website.

Part 2. OverDrive vs Audible: Price
Audible offers users multiple plans of subscription: Audible Plus for $7.95 per month and Audible Premium for $14.95 per month. And subscribers can play any audiobooks in the Plus Catalog with the INCLUDED tag. And subscribers can also get some discounts when buying audiobooks.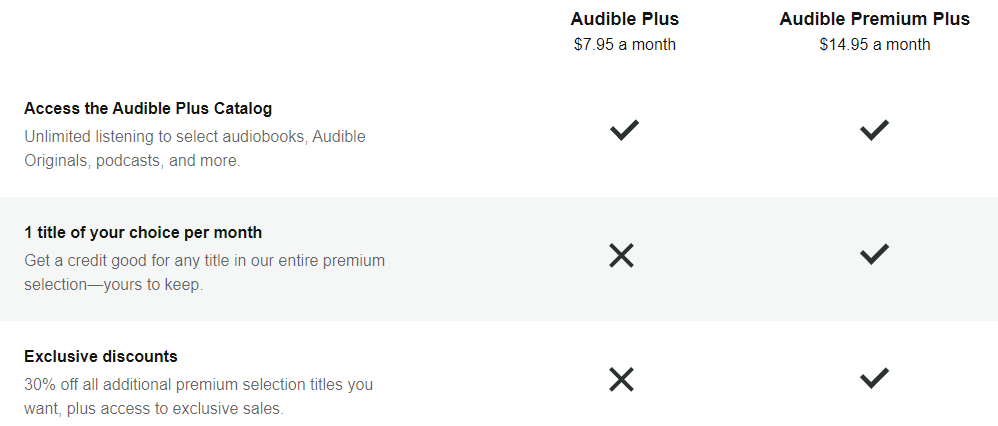 OverDrive is a free service from your school or library. That's very attractive. It has got support from over 45000 libraries. You do not need to pay for it. But you must have a library card or student ID.
Part 3. OverDrive vs Audible: Service
Audible offers many features to help users have a better listening experience. Premium subscribers can return books if they dislike them. Audible also provide the Whispersync for Voice feature which can sync the audiobook and eBook for the same title if you have bought both of them.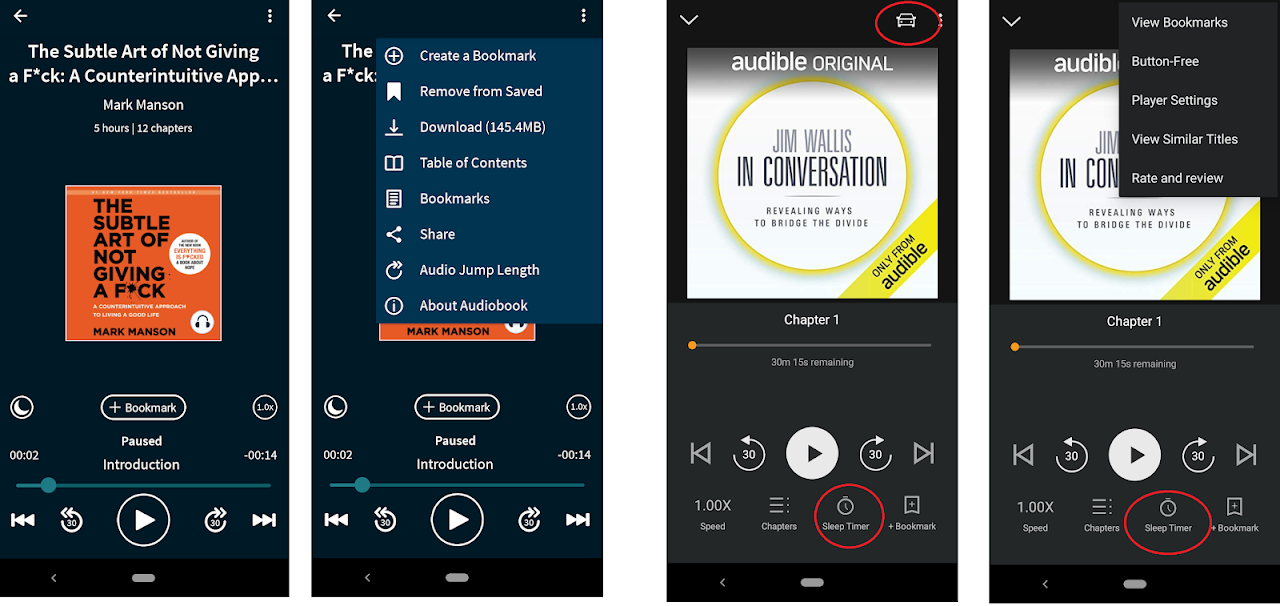 You can listen to audiobooks on OverDrive online or offline. And OverDrive will keep the position, bookmarks, and notes on your audiobooks. OverDrive combines the audiobook and eBook offering. You can find the corresponding books from OverDrive when you listen to an audiobook of the same title. However, unlike the Audible Whispersync for Voice feature, OverDrive cannot sync the eBook and audiobook.
There are some bugs on the OverDrive app from time to time. Many users complain the app is not easy to use. So OverDrive has released two apps to help users operate easier. It suggests using Sora for borrowing from school and using Libby for borrowing from the library. Another disadvantage is that the transfer process is complex. You cannot find instruction easily and the process varies from the library system.
Part 4. Audible vs OverDrive: Library
Audible has 200,000 audiobooks and 100,000 podcasts in its library. You can find the audiobooks you want in Audible easily and even with multiple versions. It offers audiobooks of history, romance, business, fiction, religion, and more different categories.
OverDrive has audiobooks and eBooks with loads of categories, like biography, business, children, literature, and more. Although OverDrive's catalog of over two million digital titles includes different types and receives the support of over 45000 libraries, many titles aren't available. For the audiobooks that are not very popular, it is hard to find them on OverDrive. And the audiobooks are mostly limited to 2-3 copies. So, you may need to wait for some time to borrow it from OverDrive.

Part 5. Audible vs OverDrive: Compatibility
Audible audiobooks are protected in AA/AAX formats and cannot be played on other apps or devices that do not cooperate with Audible. Audible currently supports Kindle, Windows phone and tablets, iOS devices, computers, Android devices and some others.
OverDrive is available on a boatload of devices or apps. The supportive devices include Android, Chromebooks, Windows, Mac, iOS devices, MP3 players, and more. You can also choose to download MP3 audiobooks with the OverDrive app on Windows, Chromebook, and mobile devices.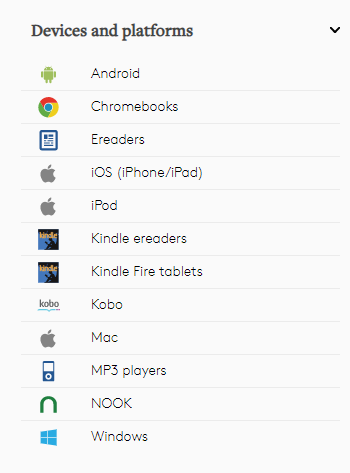 Part 6. Comparison and conclusion
| | | |
| --- | --- | --- |
| Audiobook Services | Audible | OverDrive |
| Price | | Win |
| Service | Win | |
| Library | Win | |
| Compatibility | | Win |
For the battle of Audible vs OverDrive, it seems that for the service and the audiobooks offered, Audible overcomes OverDrive. On the other hand, for compatibility and price, OverDrive is a better choice. My suggestion is to choose the one that has the advantage you value more. You can also use both of them at the same time. For example, search the audiobook you want to listen to in OverDrive first. If you cannot find it, go to Audible to buy it.
Part 7. Additional tip: How to improve Audible compatibility
Since Audible audiobooks are encrypted and they cannot be played on many devices and players. To improve the low compatibility of Audible audiobooks and make Audible a better choice, you can convert Audible AA/AAX audiobooks to an unprotected format.
To do the conversion, it is necessary to use an Audible converter such as ViWizard Audible AA/AAX Converter. This converter can convert Audible AA/AAX audiobooks to MP3, M4A, M4B, FLAC, AAC, WAV with a 100X faster speed. It can also keep the 100% quality of the original audiobooks with the Lossless option. And the ID3 tags of Audible audiobooks will be kept for you. Just download Audible files to your PC and install this converter and start to convert Audible books. This is a brief guide for using ViWizard Audible Converter to convert Audible audiobooks.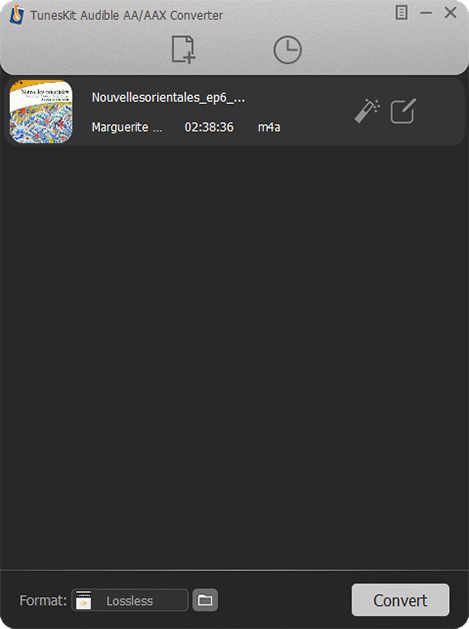 Step 1. Launch ViWizard Audible Audiobook Converter. Click the Add Files button to load Audible audiobook files.
Step 2. Click the Format button and choose the format you need.
Step 3. Just click the Convert button. Click the Converted button to find them. Now you can play Audible audiobooks on any other apps or devices.