"I have purchased Nook Tablet on Amazon for listening audiobooks. However, I cannot play my purchased audible audiobooks on it. I am eager to solve the problem but cannot find an appropriate method. Looking forward to your good method." – Laurinda Sheeran
"Is there any possibility to play Audible audiobooks on Kobo Clara? Can I do that with any software, like special audiobook converter or DRM ripper? I used to purchase lots of audiobooks from Audible. My friend bought a Nook Tablet as birthday gift for me. I'd like to have my purchased Audible audiobooks on my Nook Tablet for listening." – Arianna Dixon
In the modern society, as the space of life has quickened, people hopes to save reading time in the daily life, so it's a good experience to listen to Audible books on a reader. People can listen and read more and more books without bringing printing books. Here I will talk about the playing of Audible audiobooks on Nook Tablet and the difference between Audible audiobooks and Nook audiobooks.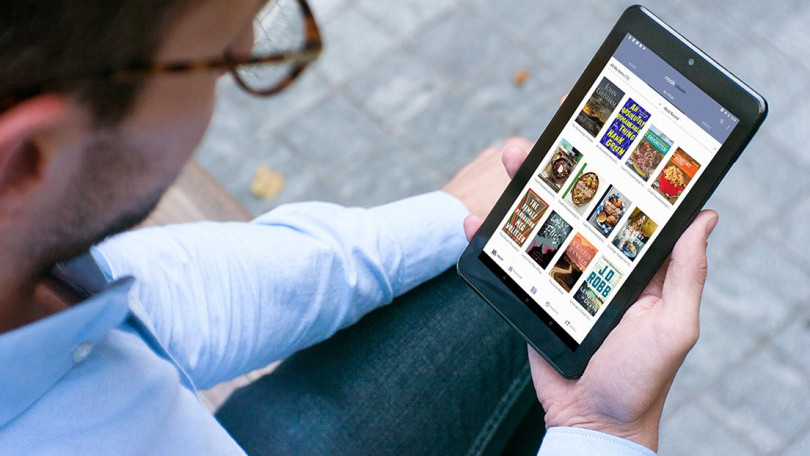 Part One What You Need to Know about Nook Tablet
Nook Tablet is a tablet e-reader and media player that was produced and marketed by Barnes & Noble. Easily customizable features help new customers to read audiobooks in the way they prefer. With the large storage to download your favorite books and the ability to carry up to lots of eBooks, Nook Tablet always provide you with the vivid reading experience.
The device support various file types such as M4A, AAC, MP3, MP4 and others. At the same time, the long-lasting battery keeps you powered up to read at home or on the go for up to 7 hours reading. Otherwise, the device is compatible with millions of Android apps, games, movies, songs and more from Google Play, so you can download various your favorite apps.
Part Two Tip to Play Audible Audiobook on Nook Tablet
As we all know, all audiobooks provided by Audible are protected by digital right management in the format of AAX and AA. Though we have spent lots of money to purchase them, we cannot share them with others and play them on any other player except for the specified software. However, we can remove DRM of audiobooks from Audible with the help of some DRM removal tool.
Among most of audiobook converters, ViWizard Audible Audiobook Converter is a unique and top-leading one for Audible users. The device can losslessly remove DRM restriction from Audible audiobooks and convert DRM-protected audiobooks to DRM-free audiobooks in the formats like MP3, M4A, WAV and other popular audio formats.
Key Features of ViWizard Audible Audiobook Converter:
Losslessly remove DRM from Audible audiobooks without account authorization
Convert Audible audiobooks to common formats at 100× faster speed
Freely customize lots of parameters of output audiobooks
Split audiobooks into small segments by time frame or by chapters
Steps to convert DRM-protected audiobooks and transfer DRM-free audiobooks to Nook Tablet
Step 1. Add AAX or AA audiobooks to the Converter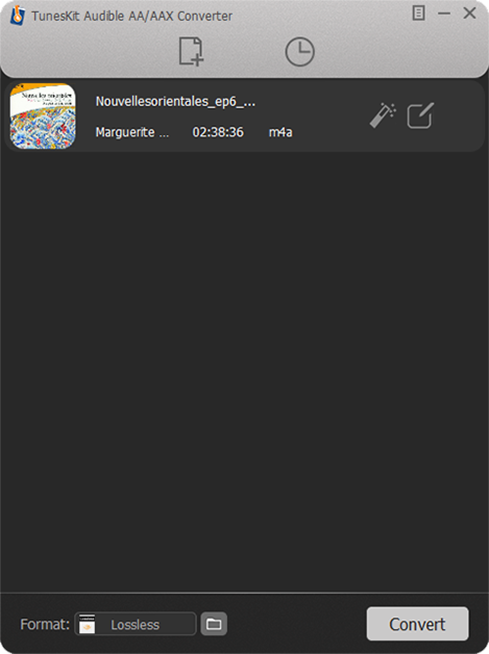 Simply operate Audible AAX Converter. Then click the "Add Files" button to add all Audible AA or AAX audiobooks you want to convert. You can also drag the audiobooks to the software directly. You can add a batch of audiobook files once for conversion.
Step 2. Select output formats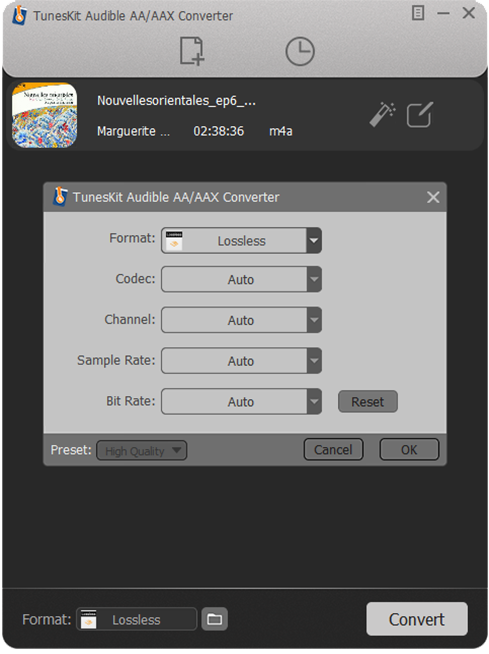 After importing all audiobook files into ViWizard Audible AA Converter, you should click the "Format" button at the bottom left of the main screen and choose the output format on the option window. What you should know is that the default output format is lossless, so the software will generate a DRM-free audiobook files without touching the original audio tracks at ll. Currently it supports lots of common file formats like MP3, M4B, AAC, WAV, WMA and more. Note that if you choose the lossless output, you could not customize some preference such as audio codec, channel, sample rate and bit rate.
Step 3. Crack DRM of Audiobooks from Audible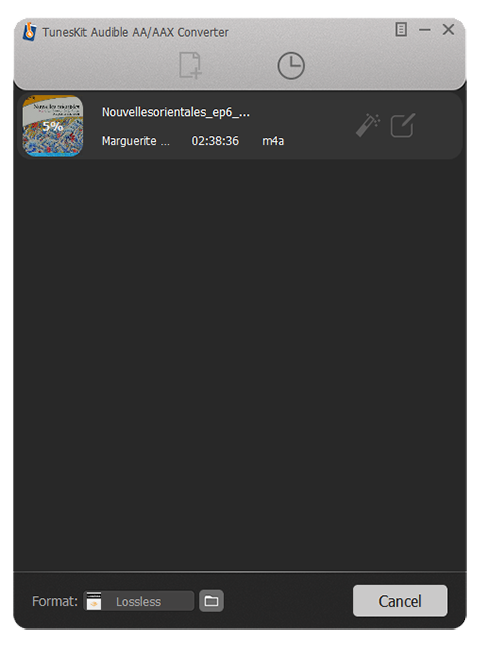 Before starting the conversion, you can click the "Editor" button to split the audiobook into several small files via chapters or time frame. Then click the "Convert" button to start removing DRM from Audible audiobooks and converting all AA or AAX files to DRM-free lossless audio or other formats at up to 100X faster speed.
Step 4.Copy Converted Audible audiobooks to Nook Tablet
Now you should connect your Nook Tablet to the computer using the provided USB cable. Then you need to click the Nook drive to open it, and find a folder to save your converted audiobook files. Finally, you should drag or paste the converted audiobook files from the computer to the folder on your Nook Tablet.
Part Three Audible Audiobook & Nook Audiobook: Which is the Best One?
Nook audiobooks and Audible audiobooks are two of the top audiobook providers and sellers on the Internet. The two software seem to be very similar though they can meet the demand of different reading lovers. It is difficult to judge which one is better.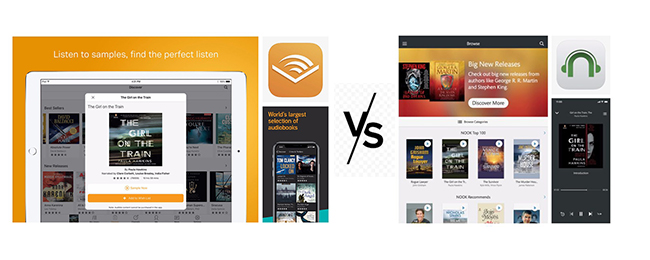 Library
Audible has by far the largest audio book collection available beyond all doubt. But the library on Nook is not small surely.
Verdict: You can find all of the hot fictions and non-fictions, latest release as well as tons of free resources from either Platform.
Price
Audible is an extremely popular audio book membership. There are lots of planning option designed for you. As paying users, you can receive 1 credit to enjoy one audiobook every month. However, there isn't a membership on Nook, so you don't have to pay a monthly fee. You can buy any audiobooks directly at a low price compared to any other similar platforms.
Verdict: Audible works best for users who digest multiple books frequently. But Nook is the best option for users who listen to audio books infrequently.
Listening
Both of them have two version designed for Android and iOS users respectively. Audible integrates all features into one like adjusting playback speed, setting a timer and more. However, Nook is missing essential playback features, so you can't customize your listening experience.
Verdict: Audible is a great choice if you return to your favorite audio books over and over again and are interested in building up your library. But those people who don't read frequently could think about Nook.
Above all, whether you choose to read audioboooks via Audible or Nook, the key is to improve yourself by reading. Meanwhile, after removing the DRM from Audible by the software, all audiobooks from Audible can be freely played on any media player or device at any time you like. And yes, all Audible audiobooks are shareable without any restriction.