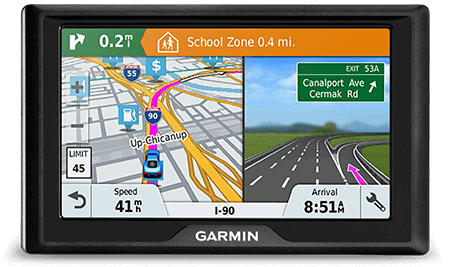 Garmin GPS are lightweight portable GPS receivers which receive signal from GPS satellites to provide guidance to users while driving. It is a must-have tool to avoid any problems when driving in a remote or unfamiliar place. But do you know that you can use Garmin GPS for more than that? With the built-in support of music, audiobooks etc., you can actually download Audible books to Garmin GPS and listen to audiobooks in the car. It really works, and it can offer you plenty of fun especially on longer journeys. Here I will show you the top 2 ways to do that.
Authorize Audible Audiobooks on Garmin GPS with Audible Manager
Audible Audiobooks are protected with FairPlay DRM protection, usually they only play after authorizing. Users who have the Android, IOS or Windows 10 devices can simply install the Audible app to authorize the devices. But for Garmin GPS, there is not such a specific Audible app in the device, so need to activate the device and transfer the files by using a Windows computer with the Audible Manager.
1. Install and open Audible Manager on a Windows PC.
2. Buy and download Audible audiobooks to your computer, you can visit this tutorial: How to Download Audible Audiobooks to a Computer.
2. Connect Garmin GPS device to your computer with an USB cable.
3. On the Audible Manager, click 'Devices' > 'Add New Device', you will see a lit of all AudibleReady devices.
4. Select Garmin GPS from the list and click 'OK'.
5. It will prompt you a message indicating that Audible Manager must be closed to install the component file, please click 'OK' to continue the installation.
6. When the installation is done, you can reopen the 'Devices' tab from the Audible Manager to locate your device. Then right click on the device and choose 'Activate'.
7. At last, you will see your Garmin GPS is selected in the bottom left corner of Audible Manager. You can choose your Audible audiobooks and click 'Add to Device' to transfer the audiobooks to your Garmin GPS.
Copy Audible Audiobooks to Garmin GPS via SD Card
It is kind of inconvenient to connect and authorize the Audible audiobooks on a Windows computer all the time. If you don't want to do that, you can also transfer Audible audiobooks to your Garmin GPS via an SD card. One thing you can't ignore is that Audible format AA/AAX are encrypted formats and they can't be recognized without authorization.
ViWizard Audible AA/AAX Converter for Windows/Mac is the right tool for you here. It can not only help you remove DRM from Audible files, but also makes it easy for you to transfer content to the Garmin Audible Manager and put them on your device without any DRM restrictions.
Basically, all you have to do is to add the audiobooks, select the output format and click 'Convert'. That's it. There's no need for learning the complicated formats or anything like that. Now let's see how it works step by step. The first thing you need to do is to download and install the Audible free trial version into your computer.
1

Add Audible AA/AAX to ViWizard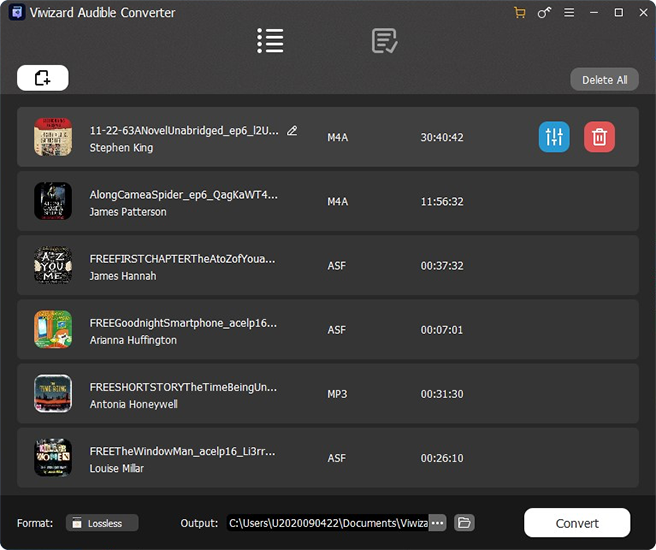 Since the ViWizard Audible Audiobook Converter can batch process content, you can add all the audiobooks that you want to listen on your Garmin unit. Just drag & drop your files to the ViWizard Audible AA/AAX Converter or click 'Add Files' to locate your files.
2

Change output settings (optional)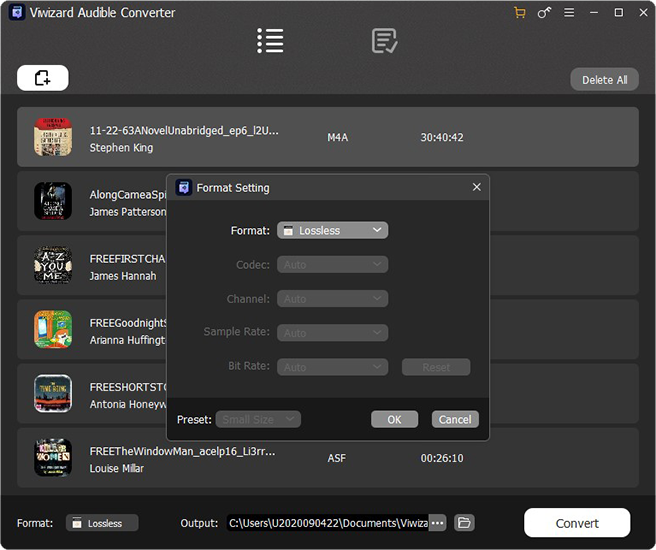 The default output format is MP3. Usually GPS supported limited audio and video files, but MP3 is 100% supported. To play safe, we'd highly recommend to choose MP3 output format. In addition, you can customize the output parameters like codec, channel, sample rate, bit rate as well as split your audiobooks to make them meet your requirements better.
3

Start converting Audible files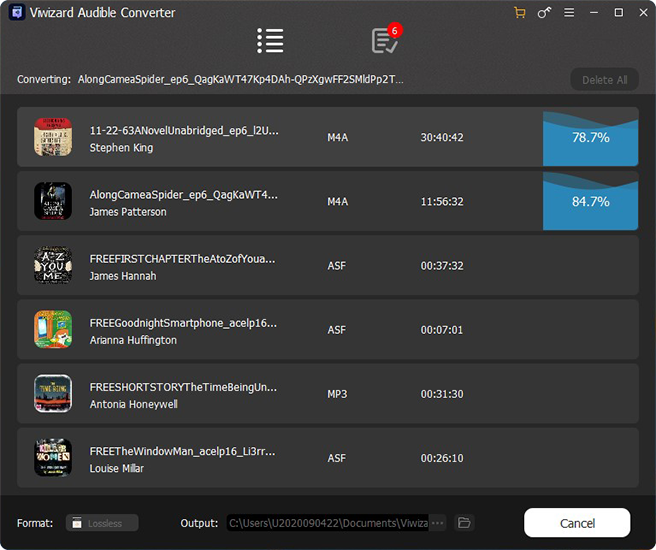 You just need to click 'Convert', ViWizard Audible Converter will start to convert your Audible audiobooks. It could reach up to 100X speed depending on your computer performance etc. and the output quality is absolutely lossless since ViWizard adopts the latest decryption algorithm.
Conclusion
Compare the two methods above, I'd prefer the latter one. After you converted these Audible audiobooks and used the app to remove DRM, you just need to transfer these content to an SD card and then insert the SD card to your Garmin GPS. The advantage of transferring Audible books via SD card is that you don't need to worry about running out of space and everything is transferred seamlessly without any data loss.
Is it a good idea to learn how to download audible books to Garmin? Absolutely! It's a rather simple process if you have the ViWizard Audible Audiobook Converter. Don't hesitate and try it out. It really is one of the most reliable and helpful tools for audiobook lovers that also drive a lot!