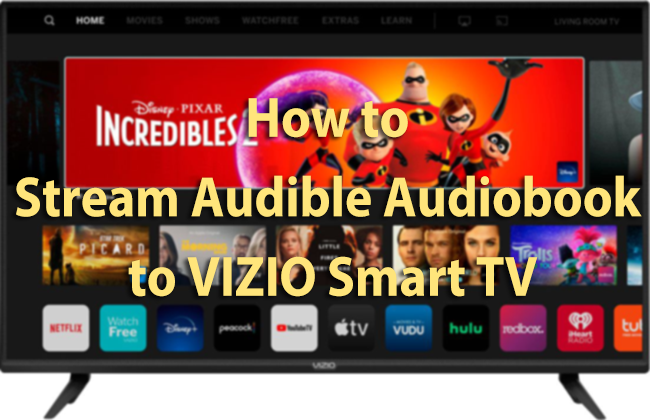 Q: I have recently purchased a VIZIO Smart TV. I love to listen to audiobooks and for streaming audiobooks I use the Audible Audiobook application on my Android phone. I was wondering if I can play Audible audiobook on VIZIO smart TV? It would have been cool to stream Audible audiobook to VIZIO TV. Please help!
Have you also been looking for easy ways to stream Audible audiobooks to VIZIO TV? If Yes, don't worry, there are two ways to play Audible audiobook on VIZIO smart TV. Audible on VIZIO smart TV is made possible when you copy Audible books to USB or use the Youtube Music stream service. To see how you can do that yourself, keep reading our article.
How to Download and Convert Audible Audiobooks to MP3
As a reader, you may wonder why there is even a need to convert Audible audiobooks to MP3 in the first place. If you do, your concern is valid. As mentioned in the introduction, there are two simple ways to stream Audible audiobooks to VIZIO smart TV.
The first is by using Youtube Music (an app available on your VIZIO smart TV). The second is by transferring MP3 Audible audiobooks into USB and play them directly with your VIZIO smart TV.
So, original Audible Audio files are in AA/AAX format, which is a protected format. You can not play a protected format file on any unauthorized device. Therefore, you need to convert the Audible audiobooks to MP3 or unprotected formats to run them on your VIZIO smart TV.
ViWizard Audible AA/AAX Converter
ViWizard Audible AA/AAX Converter is a formidable Audible audiobooks converter that can convert any Audible AA, AAX audiobook into MP3 and other formats. ViWizard helps you convert your protected Audible audiobook formats losslessly into MP3, M4A, OGG, M4R, and other popular audio formats.
ViWizard Audible Audiobook Converter Key Features
Losslessly convert Audible books to MP3 without account authorization
Convert Audible audiobooks to common formats at 100× faster speed
Freely customize lots of parameters of output audiobooks
Split audiobooks into small segments by time frame or by chapters
Successful conversion of your Audible audiobook into MP3 or other supported formats is necessary to play the audible audiobook on VIZIO smart TV. Follow the below steps to convert:
1

Add Audible audiobooks to convert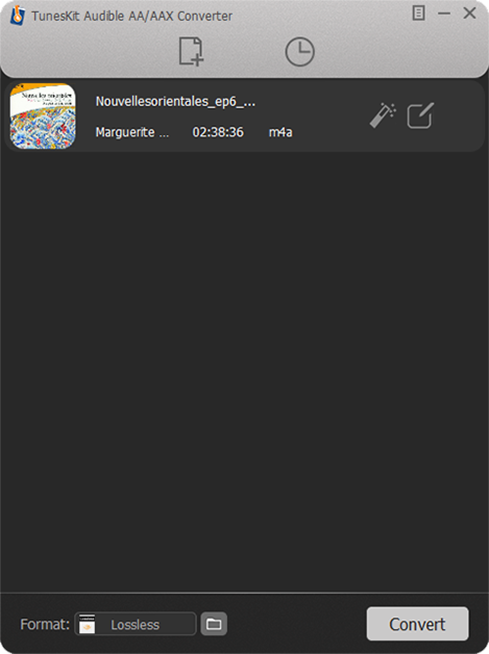 Download the software by visiting their official website. Install the software and launch it. Once launched, import your Audible audiobooks into it. Click on the Add button listen in the header of the software to add Audible audiobooks in the software. You can also drag and drop the books directly to import them into the software. If you have more than one book, you can batch import them as the software provides batch conversion.
2

Choose the output format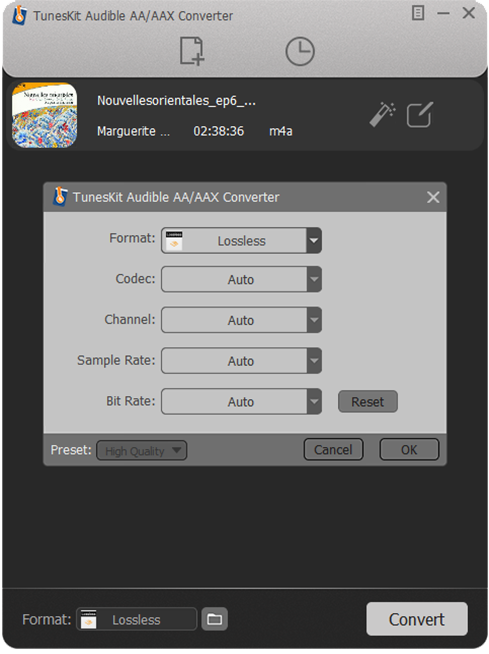 After importing the audiobook files into ViWizard Audible AA Converter, select the output format from the pop-up window by clicking the "Format" panel at the bottom left of the software. The default output format is lossless, which produces unprotected audiobook files without altering the original audio tracks in any way.
The software supports a number of popular output formats, including MP3, M4B, AAC, WAV, WMA, M4R, M4A, FLAC, OGG, and others. There is no need to change the bit rate, channel, or other parameters because that can cause loss to your audio quality.
3

Initiate the conversion of Audible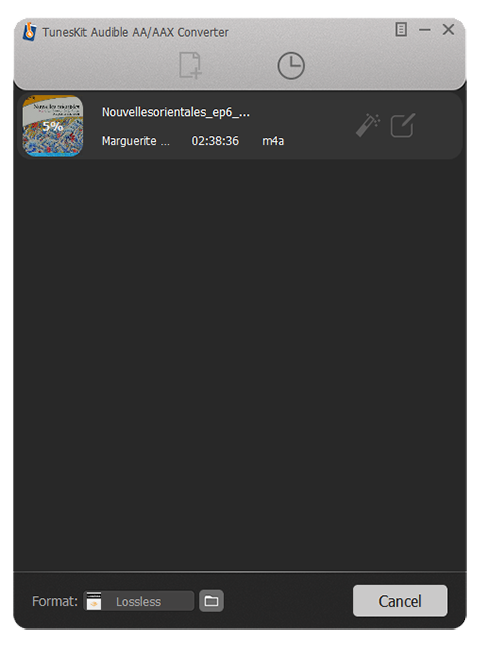 Before converting them, you can also edit the Audible books to split them chapter or time frame-wise. To do this, just click on the edit icon listed in front of each imported Audible audiobook. Once the conversion process is complete, the Audible audiobooks will be successfully downloaded and converted into your desired format. You can view the converted files on your computer.
Steps to Stream Audible Audiobooks to VIZIO Smart TV
After converting the Audible Audiobooks to MP3 or other supported formats, it's time to stream them to your VIZIO smart TV.
There are two ways through which you can stream them to your VIZIO smart TV. Let's see them one by one.
Upload Audible Books to YouTube Music
Youtube Music allows you to stream FLAC, M4A, MP3, OGG, and WMA files. Since you have already converted your Audible audiobooks into above mentioned supported formats using ViWizard Audible AAX converter, you are all set to go.
Before you begin streaming your Audible audiobooks to VIZIO smart TV, you need to upload the converted Audible books to the Youtube Music Library. Here's how you can upload Audible books to Youtube Music:
Step 1: Go to music.youtube.com.

Step 2: In the top-right corner, click on your profile photo and a menu will appear. From the menu, select Upload Music.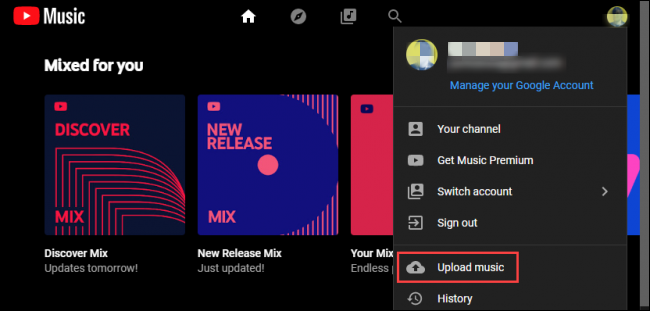 Step 3: From the opened pop-up window, select your converted Audible audiobooks files.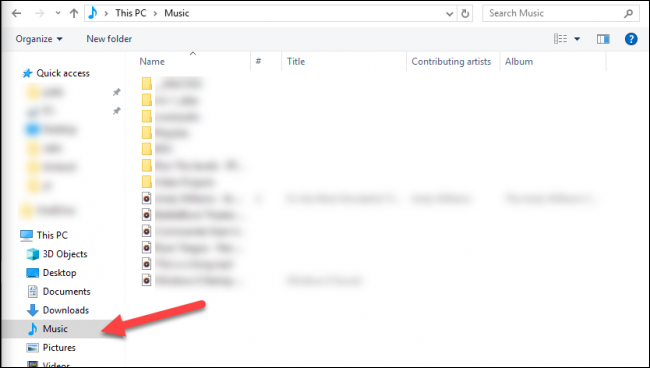 You need to go to the directory where your Audible audiobooks are placed.
Step 4: Once selected, click on the open button, and your Audible audiobooks will be uploaded to Youtube Music.
Once the audiobooks are uploaded, turn on your VIZIO smart TV and open the Youtube Music app. From there, you can start streaming your Audible audiobooks directly from your VIZIO TV.
Transfer Audible Books to USB
Another more straightforward method to play Audible audiobooks in VIZIO smart TV is by using a USB. But, you must have the Audible audiobooks converted into unprotected audio format before you proceed to this method.
Here is how you can transfer Audible books to USB:
Step 1: Connect USB to your computer.
Step 2: Move to the directory where your converted Audible audiobooks are placed on your computer.
Step 3: Copy them and paste them into your USB device.
Once the files are copied, you can directly plug the USB into your VIZIO smart TV as an external source. After attaching the USB, your VIZIO smart TV will read its content, and you can play your Audible audiobooks with your TV.
Conclusion
After reading the article, we hope that you can now stream Audible audiobook to VIZIO TV easily. Two simple ways allow you to play Audible audiobooks on your VIZIO TV. Either you can use the Youtube Music service or transfer the Audible audiobooks into an external USB drive and play directly through it within your VIZIO TV.
No matter the method you choose, the core thing to do is convert the Audible audiobook into a supported unprotected audio format. For that, ViWizard Audible AA/AAX Converter is the foremost choice, which helps you easily convert your Audible audiobooks into MP3 or other formats in just a few steps.
More Audible Tips & Tutorials