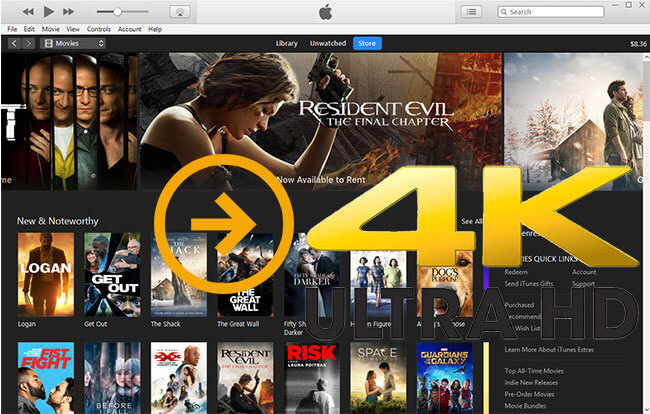 Although there are more and more 4K video playback devices released nowadays, one fact is that there is few 4K media content available in the marketplace. As one of the biggest digital media contents seller, iTunes store still doesn't offer any 4K videos today and we don't see a symptom if there will be 4K movies available from iTunes store in future. Currently the videos in iTunes are only in SD, HD 720P or HD 1080P resolution. Hence, many video enthusiasts who are looking for experiencing the iTunes 4K videos may feel disappointed all the time. To solve this issue, in this article, I will show a feasible way to convert iTunes movies to 4K files .
Top Things You Need to Know about 4K Videos
Prior to that, we'd better learn more about 4K videos first. They are known as the ultra high definition videos which allow you to enjoy videos with highest clarity, natural picture quality and much more details. Compared to other common videos, there are some differences for 4K files in four main aspects.
4K resolution: Different 4K devices and usage scenarios require different resolutions. 3840*2160 pixels is the most popular resolution for playing on 4K TVs. The second one 4096*2160 pixels resolution is used for shooting videos in digital cameras. And 3840*1632 pixels is used in cinema. All the 4K resolutions are about four times the resolution of common videos, as a result the size of a 4K video is much bigger.
4K content: The 4K video contents are still rare nowadays. In 2010, YouTube start to offer 4K videos and today Amazon, Netflix, Sony, Panasonic, Samsung etc. have also added a few 4K videos to their media library, you can try to download 4K videos from these providers. Other videos like 1080P, 720P and SD videos can be found everywhere.
4K video playback: Similar to common videos, 4K videos can be played on most devices such as TVs, computers, tablets, mobile devices. But some devices may not support 4K solution. Even you can play them on the device, the quality of 4K videos can't be fully displayed. It is recommended to play them via 4K TVs or mobiles devices with 4K resolution.
4K video production: Originally, 4K video can only be shot by the professional camcorders. Nowadays, kinds of mobile devices come with 4K cameras, so almost everyone can produce them directly by themselves. It is as easy as creating standard footage. Another way to produce 4K videos is to convert videos through a converting software.
How to Convert iTunes Videos to 4K Videos
As we have mentioned above, since iTunes store doesn't have the 4K videos, the only way to experience iTunes 4K videos is to convert the standard iTunes videos to 4K videos by a software. I'd recommend the TunesKit iTunes to 4K Converter for Mac. Unlike other different converters which doesn't support iTunes DRM files, it can not only convert the iTunes SD or HD videos to 4K but also remove DRM in a fastest way. In addition, there is no complicated processes, basically you just need to select your files and do some settings. In this way, you will get the privilege to enjoy iTunes videos with 4K resolution.
Detailed instruction to convert iTunes videos to 4K:
1

Install and launch the software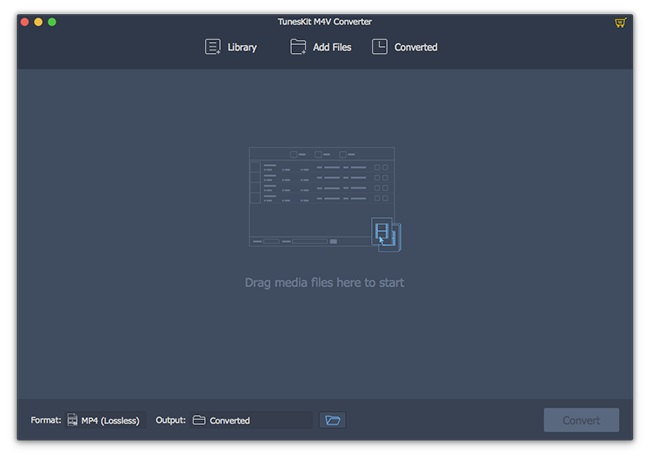 You can simply download the right version from the link above, then you can click the application to open it, you will see the main screen of it.
2

Upload the iTunes videos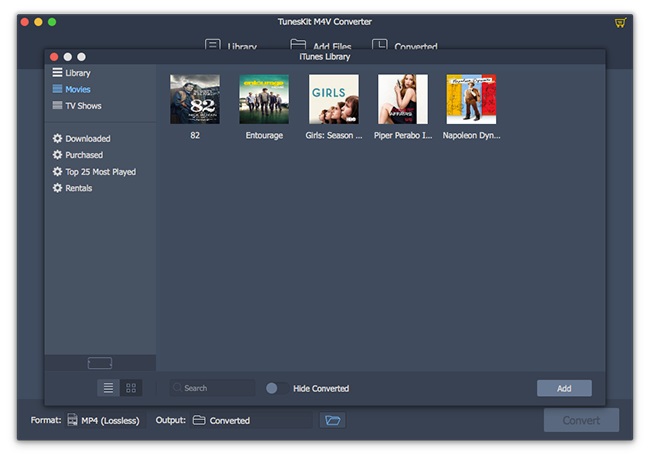 Please simply tap the 'Add Files' button, the software will prompt you a window to choose the iTunes M4V videos, you can check the options in front of the videos you desired.
3

Change the output format to 4K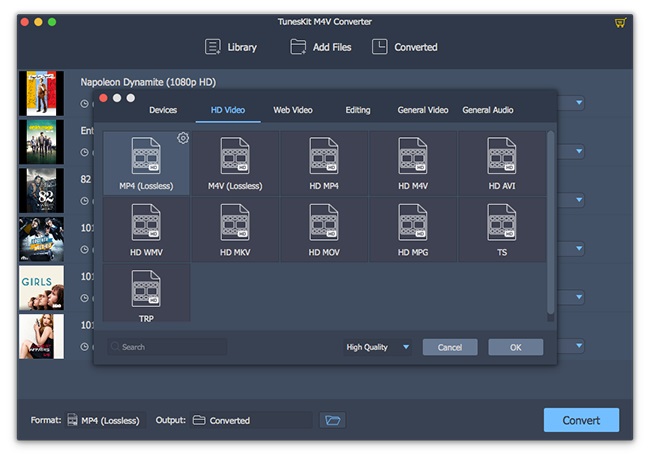 To experience 4K videos, you need to change the output format as 4K, the software will automatically unlock the iTunes files and then encode them to new DRM free 4K videos.
4

Convert and get the 4K videos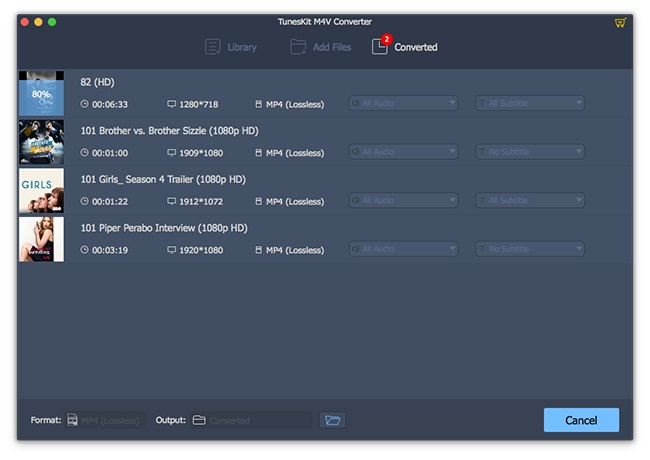 By clicking 'Convert', the videos will be transformed into 4K videos quickly. When it finishes, you can click 'Converted' button to find the videos you like.
Tips to transfer converted 4K videos to play on 4K devices
Congratulations, you are almost done. After getting the 4K videos, if you want to play them with good effect, you'd better transfer and play them on a 4K device such as 4K TV or mobile devices. Normally 4K TV supports to play media files from USB flash drive or external hard drive, I would suggest you to transfer through a hard drive which has a large capacity as the 4K videos are really big in size. For the mobile devices, you can transfer the video via an SD card if it is supported. Finally, when everything is done, you can start to enjoy the iTunes videos with 4K resolution, I am sure you will get the best visual experience ever.