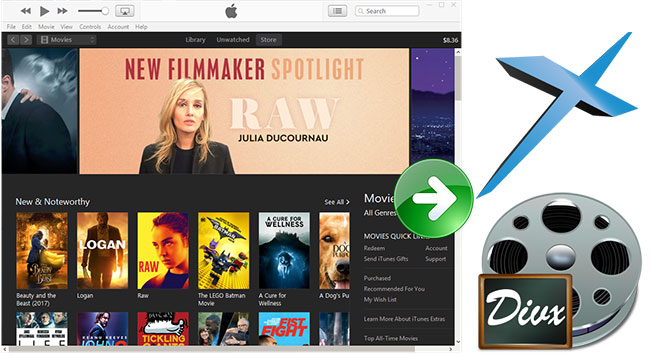 DivX is a free yet proprietary video codec created by DivX Inc, it has the ability to compress lengthy videos into small size while keeping relatively high visual quality. Similar to its competitor Xvid, both DivX and Xvid are based on the MPEG4 codec to develop. Nowadays a large number of DivX certified devices are available including digital TVs, PlayStation, in-car media players, DVD players, mobile devices, computers and so on. Do you happen to have some large videos such as iTunes M4V videos which you want to compress and play on multiple of your devices? If so, converting to DivX will be one of the best options. And you can follow me in this article to find out how to convert iTunes M4V videos to DivX easily.
Best Tool to Convert iTunes M4V Movies to DivX
It is well known that we have to get a best tool so as to get a job done efficiently. Just like converting other videos, to convert iTunes M4V to DivX, you will need a M4V to DivX converter. But please note that a standard M4V to DivX Converter may not work as iTunes M4V videos are iTunes FairPlay DRM protected. Hence, it is required to get a software which integrates the feature to remove DRM.
Fortunately, there are many DRM removal software available for you such as TunesKit M4V to DivX Converter for Mac, Pavtube ChewTune for Windows, Aimersoft DRM Media Converter for Windows which are the top three ones. You can choose any one you want and try them out before you make the choice. Personally I'd prefer the TunesKit M4V to DivX Converter for Mac as I am an Apple fan, I just want to do the converting in my Mac computer straightly. In addition, it is superior compared to similar products for the following advantages:
1. Easily remove DRM from iTunes M4V episodes.
2. Convert iTunes videos to multiple formats such as DivX.
3. Convert videos at a fast speed while keeping high quality.
4. Beautiful interface with elaborate design.
5. 100% Clean and reliable version, runs smoothly.
6. Excellent customer service and free upgrade.
How to Convert iTunes M4V Videos to DivX Files
The converting processes are very easy, generally it takes only 4 steps. If you are interested in the software TunesKit iTunes to DivX Converter, you can download it from the link above to have a try.
Here is the step by step instruction:
1

Launch TunesKit iTunes to DivX Converter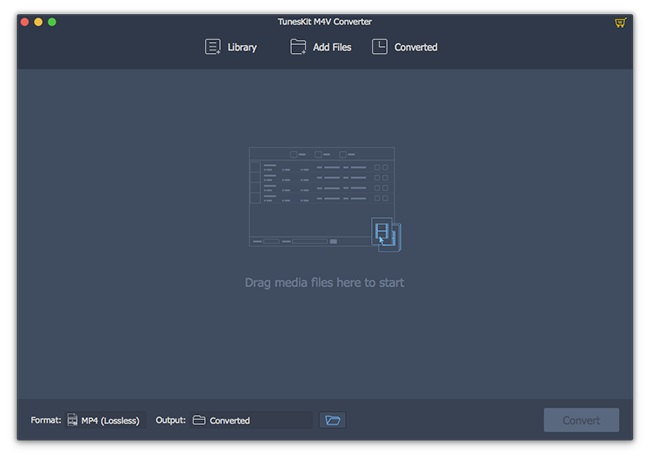 You can download the software from the official website and then install it to your computer, after that go to the application folder and click the software to launch it.
2

Add iTunes M4V videos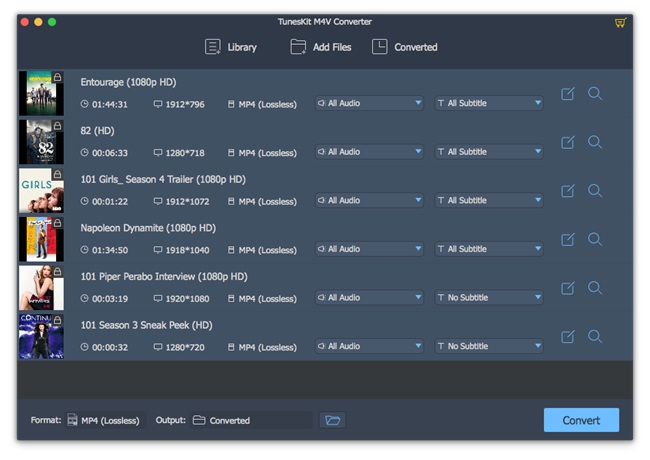 Before you do that, please make sure you have already downloaded and authorized the M4V videos to play on the local computer, next you can drag & drop to import them to the TunesKit M4V to DivX Converter or simply click 'Add Files' to pick up the video files flexibly.
3

Select 'DivX' video format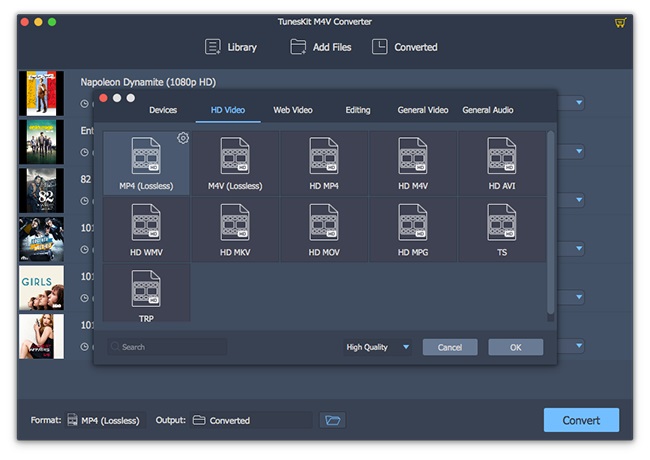 You can click the output format droplist from the bottom left corner on the program screen and then go to 'General Video' tab, afterwards choose 'DivX' and click 'OK'.
4

Convert iTunes M4V to DivX videos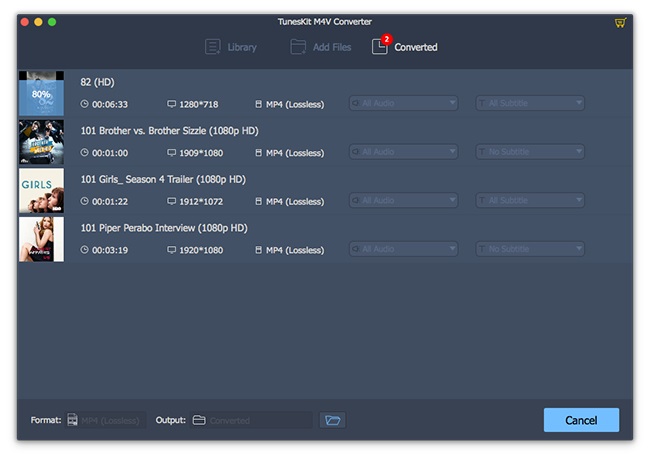 In the end, you can click 'Convert' button, TunesKit M4V to DivX Converter will start to take away DRM and convert to DivX videos promptly at the same time.
Further Tips: Top 4 DivX Players to Play DivX Videos
Once you have converted to DivX format of videos, you will be able to play them on multiple DivX certified devices by different players which support the MPEG4 codec. For some players which doesn't support MPEG4 or DivX codec, you can install the DivX codec to make them work too. Following are the top 4 DivX players.
DivX Player. This is an official player for playing DivX videos, it has Windows, Mac, IOS and Android versions, you can download it from the official website for free.
VLC player. It is a free open source player with cross platform compatibility. You can play most videos including DivX videos on VLC player directly as it comes with a large free decoding and encoding libraries.
Windows Media Player. A well know player for Windows System. It doesn't support DivX by default though. If you want to play DivX videos on the Windows Media Player, you have to install the DivX codec to the machine first.
Apple QuickTime. This is an Apple official media player, it doesn't come with DivX codec either, so you need to install the free DivX codec from the DivX official website too.