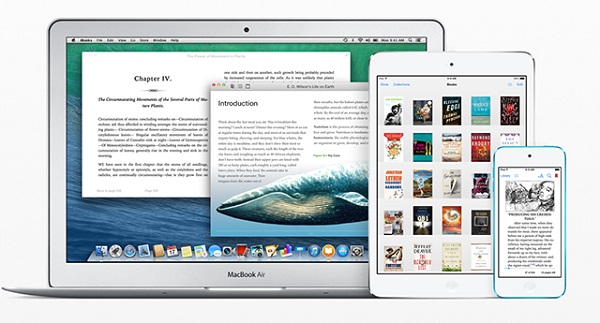 iBooks is a set of e-book reader software designed and marketed by Apple Inc. which is available on your Mac and iOS devices, such as iPad, iPhone, iPad Mini, as well as iPod Touch. It enables you to read everything on the full scree. Certainly, it also supports split screen, that's to say, you can view two pages at once. Plus, it's possible for you to purchase and download Audiobooks on iBooks so that you are able to listening to a digital book, apart from reading an e-Book on iOS devices. Featuring with the auto-night theme, iBooks can automatically change the reading mode according to the light intensity, which is really beneficial for eyes. Now, in order to make iBooks users have a better e-reading experience, here are four hot tracks for you to master iBooks on your iOS devices with ease.
Highlight and Make Notes on your iBooks
With the well-designed user interface, iBooks is also a study tool, especially for students. When you read a digital book on iBooks, you are able to highlight words, passages, sentences and other important things to you, as well as make notes that appear in the margins as little colored sticky notes. With both useful functions, you can easily grasp what you have to learn.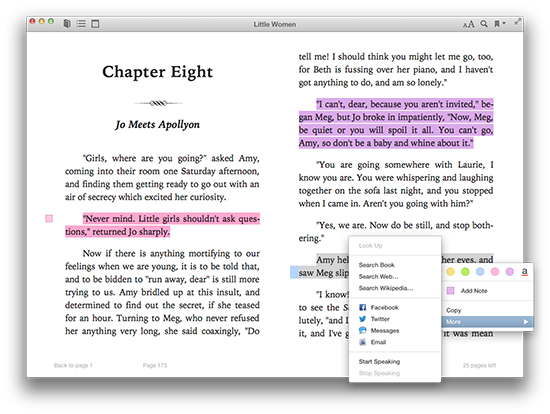 If you would like to highlight and make notes of your iBooks eBooks, you can click and hold on this part, just like you use Safari or Pages. And iBooks will pop up a new bar on the same window, in which you will see the following options: Copy, Highlight, Note, Search, and Share. No matter which one you choose, it will show the different features for you to meet your requirements. For example, when you tap on Highlight, you can customize the color of the highlight or add a note. If you can share your chose iBooks parts to Mail, Message, Twitter, or Facebook by clicking the "Share" button. From the Note menu, you can type in any notes in the note card, which can make your books more comprehensible. When you close the Note window, it will show up a little colored sticky note icon in the margin next to your highlighted text.
Categorize and Organize your iBooks Library with ease
When you have purchased and downloaded tons of iBooks e-books on your wooden bookshelves, and found out your favorite book collections have crewed out your bookshelves. You can start to use collections to organize your books into groups. Firstly, you can think out what categories you want to set, which just likes a guide to help you to access to your iBooks easily on the basic of your e-books, such as reference book, long story fiction and others. All categories are depending on your idea.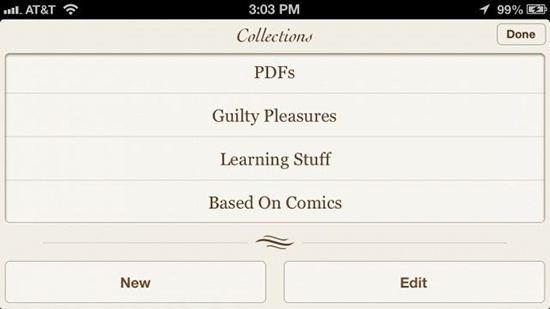 In order to create custom collection on your iPhone, iPad or other iOS devices, please tap the "All Books" button or the file type menu at the top of the screen, and then you can touch the "New" to create a new collection. Also, you can click the "Edit" button to type the collection name according to your needs. By the way, the default categories in iBooks are Books and PDFs. When you finish this process, you can organize your iBooks eBooks by touching the Edit option and tapping eBooks on the shelves that you want to move to the new category and clicking the "Move" button to move them automatically.
Delete Books and PDFs from iBooks on iOS Permanently
When there are various iBooks eBooks on your iOS devices, which are taken up a large storage and you have read these e-books already. What you will deal with them? The best way to get rid of them must be deleting these books PDFs from iBooks store, which is also a stunning way to free up space of your iPad, iPod Touch, iPad Mini as well as iPhone.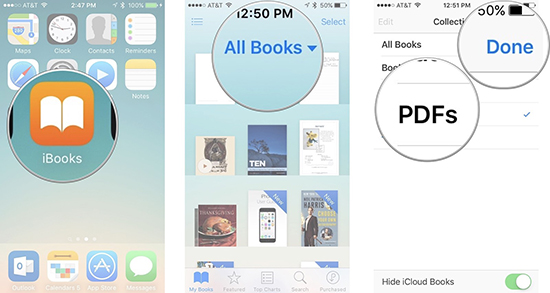 Taken iPad as example, you can follow this tutorial to learn how to delete a book or PDF file from iBooks. Now please open the iBooks from the home screen on the iPad via double clicks. Tap the target Collection that includes the files that you need to remove and click the Edit option in the upper right corner, and then you can choose all books and PDF files. Please make sure that all books you selected need to be deleted from your iOS devices before you tap the Delete button.
Import your iBooks PDFs to Other Devices with Wired Connection
you should pay attention that you might meet some obstacles on inputting images and documents to other devices without a detailed introduction, since the process made by Apple is not very easy. While you would like to import iBooks PDFs to other devices, you must use your iTunes store with the connection of Wi-Fi.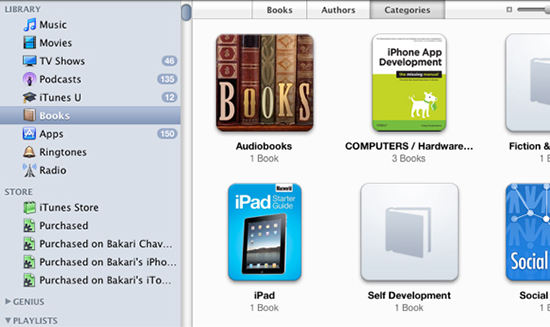 For the purpose of making you easier to use your iBooks application, you can follow this simple guide to make your iBooks PDFs available on other devices. First of all, you should add PDF files to iTunes library. It would be as easy as dragging and dropping your video files to it. Once you have imported PDF books successfully, you can find out them in the Books library, which is available on iTunes sidebar. And you can also to find them by the other approaches. By double clicks to launch iTunes preference, and choose the "General" option, and then you should touch the box next to Books. You can make your iPad or iPhone connection with iTunes store, now it's time for you to convert your favorite iBooks PDFs to any devices with ease.
How to Read iBooks eBooks on Non-iOS Devices
Since iBooks app is available on iOS devices due to FairPlay DRM technology, you will meet some troubles on reading iBooks on other OS devices. Put it another way, you are not allowed to read iBooks e-Books on any non-Apple device. But for some reasons, most of us want to read iBooks DRM eBooks on other devices, such as the crash of iPhone. In order to make iBooks users use iBooks freely, here, we'll introduce the best solution for you to make iBooks eBooks readable on non-Apple e-Readers, such as Amazon Kindle, Kobo, Nook Tablet, etc. Because iBooks files are protected by DRM technology, the important thing for us is to discover the best iBooks DRM removal. Here, we'll meet TunesKit iBook Copy for Mac, one of the most professional iBooks DRM removers, which can help you to remove DRM protection from iBooks store with near zero quality loss. For the detailed tutorial to remove DRM from iBooks eBooks, there is a source page for your reference: How to Remove iBooks DRM Protection with TunesKit.