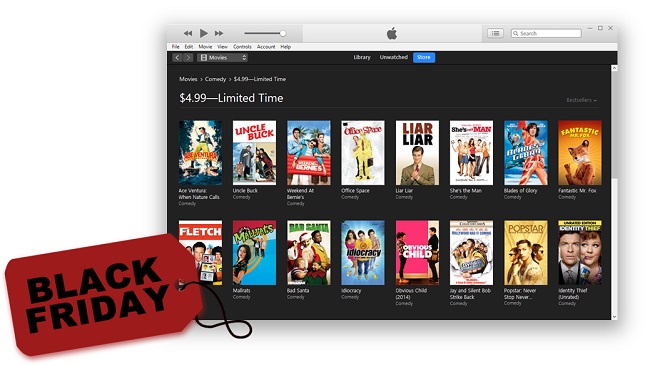 Finally, we stepped into the best shopping season of the year when all goods are on sale with big discounts. Although Black Friday 2017 is on 24 November, we're already seeing many retailers have begun their sales events across the web with bigger and better discounts than ever. If you are looking for special deals on digital films sold online, then you will be delighted to hear that Apple has just launched its 2017 Black Friday sale for iTunes movies, offering you a blockbuster title in HD at just $4.99 for a limited time this Black Friday.
Get iTunes HD Title for $4.99 Only from Apple Black Friday 2017 Deals
Black Friday could be the best time to save our money on products we've been planning to buy for the whole year. Like other sellers, Apple started the special Thanksgiving sale before the Black Friday finally arrives by bringing huge discounts on its iTunes movies, meaning that you will be able to purchase a handful of movies from iTunes at only $4.99 each, including HD movies with iTunes Extras.
Apple's Black Friday $4.99 iTunes movie sale is time-limited. The full list of titles is extensive and are broken down into different genres, including Action & Adventure, Comedy, Drama, Romance, Sci-Fi & Fantasy, Thriller, Sports, Classics, and Independent.
You can find some top movies included in this Black Friday sale, such as Mad Max Beyond Thunderdome, Mr. and Mrs. Smith, The Transporter, Wanted, Kick-Ass, A Good Day to Die Hard, Heat, Fantastic Mr. Fox, and more.
More Apple Deals: Get Discounted iTunes Gift Cards
Before you going for those discounted iTunes movies, you are suggested to purchase an iTunes gift card to save more. You'll be able to grab a $200 iTunes gift card for $165, a $100 card for $85 and more from online retailers, such as eBay, Costco, GameStop, Best Buy, Walmart, etc. iTunes gift cards can be used for buying any iTunes media item, including the digital movies, music, books, etc. In addition, you can send it to your friends as a holiday gift. In case you are not familiar with iTunes gift card, you can read this post: How to Gift iTunes Movies, Audiobooks, Music to Others.
Extra iTunes Tips: Share and Watch iTunes Movies Everywhere
If you already got the special iTunes movie offers, you'll find it's hard to load those movies to TV or other mobile devices for watching. In fact, that's because iTunes movies are locked by Apple's DRM copyright technology. In result, you are only allowed to play iTunes movie on Apple's own iOS devices. In order to view the DRM-protected iTunes movies on more devices and platforms, you have to use a 3rd party iTunes software like ViWizard DRM Media Converter to get rid of the DRM restriction from iTunes movies completely and permanently. This special tool is able to help you convert the iTunes movies (purchased and rented) to common video formats like MP4, MOV, AVI, etc. The good news is that this program and other DRM removal products are on sale now in ViWizard 2017 Black Friday deals. You can save up to 75% off on the top leading DRM removal solutions this Black Friday. For more details, visit: https://www.viwizard.com/special/2017-thanksgiving-sales/. You can also download the free trial version of this smart iTunes DRM removal software as below to test it out by yourself.
More Apple news you may like

Rick Lee has written about business and consumer technology for nearly 25 years. He is the author of more than a dozen books.