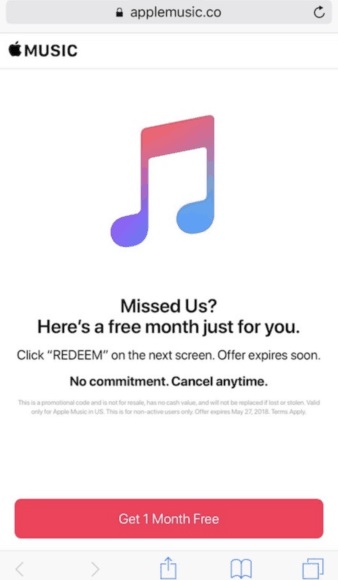 Although Apple Music has already got over 40 million paying subscribers so far, it's still far behind Spotify when compared to the latter's 75 million paying users. To overtake Spotify in the streaming music subscriber wars, it's reported that Apple Music extends its three-month free trial for some previous customers who never subscribed by an extra month.
Specifically speaking, if you had previously listened to Apple Music for free for 3 months, but didn't end up with a subscription, Apple will now give away another month to you for free trial. Till now, many users in United States, Canada, United Kingdom, and Hong Kong have been randomly alerted with the offer by Apple via push notifications or emails.
For the Apple Music trial users who are offered with the additional trial month via push notification, simply tap on it and it will direct them to a landing page with simple steps to redeem the code.
For customers who received the free offer with email, they should use the unique code in the email to redeem the offer. The email goes, "Come see what you've been missing in the new Apple Music, like a simpler design that makes finding what you want, and discovering new music, easier than ever."
In fact, Apple has been carrying out this promotion for at least six months. But it's still unknown what the exact parameters are to qualify, but it may be limited to users who trialed Apple Music prior to its iOS 10 redesign.
Accessing Apple Music after Subscription Ends? It's Easy!
For customers who already subscribed the Apple Music service, you can easily cancel the subscription at anytime if you want. However, you will lose the access to the songs once unsubscribed Apple Music. Is there any possibility to keep listening to the Apple Music tracks even when the subscription ends? Here's a workaround worth trying.
As you may know, songs you downloaded from Apple Music can only be transferred to authorized devices for playback. And once the subscription is cancelled, the songs and playlists you previously downloaded on your library will disappear. Why? Actually that's because Apple encrypted the music streams with FairPlay DRM, a special technology used to protect the copyright of the content owners.
Therefore, in order to unlock the limit, it's necessary to find a way to remove DRM from Apple Music songs. To do so, a DRM removal tool like ViWizard Apple Music Converter can be of great help. With this software, you can completely bypass DRM lock from Apple Music songs and convert the music to popular MP3, AAC and other formats. Once done, you can save the converted Apple Music songs on any device forever even if you cancel the subscription one day.
For more details, please visit this guide: How to Cancel Apple Music Subscription and Keep Playing the Songs.

Rick Lee has written about business and consumer technology for nearly 25 years. He is the author of more than a dozen books.