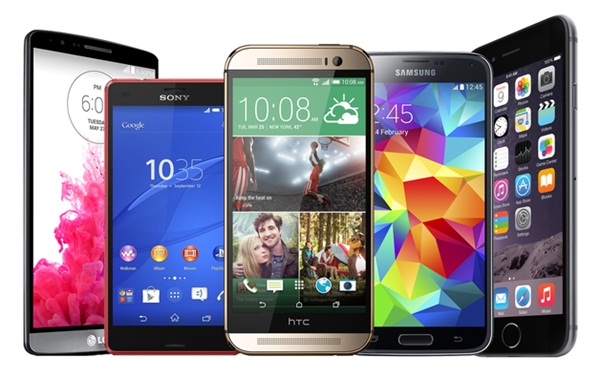 The year 2014 has been an important year for smartphones and tablets during which we saw great changes and development from the mobile developers, including the established big players such as Apple, Samsung, Sony as well as the fast growing groups like LG, HTC and Amazon. Since the competition among the mobile industry becomes more fierce than ever, it's getting difficult for us to pick the best smarphones and tablets from hundreds of up-and-coming names. To make it easier, we are now listing the top 5 best smartphones and tablets respectively that came out in 2014 as below, based on the consideration of appearance, functionality, price and other major tech specifications.
Top 5 Best Smartphones of 2014
HTC One M8
As the most impressive handset HTC has ever made, the One M8 which was released in March, 2014 could be the big-budget sequel to an Oscar-winning indie film. Featuring Android KitKat, aluminum body design, 5.0' Super LCD3 capacitive touchscreen, quad-core processor, Dual 4 MP camera, the flagship phone HTC One M8 has undeniably dominated the customers' eyes with a rip-roaring box-office. Like its predecessor HTC One, the M8 shows a refined software experience and a speedy performance that make it an excellent smartphone choice for anyone.
Samsung Galaxy Note 4
Although Samsung has experienced the worst financial performance in 2014 of the recent three years, its flagship phone Galaxy Note 4 still impressed on all fronts, including the 5.7-inch Super AMOLED screen, Qualcomm Snapdragon 805 chip, innovative S-pen and fast charging feature. Generally speaking, the Samsung Galaxy Note 4 might be the best option for people who loves a fast phone with a large screen.
Apple iPhone 6
The year 2014 is a milestone in Apple's history since it has finally succumbed to the trend of large screen smartphones and launched two iPhones this year, including the 4.7-inch iPhone 6 and the 5.5-inch iPhone 6 Plus. While delivering a bigger screen but remaining easy to handle, the iPhone 6 seems to be more popular than the Plus as proved by a better worldwide sales. With a brilliant display, improved wireless speed, better camera autofocus, and bumped-up storage capacities to 128GB at the top end, the Apple iPhone 6 is definitely the best overall phone of 2014.
Sony Xperia Z3
As the only smartphone on the 2014 top list which comes with an IP68 waterproof certification, Sony's flagship Xperia Z3 packs great battery life, brilliant display, beautiful design and improved camera of 20.7 megapixels. Therefore, for camera enthusiasts, the Xperia Z3 is a great smartphone to buy.
LG G3
When talking about the number two mobile manufacturer in Korea, most people would think of LG. But that could be a little different after the launch of its latest flagship G3 for which challenges Korean rival Samsung by outdoing Samsung's Galaxy S5 three times in the initial launch period. LG G3 goes bold with a new high-resolution "QHD" of 2,560x1,440-pixel resolution display, a laser-guided autofocus for the camera, a removable battery. All those features make it shinning among the best smartphones of 2014.
Top 5 Best Tablets of 2014
Apple iPad Air 2
Apple has created so many revolutionary products, among which the iPad is a perfect example. Evolved and optimized from several generations, the newest iPad Air is still the gold standard for tablets in the market. Comes with thinner and lighter design, anti-reflective display, faster A8X processor, improved camera and Touch ID sensor, the Apple iPad Air 2 remains to be the best tablet of the year 2014.
Google Nexus 9
As is known to all, the Google Nexus 9 is the first tablet to run Android Lollippop 5.0. It brings an HD display as well as a premium build with which this8.9-inch slate has been made an appealing adversary to the Apple iPad Air 2. Besides, its speedy performance and consistent updates also render it to the top list of best high-end tablets of 2014.
Amazon Fire HDX
Here we mean the Amazon Fire HDX 8.9 - the first tablet with Dolby Atmos audio-enhancing technology and Amazon's item-identifying Firefly function. As a high-end tablet for the whole family of Amazon Kindle Fire, the Fire HDX 8.9 is also one of the lightest and slimmest tablets around. Its user-friendly operating system includes Mayday instant customer service, extensive parental controls and the ability to set up individual profiles has made it one of the best and most affordable media consumption tablets of 2014.
Samsung Galaxy Tab S
Featuring a slim design, a gorgeous, super-high-definition display, tonnes of power, and the latest version of Android KitKat, the 8,4-inch Samsung Galaxy Tab S shares many of the design cues of the Galaxy S5. Ever since its release, it was regarded as a superb smaller tablet, and a worthy competitor to the ever-popular iPad Mini, though it's packed full of bundled software from Samsung and third parties.
Microsoft Surface Pro 3
Originally advertised as a laptop replacement, the Microsoft Surface Pro 3 is actually more successful as a tablet. Improved from the previous two generations, the Surface Pro 3 is currently the best Surface ever which brings a thinner and lighter design, a larger 12-inch display, higher resolution, a new kickstand and an innovative digital pen.
More Reviews of the Year's Best

Nick Orin is a review writer, software geek and Mac OS enthusiast. He spends all his free time in searching useful software and gadgets to share with others.