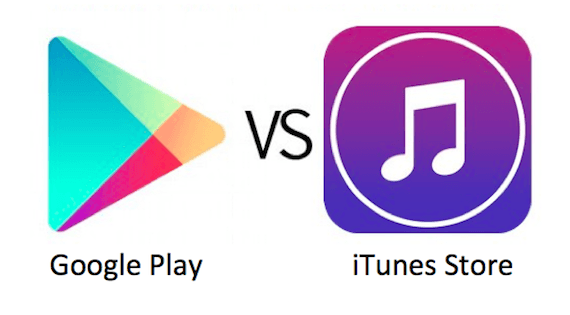 When talking about the most popular online digital media store in the world, most people would think of iTunes and Google Play, two biggest online stores that are offering a large amount of media content including a wide range of movies and TV episodes. Here in this article, we will make a deep review of Google Play and iTunes from different aspects, such as media catalogs, price models, playback options, etc. to compare the two in details so as to help you make quick choice of whether to buy movies on Google Play or iTunes Store.
iTunes Has More Media Content
First of all, to judge which media store is better, the media catalog is an important factor that can't be ignored. So far, iTunes seems to win this round with the biggest catalog of video and music offerings, that is more than 28 million songs and 45,000 movies, and more than 85,000 TV episodes since the year of 2011. While at this point, Google Play doesn't provide a clear statement about the specific size of its catalog by only saying that it has "millions" of songs and "thousands" of movies and TV shows.
Almost Same Price Models
Another key point that should be taken into consideration when comparing iTunes and Google Play is the prices for the media content released on both stores. Currently, we are glad to see that the price models for both stores are almost the same. For example, both iTunes and Google Play are offering a SD movie rental at $3.99 and HD at $4.99, while for a SD and HD movie purchase, both stores set the price at $14.99 and $19.99 respectively. Besides, in order to attract customers, both iTunes and Google Play provide a section of some free music and videos for people to download. So in this round, let's call it a tie.
Google Play Supports More Playback Devices
As you may know, due to Apple's FairPlay DRM restriction, iTunes movies and TV shows are only allowed to be played on authorized Apple's devices instead of other OS based devices, like Android. And for the movie rentals, you only have 30 days to keep the movie and 24 hours once you started watching it. At the same time, Google Play also provides the 30-day limit on rentals but the interval for watching once started is 48 hours. Besides, Google Play doesn't apply the playback restriction as iTunes does. It will allow users to watch the movies and TV shows downloaded from Google Play on Android phones and tablets directly while let iOS users watch the Google Play movies on iOS devices via the Google iOS app.
Tips: If you are downloading videos from iTunes and want to stream them to your Android devices or Google Play, you'll need to use ViWizard DRM Video Converter, a third-party iTunes DRM removal tool to get rid of the DRM lock from iTunes movies while converting the protected video files to the format supported by Android devices and Google Play. For the complete tutorial on transferring iTunes videos to Android or Google Play, you may visit the following pages.
iTunes Has More HD Movies
As of the video content resolution options, iTunes provides more high definition videos than Google Play since it offers almost all movies and TV shows in both HD and SD versions while Google Play only offers some of the videos with both HD and SD versions. That might have something to do with the fact that most Android devices don't support HD videos.
Conclusion & Suggestion
From the comparison we can see, iTunes Store may still be the top leader in online media store over Google Play in many aspects, such as the bigger video catalog and better video quality. Meanwhile, Google Play is still a strong competitor to iTunes due to a wider range of supported playback devices. So if you have a high demand on media content and video quality, you are recommended to use iTunes Store. Otherwise Google Play might be the better choice if you need to watch the movies on more devices.
More Reviews You May Also Like

Nick Orin is a review writer, software geek and Mac OS enthusiast. He spends all his free time in searching useful software and gadgets to share with others.