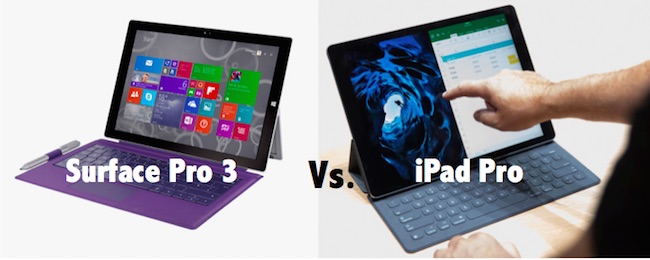 By creating a tablet (includes a keyboard and stylus) that is supposed to rival a desktop computer, Apple has just put its new iPad Pro in direct competition with Microsoft's Surface Pro 3 which came out over a year ago. As mega-tablet enthusiasts, you may like to know how the newly announced iPad Pro compares to the existing Surface Pro 3 head to head. Before we can get hands-on with the iPad Pro to say for sure, we will show you the major differences between iPad Pro and Surface Pro 3 from the unveiled specs, such as the design, display, performance, and so forth in the following article. You can refer to the full comparison here if you have no idea which tablet is to buy at present.
Head-to-head Specs Comparison: iPad Pro vs Surface Pro 3
To begin with, let's take a brief look at the full spec rundown of iPad Pro and Surface Pro 3 as below.
Apple iPad Pro
Microsoft Surface Pro 3
Size
12.9''
12''
Thickness
6.9 mm
9.14 mm
Resolution
2,732 x 2,048 pixels
2,160 x 1,440 pixels
OS
iOS 9
Windows 10
Storage
32/128GB
64/128/256/512GB
Camera
8MP iSight camera
5MP front and rear
Processor
Apple 64-bit A9X
Intel Core i3/i5/i7
Battery
Up to 10 hours
Up to 9 hours
Connectivity
Wi-Fi, 4G LTE (optional)
Wi-Fi, 4G LTE (optional)
Accessories
Apple Pencil ($99)
Keyboard ($169)
Surface Pen (Included)
Keyboard ($130)
Starting Price
$799 (32GB)
$799 (64GB)
Colors
Gold, Silver
Silver
Design
When it comes to the look and feel, the new iPad Pro and Surface Pro 3 have a lot in common. As you can see from the specs, there is minimal difference between the two on physical size and weight. Despite of that, iPad Pro and Surface Pro 3 look greatly similar especially when match up with their exclusive detachable keyboards. Outside of looks, Surface Pro 3 is slightly different with iPad Pro for it has a MicroSD slot for extra storage or file transferring. Otherwise the devices are almost identical.
Display
Although we can't see much differences between the looks on iPad Pro and Surface Pro 3, the screens of the two devices do show a clear difference on displays. iPad Pro is featuring a strikingly higher resolution at 2048p with a 265 PPI rating, while the Surface Pro 3 only features 1440p display with 216 PPI. And regarding the stylus, although both devices offer a 10-point multi-touch display with stylus support, iPad Pro has added more special features than Surface Pro 3 for stylus users, including more natural writing, annotating emails, drawing in notes, etc.
Key Features
Another important aspect to compare iPad Pro and Surface Pro 3 is from the different operating system they are running with. The iPad Pro is operated by iOS 9 with improved functionality on multi-tasking and software, while Surface Pro 3 runs the full Windows 10 Pro, a time-tested, fully featured OS. Although iOS has already become an incredibly popular platform for iPad lines, it still needs further testing to see how the new iOS 9 actually performs in a high-end device, like iPad Pro.
Performance
Similar to the situation on features brought by operating system of those two tablets, it's also hard to determine which device will come out ahead on performance due to different processors. iPad Pro introduces a new 64-bit A9X CPU while Surface Pro 3 offers choice of Intel dual-core i3, i5, or i7 processors. Apple claims the new chip proceeds much faster than A8X, as well as 80 percent of portable PCs in terms of performance. If it's true, iPad Pro will be impressively faster than Surface Pro 3. As for this part, iPad Pro may probably take the upper hand. But it's still hard to call before it's finally released.
Conclusion: Which Should You Buy
To sum up, the new iPad Pro is definitely a serious challenger to the long-suffering Surface line. Although there are still a lot of unanswered questions about the updated iOS 9 and A9X chip, the iPad Pro, according to the tech specs, could be enough to keep your from buying a Surface tablet until the hands-on reports of the new iPad were revealed. It's an attractive high-end convertible tablet that you can't miss.
Want to Play iTunes Movies on Surface Pro 3 like iPad Does?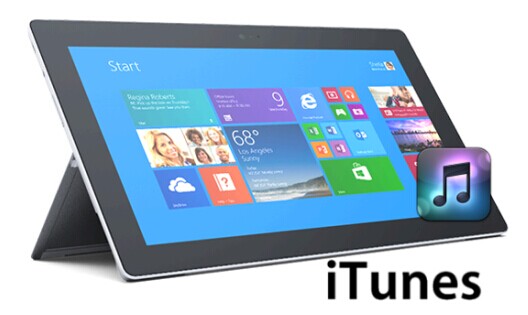 If you still can't decide which tablet is better to buy based on the spec comparison of iPad Pro and Surface Pro 3 listed above, you may refer to the following specific need regarding playback of iTunes movies on these two tablets. Let's put it simply. If you like buying movies from iTunes store to watch on your tablet, iPad Pro should undoubtedly be the better choice because it's authorised to allow you buy any iTunes movie or TV episode from iTunes directly via iTunes Store app so that you can watch iTunes movie content on your iPad with ease. But unlike iPad Pro which is able to buy and play iTunes movies, Microsoft Surface Pro 3 is not allowed to play any movie or TV show from iTunes due to Apple's DRM protection. As from this part, iPad Pro could be a better option to handle iTunes media playback over Surface Pro 3.
However, if you already own a Surface tablet, you can still watch iTunes movies and TV shows on your Surface with the assistance of some professional iTunes DRM removal tool. Here we are talking about ViWizard iTunes M4V Converter for Mac/Windows. This smart software will help you remove DRM protection from iTunes videos by converting the protected MPEG-4 (.M4V) format to common MP4 losslessly. Once the DRM is removed successfully, you can then transfer the DRM-free iTunes videos to your Surface tablets for watching without limit. For more details, you can follow this tutorial: How to Transfer iTunes Movies/TV Shows to Surface Tablets >>
Read More Smartphone Reviews...

Nick Orin is a review writer, software geek and Mac OS enthusiast. He spends all his free time in searching useful software and gadgets to share with others.