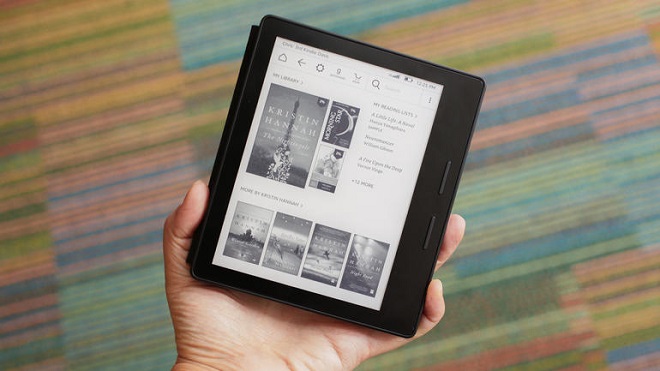 Amazon Kindle is a series of e-book readers developed and marketed by Amazon.com. Over the wireless network, Kindle users can use Amazon Kindle e-Readers to download and read e-books, newspapers, magazines, blogs and other electronic media files. In the context of substantial increase of reading books on electronic devices instead of reading traditional paper books, more and more people are beginning to use Amazon Kindle due to its eye-friendly design. Nowadays, when I take a subway or a train, I always see most of people immersed in the ocean of books via Kindle. Are you also one of the Kindle addict? Have you made a full use of Kindle to enjoy your e-book entertainment? Not really! Don't miss these best Kindle secret tricks that I will introduce in the following article.
Easily Take a Screenshot on Kindle
When you asked a Kindle owner who has been using Kindle e-reader for long time that how to make a screenshot with Kindle, the answer could be there is really such a function on Kindle? Actually, this convenient feature has appeared in Kindle users' sight when they launched Kindle at the first time. But most of Kindle owners have ignored this great function unintentionally. In fact, it could be easier to take a screenshot on Amazon Kindle, since you just need to hold down the two diagonal lines of the Kindle screen, which means that you should hold on the upper left corner and lower right corner of the screen at the same time. Once you have done successfully, it will show up a flash lamp to imply success. For the purpose of getting the Kindle screenshot files, you can use USB cable to connect Kindle with computer, and then open the Kindle destination folder to discover screenshots that you took before.
Send Documents from Desktop to Kindle
If you want to read your special books, which are not available in Kindle, you can send these documents to Kindle form your desktop, since Kindle supports almost all computer files and allows you to check and import important files for reading on Kindle e-Reader. However, the premise is that you should download Amazon's Send to Kindle program that is available for both PC and Mac. This Kindle Personal Document Service is compatible with Fire tablets, Kindle e-Readers and other Kindle reading applications with Amazon account.
More Tips: Although this Send to Kindle software can support multiple e-book formats, such as PDFs, Word docs, JPEGS, and more, you are not allowed to convert your iBooks eBooks to Kindle with this powerful software due to FairPlay DRM technology. Just like iTunes DRM movies and TV shows limited to playing on Apple ecosystem only, e-books purchased and downloaded from iBooks store are not able to read on non-Apple e-readers, like Amazon Kindle, Nook Tablet, Bobo as well as Sony e-reader. As a consequence, Amazon Kindle can't support iBooks protected e-books directly. If you aspire to read iBooks DRM e-books on Kindle, you should remove DRM protection from iBooks DRM files losslessly. Here, we highly recommend ViWizard iBook Copy for Mac, the most professional iBooks DRM removal solution. It can help you to get rid of DRM restriction from iBooks e-book purchases at 30X faster speed without touching the original files. Besides, iBook Copy for Mac also allows you to customize the output e-books by changing the parameters, including book author, book cover, publish date, etc. As for the detailed tutorial to make iBooks DRM e-books readable on Amazon Kindle, there is a source page for your reference: How to Read iBooks eBooks on Kindle.
Highlight a Text & Add a Bookmark Quickly
With the using of Kindle, you can highlight, share and bookmark text for referring to them later. When you want to highlight the text, you should hold on the word and drag your finger to the end of the text that you desired. Once you move your finger, this Highlight option will pop up and you can touch it lightly. By the way, you can export all highlighted texts by connecting your computer and Kindle with USB cable.
When it comes to adding a bookmark on Kindle, most of us will come to the menu bar at first, in which you can see the bookmark option, touch this bookmark tab, and add a bookmark. But actually, you can do one step to finish all things mentioned above. You just need to click the right upper corner of your Kindle touchscreen and add a bookmark directly.
Enhance the Time of Long-life Battery
With the ninth-generation all-new Kindle coming into the market, Amazon claims that this new Kindle Oasis is able to last up to eight weeks on the basic of reading e-books for 30 minutes a day. But most of Kindle users would also like to add extra weeks to use Kindle between recharges. And the good news is that you just need to do one thing to achieve this goal. You can keep your Kindle on Airplane Mode to avoid wasting power when you are using Kindle for reading only.
No matter you are the newbie on Kindle or the Kindle owner using Kindle for a long time, from the top 4 best Kindle secret tricks mentioned above, you can get a more convenient reading experience with Kindle. Now, you can just take out your Kindle and test these stunning Kindle tips with ease.

Nick Orin is a review writer, software geek and Mac OS enthusiast. He spends all his free time in searching useful software and gadgets to share with others.