As one of the most popular music streaming services, Spotify has been available on desktop, mobile, tablet TVs, cars watches and more. It even has expanded its platform offerings from apps for desktop and mobile to its Spotify web player.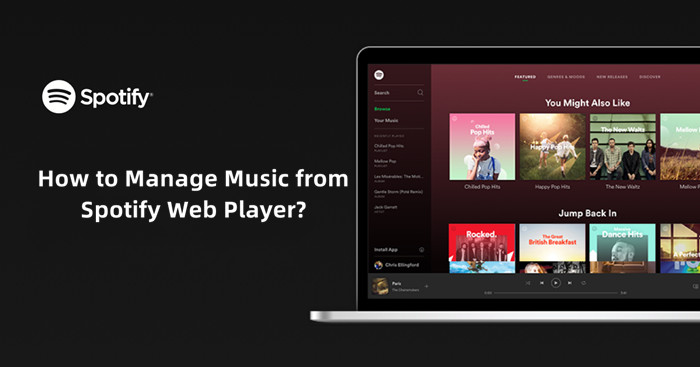 If you want a different experience with Spotify web player, well, read on to find out more!
Part 1. How to Play Music from Spotify Web Player
It's similar for users to access to music exclusives to Spotify via its web player. However, before reading on for how to play music from Spotify web player, please check whether the browser in use is compatible with the web player.
Supported Web Browser on Desktop
For identification, please note what browser is in use:
1. Chrome 66 or above
2. Firefox 60 or above
3. Edge 18 or above
4. Opera 49 or above
5. Safari 12.1 or above
On Spotify Web Player to Play Music from Spotify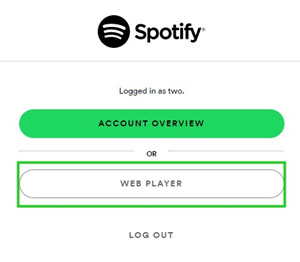 1. From here use a browser above to go to Spotify web player.
2. If it asks, please log in to the Spotify account.
3. To listen to music from Spotify web player, browse Your Library in the side menu.
Or
4. To discover more music tastes or music recommendations, click on the Search box to find some music songs to add to Your Library or Liked Songs.
5. Select a music content, click the Playback button to play music on Spotify web player.
Tips: Now most features and functions are supported on Spotify web player, go for exploring!
Maximum bit rate: 256Kbps (AAC) on Premium; 128Kbps (AAC) on Free.
To Download Spotify Web Player
If you want to have the Spotify web player's page on desktop for a quick access, it's also simple for Spotify web player download.
1. From the address bar, notice the share icon next to it.
Note: A click on the download icon will ask for an installation of the desktop app.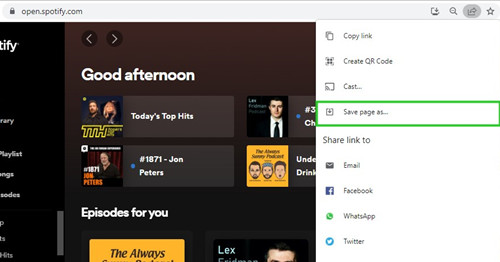 2. From the dropdown list, select Save page as.
3. In the pop-up Save As window, choose a location to save the page of Spotify Web Player as html file.
Tips: The File name is the default Spotify - Web Player.html. Also make sure the Save ad type: Webpage, Completed.

4. Click Save to save the html file.
Done! Now the Spotify web player is accessible on the desktop.
Part 2. How Most Users Download Music from Spotify
It's perfect for Spotify users to stream music with the free, ad-supported tier on a browser. It's even convenient to download Spotify web player and access it on desktop. However, when it comes to download music songs from this existing platforms, well, it's a different story.
Can I Download Music from Spotify Web Player?
Unfortunately it's not allowed to download Spotify songs from its web player, even with an active Premium subscription. It's hard not to make it clear that the most users would step back to download apps to download their favorite songs.
What's more, for those who used to streaming music from Spotify web player, this also bring an extra cost on the Premium subscription to access the exclusives in Spotify Premium, including the download service and better streaming quality.
On Spotify Premium to Download Music from Spotify
On Premium for desktop or mobile, subscribers can download songs limited to 10,000 on each of up to 5 different devices to listen offline.
Note: Premium subscribers also need to go online at least once a month to keep all the downloads.
On Spotify Free to Download Podcast from Spotify
Even the music is not to be downloaded on Spotify Free, users can still benefit from the free podcasts download. Yes! Podcasts on Spotify Free can be download for free in a app for desktop, mobile or tablet instead.
Go to podcast and see the available download button on its detailed page. A click on the download button can have it for offline listening. It's free with an available account!
Part 3. How to Download Music on Spotify Free
When a switch to app must happen to download music from Spotify, there's a pain in the back for either Premium subscribers or Free users to spend an extra cost to start or continue with the download service.
It's a universal truth: free is better. Don't despair. You can benefit from some exclusives to make download music from Spotify for free easier than ever.
Thing You'll Need: Spotify for Desktop App
No worries. This is different from what the platform tells how active Premium subscribers download songs to listen offline in its app for desktop or mobile.
While the download still needs to be finished in desktop or mobile app, users can hand this task to a powerful tool to download music songs using the desktop app - no Premium subscription requires.
On Spotify Free to Download Music from Spotify with ViWizard
ViWizard Spotify Music Converter is a professional converter that enables users in either Spotify Premium or Spotify Free to download all the music songs with an available account. In addition to downloading, it can convert the music songs into the most-common formats, including MP3, M4A, MAV, WAV, AAC and FLAC.
Thing You'll Need: ViWizard Spotify Music Converter
While the songs to downloaded with Premium subscribers are limited to 10,000 on each of up to 5 different devices, songs downloaded with ViWizard have no limits for either amounts or devices. What's more, it won't require users to go online to keep the access of the downloaded songs. Once have the local collection with ViWizard, it's here for keeping forever.

ViWizard Spotify Music Converter Key Features
Convert and download Spotify songs to MP3 and other common formats
Download any Spotify track, playlist, album without premium subscription
Download any Spotify music with 5X faster speed
Save Spotify with original audio quality and ID3 tags
Download and install either Mac version or Windows version of ViWizard Spotify Music Converter to continue the conversion for free!
1

Add Spotify Music to ViWizard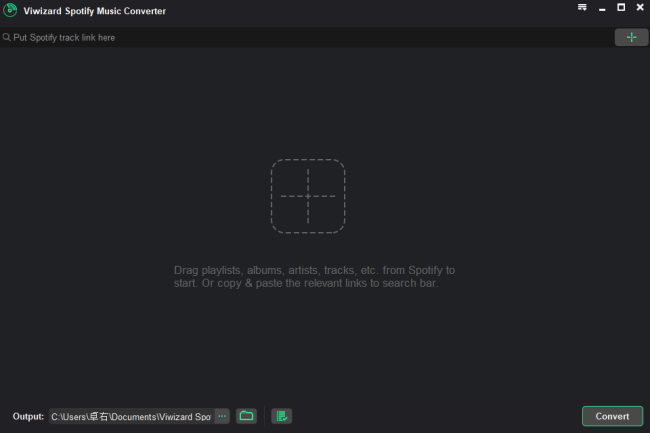 Launch ViWizard Spotify Music Converter, then wait until it launches or click OK to relaunch the desktop app. From the desktop app to ViWizard, add the music contents for conversion via drags-and-drops. Once the music tracks are added, ViWizard would show the each song's basic information for identification.
2

Customize Spotify Music in ViWizard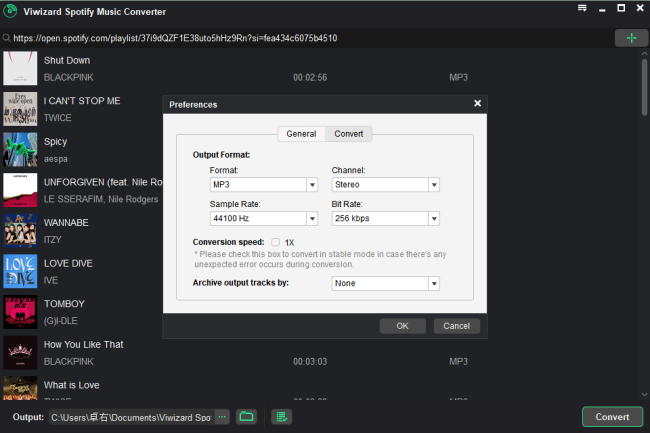 In ViWizard, click the menu icon at the top, then Preference. Click Convert to show all the output parameters supported here. For Format, we recommend MP3 or FLAC. For Bit Rate, either 320Kbps or 256Kbps is recommended based on the storage space. After that, click OK to save the changes.
3

Start the Conversion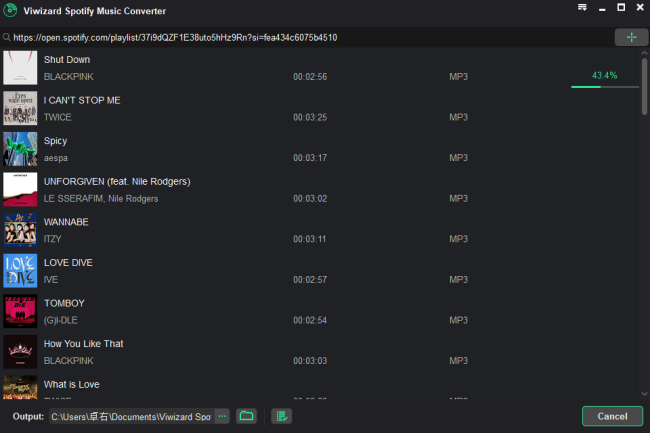 Now click the Convert button to start the conversion at a 5x speed. After the conversion, the output folder will pop up to browse all the converted music files.
More Spotify Music Tips & Tricks