Many are perturbed when it comes to choosing the best music streaming service to subscribe to. Google Play Music and Spotify are among the top streaming services that are not easy to differentiate. As a matter of fact, music streaming business nowadays is facing a very stiff competition. This can be attributed to new names that make their way to the list, giving the established names a run for their money.

Spotify is one of the established names that has been enjoying music business space for years now without much competition. But not until the Google Play Music was introduced. It is true that the existence of Google's own streaming music service has brought significant change, but still Spotify stands tall as the leading music streaming service, proven. Now let's end the war between Spotify and Google Play with a deep comparison based on music quality, interface and other main features.
Spotify vs Google Play Music 2020
1. Spotify vs. Google Play Music: Features
Both of these two music streaming services have 30 million-plus songs available for streaming. Google Play Music, however, offers you a vast number of tracks to choose from. Spotify only allows you to add utmost 10,000 tracks from its catalog. While with Google Play Music, you are able to handle up to 50,000 own songs without making any subscription. Depending on what you want you can make more subscription and add purchased tracks to your music library any time you feel like.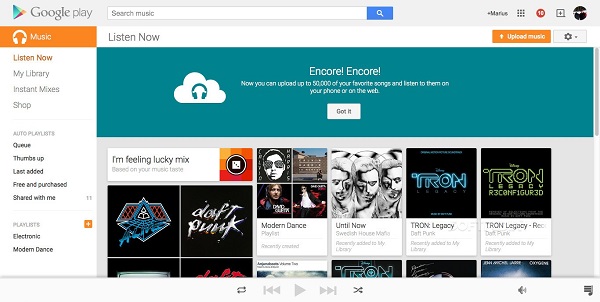 In the comparison of Google Play Music vs Spotify, the latter comes with a huge collection of tracks in its library giving you all the latest tracks as well as older ones. It also boasts of a wide range of stations to choose from depending on what you want to listen to. With Spotify algorithm, you are guaranteed to get well-curated playlist depending on your current mood. Compared to Google Play Music which only has instant chat support and over-the-phone support, Spotify allows you to tweet your problems to Spotify care. Its feature lets premium version users enjoy luxury by enabling them to download more than 3,000 tracks per device on three different devices. It gives you powers to listen to your playlist offline. Google Play Music will also allow you to enjoy the greatness of offline listening but not until you subscribe to the music streaming application.
Also if you have Mac OS and Windows, Spotify desktop app ensure you enjoy your music while working.
2. Spotify vs. Google Play Music: Pricing
The pricing of Spotify and Google Play Music are just the same. Both go for $9.99 for individual and $14.99 per month for a family account which can be used by six users. There are free versions also that come with minimal skips plus ads.
Now With Spotify family subscription, you ought to be at the same residence because you will not be allowed to change addresses once it starts. But if you must relocate, then you will move to an individual account to start a fresh. While Google Play Music family plan has no enforcement for you to live at the same address, it gives you the freedom to switch.
For students, the best deal is Spotify because it offers you Spotify premium, Hulu(ad-supported) and 'ShowTime' for only $5 per month as family plan enjoys it for $15 a month. Google Play Music does not provide this service unless you unlock your premium features. But still you will pay more as compared to Spotify family plan for instance; for an individual you will pay $12 a month and $18 for a family plan.
3. Spotify vs. Google Play Music: Sound Quality
Again it is good to note that since the world of Android error is full of music streaming service, it remains difficult to choose one that provides quality. But as competition heightens Spotify and Google Play Music stand out as the best service providers hence Google Play Music vs Spotify battle.
Talking of sound quality, both Spotify and Google Play stand tall with more than 30 million tracks in the music library. This makes it a bit difficult to determine the quality but both streams at 320kb/s.
The music sound quality is also determined by how data is used. Google Play Music lets you choose whether you need a high, low or normal Wi-Fi or Mobile Network plan. Spotify will give you qualities of audio ranging from automatic to normal, to high and not least, extreme high. However, extremely high quality is only used by premium subscribers. So for you to have extremely high sound quality songs you will need a premium version.
4. Spotify vs. Google Play Music: Interface
Even though Google play music appears to be of extremely high quality, it still can't match Spotify which is dark. Spotify's dark theme offers your app a crystal clear look that is much better for your eyes during the night jam sessions. It is far much better than Google play music's hamburger drawer because it has a bottom tab layout which is easier for jumping between a section of the app. Spotify's settings, radio, and library all found below the panel which is easy to maneuver around with. The Spotify interface is well organized and therefore reduces stress when looking for your own specific playlist.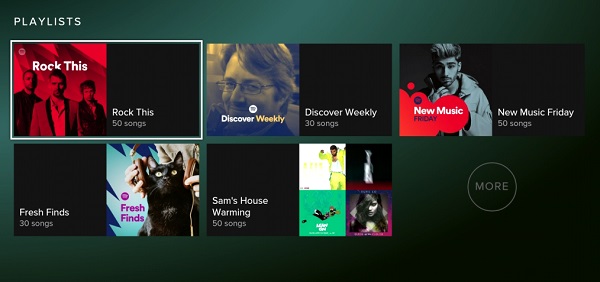 Spotify suggested tracks and an automatic station is more accurate in prediction than Google play music. As opposed to Google play music, Spotify gives you weekly and daily mix playlists to keep your songs new all the time.
Verdict: To wrap the wrangle between Google Play Music and Spotify up, it is important to try both of the music streaming apps so as to come to terms with the experience while using them. The significant thing is to get used to their interfaces. Spotify is over Google Play Music in numerous areas, such as music library, and user interface. Be rest assured that you will get a playlist of your choice meant to make you happy. Spotify is currently on demand as the developers believe streaming is the future of music consumption. I suggest you stick to Spotify to cut down the stress of searching for songs manually through a vast database.
Extra Tips: Listen to Spotify Offline with Free Accounts
Currently, only premium users of Spotify are able to download Spotify songs for offline listening. If you are using the free version of Spotify, you can only listen to the songs online. However, this problem can be ultimately solved now with the help of some Spotify music downloading tools, such as ViWizard Spotify Music Converter. With this app, you are able to extract and download any Spotify track/playlist as MP3 without losing any quality.
More streaming music tips