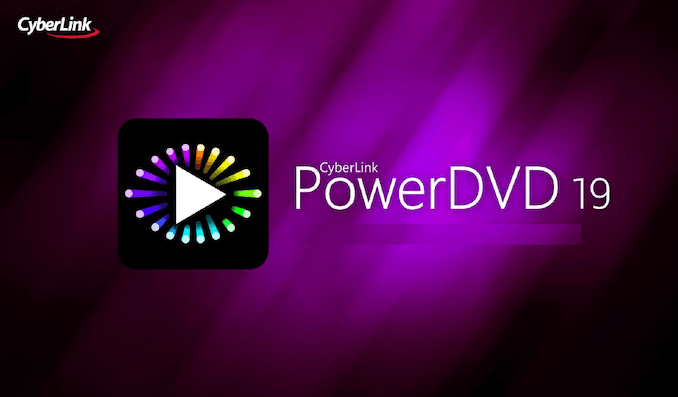 Being a media player junkie, you must have long heard of the name of the Cyberlink PowerDVD. Or maybe, you've already a user of it. When I first get to know it, I was amazed by its powerfulness and comprehensiveness.
Extreme Video and Audio Quality
Talking about PowerDVD, you won't miss its high-resolution video technology and master-quality sound technology. Better than 4K, 8K Blu-Ray disc playback was added to the latest PowerDVD 19, which recently released on April 16.
Another thing must be bragged about is that PowerDVD became the world's first and only software player to pass the BD-ROM 4.0 PC Application Software License process during 2016.
An All-round Multimedia Player
PowerDVD claims to be the most complete multimedia player for home theater and PCs. It can play DVD, Blu-ray discs, VR 360 ˚, and even YouTube and Vimeo, not to mention it covers a wide range of supported file formats. Owning PowerDVD, you virtually own a home theater.
Can PowerDVD Stream iTunes Movies?
Though PowerDVD is such a capable and competent media player, it's pitiful that it is still not able to play iTunes Movies. This is a question asked by a customer in the Cyberlink Official Forum:
"Can I play iTunes Movie on Cyberlink ultra15 PowerDVD? If so, how? Thanks." -dc8flyer
And this is the answer he got:
"Hi dc8flyer, We cannot support iTunes Movies as DRM protection. If you try to play iTunes Movie with PowerDVD, you will get a message notifying this. Greetings "-Hicham
Is it really out of luck and no way to watch iTunes Movies on this great media player? I will tell you of course not! Today we are here to help and will offer you the easiest solution to make your PowerDVD much more powerful.
Who's TunesKit M4V Converter?
According to the reply above, DRM protection is the reason why PowerDVD cannot play iTunes movies. To get rid of DRM protection, here we introduce you a useful tool- TunesKit M4V Converter.
A Multifunctional Remover
Common M4V converters you can see in the market can convert only M4V format to plain MP4 format while TunesKit is capable of converting both DRM-ed video, which refers to M4V format video, and over 30 types of non-DRM video.
An All-Purpose Converter
As an all-in-one video converter, TunesKit cannot only convert DRM protected iTunes M4V videos to common MP4, but also to MKV, MOV, AVI and more than 20 video formats.
A High-Quality Video Defender
Just like PowerDVD, TunesKit also values a lot about converted video quality. Using TunesKit M4V Converter, original high quality of the protected M4V, including all audio tracks, subtitles, AC3 Dolby 5.1 surround sound, etc. will be 100% preserved.
Assist with TunesKit, you can easily rip DRM from iTunes movies you would like to stream to the PowerDVD and convert them to many popular formats. Following will be the how-to tutorial.
Easiest Solution to Watch iTunes Movies on PowerDVD
Step 1. Import iTunes Movies to TunesKit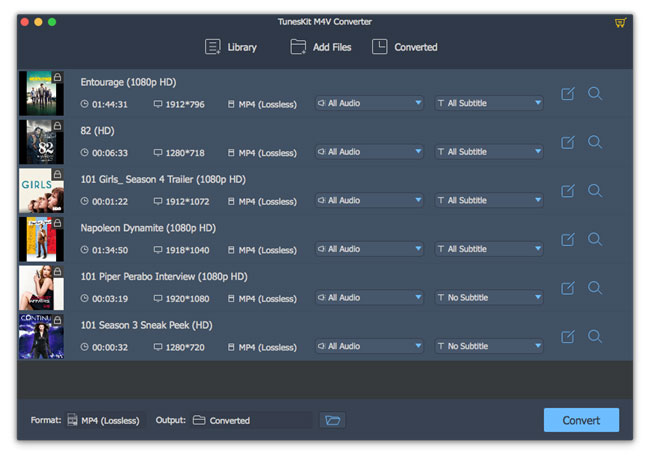 Download TunesKit M4V Converter from the link above and install it on your PC. Ensure that iTunes is well-installed in your computer in advance. Then open TunesKit and iTunes will be launched automatically. Here are 3 ways for you to import iTunes movies to the converter:
1) drag the videos from the iTunes media folder to the converter directly
2) Click the "Library" to add movies and click "OK"
3) To convert common video files, simply click the "Add Files" button next to "Library".
Step 2. Adjust Output Settings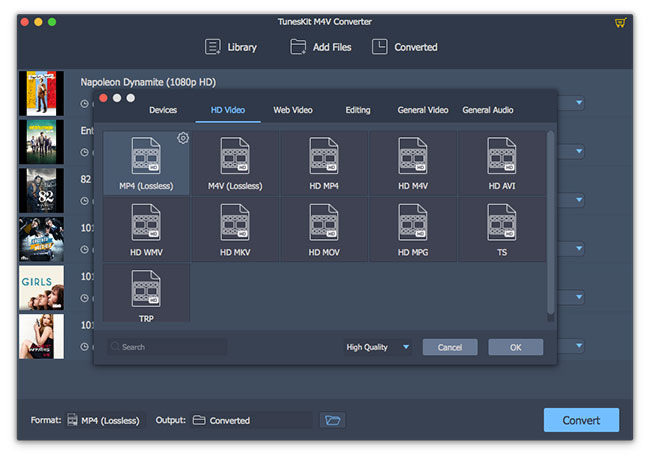 Once the movies upload to the converter, you can adjust the output audio track and subtitle from the right hand of the column of each video. After that, click "Format" panel to select the output device, video quality, video, and audio format. FYI, iTunes movies are usually encoded in M4V format and PowerDVD supports M4V so in this setting you can stay put.
Step 3. Rip DRM and Convert iTunes Movies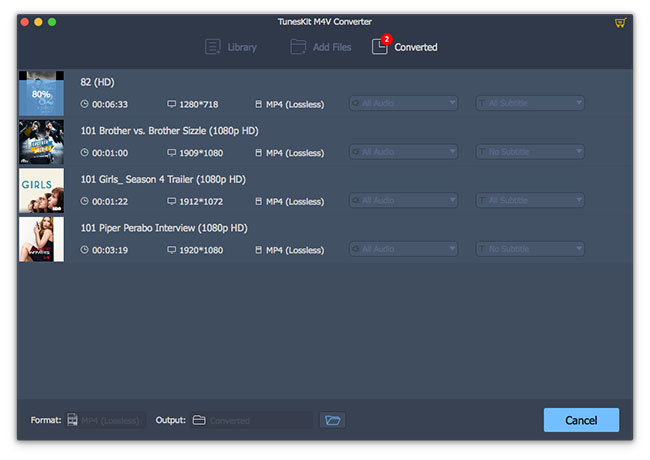 When all the settings are ready, you can click "Output" panel to readjust the output path otherwise the converted video will be saved in the default folder named Converted. Then simply hot on "Convert" at the bottom right to get the DRM-free video. When the conversion is done, find the file and you can copy them and play itunes movies on PowerDVD.
The Bottom Line
PowerDVD is something too good to be given up and iTunes is certainly another thing we depend our media life on. To better match these two and make them work well with one another, TunesKit M4V Convert will be their best buddy.