"I have a full premium account on Spotify, so I can download songs for offline use. But when I try to use Spotify music on iMovie, it just remains no response. Why? Do you know how to add music to iMovie from Spotify? Thanks." - Fabrizio from Spotify community
Creating beautiful, funny, or captivating videos in iMovie is made possible. However, when trying to find an appropriate background music for their videos, many people feel difficult. Music streaming platforms especially Spotify could be a good place to access various music resource, but adding Spotify songs to iMovie is a hug problem for most people like Fabrizio.
As for now, there's no official solution to this issue yet, as Spotify music is licensed for use only within the app. That's to say, although premium users can download songs, the music won't work on iMovie since it is incompatible with iMovie. Fortunately, with a simple trick here, you can still add music to iMovie from Spotify. The following post will show you how.
Part 1. Can You Add Music from Spotify to iMovie?
As we know, iMovie is a free media editor developed by Apple and is in bundle with its Mac OSX and iOS. It provides advanced options for users to edit photos, videos and audios with enhanced effects. However, iMovie only supports a limited number of media formats, such as MP3, WAV, AAC, MP4, MOV, MPEG-2, DV, HDV, and H.264. You can read the following table to learn the detailed audio and video formats supported by iMovie.
| | |
| --- | --- |
| iMovie Supported Audio Formats | MP3, WAV, M4A, AIFF, AAC |
| iMovie Supported Video Formats | MP4, MOV, MPEG-2, AVCHD, DV, HDV, MPEG-4, H.264 |
Therefore, if the files are in different formats, you won't be able to add them into iMovie as expected. Unfortunately, that's the case with Spotify. To be specific, Spotify songs are encoded in OGG Vorbis format with DRM protection. Thus, Spotify music cannot be played outside of the Spotify app even if the songs are downloaded.
If you want to import Spotify music to iMovie, you should first remove the DRM protection and then convert Spotify OGG songs to iMovie compatible formats like MP3. All you need is a professional third-party Spotify music converter. So, come into the next part, and get an effective workaround to help you add Spotify music to iMovie.
Part 2. How to Use Spotify Music on iMovie with ViWizard
ViWizard Spotify Music Converter is such a useful tool. As an easy-to-use Spotify music downloader and converter, ViWizard enables you to download songs, albums, and playlists from Spotify no matter you're using a free or Premium Spotify account. Also, it will convert Spotify songs to MP3, AAC, WAV, or M4A that are supported by iMovie. Moreover, it's able to keep the original audio quality and ID3 tags as well.

Key Features of ViWizard Spotify Music Converter
Get rid of DRM protection from Spotify songs/albums/playlists
Convert Spotify music to MP3, AAC, WAV, and more
Download Spotify songs with lossless quality
Work at 5× faster speed and preserve ID3 tags
You could install the version for Windows or Mac according to the operating system. Then you'll learn how to use ViWizard Spotify Music Converter to get rid of DRM restriction and convert Spotify tracks to MP3. Here are the complete steps you should follow:
Step 1

Add Spotify songs to ViWizard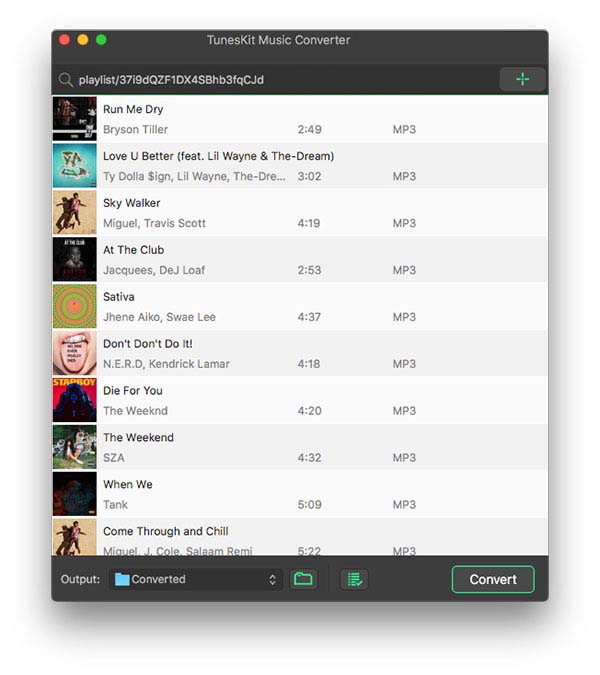 Launch ViWizard Spotify Music Converter on your Mac or Windows, then wait till the Spotify app is completely loaded. Browse the Spotify store to find the songs you want to add into iMovie and then directly drag the URLs into ViWizard.
Step 2

Choose output format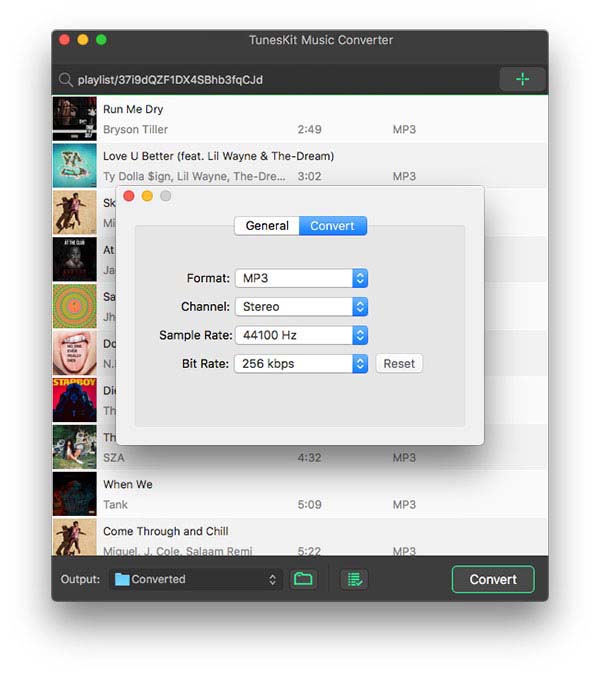 Move to the menu bar and select 'Preferences'. Then click 'Convert'panel and select the output format, channel, sample rate, bit rate and more. To make the Spotify songs editable with iMovie, you are highly suggested to set the output format as MP3.
Step 3

Start the conversion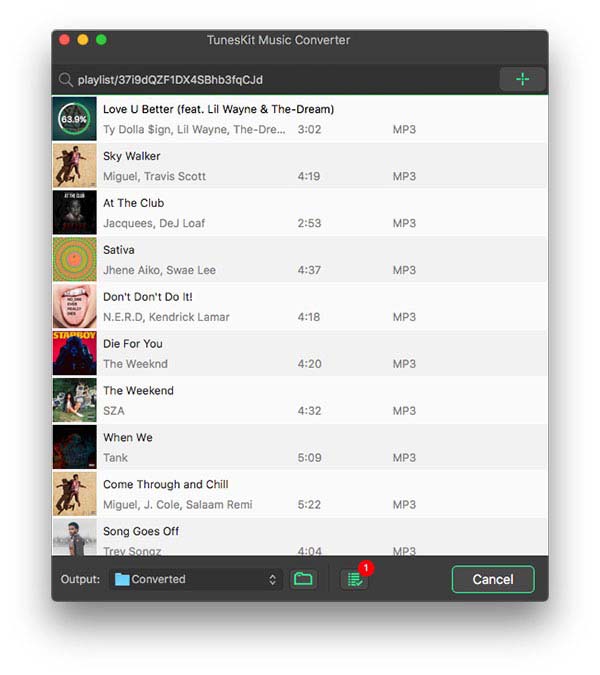 Click 'Convert'button to start removing DRM from Spotify tracks and converting the audios to MP3 or other iMovie supported formats. After conversion, click on 'history'icon to locate the DRM-free songs.
Part 3. Guide on How to Add Music to iMovie on iPhone & Mac
Once completing the conversion, you can easily import the DRM-free Spotify songs to iMovie on Mac and iOS devices. In this part, you'd know how to add background music to iMovie on your Mac or iOS device like iPhone. Furthermore, watch the video below about how to add background music to your videos in iMovie.
3.1 How to Add Music to iMovie on Mac
In iMovie for Mac, you use the drag-and-drop feature to add audio files into your timeline from the Finder. Alternatively, you can use the media browser within iMovie to find your songs or other audio files. All you need to do is follow these simple steps.
Step 1: In the iMovie app on your Mac, open your project in the timeline, and then select Audio above the browser.

Step 2: In the sidebar, select Music or iTunes to access your music library, then the contents of the selected item appear as a list in the browser.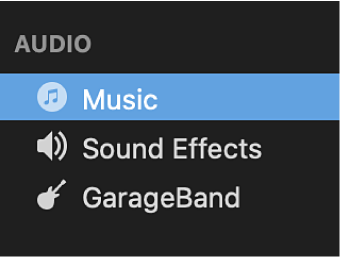 Step 3: Browse to find the Spotify music track you want to add to your project and click the Play button next to each song to preview it before adding.
Step 4: When you've found the Spotify song you like, drag it from the media browser to the timeline. Then you can position, trim, and edit the track you add to the timeline.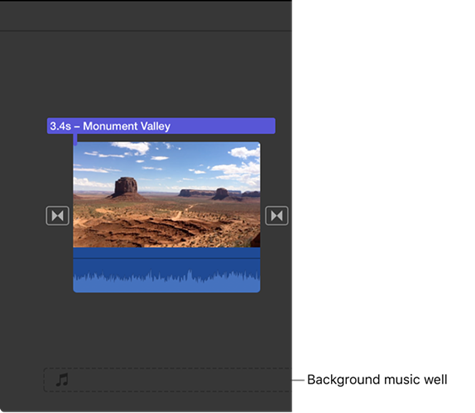 3.2 How to Add Music to iMovie on iPhone/iPad/iPod
It's easier to use iMovie on your iOS devices with your finger. But before using Spotify songs in iMovie, you need to move all your required Spotify music to your iOS devices using iTunes or iCloud first. Then you have the ability to import Spotify song to iMovie for further setting.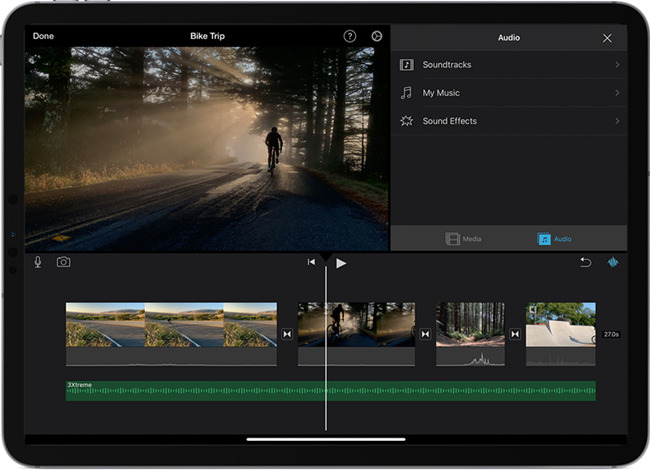 Step 1: Open iMovie on your iPhone, iPad, or iPod, and then launch your project.
Step 2: With your project open in the timeline, tap the Add Media button to add music.
Step 3: Tap Audio, and then there are two option for you to find your songs. You can tap Music if you've moved Spotify songs to the Music app on your device. Or you can tap My Music to browse songs stored in iCloud Drive or another location.
Step 4: Choose a Spotify song you want to add as the background music in iMovie and go to preview it by tapping the selected song.
Step 5: Tap the plus button next to a song you want to add. Then the song is added at the bottom of the project timeline, and start adding a sound effect.
3.3 WATCH: How to Use Spotify Songs on iMovie with Ease
Next, you're freely to watch the short video guide below to get more details about how to import music to iMovie from Spotify.
Part 4. FAQs about Adding Music to iMovie
And you'd have lots problems about adding music to iMovie. You can add background music to your project in iMovie with ease. But in addition, iMovie provides lots of other features to users to create more amazing videos. Here we'll answer those frequently asked questions.
Q1: How to Lower Background Music in iMovie
After you add music tracks to your iMovie project, you can adjust the volume of the track to get the sound mix just right. To adjust the volume of an audio, tap the clip in the timeline, tap the Volume button at the bottom of the window, then adjust the slider to decrease the volume. For Mac users, just drag the volume control down.
Q2: How to Add Music to iMovie without iTunes
It's possible to add music to iMovie without iTunes. You just need to find the sound you want to add, and then drag audio files like .mp4, .mp3, .wav, and .aif files from the Finder and the Desktop right into the timeline of your iMovie project.
Q3: How to Add Music to iMovie from YouTube
In fact, YouTube doesn't team up with iMovie, thus not able to directly add YouTube Music to iMovie. Fortunately, with a YouTube music downloader, then your problem will be solved.
Q4: How to Add Sound Effects in iMovie on Mac
iMovie provides a library of sound effects to choose from, so you can add sound effects to your project with ease. In the iMovie app on your Mac, select an audio clip in the browser or timeline. Click the Video and Audio Effects button, select the Audio Effect option, and then click the audio effect you want to apply to the clip.
Q5: How to Fade out Music in iMovie on Mac
Fades are commonly used audio transitions, and you can use fade-ins and fade-outs to control the volume of the audio in your project. Just position the pointer over the audio portion of a clip in the timeline to reveal fade handles. Then drag a fade handle to the point in the clip where you want the fade to begin or end.
Bottomline
iMovie gives you the ability to create lots of interesting movies at no addition cost. Meanwhile, thanks to ViWizard Spotify Music Converter, you can download Spotify music to iMovie for use. From the content above, you've known how to add Spotify music to iMovie with the help of ViWizard Spotify Music Converter. Any problem, please feel free to contact us or leave your voice below. Hope you enjoy your editing in iMovie with songs from Spotify.
More Spotify tips & tricks