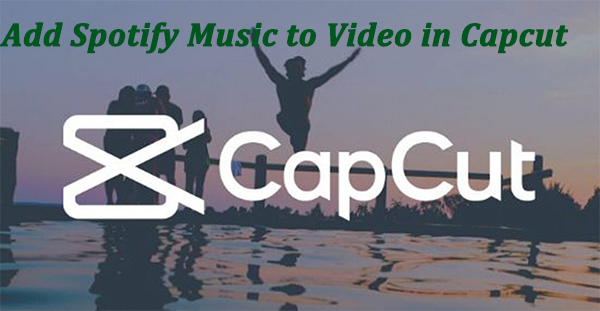 CapCut is a popular video editing software that allows you to beautify your videos on your phone, desktop, or laptop. In addition, this video editor lets you add exceptional effects, which will improve the video-watching experience. This tool comes with lots of built-in features like text-to-speech. In video editing, one thing that customer want is audio. And to add audio, customers always want to add music files from the best tools that have a massive library of songs. And that's when Spotify comes into the picture.
Not that CapCut doesn't have a collection of songs, but when someone knows their favorite songs are already there on Spotify, they want to have the freedom to add Spotify music to CapCut. If you want to use your favorite song as the background music in video, this guide will tell you how to add music to CapCut from Spotify.
Part 1.

How to Add Spotify Music to CapCut

CapCut and Spotify operate on different platforms with distinct file formats and usage policies. Spotify uses a proprietary format for its songs, and CapCut supports only specific audio file formats. As a result, attempting to directly import Spotify tracks into CapCut often leads to frustration.
Supported CapCut Formats:
Audio Format: MP3, WAV, WMA
Video Format: MP4, VOB, VRO, ASF, WMV, WMV HD, MOV, MOD
Image Format: JPEG, TIFF, BMP, GIF
CapCut typically supports commonly used audio file formats such as MP3, WAV, WMA, and others. On the other hand, Spotify uses a format known as Ogg Vorbis, which is not directly compatible with CapCut. To overcome these compatibility issues, we recommend using ViWizard Spotify Music Converter. This powerful tool is designed to convert Spotify songs into universally compatible audio formats, making them suitable for use in CapCut and other platforms, including InShot and many others.
How ViWizard Works:
ViWizard Spotify Music Converter works by extracting and converting Spotify tracks into popular audio file formats like MP3, WAV, or AAC. This conversion process retains the original audio quality while ensuring compatibility with CapCut. It allows you to build your CapCut projects with your favorite Spotify tracks hassle-free. By leveraging ViWizard Spotify Music Converter, you can unlock a new level of creativity in your CapCut projects, combining the visual appeal of your videos with the perfect soundtrack from Spotify.

Key Features of ViWizard Spotify Music Converter
Free Trial
Free Trial
* Security verified. 5, 481,347 people have downloaded it.
Convert Spotify music to common audio format like MP3
Function as a Spotify music downloader, converter and editor
Get rid of all digital rights management protection from Spotify
Preserve ID3 tags and other metadata information of Spotify music
Part 2.

How to Download Music from Spotify to CapCut [Tutorial]

This section will help you understand how to download music from Spotify for use in CapCut. Go to download the correct version of ViWizard Spotify Music Converter on your computer. After downloading, you will have to begin the setup process by installing it. Now follow the step-by-step guide to learn how to proceed with the conversion and downloading process.
Step 1

Select Spotify Songs to Use in CapCut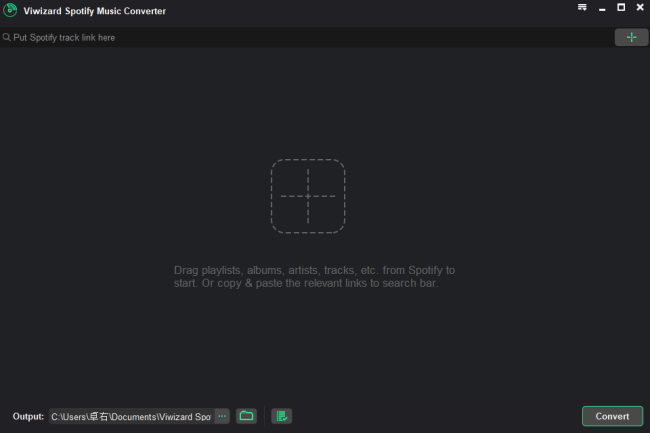 Once opening ViWizard Spotify Music Converter, you will find that the Spotify app is automatically loaded on your computer. Then browse through the tracks you want to use in CapCut and locate the music track. You can drag and drop those Spotify songs to the main interface of ViWizard software. In addition, there is a search box on the tool. You can copy the music link and paste it there for loading Spotify songs.
Step 2

Set the Output Audio Format for CapCut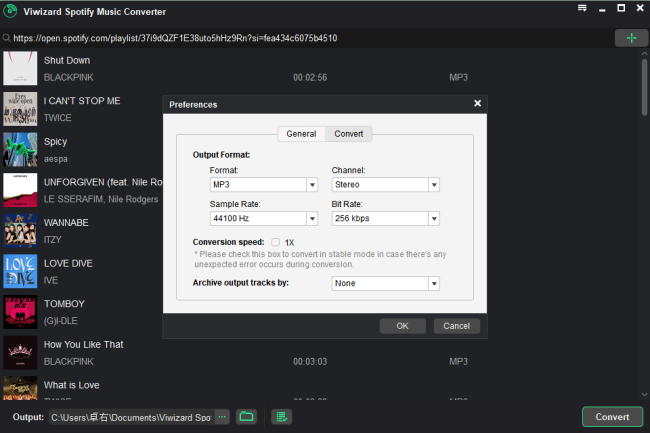 After your required songs are uploaded to the converter, you can go ahead and change the output format. Simply click the top menu bar and select the Preferences option then there will pop up a window. As CapCut supports MP3 and WAV, you can set MP3 as the output format. In addition to changing the output format, you can also customize the sample rate, bit rate, and channel. Then click on the OK button to save the settings.
Step 3

Start to Download Music from Spotify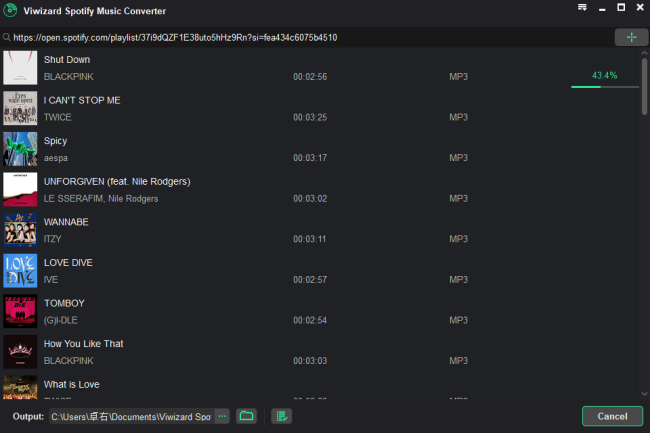 Now all you need to do is to click on the Convert button. ViWizard Spotify Music Converter will immediately download and save Spotify songs to your computer. After completing the conversion, you can go to the history list to view the converted songs by clicking the Converted icon. In the history list, you can continue to click the Search icon to locate the default folder where you save all the downloaded Spotify songs.
Part 3.

How to Import Spotify Music to CapCut Projects Online

Now that you have ViWizard-converted Spotify music ready on your computer, let's explore how to seamlessly integrate these tracks into your CapCut projects using CapCut's Online Video Editor.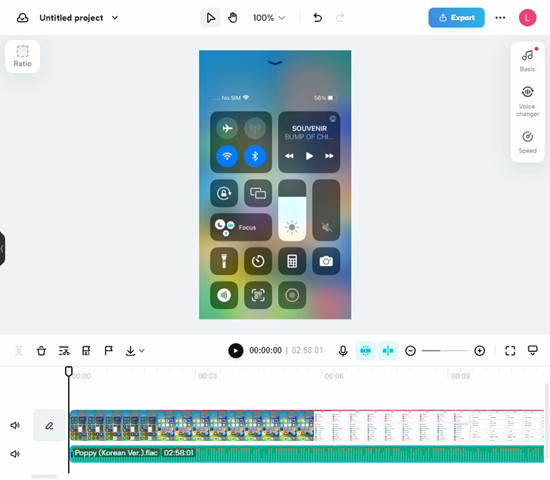 Visit the CapCut Online Video Editor and start a new project or open an existing one.
Click "Media" on the CapCut interface.
To upload your Spotify music files to CapCut:
Choose "Upload" to access various options. To access your Spotify music files from your device storage, choose "From computer" from the drop-down menu. If your music is in the cloud (Google Drive or Dropbox), select the respective option during upload.

Alternatively, drag and drop your Spotify music files directly onto the "Media" section.
Navigate to the folder where you stored the ViWizard-converted Spotify songs. Confirm that your Spotify songs are in a compatible format for CapCut (MP3, WAV, or WMA).
To add your imported Spotify music tracks to CapCut:
Click on the Spotify song you want to use in your CapCut project.
Alternatively, drag and drop the imported track to the desired location on your timeline.
CapCut allows you to cut, trim, and adjust the duration of your tracks. To use the editing tools:
Click on the "Basic" option to adjust volume, add fade-in or out effects, and many others.

Click on the editing tools provided by CapCut like "Split," "Delete," "Transcript-based editing," "Add beat," and many others.
Once you are satisfied with the integration of your Spotify track, save your project and proceed to export your video.
Part 4.

How to Import Spotify Music to CapCut Projects for Desktop

Now all the Spotify songs are fully prepared on your computer. In this part, we will tell you how to add music to Capcut from Spotify on your computer. You can use CapCut for Windows or CapCut Online Video Editor. Here's how to add your own music to CapCut and you are good to go.
Open the CapCut app on your computer. Locate the CapCut icon and give it a click.
Decide if you want to start a new project or continue with an existing one. To create a new project, head to CapCut > Menu > File > New Project or Import.
Navigate to CapCut > Import to explore your import options.

Go to the folder where your ViWizard-converted Spotify music is stored.
Choose a music file that catches your fancy and click to open it for a quick preview.
Click the "Add to Track" button to seamlessly incorporate the chosen ViWizard-converted Spotify music into your project.
Alternatively, simply drag the audio file onto the workspace in the Tracks area.
Trim your audio to perfection using CapCut's intuitive tools. Options like Split, Delete, and more are at your fingertips.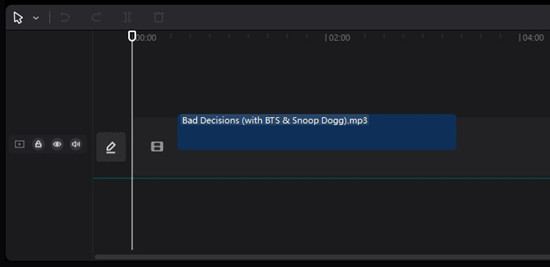 For those looking to refine their edits further, explore the Extra Tip section for advanced trimming techniques.
Tips
Menu Navigation: Navigate through CapCut's menu options with ease for a hassle-free project setup.
Preview for Precision: Always preview your chosen ViWizard-converted Spotify music to ensure it aligns with your project vision.
Intuitive Editing: Embrace CapCut's user-friendly features like the "Add to Track" button and drag-and-drop functionality for a smooth editing experience.
Part 5.

How to Import Spotify Music to CapCut Projects for Mobile

As CapCut is available on iPhone and Android, you can use CapCut and add Spotify music to your video. But before that, you need to transfer Spotify music to your Android device first. If you are using an iPhone, you can move Spotify music to iTunes library, then you can upload Spotify music to CapCut from iTunes. Just a few steps and simply follow now.
Unlock your smartphone and open the CapCut app. If you haven't installed it yet, download it from the App Store (iOS) or Google Play Store (Android).
On the main screen, tap "New Project" to begin a fresh editing session.
Choose the video or photo from your device that needs background music.
Tap "Add" to create a new CapCut project with your selected media.
In the editing interface, find the "Tracks" section at the bottom of the screen.
Tap "Add audio" within the Tracks area.

Select "Sounds" to explore audio options.
Tap the file icon and choose "From device."

Navigate to the folder where you stored your ViWizard-converted Spotify songs. Pick the Spotify music file. Preview it by tapping on it.
Add it to your project by tapping the "+" icon.

With the Spotify music added, unleash your creativity by tapping on "Edit Audio."
Adjust the volume, trim the audio, or make any desired edits to sync it perfectly with your video.
Final Words
Now you know how to add music to CapCut from Spotify. With the help of ViWizard Spotify Music Converter, you can download and save Spotify songs to MP3 and WAV that are supported by CapCut. So, go to download ViWizard Spotify Music Converter and follow the steps that we have share above to quickly add Spotify music to CapCut.