"Can you download Audible books to MP3?" This is one of the most frequently asked questions we learned from search engines. In fact, all Audible audiobooks are encoded in AA/AAX formats to prevent these audiobooks from being copied and played on unsupported devices.
When you synced Audible audiobooks to your MP3 player to listen to them offline while on the go, those audiobooks downloaded from Audible cannot be recognized through the MP3 player due to the format. Will it be possible to convert Audible to MP3? Are there any feasible ways for converting Audible AAX to MP3 so that you are allowed to listen to Audible audiobooks on MP3 players online easily? Fortunately, we have written this guide to show you free and paid ways to convert Audible to MP3 online easily.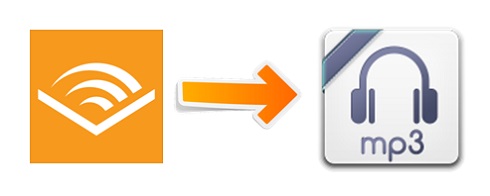 Part 1.

Best Ways to Convert Audible to MP3 with Chapters

The simplest way to convert Audible to MP3 is to rely on an efficient Audible to MP3 converter. In case you may be overwhelmed by the sheer quantity of audiobook converters, we do highly recommend the top two to you - ViWizard Audible Audiobook Converter and ViWizard Audio Converter. Both are different but easy to use no matter if you want to convert and download Audible books to MP3 on your Mac or Windows computer.
#1 ViWizard Audible Audiobook Converter
ViWizard Audible Audiobook Converter aims to convert the protected AA/AAX audiobooks to common formats including MP3, M4A, M4B, AAC, FLAC, WAV, and more with zero-loss audio quality. What's more, it works automatically at 100× conversion speed and supports batch conversion. Most importantly, it allows you to change the volume if you want to make Audible narration louder or the speed as you like. We all know that audiobooks are downloaded in multiple parts or a single part. So it's hard to play them by chapter or find one certain favorite chapter to enjoy. In this situation, ViWizard helps you convert the entire Audible book to MP3 with chapters and keep the original ID3 tags. Of course, before converting, you can edit those tags to your heart's content in ViWizard. Let's see how to convert Audible to MP3 via ViWizard Audible Audiobook Converter.

Key Features of ViWizard Audible Audiobook Converter
Free Trial
Free Trial
* Security verified. 5,481,347 people have downloaded it.
Convert Audible audiobook to unprotected audio formats like MP3
Split Audible book into several smaller segments by chapter or by time
Support playing Audible audiobooks on any device or media player
Handle the conversion of Audible audiobooks up to 100× faster speed
Step 1

Input Audible AudioBooks to ViWizard

Launch ViWizard Audible Audiobook Converter after you've installed it. To import your Audible files, just one-click the upper-left icon Add Files where you can add several files at once. Or drag and drop the files into the ViWizard software. If you'd like to change volume, pitch or speed, click the blue Edit icon next to the title.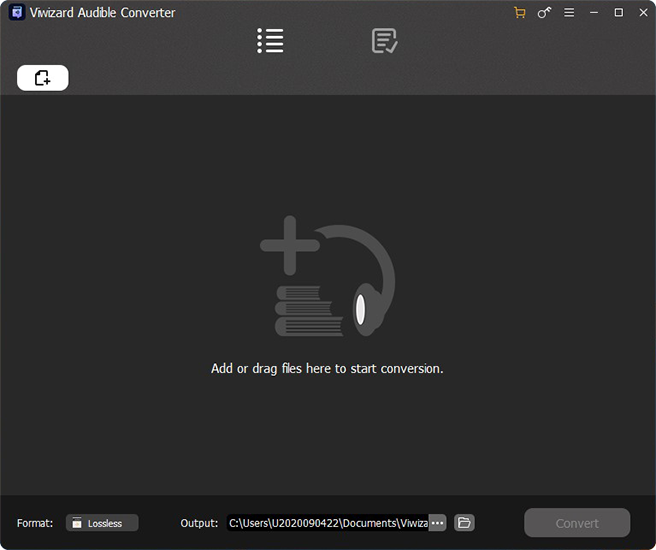 Step 2

Set the Output Format as MP3

After you add Audible files, you are able to customize parameters as you like. Click the bottom left Format icon > Lossless, and choose the MP3 format on the dropdown menu. Also, you can get access to adjust the codec, channel, sample rate, and bit rate. After finishing the adjustment, remember to click the OK icon.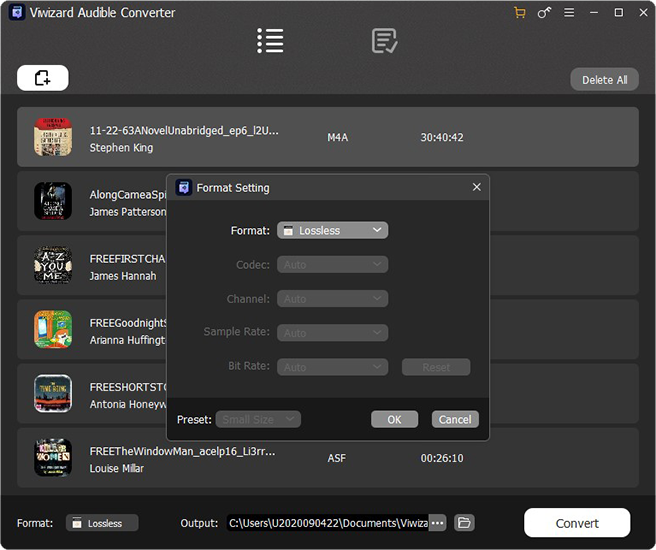 Step 3

Convert Audible Books to MP3

Now, click the bottom right Convert button to start converting your Audible audiobooks. After conversion, go to the Converted interface, you can easily view your converted files. Also, you can locate certain files with the ViWizard search function. You are allowed to enjoy the converted MP3s in the ViWizard for its built-in player or media player on your computer.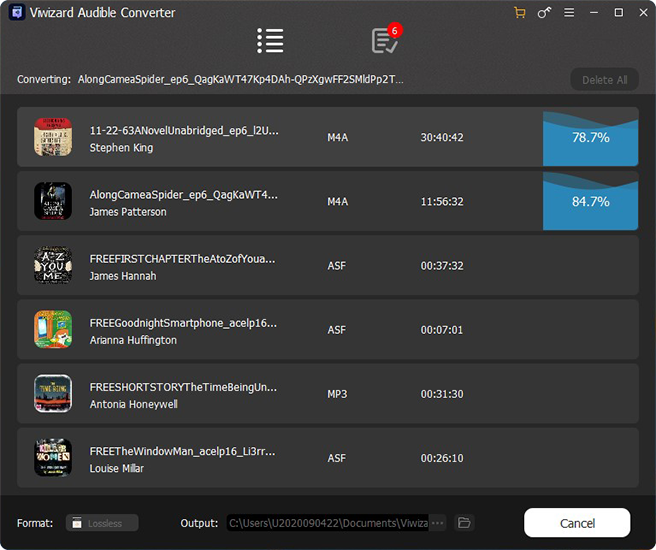 #2 ViWizard Audio Converter
ViWizard Audio Converter is another audio converting tool more suitable for Mac users. It can help you convert Audible audiobooks, Apple Music, iTunes audios and more than 100 common audio formats to MP3 and other popular formats. It also supports changing the volume, speed, pitch if you're not satisfied with the audiobook's volume or narration's speed. Furthermore, it can help you dividend the long music files into small pieces either by time, chapter or segments, so that you can exact your desired parts to play without any problem. Thanks to its built-in player, you can listen to them in ViWizard software without worrying about quality or tag loss. Here's how to use ViWizard Audio Converter to convert Audible files to MP3 for playing anywhere.
Step 1

Add Audible Files to ViWizard

Fire up ViWizard Audio Converter. Click Add Files found at the top center to select and input your downloaded Audible books. Another easier way, drag Audible books you want to convert directly from your local file folder to the converter.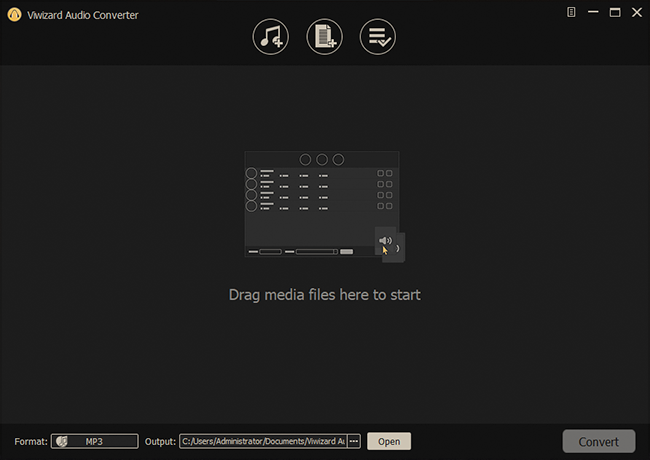 Step 2

Choose the Output Format for Audiobooks

To adjust the audio settings, click the Format panel at the bottom left corner. In the pop-up window, leave the MP3 as the default format and you can customize other parameters including the bit rate, sample rate, channel , and codec. In addition, you can edit the tag information and split the audiobooks by using the built-in editor.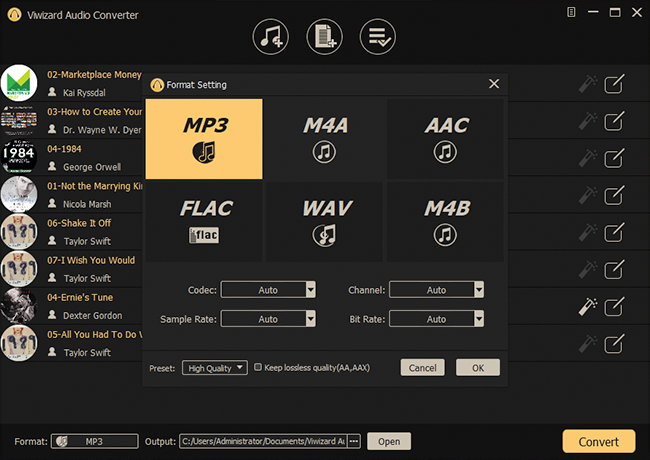 Step 3

Convert Audible Books to MP3

Now click the Convert to initiate the conversion of Audible books and then ViWizard Audio Converter will convert and save Audible book files to your computer. After conversion, you can view all the converted Audible audiobooks in the history list by clicking the Converted icon at the top of the converter.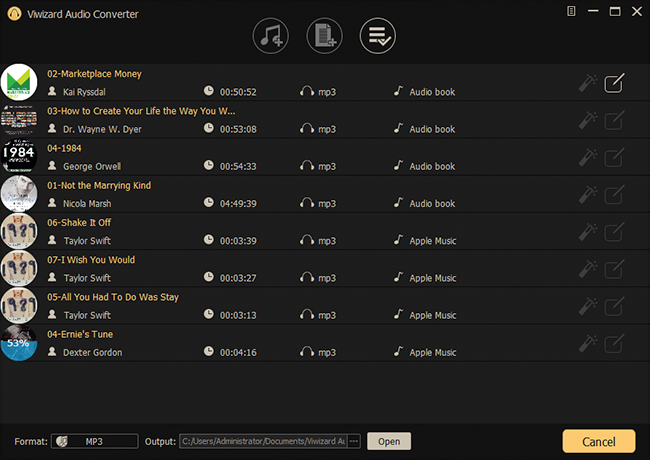 Part 2.

How to Convert Audible to MP3 Free on Windows

The above Audible to MP3 converters stand out from the following methods for their speed and multi-functions. In this section, we will show you how to convert Audible to MP3 for free which is what you are most interested in. Feel so pity that we haven't found free converting tools for Mac, and the following tools are available on Windows only.
#1 Free AAX Audio Converter
As its name suggests, it is not only a free tool but also can convert AAX to MP3 or M4A. Also, you can optionally split the book into chapters, names the mp3 files and adds tags according to the patterns you specify. But it only runs on Windows 7 and above. AAX Audio Converter also requires you to install either Book Lib Connect or Audible Manager to obtain the activation code, otherwise, it can't run successfully.
How to Convert Audible Files to MP3 via Free AAX Audio Converter
1. Download AAX Audio Converter and follow its instruction to activate it after installation.
2. Click the Add button to add AAX/AA files.
3. Select the output format as MP3 and choose which local folder you want your files to store.
4. Click Convert to initiate the conversion.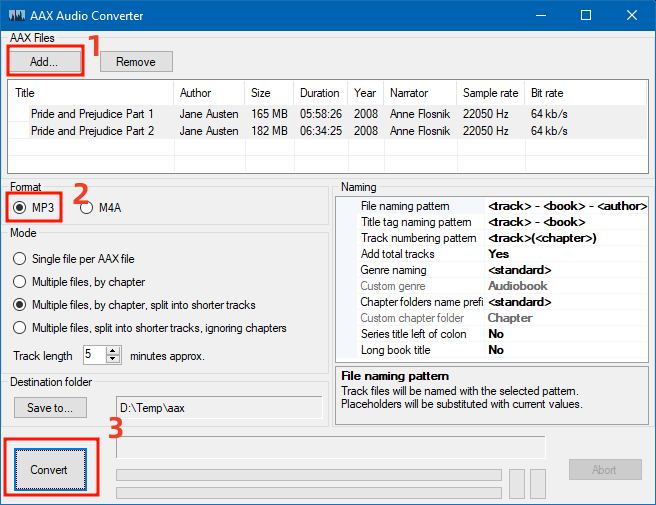 #2 Audible AAX to MP3 Converter
It is another free service launched by a German company, so its language is German. Audible AAX to MP3 Converter's interface is so intuitive and simple that it only has the converting function. You can only input and convert one file at once. What's more, there is no information to identify the audio quality because the converted MP3 file's size is too small.
How to Convert Audible Books to MP3 via Audible AAX to MP3 Converter
1. Install the Audible Manager and open a file of your valid Audible account.
2. Start Aax2Mp3 (AaxToMp3GUI.exe) and add your AAX file by clicking Durchsuchen.
3. Click the Umwandeln button. Once the buttons are clickable again, the conversion is completed.

4. You can easily find the mp3 file in the same folder as the AAX file.

Part 3.

How to Convert Audible Files to MP3 Online

In addition to the above software, there are three websites you can directly convert Audible files to MP3 online without a hiccup. It is a good choice for those who don't want to install any app to take up space. For these online sites, ensure a stable network.
#1 Convertio Audio Converter
Convertio is an easy tool that helps you to convert audio files online. It is quick, easy and completely free. You can use it on both your computer and mobile. It allows you to supply multiple files from the unit, Dropbox, file manager and even URL and save files to your Dropbox and Google Drive, but you can't upload very heavy files. If your audiobook is too long and takes up more than 100MB, then you're not allowed to use Convertio to start the conversion.
How to Extract MP3 from Audible via Convertio Converter
1. Visit the Convertio website from your browser.
2. Click Choose Files and select your Audible audiobooks.
3. Set the output format as MP3. You can click the gear icon to adjust some parameters or split your audio if necessary.
4. Click Convert. Once the converting process is complete, you can browse the MP3 file on your computer.
#2 Online Audio Converter
A free site that converts audio files for you. It supports all formats and does not require any installation. You can configure the format, quality, bitrate, frequency, and number of channels, apply reverse playback or fade in, or even remove a voice from the audio track. You also can save it to Google Drive or Dropbox. For its fast conversion speed, it saves time for you when you need batch conversions. But there is no history interface for you to find your converted files easily.
How to Convert Audible Audiobooks to MP3 via Online Audio Converter
1. Click Open files on the Online Audio Converter web page to add local AAX files, also, you can upload from Dropbox or Google Drive.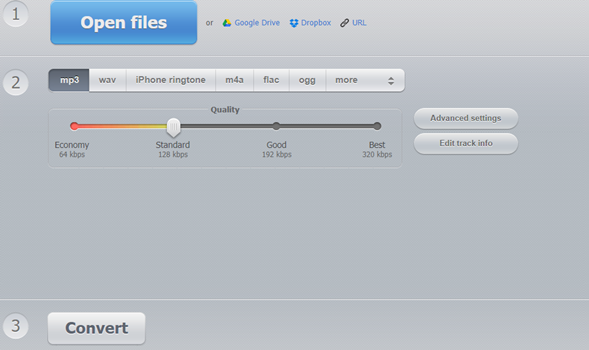 2. Choose the MP3 format or change the quality or other settings as you like.
3. Click the blue Convert button to start the conversion.
#3 Apowersoft Online Audio Recorder
It is a pretty easy-to-use yet effective audio recorder that is compatible with all kinds of platforms. Apowersoft Recorders gives you the ability to freely record the sound on your PC and your own sound with a microphone. After starting recording, the file is saved to your computer in MP3 format by default. When using this tool, you need to keep your eyes on the recording process and prohibit it from stopping by other notifications.
How to Record Audible to MP3 via Apowersoft Recorder
1. On the browser, open Audible first, and then search for Apowersoft Online Audio Recorder.
2. After clicking Start Recording on the main interface, it will require you to choose Microphone and System sound.
3. Authorize your browser.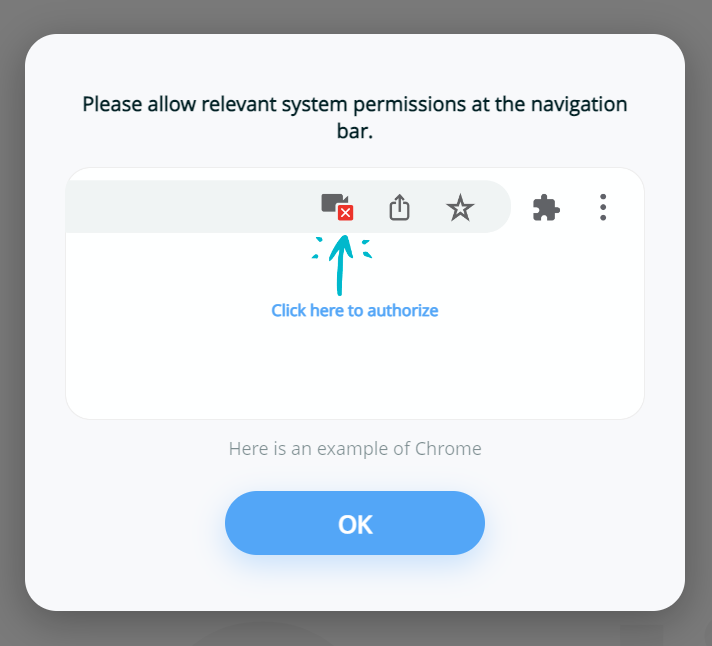 4. To record the Audible books, just select the Audible tab > Share tab audio > Share.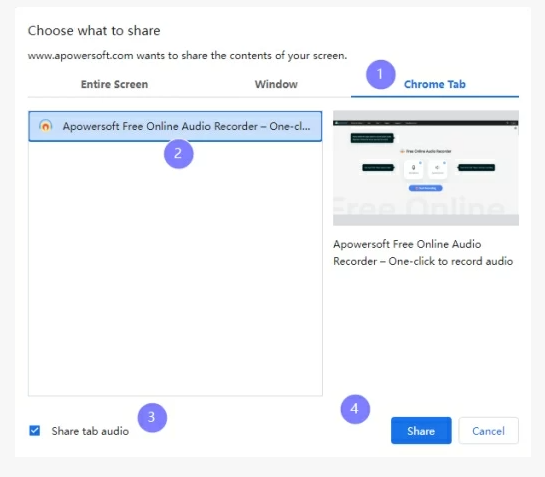 5. Once you stop the recording, you can play the recording online directly and download it in MP3 format by clicking Save.
Part 4.

How to Rip Audible Audiobook to MP3

Besides the above tools online and offline, recording audiobooks is a fine option to extract Audible to MP3. So here we find three great recorders for you.
#1 Audacity
Audacity is a free and open-source digital audio recorder, available for Windows, Mac, Linux, and other Unix-like operating systems. It keeps regular updates so that users can experience better. With its audio editing function, you also enjoy features like the customizable spectrogram mode, frequency analysis, amplitude envelope editor, Noise Removal, etc. But the software is a little complicated for beginners because its interface is complex with so many parts, and after conversion, the output audios would be compressed.
How to Record MP3 from Audible via Audacity
1. On the top of Audacity, click Edit > Preferences.
2. Select Device > Host > Windows WASAPI and then choose Recording.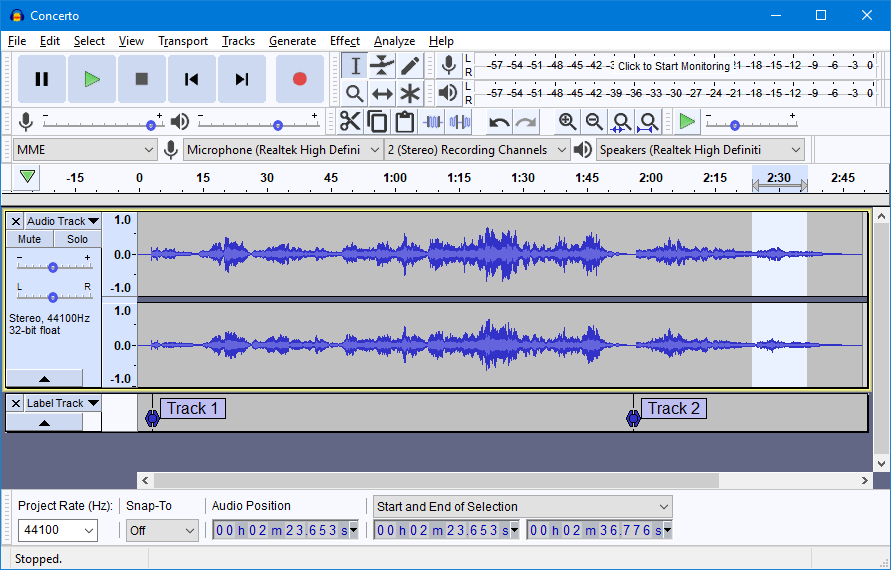 3. Head to an Audible book and start listening.
4. Click Record to start recording Audible books to MP3, and Stop to end the recording.
#2 TunesKit Audio Capture
TunesKit Audio Capture is a great audio recorder, boasting functions to capture, extract, and edit all types of sounds on your PC. It is highly compatible with streaming services including Audible, Spotify, and is capable of converting recordings to MP3, AAC, FLAC, and other audio formats. It preserves 100% original quality, simultaneously, you can cut the recorded Audible audiobook into smaller segments.
How to Rip MP3 from Audible via TunesKit Audio Capture
1. On TunesKit Audio Capture, click the + button to add Audible and launch it from TunesKit.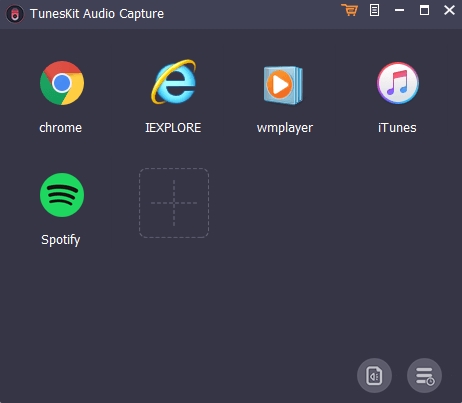 2. Click Format to set the output format as MP3 and adjust other parameters.
3. Select an Audible audiobook to play and TunesKit will automatically record it to MP3.
#3 OpenAudible
OpenAudible is a cross-platform audiobook manager designed for Audible users to manage all audiobooks. Once you confirm your Audible account, it will automatically sync and update your library and split books by chapter at a fast speed. Previously, OpenAudible offered the old version that you can convert audiobooks to MP3 for free. However, now you need to upgrade it to the full version to access this service. Undoubtedly, it requires you to pay.
How to Convert Audible Book Files to MP3 via OpenAudible
1. Go to File > Import Books to add your local Audible books.
2. If you have the full version now you can right click the book title and select Convert to MP3.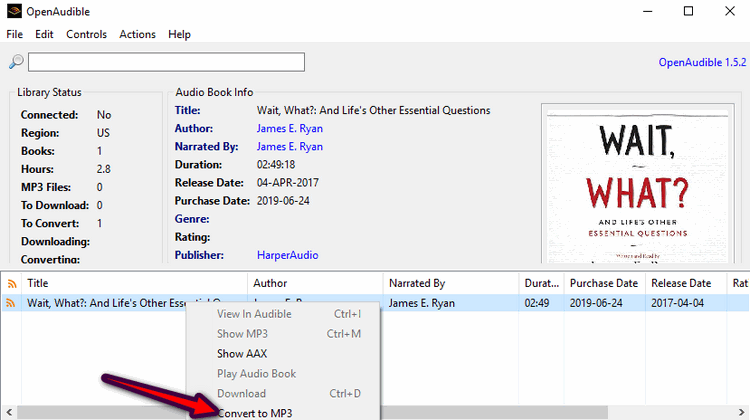 3. Your audible books will be converted to MP3 files.
Part 5.

Comparison of Methods to Convert AAX to MP3

In case you are overwhelmed by the above 10 methods, here you can refer to the following table to make your choice.
| | | | | | | | |
| --- | --- | --- | --- | --- | --- | --- | --- |
| | Supported OS | Free/Paid | Conversion Speed | Lossless Quality | Audiobook Splitting | Audio Effects Editing | Tags Editing |
| ViWizard Audible Converter | Wins & Mac | Free trail | 100× | √ | √ | √ | √ |
| ViWizard Audio Converter | Wins & Mac | Free trail | 30× | √ | √ | √ | √ |
| AAX Audio Converter | Wins | Free | 1× | × | √ | x | √ |
| Audible AAX to MP3 Converter | Wins | Free | 1× | x | x | x | x |
| Convertio | Online | Free | 1× | x | √ | √ | x |
| Online Audio Converter | Online | Free | 1× | x | x | √ | √ |
| Apowersoft Recorder | Online | Free | 1× | x | x | x | x |
| Audacity | Wins, Mac, Linux | Free | 1× | x | √ | √ | x |
| TunesKit Audio Capture | Wins & Mac | Paid | 1× | x | √ | x | √ |
| OpenAudible | Wins, Mac, Linux | Paid | 1× | x | √ | x | x |
Part 6.

Summary

You're free to make your choice which method is meet your need. If you are looking for an online tool for converting Audible to MP3 free, Convertio and Online Audio Converter are the best choices. For ripping Audible to MP3, you can select TunesKit Audio Capture or Apowersoft Recorder. However, among all of them them, we highly recommend ViWizard Audible Audiobook Converter. It boasts diverse features that are perfect for each Audible listener, such as, fast conversion speed, lossless output quality, multiple output formats, editable audio parameters, and so forth. After conversion, you can listen to Audible on any MP3 player or other device. Why not have a try?