I used to download audio books that ended in the format of AAX or AA on the Audible app with my phone. However, they are saved in the format of AAXC lately. I just want to convert AAXC to MP3, so I can listen to Audible books on my older MP3 player that doesn't support the Audible app. How do I convert Audible AAXC to MP3 for playing freely?
Lots of Audible users reported that all Audible books downloaded from the Audible app for Android are saved in the extension of AAXC. Inevitably, the change in audio file format from Audible breaks the playback of Audible books for some Audible listeners. Prior to that, lots of Audible listeners use an Audible to MP3 converter for getting Audible to MP3, then those Audible books can be played with their desired devices. But now they are not able to directly convert Audible AAXC to MP3.
Don't worry! Here we'll show you the best way to convert Audible AAXC to MP3 or other plain formats to make it possible to play Audible books on devices that don't support the Audible app. In case you are looking for converting Audible AAXC to AAX, we also provide methods to do so. Just keep reading!

Part 1.

What You Should Know about Audible AAXC Format

In this opening part, you will get a comprehensive knowledge of Audible AAXC format. Want to learn more about the Audible file format? Move on to our previous analysis from the link below.
1.1 What is Audible AAXC format
The AAXC file extension is a new data file format associated with Audible audiobooks. This file extension was developed by Audible, which is the enhanced format of AA or AAX. All audiobooks downloaded from the Audible Android app are ended in the new format of AAXC instead of AAX or AA since June 2019. The file in AAXC format can be opened only with the Audible app on some specified devices.
1.2 Why does Audible use AAXC format
The AAXC format is only applied to those audiobooks downloaded from Audible on Android. The purpose of adopting this new AAXC format is to prevent Audible books from being decrypted. So even if you can find the Audible download location for Android, all Audible AAXC files fail to be played due to DRM. Since Audible doesn't support many devices or services until now, to play Audible books on those devices, most Audible listeners choose to convert Audible to MP3.
1.3 Where does Audible save AAXC to Android
You can find the Audible downloaded audiobooks in AAXC on your Android through this path:
Files\Internal storage\Android\data\com.Audible.application\files.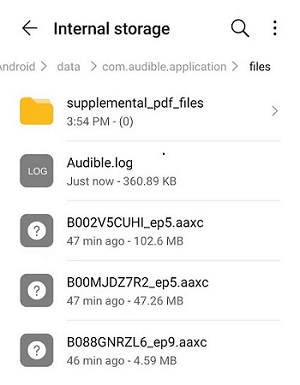 But note that they are unplayable files unless you remove DRM from Audible and convert them to playable files.
1.4 How to Download AAX instead of AAXC for Audible
It is not difficult to convert AAXC to AAX. As you may already know, Audible applies AAX format for those downloaded books from audible.com. Hence, to convert AAXC to AAX, just utilize the Audible website. If you don't know how to download Audible books with the browser, perform the step-by-step tutorial. Here's an example of the Audible website on the computer, which can be applied to Android devices too.
Open a browser from your device and go to audible.com.
Log into your active Audible account.
Head to Library from the top to access all titles you have.
Click the Download button next to the title you'd like to download.
Once done, you will get Audible AAX instead of AAXC.
Part 2.

How to Convert Audible AAXC to MP3 Losslessly

To convert AAXC to AAX, the Audible website can do this job properly. However, to convert AAXC to MP3, an Audible AAXC converter is required. What's more, even though you download Audible books in AAX, they are unplayable and protected files on your computer unless you authorize Audible in iTunes. And every time you open a downloaded audiobook, authorization is needed. So time-consuming indeed. But you can convert AAXC to MP3 without the authorization of Audible and iTunes by using an Audible AAXC converter.

ViWizard Audible Audiobook Converter is specially developed for Audible users to convert Audible audiobooks to MP3, M4A, M4B, AAC, FLAC, WAV, and more. It has a powerful and professional feature in aspects of converting Audible audiobooks losslessly. So you don't need to worry about quality loss. This converter also supports batch conversion and runs at 100× faster speed. In addition, it will save Audible audiobooks with the ID3 tags and chapters kept. So if you think the audiobook is too long, you can split it into chapters.

Key Features of ViWizard Audible Audiobook Converter
Free Trial
Free Trial
* Security verified. 5,481,347 people have downloaded it.
Convert Audible audiobook to unprotected audio formats like MP3
Split Audible book into several smaller segments by chapter or by time
Support playing Audible audiobooks on any device or media player
Handle the conversion of Audible audiobooks up to 100× faster speed
You can feel free to transfer Audible audiobooks to any device or player with the help of ViWizard Audible Audiobook Converter. But before converting AAXC to MP3, you need to download Audible audiobooks to your computer first in AA/AAX format by using the tutorial in Part 1. After that, install ViWizard AAXC to MP3 Converter and let it work to convert AAXC to MP3.
Step 1

Import Audible Audiobooks to ViWizard

Simply run ViWizard AAXC to MP3 Converter on your computer, then click on the Add Files button to upload Audible files from your computer to the converter. Also, you can directly drag and drop your Audible books from the computer to the main screen of the software.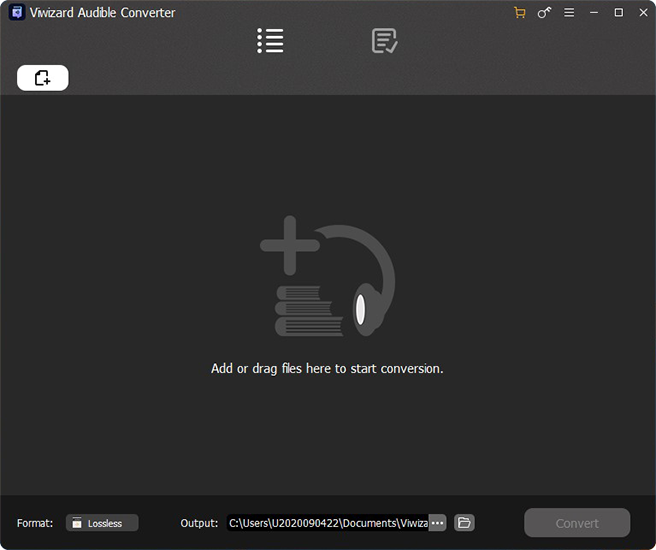 Step 2

Set MP3 as the Output Format for Audible

After your target Audible books are imported into the converter, click on the Format panel at the bottom left of the converter and choose the output format from the pop-up window. There are a large number of formats for you to choose from. Please set MP3 as the target format. Also, you can change the codec, sample rate, bite rate, and channel. To split Audible audiobooks, change the narration speed, or change the volume, just hit on the Edit icon next to each title.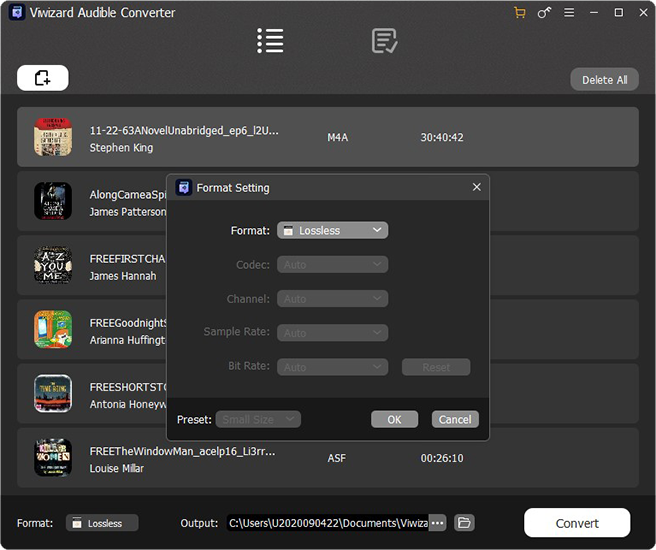 Step 3

Convert AAXC to MP3 Losslessly

When everything is ready, click on the Convert button to start converting Audible AAXC to MP3. ViWizard will finish the conversion within a few seconds since its 100x faster speed. After conversion, go to the Converted history list from the top bar. You can also preview and listen to the converted Audible MP3 file with ViWizard's built-in player. To locate it in the local folder, just click the folder button.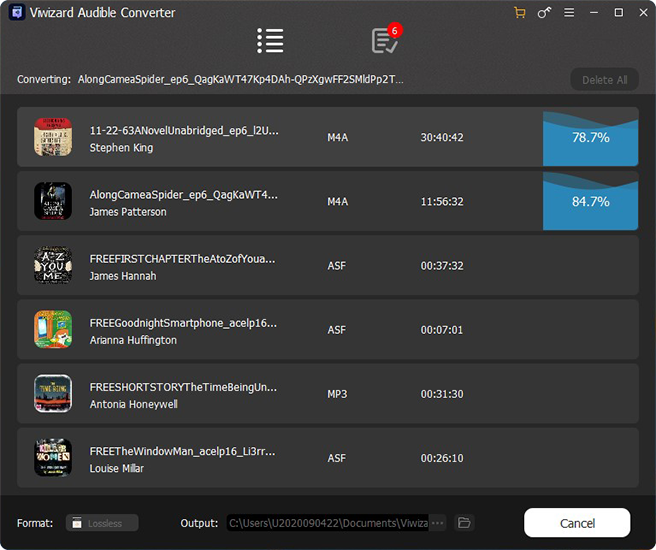 Congratulations! Now, you are free to listen to converted and unprotected Audible books with any player or device. If necessary, use a USB cable to transfer the Audible MP3s to your Android device. That is a workaround to achieve AAXC to MP3 Android.
Part 3.

How to Convert Audible AAXC to MP3 Free

If you are looking for an AAXC to MP3 Converter to convert AAXC to MP3 free, then Aconvert Online Converter you can't pass it up. After testing a bundle of free audio converters, Aconvert is the only one that can identify and support inputting Audible AAXC format. Aconvert is an all-in-one online site where you can convert audio, image, video, pdf, ebook, and more. Moreover, it is totally free! But don't hurry to try it.

The killing part is it doesn't support a file over 40MB. Generally speaking, Audible audiobooks are long and take up a large space. So this is what we don't recommend. If you still want to have a try, here we also offer a detailed tutorial to convert AAXC to MP3 free.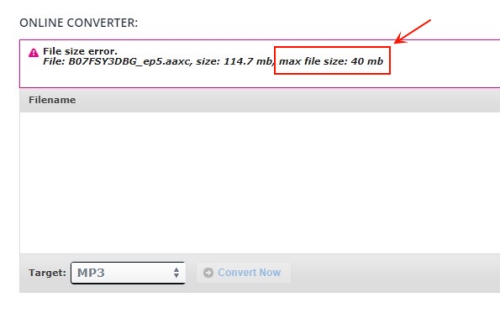 Step 1. Visit the Aconvert Audio Online site from a browser.
Step 2. Hit on the Choose File button to add your Audible AAXC file.
Step 3. Select MP3 on the Target Format panel. You can also change the bit rate and sample rate here.
Step 4. Then click Convert Now to start converting. It will take a lot of time to finish the conversion.

Step 5. After conversion, go to the Conversion Result list to play or save it as a MP3 file.

Conclusion
Although we still don't have a direct way to convert Audible AAXC to MP3, we have alternative methods. That is to save Audible books as AA or AAX in advance and use ViWizard Audible Audiobook Converter to convert Audible books to MP3. If you'd like to convert AAXC to MP3 free, then Aconvert Online Converter is a great choice but make sure your Audible AAXC files can't surpass 40MB.