"I used to download audiobooks that ended in the format of AAX on the Audible app (on Android). However, they are saved in the format of AAXC lately. I just want to convert AAXC to MP3 so I can listen to Audible audiobooks on my older media player that doesn't support the Audible app. How do I remove the from such files on my personal computer?"
Lots of Audible users report that all Audible audiobooks downloaded from the latest Audible app for Android and iOS are saved in the extension of AAXC. Inevitably, the change of audio file format from Audible breaks the playing of Audible audiobooks for some Audible users. We're going to show you the best way to convert AAXC to MP3 or other plain formats to make it possible to play Audible books on devices that do not support Audible.

AAXC – New Format for Protecting Audible Audiobooks
The AAXC file extension is a new data file format associated with Audible audiobooks. AAXC file extension was developed by Audible which is the enhanced format of AAX or AA. All Audible audiobooks downloaded from the new Audible app for Android or iOS are ended in the new format of AAXC instead of AAX or AA since June 2019. Files in AAXC format can be opened with the Audible app on portable devices.
Why Audible Uses the New AAXC Format?
At present, the new format is only applied to the audiobook downloaded from the Audible app for Android and iOS. The purpose of adopting this new AAXC format is to prevent Audible audiobooks from being decrypted. However, Audible does not support many devices or services until now. To play Audible books on devices or services that do not get Audible admittance, most Audible listeners will choose to convert Audible to MP3. MP3 is the most popular audio format. Here are some features of the MP3 format and why you need to convert AAXC to MP3.
1. MP3 is one of the most compatible audio formats. If you convert Audible AAXC to MP3, it is pretty easy for you to transfer Audible books.
2. MP3 files can store ID3 tags such as genre, title, and more. So you can keep the info after converting AAXC to MP3.
3. MP3 files are in small size so that you can use less space to store your Audible books.
Note: Even though you rename the extension of the file in the format of AAXC, you still cannot change the original file type. Only special conversion software can change a file from one type of file to another.
Save Audible Audiobooks as AAX Rather than AAXC
Fortunately, the new format is only adopted on all audiobooks downloaded from the mobile Audible app. The AAXC container format is the same as the Audible AAX format while it uses a different encryption scheme. So you can switch to download Audible books in AAX format without worrying about the quality problem. You could achieve audiobooks in the format of "Enhanced" (.aax) from Audible's official website. Or you could save them in the format of AAX through the Audible App for Windows users. Then you can use the method below to convert AAXC files to MP3.
Method to Convert AAXC to MP3 via ViWizard
ViWizard Audible Audiobook Converter has powerful and professional features in aspects of converting Audible audiobooks losslessly. It is specially developed for Audible users to convert Audible audiobooks to plain format files including Lossless audio, MP3, M4A, AAC, AC3, OGG, AIFF, APE, and much more. This converter supports batch conversion and runs at 100X faster speed. In addition, it will download Audible books with all the ID3 tags kept for you. When you convert Audible books, you do not need to authenticate iTunes. This feature is not supported by other Audible converters. You could feel free to transfer and play your audiobooks purchased from Audible to any devices or players with the help of ViWizard Audible Audiobook Converter.
Best Audible AAXC to MP3 Converter Key Features
Convert all Audible audiobooks to plain formats like mp3
Remove protection from Audible audiobooks losslessly
Customize lots of audio parameters for output audiobooks
Split audiobooks into small segments by time or by chapters
Steps by Steps to Convert Audible to MP3
Here is a step-by-step tutorial for converting Audible books to MP3. Please download and install this converter and start from step 1.
Step 1. Save Audible Audiobook in the Format of AAX or AA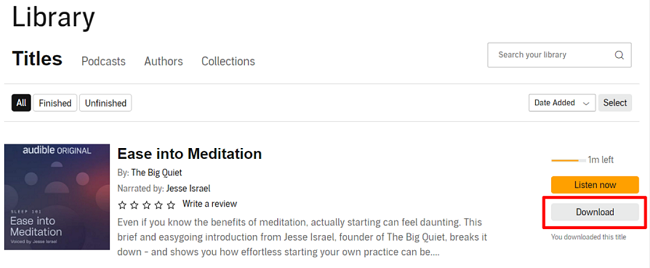 Go to www.audible.com and log in to your personal Amazon account. Just switch to 'Library' and then Titles to view all your audiobooks purchased from Audible. And click the Download button to download Audible books you want to convert to MP3. For more details, you could read the post about how to download Audible audiobooks to a computer.
Step 2. Import Audible Audiobooks to ViWizard Audible Audiobook Converter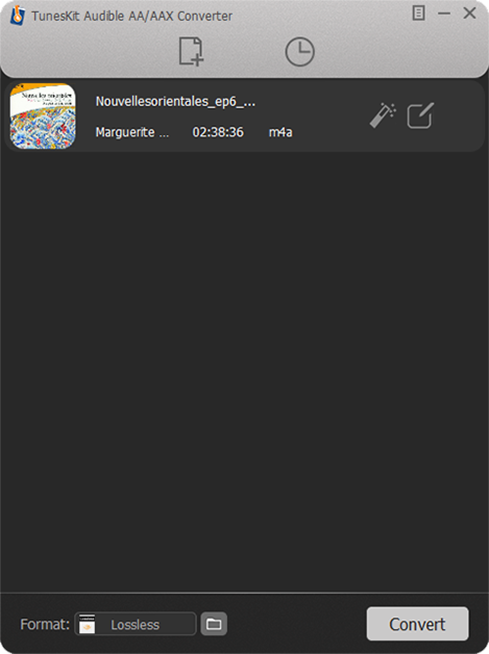 Simply run Audible audiobook converter on your personal computer and then click the "Add Files" button to upload Audible audiobooks from your computer to the main screen of the software. Or you also could directly drag or drop your preferred Audible audiobooks to the software.
Step 3. Configure Audio Parameters for All Output Audible Audiobooks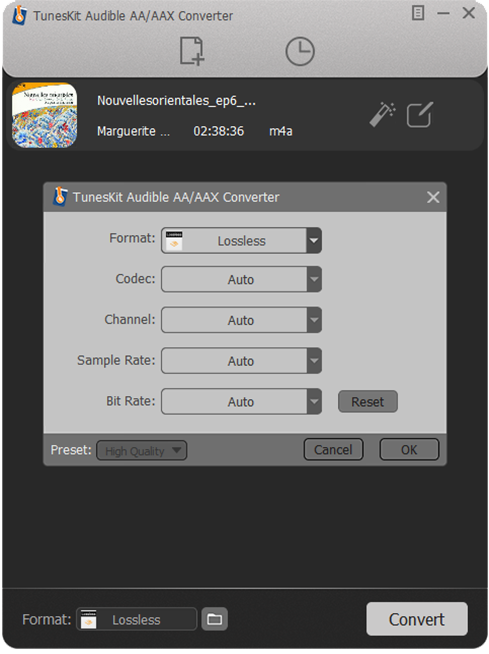 After your target audiobooks are imported into the software, click the "Format" panel at the bottom left of the conversion interface and choose the output audio quality from the pop-up window. There are a large number of output formats for you to choose from.
Step 4. Start to Convert Audible to MP3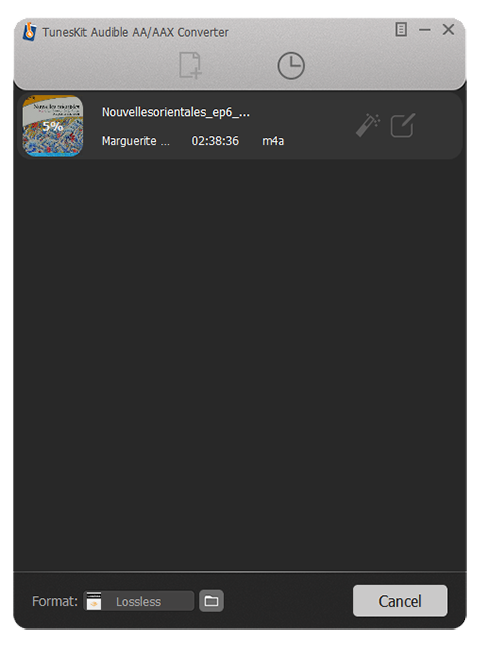 Click the "Editor" icon listed in each column of the audiobook file to split the audiobook into different segments before starting the conversion. Then continue to click the "Convert" button to start converting Audible audiobooks to MP3 or other formats.
Video Tutorial: How to Convert Audible AAXC to MP3?
Summary
Although we still do not have a direct way to convert AAXC to MP3, we have an alternative method. That is saving Audible in AA/AAX and use Audible AA/AAX to MP3 Converter to convert Audible books to MP3.