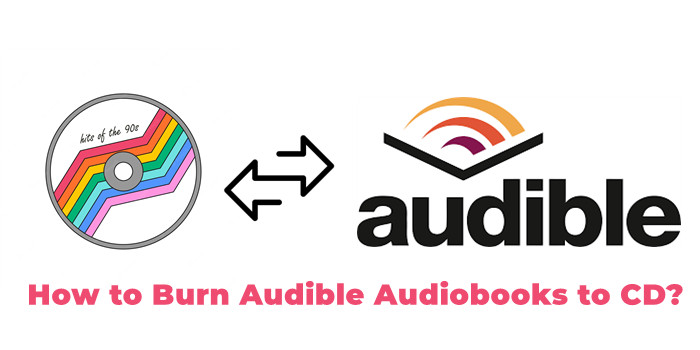 If you like to listen to audiobooks, you'll always have the need to burn your audiobooks to CD either for the purpose of backup or playback on car radio, or something else. Here in this article, we will show you a common yet easy way to burn audiobooks onto CDs by using iTunes. No matter where you got the audiobooks (from iTunes or Audible), whether they are DRM-protected or DRM-free, you can follow the steps below to burn the audio books to CD for use easily.
Note: For audiobooks purchased from iTunes or Audible.com, each of the audio book file can only be burnt to CD once due to the DRM restriction. If you want to skip that limit for good, you can refer to the tips below the guide to see how to permanently remove DRM lock from iTunes and Audible audiobooks so that you can burn iTunes/Audible audiobooks to CD as many times as you like.
Part 1. How to Burn Audiobooks to CD using iTunes
Before we start burning audiobooks to CD using iTunes, some works are needed to download titles to the computer from auidble.com or AudibleSync as well as to authorize the computer to connect Audible - to access Audible books.
Thing You'll Need: iTunes App for Windows PC or Mac
For Windows & Mac:
From here please make sure the iTunes app is up-to-date and the audiobooks to burn are under the Audiobooks section in iTunes.
To Access Audible in iTunes
Before accessing Audible in iTunes, please authorize the computer first.
1. In iTunes app, click Account at the top.
2. Click Authorizations, then Authorize This Computer.
3. In the authorization window, enter Apple ID and password.
4. Now switch the section to Audiobooks.
Note: If the Audible books are downloaded with iTunes, the Audible titles should be here.
Or iTunes doesn't show Audible contents in the Audiobooks section or requires a transfer from local to iTunes, follow these steps to add Audible AA/AAX files to iTunes:
Before accessing Audible in iTunes, please authorize the computer first.
1. At the top of iTunes, click File.
2. From here to add a single file or add an existing "audiobook folder", choose Add File or Add Folder to navigate to the location where the Audible AA/AAX files are, then click Open.
Tips: We recommend choosing Add Folder to have all the downloaded items in a PLAYLIST in iTunes for CD burning.
3. In the pop-up asking for approval, click Yes to confirm.

Note: Please make sure the computer has been authorized for the Audible account. If this open a new website and require a sign in with the Amazon credential, enter the information to Sign In to confirm the authorization.

4. In the page appears next with "Listen to Audible books and podcast in iTunes or Apple Books", click Activate Now to open iTunes to complete the authorization.

To Burn Audible to CD in iTunes
1. Insert a blank CD into the CD drive, wait for the computer to recognize it.
2. On windows right-click the Audible titles to select Burn PLAYLIST to Disc. In the pop-up Burn Setting, you'll be asked to adjust the burning settings, including the burn speed, disc format and more.
Tips: We recommend set 8x as the Preferred speed, Audio CD as the Disc format and None as the Gap between Songs.
3. Click Burn to start Audible CD burning in iTunes.
Note: If the Audible to burn is longer than 80 minutes, iTunes will prompt when a new CD should be added. Follow it to finish the task.
Part 2. How to Burn Audiobooks to CD using Audible Manager
You must be familiar with the process for how to Browse the store on audible.com and purchases titles, but how about use software to burn Audible to CD?
Yes. https://www.audible.com/ supports CD burners, which means the downloaded audiobooks can be burned using a CD burner, and listen to tunes in the car, over the home stereo and more.
Thing You'll Need: Audible Manager Version 3.6 or Higher
For Windows:
Similar to iTunes, Audible Manager is rather old-fashioned but still works fine as the special Windows software for Audible (Audible for Windows 10 has been discontinued). With Audible manager app, it's simple for Audible members to manage the Audible contents, including audiobooks, podcasts and other media.
When it comes to Audible CD burning, Audible Manager functions more as a CD Burner with a complete official help document: CD Burning with AudibleManger.
Note: Some works are needed to burn Audible Audiobooks to CD using the official help document above. The whole process can be time-consuming and depending on the actual environments.
However, we still offer some steps to set up the Audible Manager well to burn audiobooks.
To Set Up Audible Manger
Let's suppose there're a downloaded collection of Audible books in the PC for burning to CD:
Tips: All the Audible audio titles are available in the existing formats from Audible.com when burning CDs.
1. On Windows, open Audible Manager app.
2. On the computer, use Windows Explorer to find the downloaded items in AA/AAX formats.
3. Now make sure the Audible Manager app and the AA/AAX folder are in the same screen, drag and drop the files to Audible Manager.
Or
4. In Audible Manger, click the File at the top, then Add Audio Files.
5. From the Look in bar, navigate to the same folder packed with all the downloaded items, then Import.
Once the transferring completes, downloaded items will show in Audible Manager's main interface.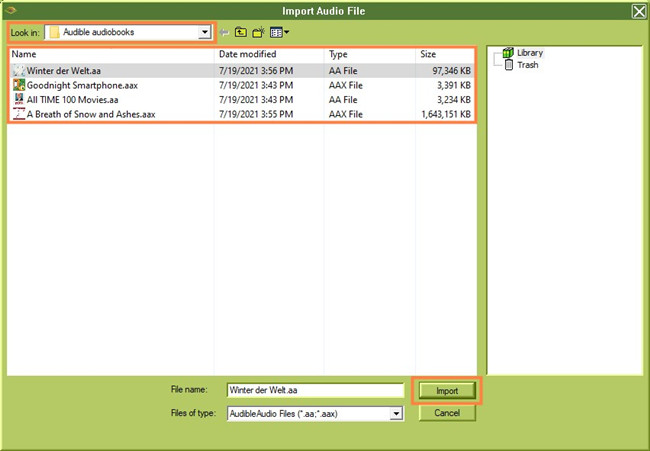 Note: You must have a blank CD-R or CD-R/W in the CD Burner drive. Audible recommends using CD-R discs.
When it comes to burn audiobook to CD in Audible Manager, CDs are good for about 74 minutes of audio, though, so similar to Audible CD burning in iTunes, prepare multiple discs to contain a complete book.
Part 3. How to Enable Audiobooks for Better CD Burning
As mentioned from the start, audiobooks downloaded from iTunes and Audible are encoded in DRM as AA/AAX files, which means these downloaded items is restricted to once burnt to disc. To enabled them for more better CD burning, iTunes users must convert them into the most common formats such as MP3 with a powerful Audible converter - ViWizard Audible Converter.
Thing You'll Need: ViWizard Audible Converter
For Windows & Mac
ViWizard Audible Converter is a AA/AAX files converter with a free, edit-supported tier that can split the audiobooks into exact minutes and hours. When converting the AA/AAX files at a super faster 200x speed, it also remove the DRM at ease.
Key Features of ViWizard Audible Audiobook Converter
Losslessly remove DRM from Audible without account authorization
Convert Audible audiobooks to common formats at 100× faster speed
Freely customize lots of parameters like format, bit rate, and channel
Split audiobooks into small segments by time frame or by chapters
Make sure to download and install the ViWizard Audible Converter on Windows or Mac.
To Convert Audiobooks into MP3
1. On Windows or Mac, open ViWizard Audible Converter.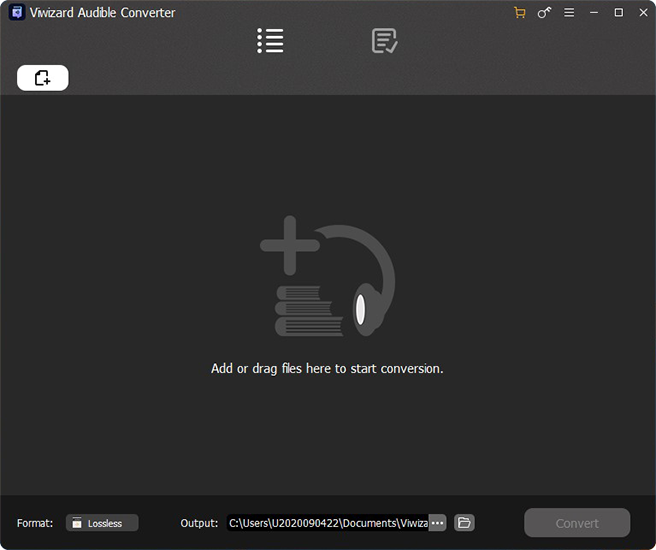 2. From the top of ViWizard, click the Add Files button.
3. In the pop-up, select the AA/AAX files then Open.
For convenience, please use the edit tool in ViWizard to split the audiobooks into customized minutes and hours.
4. Next to the added titles, click on the blue Edit button.
5. Under Split section, customize to split the books into hours or minutes.
Tips: We recommend set 74 minutes for Audible Manager or 80 minutes for iTunes.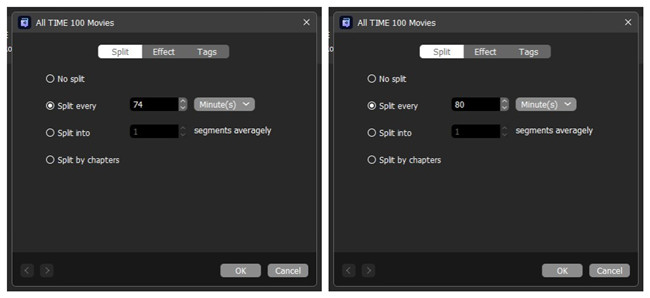 6. Click OK to save this change.
To convert the added AA/AAX Audible audiobooks files:
7. Click the Format tab at the bottom and set the output format as MP3.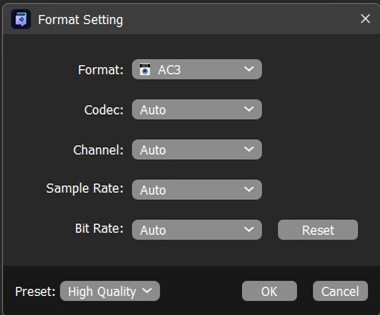 8. Back to the ViWizard's main interface, click Convert to start the conversion at 200x speed.
Part 4. How to Burn Audiobooks to CD using Windows Media Player
Once the AA/AAX files have been converted into MP3 with ViWizard, the new MP3s are enabled for more software like Windows media player.
Thing You'll Need: Windows Media Player
For Windows:
When it comes to CD burning, Windows has some functionality for it with the built-in Windows Media Player. Since now the Audiobooks have been converted into MP3 and split into the exact minutes, it's simple to burn audiobook to CD with the MP3s.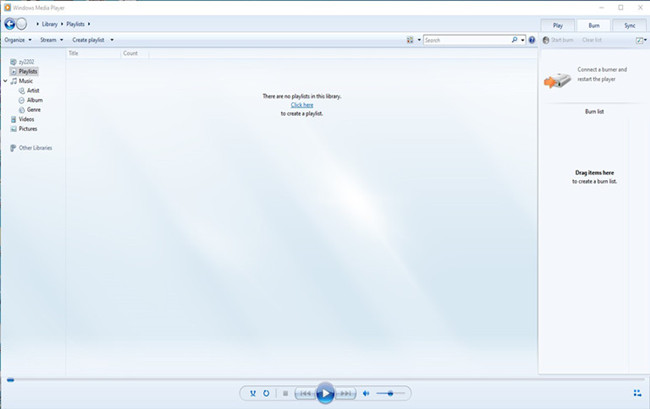 1. From the Search bar, go to Windows Media Player.
2. Make sure the MP3s and the software are in the same screen, drag and drop them to it.
3. In the Player Library, click on the Burn.
4. Select Audio CD or Data CD.
5. Insert a blank disc into the CD burner.
6. Drag the added audiobooks to the Burn list, selct Start burn to burn audiobook to CD.
For CD-Rs:
1. 70-80 minutes at 1x speed
2. 30-40 minutes at 2x speed
3. 10-20 minutes at 4x speeds
For a 700MB CD: