With a huge range of books available to buy and read on Audible.com, Audible has become one of the world's most influential and best-selling digital stores and a great place for people to download audiobooks online. Audiobooks are very popular among e-book fans and a boon for lazy people. Maybe you're shy and want to try white first, or you want to do it for free first. If so, you're probably interested in how you can get a free trial of Audible, and you've come to the right place. In this article, we'll answer your questions about what's available, who's eligible, and give you tips on how to get Audible free trial.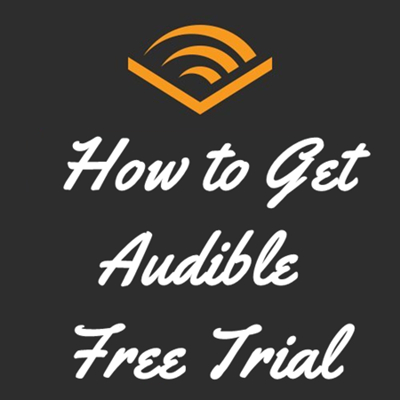 Part 1. How to Get a Free Trial of Audible
Are you new to Audible and have you found the best way to download audiobooks including bestsellers, new releases, editors' picks and more from the more than 200,000 audiobooks available on Audible? Audible is offering you the chance to get Audible audiobooks for free by the way of giving you a 30-day free trial. After getting Audible free trial, you can use the subscription completely free for 30 days and, even better, earn points for free audiobooks as you become a subscriber.
With this free trial option, the risk is zero, as you can cancel your Audible subscription before the end of the trial period without paying any fees. Even if you cancel the trial period, Audible will not remove your Audible audiobooks and you can keep your original Audible audiobooks. However, if you do this after the 30-day free trial period, you will have to do something else.
Audible also occasionally extends the free trial period, and sometimes may even offer a free trial extension of up to 3 months, which is intended to promote the service, but is still a big advantage for subscribers. While the free trial is not extended now, it is a much better experience than before thanks to recent changes to Audible subscription service, such as free and unlimited access to thousands of titles in the new Audible original library.
Part 2. What Happens When Audible Trial Is Over
Even if you cancel your free trial immediately after signing up, you will still be able to use your free trial for the remaining 30 days. If you forget to cancel, don't worry. Immediate cancellation is refundable.
If you decide to upgrade to a paid ViWizard membership, you will automatically be enrolled in the trial membership program of your choice, starting at $29.95. Currently, the promotional price is $14.95, meaning you can enjoy a huge selection of audiobooks for half the price, while keeping them forever and playing them in more places. If you'd like to learn more about membership, see the pricing and membership guide of ViWizard Audible Converter on the website.
Part 3. How to Keep Audible Books after Audible Free Trial
At the end of the free trial period, you will be prompted to pay for future subscriptions. Otherwise, you'll lose many features such as constant access to a large number of audiobooks and offline listening without Internet access. Don't know how to get Premium for free forever? We're here to give you the answer.
Even if the free trial period has expired, once you have downloaded ViWizard Audible Audiobook Converter, you can download what you want directly from Audible, choose your favorites to save to your local computer and then play them on any media player or device.
ViWizard Audible Audiobook Converter is a versatile audio conversion tool for protected AA/AAX audiobooks that can losslessly convert protected AA or AAX audio books to non-protected MP3, M4A, WAV, WMA, FLAC, OGG, M4R and other popular audio formats so you can enjoy audio offline or on any player and device. Here is how to use it:
Key Features of ViWizard Audible Audiobook Converter
Convert Audible AA/AAX audiobooks to MP3, FLAC, AAC, WAV, M4A, M4B, etc.
Convert Audible audiobooks to common formats at 100× faster speed
Freely customize lots of parameters like format, bit rate, and channel
Split audiobooks into small segments by time frame or by chapters
Step 1

Download and Register ViWizard Audible Audiobook Converter

You need to go to your computer to download and install the Windows or Mac version. After completing the installation, you can use the free trial version to test it out. If you want to get the full version, you can purchase a license for the product and then register it in the registration window by simply entering the email address you used to purchase the product and the registration code you received.
Step 2

Import Audible Audiobook Files to ViWizard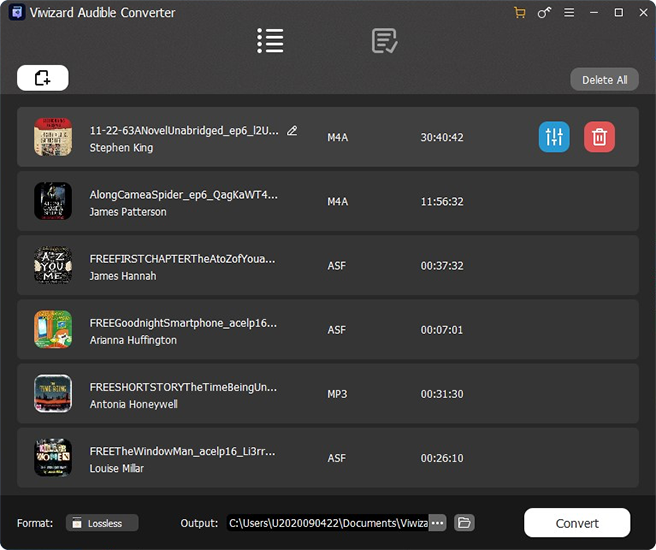 Launch ViWizard Audible AAX Audiobook Converter. Then click the Add Files button to load protected Audible AA or AAX audiobooks from your computer. You can also import Audible audiobook files by dragging and dropping them directly. It's worth mentioning that you can add multiple audiobook files at once for batch conversion.
Step 3

Set Output Format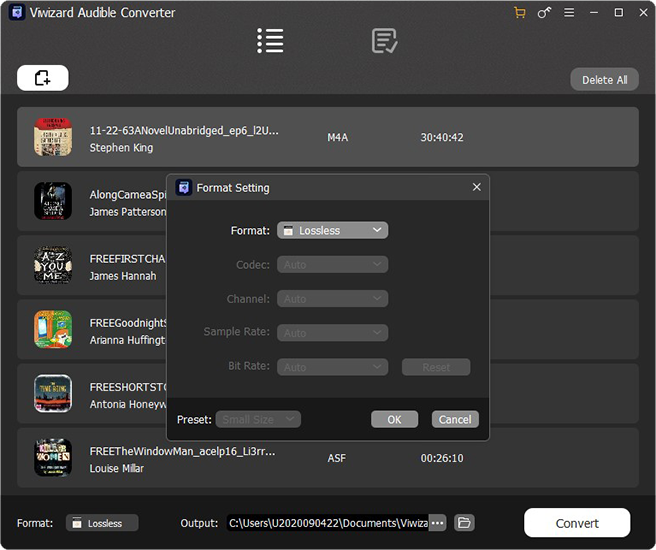 Next, click the "Format" panel and select any one of MP3, M4B, AAC, WAV, WMA, M4R, M4A, FLAC, OGG, and other popular formats in the window. You can also set the audio codec, channel, bit rate and sample rate according to your preference. If you want to keep the lossless quality, check the "Keep Lossless Quality" box at the bottom.
Before you start the conversion, you can click the edit icon listed in each column of the audiobook file to divide the audiobook into several small segments by chapters or time periods. And you can not only adjust the volume, speed and pitch of the audiobook. And you can personalize the tag information of the audiobook file.
Step 4

Start the Conversion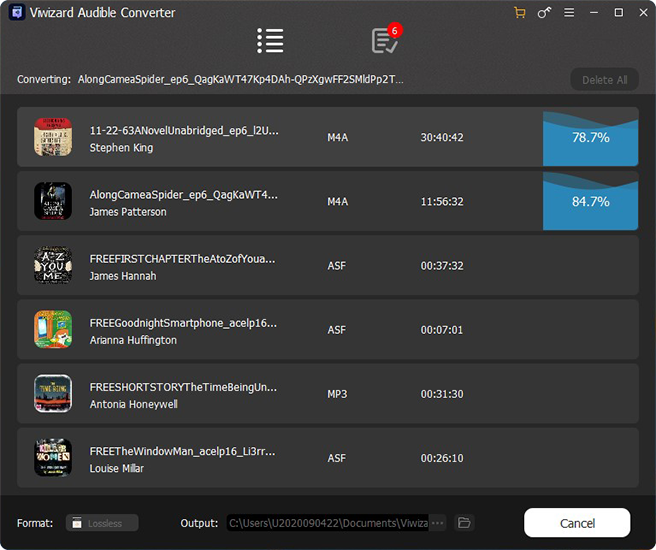 Click the Convert button to start downloading Audible AA/AAX audiobooks and convert these audiobook files to normal lossless audio or other formats at up to 100x speed. When the conversion is done, you can click the Converted icon at the top of the converter to view the converted Audible audiobooks
Once you download the audiobooks you want, you can put them anywhere and play them without the Audible app even after your free trial period is over, so you won't be charged for playing those audiobooks anymore.
Part 4: FAQs about Audible Audiobooks
Q1: Is Audible better or audiobooks?
A1: Audible and audiobooks' key differences are that Audible offers a better returns policy and audio quality, more original titles, and a yearly subscription discount. Otherwise, the services are identical, the price, apps, and audiobook library are excellent for both.
Q2: What device is good for audiobooks?
A2: No doubt Apple iPod Touch is considered to be one of the best mp3 player for audiobooks. This works so much like that of a smartphone. You can access several applications for your audiobook like OverDrive, Audible, Librivox, and a lot more. This device also allows you to download audiobooks over the Internet thru WiFi.
Q3: How to create an audiobook from MP3 files
A3: 1. Obtain a free audiobook (WAV or MP3 file format)
2. Split the audio files into chapters (if needed).
3. Convert audio files to an AAC format.
4. Load the new audiobook onto your device.
Q4: How do I convert Audible to MP3 for free?
A4: 1. Launch any browser on your computer and then open the website of this free Audible converter - Online Audio Converter.
2 Tap on the Open files button, then load the Audible file.
3: Now just press the Convert button to convert Audible files to MP3 online.
Q5: How do I cancel Audible Free Trial?
A5: Click or tap Account Details and log in with your Audible/Amazon account information. Click or tap on Cancel membership under the text box with your current membership information. Choose reason for cancellation and follow the instructions. After you finish, you will receive an email confirmation.
Conclusion
That's it, after your reading, you can get the answers you want from these information and solutions about getting Audible free trial. It will go very smoothly when you try to do it using the information presented in the article using the methods described above. We hope that our article will be helpful for you.