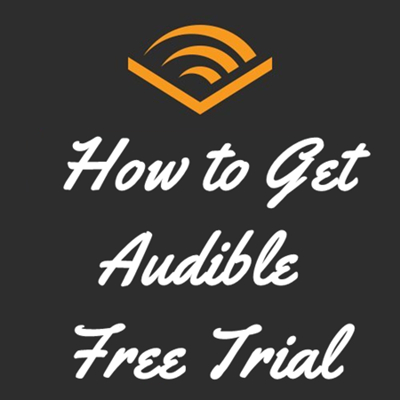 With a huge range of books available to buy and read on Audible.com, Audible has become one of the world's most influential and best-selling digital stores and a great place for people to download audiobooks online. Audiobooks are very popular among e-book fans and a boon for lazy people. Maybe you're shy and want to try white first, or you want to do it for free first. If so, you're probably interested in how you can get a free trial of Audible, and you've come to the right place. In this article, we'll answer your questions about what's available, who's eligible, and give you tips on how to get Audible free trial.
With this free trial option, the risk is zero, as you can cancel your Audible subscription before the end of the trial period without paying any fees. Even if you cancel the trial period, Audible will not remove your Audible audiobooks and you can keep your original Audible audiobooks. However, if you do this after the 30-day free trial period, you will have to do something else.
Part 1. Can You Get Audible for Free?
As Audiobooks lovers may know, the individual purchases from Audiobook stores such as iTunes or Spotify (Yes, now Spotify offers audiobooks too) can drain your wallet. Fortunately, if you find your favorite titles are on Audible (by way of Amazon), you won't want to miss the free trial of Audible, especially you already have been in the world of Amazon with your prime membership. In most cases, Amazon doesn't offer discounts on Audible membership, though come Prime Day three free months of the service is known to pop up for Prime members.
Audible has created the Plus Catalog for listeners to enjoy with their memberships of either Audible Plus and Audible Premium Plus. The Plus Catalog contains Audible Originals, audiobooks and even podcasts. For audiobook lovers, it's hard to go wrong with an Audible subscription to access 760k titles that it offers! Thanks to various time-limited free trial of Audible Premium Plus from 1 month to 3 months, new comers can benefit from it to get started and even have 2 free audiobooks to keep.
Your free, 30-day trial comes with:
1 credit (2 credits for Prime members), good for any premium selection titles you like - yours to keep forever. Learn to use the credit well >>
The Audible Plus Catalog of podcasts, audiobooks, guided wellness, and Audible Originals. Listen all you want, no credits needed. Go to Plus Catalog >>
A friendly email reminder before your trial ends.
No commitments. Cancel anytime.
You will get the benefits above right after you start the free trial with your Audible Premium Plus membership, but remember everything has an expiration date. So make sure to check the email reminder when you are on your trial. If you wish to continue to your Audible Premium Plus membership after the trial ends, it will charge you $14.95/month.
Part 2. How to Get a Free Trial of Audible for Beginners
Audible also occasionally extends the free trial period, and sometimes may even offer a free trial extension of up to 3 months, which is intended to promote the service, but is still a big advantage for subscribers.
Don't hesitate to sign up for Audible to have 1-month free trial at present. Here's how:
How to Get a time-limited trial on Audible Premium Plus: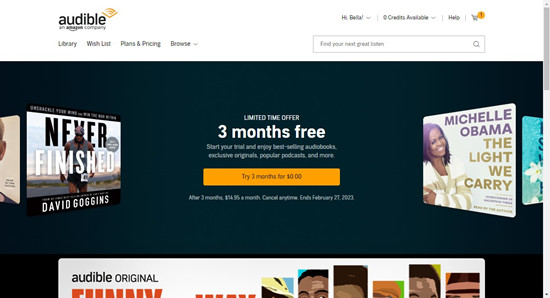 Step 1 Head to the official site of Audible on a web browser.
Step 2 See which limited time offer is accessible on the center of the screen. Click the try [time-limited offer] to get started.
Step 3 Now when you enter the sign-up page for Audible Premium Plus for time-limited offers, Audible will requires you enter all the necessary or optional information here to complete. You'll need to enter the information as follows:
1. Credit Card Number (Audible accept all major credit and debit cards. Any changes you make will impact your Amazon account);
2. Expiration Date;
3. Full Name (as it appears on card);
4. Country;
5. Address Line 1;
6. Address Line 2 (if applicable);
7. Zip/Postal Code, State;
8. City
Then agree to use your payment method for your membership and purchases. And by starting your membership, you should also review Audible's Conditions Of Use and Amazon's Privacy Notice. After the time-limited free trial, your membership will continue until cancelled for $14.95/month. Cancel anytime via Account Details. Or learn how to cancel audible membership.
Part 3. How to Un-Cancel Audible Time-Limited Free Trial
If you cancel your Audible free trial with subscription days remaining, then you can un-cancel your membership at the top of the "Membership details" page.
How to un-cancel the Audible plan:
Step 1 Go to the Account Details page on the Audible desktop site. Ensure to log in with the Amazon credentials or Audible account you use with your Audible membership.
Step 2 Click Keep my membership at the bottom of the Membership details section.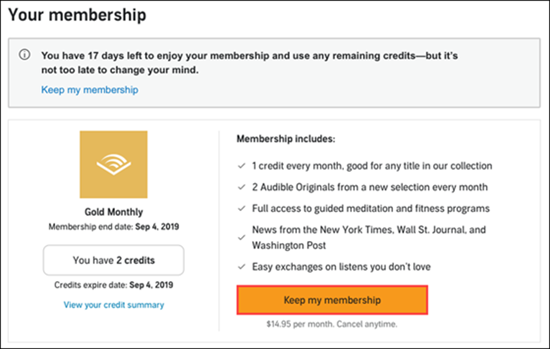 Step 3 Follow any steps on the screen. After you un-cancel your membership, an automated email will be sent to you as proof of your plan changes.
Part 4. What Will Happen When Your Audible Free Trial Ends
For starters you can still purchase audiobooks after your Audible Premium Plus membership ends. However, you will be paying full retail price for the audiobooks, and by canceling your plan, you'll miss out on great benefits like the Audible Catalog, credits, sales (for example: Audible 2 for 1) and more.
Even you cancel your free trial, Audible will keep all the titles in your Audible library forever. So if you wish to switch to another plan that Audible offers - Audible Plus at $7.95/month, you still are able to access your Audible library with unlimited listening to the Plus Catalog.
Audible Plus has all the basic functions and features for you - expect for the credit you get when you are on Premium Plus free trial. The credit comes at an additional cost for Plus members. Since the free credit is included in the Premium Plus membership benefits. But the 2 Premium audiobooks you purchased with those 2 credits are yours to keep regardless of your membership status.
Consider switching to Premium Plus? Learn more about the difference between the 2 membership options here:
More important than that, you should know one thing right before you start your Audible free trial. At the end of the free trial period, you will be prompted to pay for future subscriptions. Otherwise, you'll lose many features such as constant access to a large number of audiobooks and offline listening without Internet access. Don't know how to get Premium for free forever? We're here to give you the answer.
Part 5. How to Keep Audible Downloads Forever for All Listeners
Even if the free trial period has expired, once you have downloaded ViWizard Audible Audiobook Converter, you can download what you want directly from Audible, choose your favorites to save to your local computer and then play them on any media player or device.
ViWizard Audible Audiobook Converter is a versatile audio conversion tool for protected AA/AAX audiobooks that can losslessly convert protected AA or AAX audio books to non-protected MP3, M4A, WAV, WMA, FLAC, OGG, M4R and other popular audio formats so you can enjoy audio offline or on any player and device. Here is how to use it:
Key Features of ViWizard Audible Audiobook Converter
Convert Audible AA/AAX audiobooks to MP3, FLAC, AAC, WAV, M4A, M4B, etc.
Convert Audible audiobooks to common formats at 100× faster speed
Freely customize lots of parameters like format, bit rate, and channel
Split audiobooks into small segments by time frame or by chapters
Step 1

Download and Register ViWizard Audible Audiobook Converter

You need to go to your computer to download and install the Windows or Mac version. After completing the installation, you can use the free trial version to test it out. If you want to get the full version, you can purchase a license for the product and then register it in the registration window by simply entering the email address you used to purchase the product and the registration code you received.
Step 2

Import Audible Audiobook Files to ViWizard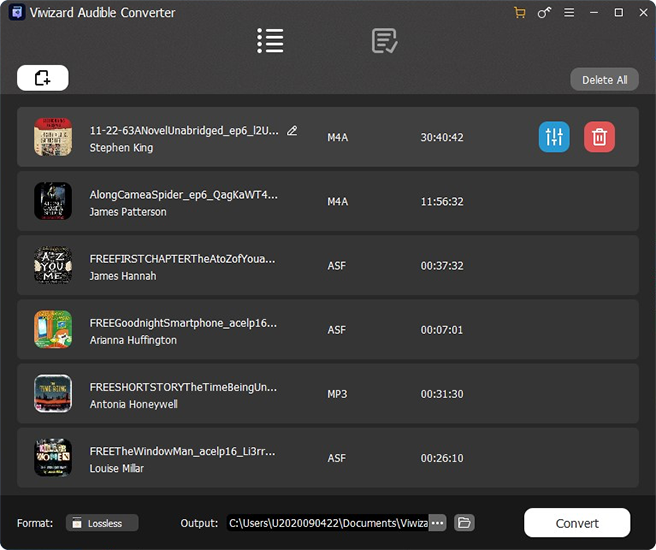 Launch ViWizard Audible AAX Audiobook Converter. Then click the Add Files button to load protected Audible AA or AAX audiobooks from your computer. You can also import Audible audiobook files by dragging and dropping them directly. It's worth mentioning that you can add multiple audiobook files at once for batch conversion.
Step 3

Set Output Format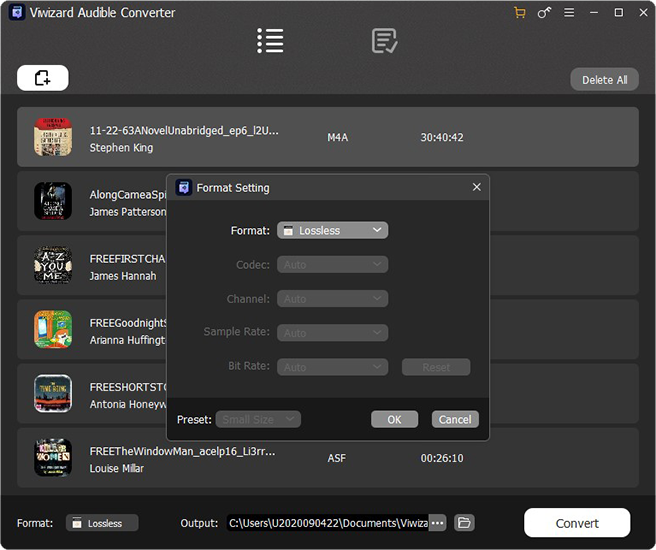 Next, click the "Format" panel and select any one of MP3, M4B, AAC, WAV, WMA, M4R, M4A, FLAC, OGG, and other popular formats in the window. You can also set the audio codec, channel, bit rate and sample rate according to your preference. If you want to keep the lossless quality, check the "Keep Lossless Quality" box at the bottom.
Before you start the conversion, you can click the edit icon listed in each column of the audiobook file to divide the audiobook into several small segments by chapters or time periods. And you can not only adjust the volume, speed and pitch of the audiobook. And you can personalize the tag information of the audiobook file.
Step 4

Start the Conversion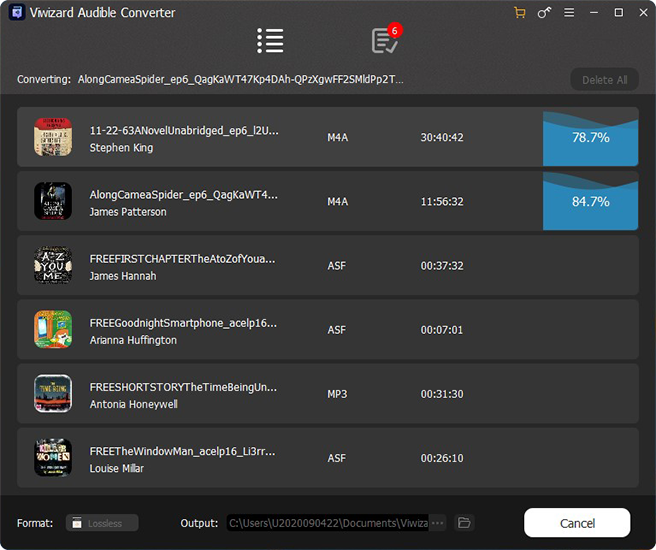 Click the Convert button to start downloading Audible AA/AAX audiobooks and convert these audiobook files to normal lossless audio or other formats at up to 100x speed. When the conversion is done, you can click the Converted icon at the top of the converter to view the converted Audible audiobooks
Once you download the audiobooks you want, you can put them anywhere and play them without the Audible app even after your free trial period is over, so you won't be charged for playing those audiobooks anymore.
Part 6. FAQs about Audible Audiobooks
Q1: Is Audible better or audiobooks?
A1: Audible and audiobooks' key differences are that Audible offers a better returns policy and audio quality, more original titles, and a yearly subscription discount. Otherwise, the services are identical, the price, apps, and audiobook library are excellent for both.
Q2: What device is good for audiobooks?
A2: No doubt Apple iPod Touch is considered to be one of the best mp3 player for audiobooks. This works so much like that of a smartphone. You can access several applications for your audiobook like OverDrive, Audible, Librivox, and a lot more. This device also allows you to download audiobooks over the Internet thru WiFi.
Q3: How to create an audiobook from MP3 files
A3: 1. Obtain a free audiobook (WAV or MP3 file format)
2. Split the audio files into chapters (if needed).
3. Convert audio files to an AAC format.
4. Load the new audiobook onto your device.
Q4: How do I convert Audible to MP3 for free?
A4: 1. Launch any browser on your computer and then open the website of this free Audible converter - Online Audio Converter.
2 Tap on the Open files button, then load the Audible file.
3: Now just press the Convert button to convert Audible files to MP3 online.
Q5: How do I cancel Audible Free Trial?
A5: Click or tap Account Details and log in with your Audible/Amazon account information. Click or tap on Cancel membership under the text box with your current membership information. Choose reason for cancellation and follow the instructions. After you finish, you will receive an email confirmation.
Conclusion
That's it, after your reading, you can get the answers you want from these information and solutions about getting Audible free trial. It will go very smoothly when you try to do it using the information presented in the article using the methods described above. We hope that our article will be helpful for you.