Q: Hello, I don't have a lot of money. Is there any way for me to buy credits or obtain them cheaply/for free without waiting for one per month from membership?
Audible is a platform that provides millions of audiobooks for users who love listening to books. However, getting books on Audible might be a little bit different from how readers buy books from books store or on the internet. Audiobooks on Audible are only available for its members and users will need to use a kind of currency called "credit" to purchase books. In the following sections, I will show you how to get the most out of your Audible credits and ways to get free Audible credits.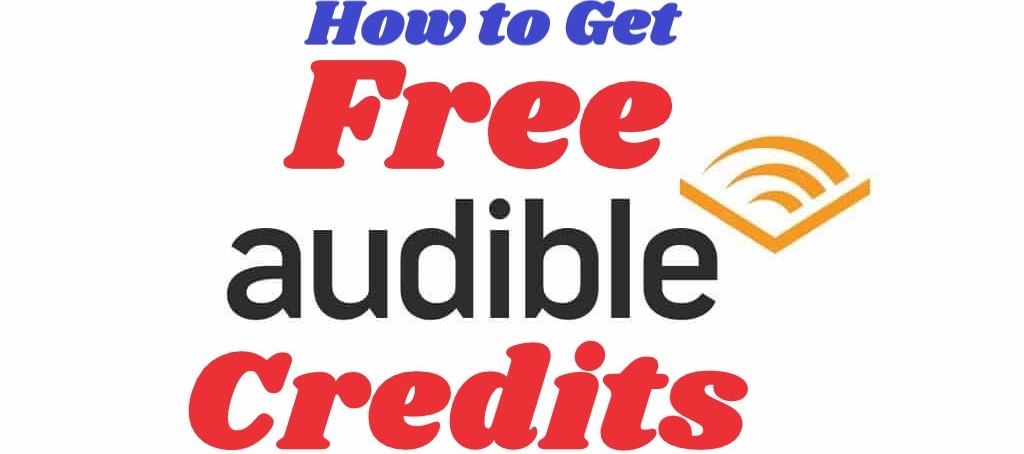 What is Audible Credit and How to Get It
When you subscribe to an Audible membership, you'll be given 1 or 2 credits each month. But what is Audible credit? A credit is kind of a virtual money that allows an Audible member can use to buy any audiobook regardless of the price of the book. Every credit will expire 12 months after it is issued. And when members cancel their subscription, credits will also be lost. Here's a list of plans that Audible offers, you'll get different an amount of credits according to the plan you subscribe to.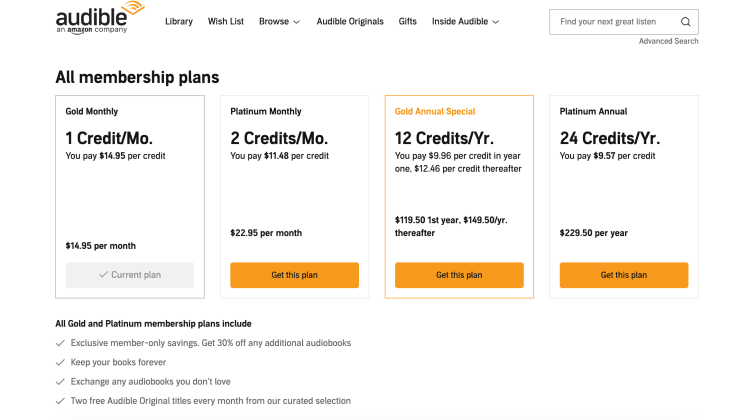 How to Use Audible Credits to Purchase Audiobooks
It's pretty easy and convenient to use a credit to purchase on Audible. You'll not have to pay an extra fee after using a credit to buy a book, no matter how expensive the book is.
On Desktop:
1. Add an audiobook to your shopping cart.
2. Click the Shopping Cart icon to open the shopping cart.
3. Click 1 Credit button to select applying credit to buy the book.

4. Click Proceed to Checkout
On Mobile:
1. Search for an audiobook by tapping on the magnifying glass.
2. Tap on the audiobook you want to buy.
3. Tap Buy with 1 Credit
Ways to Get Audible Credits for Free
Who doesn't love freebies? The Audible membership will give you credits to buy one book or two, but if you want more books among a monthly subscription, you'll have to pay for them. It's not quite a pleasing experience especially when the book is not reasonably priced. So now I'm going to show you 5 tips of how to get free credits on Audible.
Tip 1: Sign up for A 30-day Audible Free Trial
Audible offers a 30-day free trial for the newcomer, which includes 1 or 2 free Audible credits. You can buy any audiobooks you want during the free trial with free credits.

Tip 2: Join the Challenge of Audible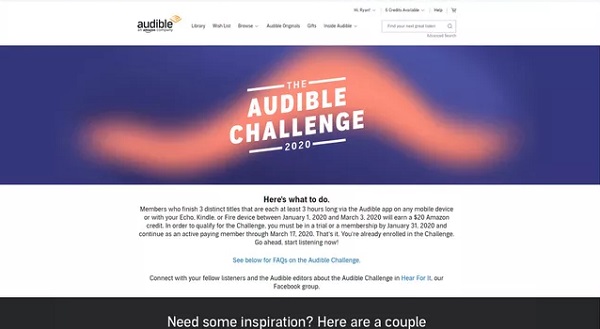 Audible will occasionally host unique challenges for Audible subscribers. Completing these tasks earns you free extra Audible credits or Amazon cash credits. In any case, you may use the credits or Amazon cash to buy other audiobook titles. Such activities, however, are uncommon. You need to keep on the notice from Audible.
Tip 3: Get Free Audible Original Audiobooks

There's another method to obtain new audiobooks without using your credit. By selecting Browse from the menu and then Originals Member Benefit, you may listen to free audiobooks. There, you'll discover a selection of Audible original audiobooks. These cover a wide range of themes and genres, including self-help, autobiographies, fiction, and much more. You may listen to as many Audible Originals as you like without spending any of your credits.
Tip 4: Get Audiobooks from Your Friends
Audible now allow premium users to send books with each other. If your friend also a premium user of Audible, you can get new audiobooks without using your credit by receiving books send by your friends. Vice versa, you can send audiobooks to your friend as a gift.
Tip 5: Return/Exchange Books after Downloading Them
Audible allows members to return or exchange books if they find the book is not that readable within 365 days of the original purchase. Audible will limit the number of exchanges if members return too many books. But there's no exact number of how many books you can exchange, if Audible decides you're going too far, then they'll stop you. But you can still use the trick to get the books you have exchanged or returned as well as the credits back, here's how.
Step 1: Download ViWizard Audible Converter
Before you exchange your audiobook and get the credit back, you'll have to download the book to your device first. You can download it on Audible, but once you exchange or return the book, the downloaded file will get deleted. Then you might say " What if I put it elsewhere so that Audible can't find them." Of course you can, but the file is protected, which mean you can never play it again without Audible.
But with the ViWizard Audible AA/AAX Converter, you can use it to remove the copyright protection first and then convert Audible books to MP3 or other formats. After that you'll be able to play them anywhere you want.
ViWizard Audible Converter is one of best Audible DRM removal apps in the market. It is capable of converting Audible audiobooks from encrypted AA/AAX to MP3, WAV, FLAC, AAC, or other common audio formats, so the converted audiobooks can be played on many media players. Besides, this app can keep lossless quality while converting Audible books at up to 100X fast speed.
Features of ViWizard Audible Converter
Convert Audible AAX/AA to MP3, WAV, AAC, FLAC, etc.
Split large book into small clips by chapters
keep 100% lossless quality and ID3 tags
Convert Audible audiobooks at 100X speed
Step 2: Load Audible File to ViWizard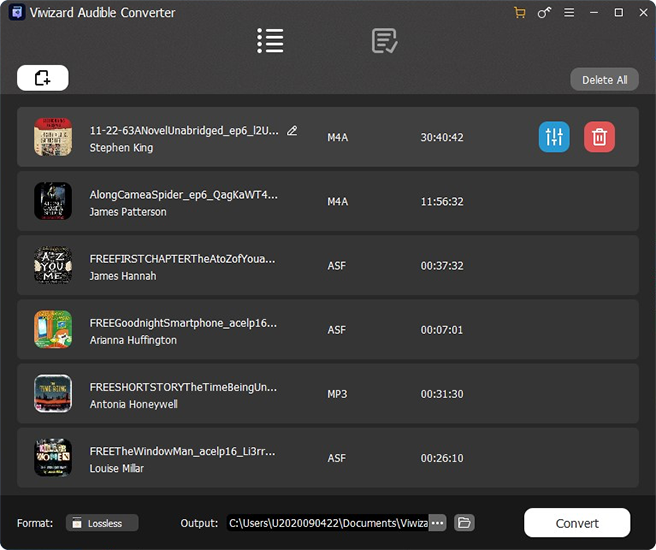 To get started, please click the Download button above to download and install ViWizard Audible AA/AAX Converter to your PC or Mac. After that, open the ViWizard app and import the audiobooks downloaded from Audible to it. You can simply drag and drop the files or click the + button to add them.
Step 3: Set up Output Paremeters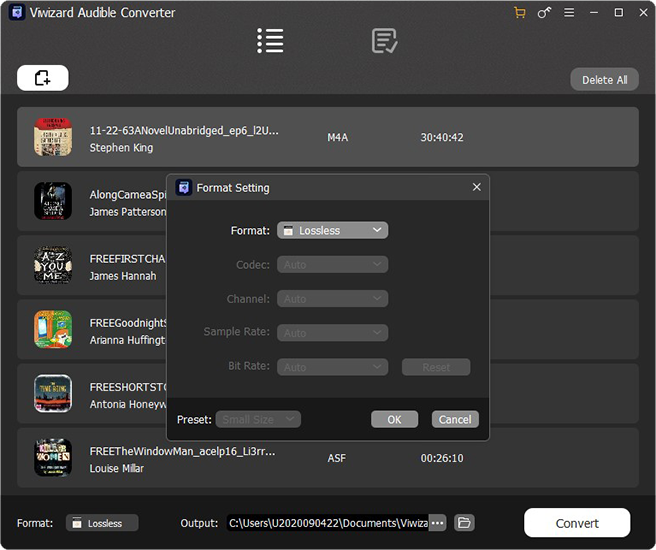 In this step, you're allowed to set the output format and parameters according to your needs. Just click the Format button at the bottom left corner and you'll see some options for you. Then customize the codec, channel, bit rate and sample rate. Then click the Ok button to close the windows. You can also click the Edit icon next to each book and choose to split the audiobook by chapter or not.
Step 4: Start the Conversion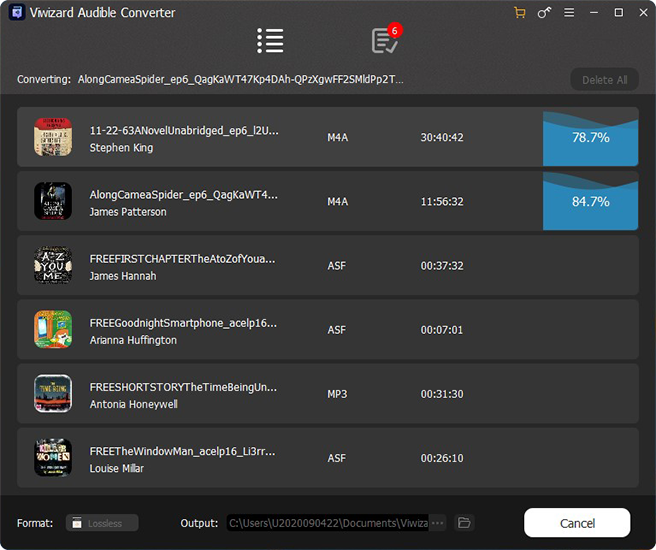 Once all the settings are done, you can then click the Convert button. ViWizard will start to bypass DRM protection and convert your Audible audiobookst. Wait for the conversion to end, and then you can find all the files by tapping the Converted button.
Step 5: Exchange Book and Get Your Credit Back
Now you can feel free to exchange your book and get your Audible credit back, you can do this several time until Audible stop you from exchanging books. But by then you already had several free Audible credits back and you can use them to buy more books. All the books you bought from Audible can be converted via ViWizard and then be played anywhere, so why don't you give it a try?
The Final Word
After you reading this article, you may know how to get free Audible credits. Audible is the best platform to stream audiobooks for an audiobooks lover. Sometimes Audible will luanch events or discout to make users get credits free or cheaper. You can follow the news from it. Of course, you can also use ViWizard AA/AAX Audiobook Converter to download the audiobooks you like for saving on your devices. It's a great tool to back up Audible audiobooks.