Any way to get credits? Hello, I don't have a lot of money. Is there any way for me to buy credits or obtain them cheaply/for free without waiting for one per month from membership?
- From Reddit.
If you are an avid audiobook buff, Audible, a platform boasting a myriad of audiobooks, is your best choice. As the most renowned audiobook seller, getting books on Audible is different from bookstores or other online audiobook platforms. Audible empowers Audible Plus and Premium Plus subscribers to access unlimited streaming from different selections. While for those non-members as well as all users, Audible supports using a kind of currency called "credit" to purchase audiobooks for listening.
Therefore, in the following sections, I will show you a comprehensive picture of Audible credit and how to get free Audible credits.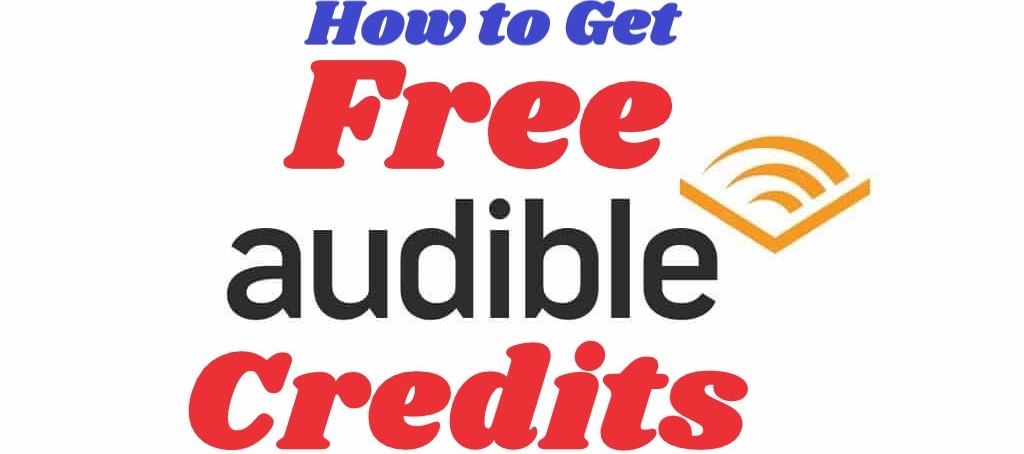 Part 1.

What is Audible Credit and How Does It Work

If you subscribe to Audible Premium Plus, you'll be given 1 or 2 credits each month. So what is Audible credit? A credit is kind of a virtual money that allows an Audible member can use to buy audiobooks regardless of the price of the book. Every credit will expire 12 months after it is issued. And when members cancel their subscriptions, credits will also be lost.

Here's a list of plans that Audible offers, you'll get different an amount of credits according to the plan you subscribe to.
| | | |
| --- | --- | --- |
| | Price | What You Get |
| Audible Premium Plus - 1 Credit | $14.95 | Access the Plus Catalog + 1 credit per month for any premium selection titles |
| Audible Premium Plus - 2 Credits | $22.95 | Access the Plus Catalog + 2 credits per month for any premium selection titles |
| Audible Premium Plus Annual - 12 Credits | $149.50 | Unlock the Plus Catalog + 12 credits a year for any premium selection titles |
| Audible Premium Plus Annual - 24 Credits | $229.50 | Unlock the Plus Catalog + 12 credits a year for any premium selection titles |
Part 2.

How to Get Audible Free Credits in 6 Ways

Who doesn't love freebies? The Audible membership will give you credits to buy audiobooks based on your subscription, but if you want more books with a monthly subscription, you'll have to pay for them. It's not quite a pleasing experience especially when the book is not reasonably priced. So now I'm going to show you 6 tips on how to get free credits on Audible.
Tip 1. Sign up for A 30-day Audible Free Trial
Audible offers a 30-day free trial for the newcomer, which includes 1 or 2 free Audible credits. And you can buy any audiobooks you want during the free trial with free credits.
Go to the Audible website or the official mobile app and it will prompt you to sign in.
Create a new account. After logging in, hit on the Continue button or the Try for $0.00 button.
Audible will require you to enter information including your credit card number, name, country, and more to get the 30-day free trial with Audible credits free.
Bonus
Audible is offering a 3-month free trial on the 2023 Amazon Prime Day. But this big deal is going to end on July 31, 2023. Hope lucky you can seize the time.
Tip 2. Subscribe to Audible Premium Plus
As stated, Audible releases credits for Premium Plus members each month as part of an Audible membership plan. So the second way to access Audible free credits is to upgrade to Audible Premium Plus. Plus members do not receive credits unless they switch to the Premium Plus plan.

Tip 3. Join the Audible Challenge
Audible has hosted unique challenges for Audible subscribers since 2020 and the Audible Challenge program is back in 2023. Completing 3 distinct titles that are each at least 3 hours long earns you free Audible credits or a $20 Amazon credit. In any case, you may use the credits or Amazon cash to buy other audiobook titles. Such activities, however, are uncommon.
Note
To join the Audible Challenge, you need to be in a trial or a membership.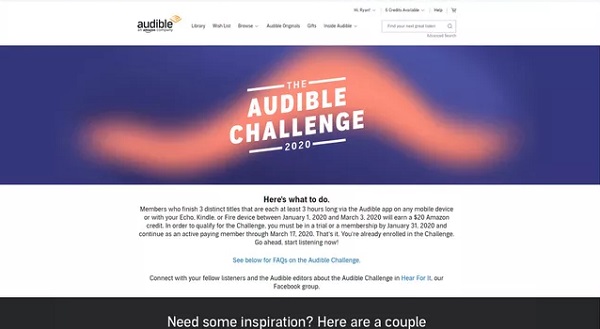 Tip 4. Listen to Free Audible Original Audiobooks
There's another method to obtain new audiobooks without using your credits. By navigating to Audible Originals with your Audible paid account, you are able to listen to free audiobooks. There, you'll discover a selection of Audible original audiobooks. These cover a wide range of themes and genres, including self-help, autobiographies, fiction, and much more. You may listen to as many Audible Originals as you like without spending any of your credits.

Tip 5. Receive Audible Membership with Credits from Friends
Audible boasts a 'give as a gift' feature for each title. Using this feature, users can purchase any Audible book with a credit or a credit card and then send this to others. Apart from gifting Audible books, Audible also allows listeners to give a membership. Thanks to this feature, you can receive others' gifted Audible membership, whether you are a member or not.
If you wanna request a gifted Audible membership from friends or family members, persuade them to go to this Audible Gift Center page to choose a plan for you. Remember to provide your correct email address to the giver.

If you have already got the gift containing the membership along with Audible free credits, then you should check the email you received from Audible and then it will prompt you to redeem the gift. Alternatively, directly heading to the Audible Gift Redeem page and then entering the code also works.

Tip 6. Return Audible Books After Downloading Them
Audible allows members to return books within 365 days of the original purchase. Be aware that Audible limits the number of exchanges if members return too many books. But there's no exact number of how many books you can exchange, if Audible decides you're going too far, then they'll stop you. But you can still use the trick to get the credits you used to purchase a book back.
If you just want to use this way to get free Audible credits but don't want to lose the audiobook, here we recommend you download the book to your device first before returning it. Unfortunately, even if you are allowed to download any Audible book you owned, the downloaded file will get deleted from the Audible player as long as you exchange or return the book. Although you can find the downloads in your local folder, it is unplayable since it is AA/AAX file being encoded with DRM.
But fear not! With the ViWizard Audible Audiobook Converter, the situation will be different. Functioning as an Audible DRM removal, you can use it to remove the copyright protection first and then convert Audible books from AA/AAX to MP3, M4A, M4B, AAC, FLAC, WAV, and more. After that, you'll be able to keep the returned audiobook and play them anywhere you want. Besides, this marvelous program can keep lossless quality while converting Audible books at up to 100X fast speed. Using this tool, the original ID3 tags can be retained for better organizing and management.

Key Features of ViWizard Audible Audiobook Converter
Free Trial
Free Trial
* Security verified. 5,481,347 people have downloaded it.
Convert Audible audiobook to unprotected audio formats like MP3
Split Audible book into several smaller segments by chapter or by time
Support playing Audible audiobooks on any device or media player
Handle the conversion of Audible audiobooks up to 100× faster speed
Click or tap the link above to install ViWizard Audible Audiobook Converter and then use it to make Audible books playable after returning. Let's see how to download DRM-free Audible books and then return them for free Audible credits.
Step 1

Load Audible Files to ViWizard

After installation, open the ViWizard program and import the audiobooks downloaded from Audible to it. So make sure you've downloaded the Audible book you're going to return on your Windows or Mac. And then locate the Audible downloads location. After that, simply drag and drop the files or click the + button to add Audible books to ViWizard Audible Audiobook Converter.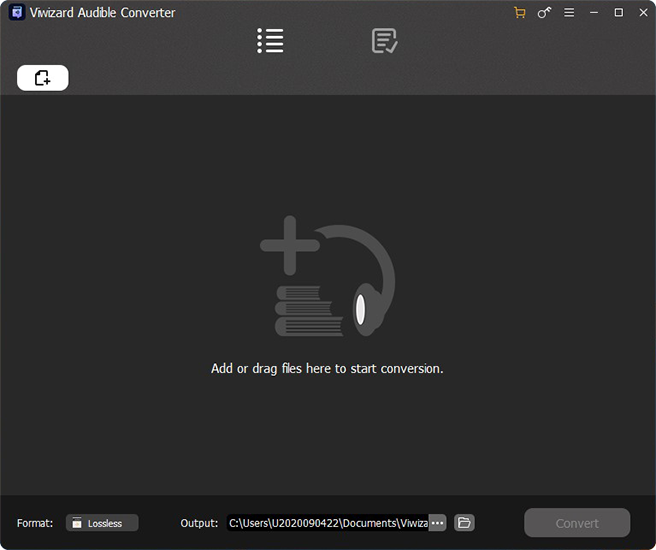 Step 2

Configure the Output Parameters

In this step, you're allowed to set the output format and parameters according to your needs. Just click the Format button at the bottom left corner and you'll see some options for you. Then customize the codec, channel, bit rate, and sample rate. Then click the Ok button before closing the windows. You can also click the Edit icon next to each book to open the built-in editor where you are able to split the audiobook, adjust the playback speed, change the narration volume, and edit ID3 tags.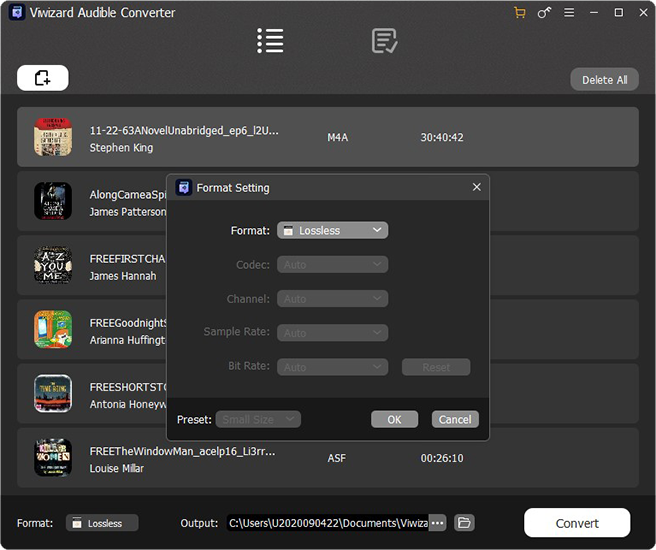 Step 3

Start Converting Audible Books

Once all the settings are done, you can then click the Convert button. ViWizard will start to bypass DRM protection and convert your imported Audible audiobooks. Wait for the conversion to end, and then you can find all the files by clicking the Converted button. After that, it is much easier to locate Audible books as playable and unprotected files in your local folder.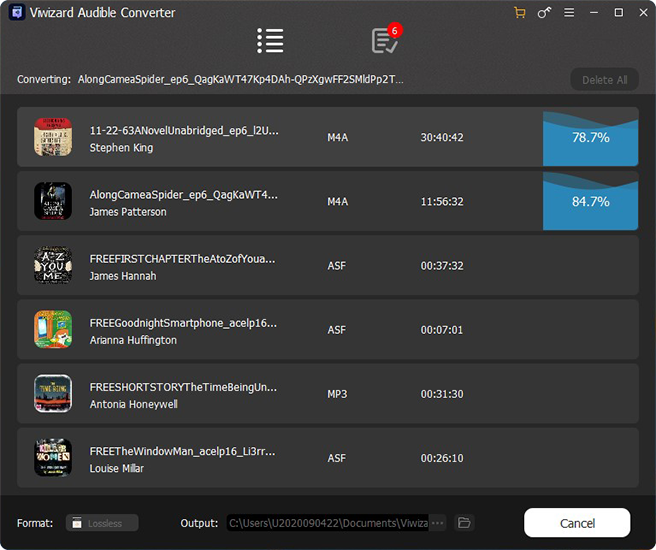 Step 4

Exchange Book to Get Your Credit Back

Now you can feel free to exchange your book and get your Audible credit back. Whether on a desktop or mobile device, visit audible.com from a browser. Log in to your account and tap the three horizontal lines icon in the upper left corner. Then tap your profile > Purchase History. Locate the book you'd like to return and hit on Return this title under the book. After returning Audible books, you will get free Audible credits back and you can use them to buy more books you want.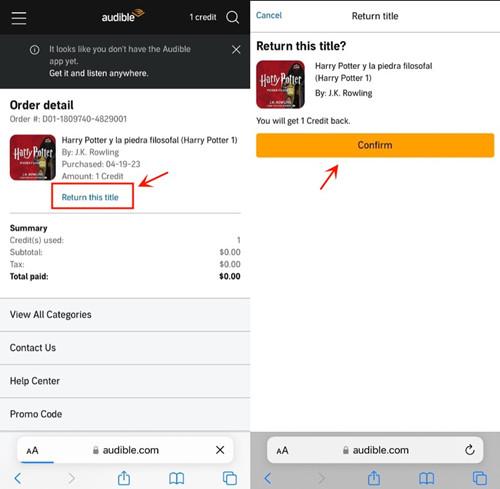 Part 3.

How to Use Audible Credits to Purchase Audiobooks

After getting enough Audible free credits, it's pretty easy and convenient to use them to purchase audiobooks on Audible. You'll not have to pay an extra fee after using the credit to buy a book, no matter how expensive the book is. Here's how to.
On Desktop:
Step 1. Go to the Audible desktop website and sign in to your account.
Step 2. Find out an audiobook you want to purchase and click the title.
Step 3. Choose the Buy with 1 Credit button to cost your free Audible credits.
Step 4. You will receive an email confirmation of your purchase and can begin listening after confirming.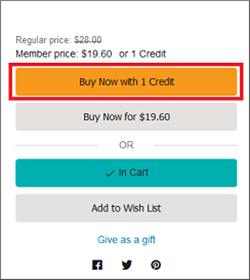 On Mobile:
Step 1. Visit the Audible site and sign in.
Step 2. Browse the site and tap on the audiobook that you want to buy.
Step 3. Tap Buy With 1 Credit and then confirm your purchase to finish the process.
Once you purchased Audible books, you are free to download them on your device for listening offline. But all those downloaded titles can be only accessible within the Audible app. If you want to enjoy them on the built-in media player or play them on other devices which are not compatible with Audible, you should consider ViWizard Audible Audiobook Converter for downloading Audible books.
Conclusion
Currently, you may know how to get free Audible credits in 6 different ways. Audible is the best platform to stream audiobook for an audiobooks lover. Sometimes Audible will launch events or discounts to make users get credits free or cheaper. You can follow the news from it. If you opt to get Audible physical files and download the audiobooks you like for saving on your devices, ViWizard Audible Audiobook Converter is what we highly recommend. It's a great tool to back up Audible audiobooks.