It's outrageous that Audible credits can expire. I have constant anxiety about losing them because I don't know what to use my credits on.
-- From Reddit.
If you are an audiobook lover, Audible is adequate for your literary cravings since it boasts a myriad of audiobooks in different genres. Audible allows users to buy Audible books via credits or dollars. Audible credits is valuable for Audible listeners to purchase audiobooks on Audible. There are several way to get free Audible credits, such as Audible free trial, the challenge of Audible, returning of an audiobook on Audible, and more. But pay attention credits can expire. Once they are expired, they are unusable anymore. So in this post, you will be told everything you need to know about in this regard.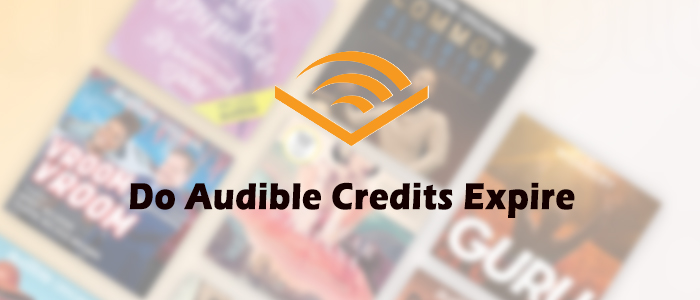 Part 1.

FAQs about Audible Credit Expiration

Here are some questions that you guys asked most frequently. Take a reference to get more familiar with Audible credits expiration.

Q1.Do credits expire on Audible?

A1.Yes. Most types of credits like membership credits, return credits, extra credits, gift credits, complimentary credits, and special credits would expire. While credits received from an Audible iOS app membership or an Audible Google Play membership, and extra credits purchased in the iOS and Google Play apps do not expire, and will remain in your account even if you cancel the membership.

Q2.When do Audible credits expire?

A2.Generally speaking, Audible credits would expire after 12 months from the issue date.

Q3.Do Audible credits expire if I cancel the membership?

A3.Yes. Once you canceled your Audible membership, all current credits you have would be lost with the membership cancellation. But the purchases you made with credits would keep forever. If you just switch between Audible Plus and Audible Premium Plus, the credits you get will be kept on your account.

Q4.How do I know when my Audible credits expire?

A4.To check how many credits you own or your credits' expiry date, just go to the Audible credits summary page and log into your Audible account. From here, you can view all your active credit details including the arrival date with your membership and expiry date.
Part 2.

How to Use Audible Credits Before Expiring

Credits can be used to purchase any title from Audible entire title selection. It is a pity if your Audible credits expired. So making the most of Audible credits before they expire is necessary. In this part, we will give you a full guide to managing your Audible credit expiration and using Audible credits to purchase your preferred Audible books or gifting Audible books.
Option 1. Purchase Audible Audiobooks
The most straightforward way to cost Audible credits is to buy an audio title that you previously added to your wish list or your cart.
Note
Audible purchases have to be done through the website, not the Audible app.
Visit Audible.com or open the Audible app.
Enter your desired titles in the search bar and then hit on it.
Choose the Buy with 1 credit button and confirm your purchase.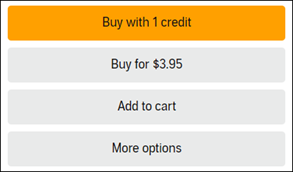 Option 2. Gift Audible Audiobooks
In addition to using credits to buy Audible audiobooks, you can also choose to give Audible books as a gift to spend Audible credits. This way also requires you to buy the audiobook first.
On Audible, find which title you'd like to gift to others.
Hit on the title and select More options.
On the pop-up window, choose the last option Give as a gift.
Enter the information including the delivery way, recipient's email, name, and more.
Hit on the Continue button and it will lead to the purchase page.
Select Buy with 1 credit and then confirm it in your email box.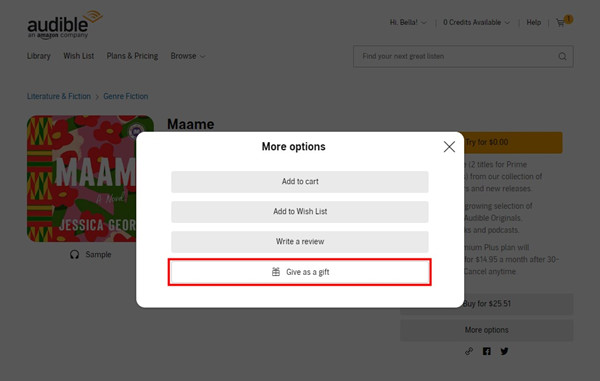 Congratulations! Now you have consumed a credit on Audible and the selected Audible book will show in your Library section or be given to the receiver as a gift!
Part 3.

How to Download Audible Books in MP3

Just feel free to download your permanently purchased books from your library for offline listening. Apart from making the best use of the credits, maximizing your downloaded Audible books can not be excluded. However, it is limited to organizing and playing all your downloaded audiobooks on other platforms other than Audible since they are protected by DRM technology. So in this case, what should you do to play your purchased and downloaded audiobooks on other players?

All you need is ViWizard Audible Audiobook Converter. As its name suggests, it is an amazing Audible converter and simultaneously functions as an Audible DRM removal. With the help of ViWizard, you can convert the protected Audible books to common DRM-free formats like MP3, M4A, M4B, AAC, FLAC, WAV, and more with lossless audio quality. Furthermore, its 100X conversion speed offers great flexibility and convenience for you. Adopting the leading identification technology, ViWizard won't lose the original ID3 tags of an audiobook so you can manage the audiobook on your computer with great ease.

Key Features of ViWizard Audible Audiobook Converter
Free Trial
Free Trial
* Security verified. 5,481,347 people have downloaded it.
Convert Audible audiobook to unprotected audio formats like MP3
Split Audible book into several smaller segments by chapter or by time
Support playing Audible audiobooks on any device or media player
Handle the conversion of Audible audiobooks up to 100× faster speed
Step 1

Upload Audible Files to ViWizard

Install and launch ViWizard Audible Audiobook Converter, and then you can add Audible audiobooks by either dragging the files to ViWizard or clicking the Add Files icon at the upper-left corner. ViWizard enables you to add several Audible files since it can convert multiple Audible books at once in a few minutes.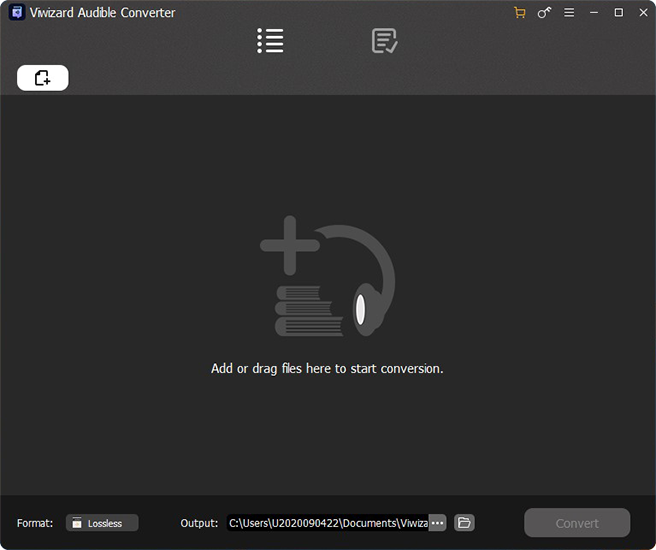 Step 2

Change Parameters for Audiobooks

After uploading all your wanted audiobook files to ViWizard, click the Format button to choose the output audio format. If you focus on the highest audio quality, please set Lossless as the output format. If you want to play Audible on an MP3 player or any other device, choose the most common MP3 format. Besides, you can freely adjust the audio parameters like the codec, channel, bit rate, and sample rate. To split the audiobook, or change the volume or speed of the narration, please hit on the Edit button next to each audiobook's name to access the editor.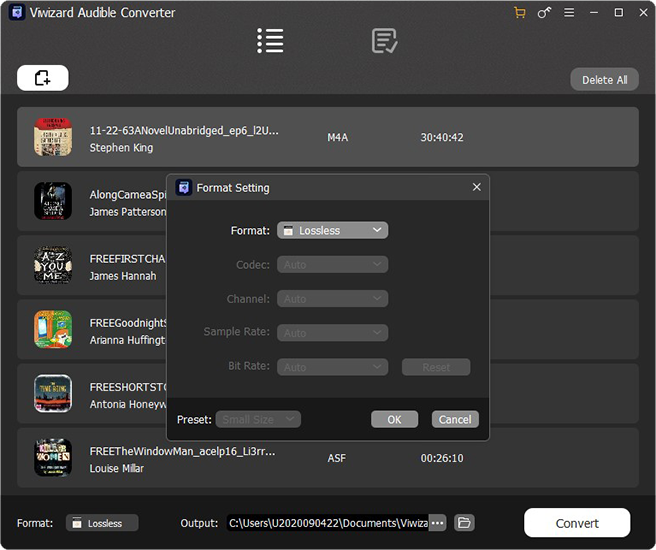 Step 3

Start the Conversion of Audible Books

To start converting your Audible audiobooks, click the bottom right Convert button. Once the conversion is complete, go to the Converted interface, and you can easily view your converted files. Of course, you can locate certain files by using the ViWizard search function. Thanks to its built-in player, you can preview and enjoy the converted audiobooks in the ViWizard.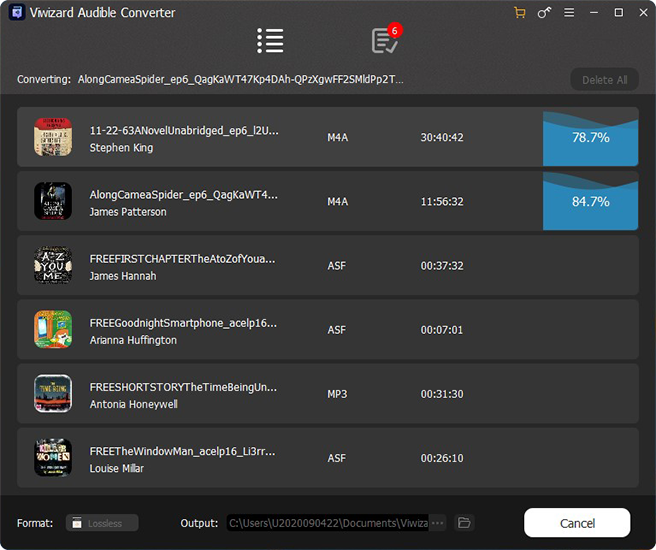 Conclusion
It is noteworthy that Audible credits expire. In order to let them expire, the best way is to spend them in the right ways. You can choose to buy your favorite audio title or gift Audible books to use your Audible credits. To make the most of your audiobooks purchased by credits or play Audible books offline without using the Audible player, we recommend you use ViWizard Audible Audiobook Converter to download Audible books in DRM-free format for playing.