Do you enjoy listening to audiobooks? If you like audiobooks, you may have used Audible which is the biggest audiobook streaming service. Like other streaming services, such as Apple Music, you have to pay for a premium plan in order to use the full services. Do you know the differences between Audible premium plans?
Audible has offers 2 subscription plans: Audible Plus and Audible Premium Plus. They can really make someone confused. But in here, you won't be confused anymore. Today we will show you a clear review of Audible Plus vs. Premium Plus. You will figure out all differences between Audible Plus and Premium Plus. And we will also tell you how to listen to your Audible audiobooks after the subscription end at last.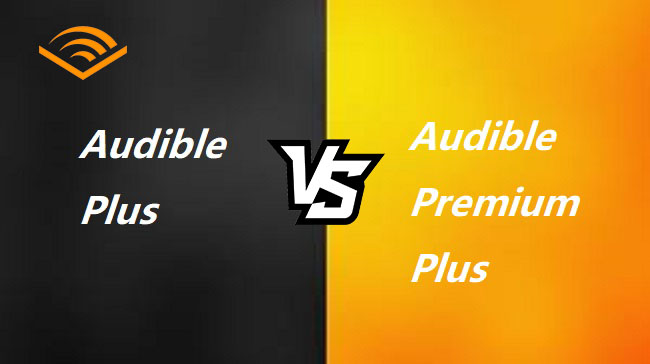 Part 1. How Do Audible Plus and Premium Plus Work
Audible Plus and Premium Plus are both Audible subscription plans. If you want to continue to use Audible to stream audiobooks, you need to subscribe to one of them. But they are designed for different groups of users.
Audible Plus is the basic plan for streaming Audible audiobooks. The price of Audible Plus is much lower than Premium Plus. However, on the other side, Audible Plus doesn't offer as many benefits as Premium Plus, such as the credit, number of catalogs, and so on. Premium Plus is the standard Audible premium plan to stream unlimited titles. Premium Plus offers some other benefits and the price is a little high than Audible Plus. With this plan, you can enjoy the full services of Audible.
Now you may have a brief image of Audible Plus and Premium Plus. We will show more details of these two plans in 3 aspects in the following parts.
Part 2. Audible Plus vs. Premium Plus
Audible Plus and Premium Plus have their advantages. If you want to know more information about them, don't miss this part. Here we will compare Audible Plus and Premium Plus in 3 parts: price, catalog, and other benefits. Now, let's see together.
1. Price
The first thing we are going to talk about is the price. As mentioned before, Audible Plus is a little bit cheaper than Premium Plus. Audible Plus costs $7.95 per month while Premium Plus costs $14.95 per month with 1 credit every month.
If you want to get 2 credits every month, you can choose the plan of $22.95 per month. You may also choose to be paid once a year, in which case Audible will provide you with access to a year's worth of credits at once — along with a slight discount. A 12-credit yearly membership costs $149.50 per year, while a 24-credit annual subscription costs $229.50 per year.
2. Catalog
The catalog for these two plans is different. The users who subscribe to Audible Plus will access the Audible Plus catalog (over 11,000+ audiobook titles). You can listen to audiobooks, exclusive podcasts, and Audible Originals from the Audible Plus catalog. Thousands of titles are available, so no matter what your hobbies are, you should be able to find a terrific listen. There are podcasts in every genre available, from real crime to self-help. Audible will also produces some of these podcasts.
Noticed that the Audible Plus catalog is continually changing. Some titles may cycle out of the Premium Plus catalog as they are introduced. The Audible Plus catalog is updated regularly, so if you want to search the Audible Plus catalog, go to Audible.com/search and search the title you're looking for.
Audible Premium Plus subscribers can reach the full Audible library which has over 47,000 audiobooks and podcasts. The full library includes the Audible Plus catalog. So you are capable of getting more audiobooks from the Audible Premium Plus catalog.
3. Other Benefits
One of the biggest differences between Audible Premium Plus and Audible Plus is the number of credits. One credit can be redeemed for an audiobook at no extra cost. And the book can be kept forever, which is equivalent to getting an audiobook for free. Premium Plus users will get 1 credit every month. And you can keep hold of the credits for up to a year. Another benefit is that the subscribers of Premium Plus can get 30% off all additional premium audiobooks you like, plus access to exclusive sales. These benefits only apply to the Premium Plus plan and there are no additional benefits for Audible Plus.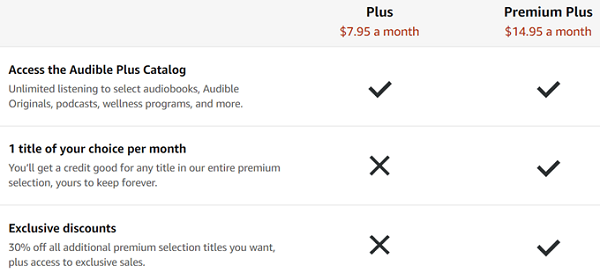 Tip to Listen to Audible Audiobooks after the Subscription Expired
Audible allows premium users to download audiobooks for offline playing. However, the downloaded audiobooks are only available during the subscription. When the subscription is end, you won't be able to play the downloaded audiobooks. So how can we save the downloaded audiobooks permanently? The answer is to convert the AA/AAC audiobooks into MP3. Then you can play the MP3 Audible audiobooks without limit.
To remove the playback limit and keep the lossless quality of Audible audiobooks, ViWizard Audible AA/AAX Converter is what you need. This tool can convert Audible audiobooks from AA/AAX to MP3, WAV, AAC, FLAC, M4A, and M4B formats. It can also save audiobook metadata such as title, album, artist, year, and so on. You may also tailor the output audio by changing the speed, loudness, sample rate, channel, bit rate, and so on.
The tool's main selling point is its ability to download and convert Audible audiobooks to lossless quality. The audio settings will be set to default for lossless quality. You may divide the audiobook into chapters or frame times in the Edit Window.
ViWizard Audible Audiobook Converter Key Features
Losslessly convert Audible books to MP3, FLAC, AAC, OGG, M4A, etc.
Convert Audible audiobooks to open formats at 100× faster speed
Freely customize the output audio parameters such as sample rate
Split audiobooks into small segments by time frame or by chapters
Video Guide of Convert Audible Audiobooks to MP3
Conclusion
In this article, we have made a comparison of Audible Plus and Premium Plus in price, catalog, and benefits. If you just want to get stream premium selection titles, Audible Plus is a good choice. If you want to get the full services of Audible, choose Premium Plus. With a premium account, you can easily download audiobooks for offline playing. However, due to the restriction of Audible, the downloaded audiobooks can only be played within the subscription. To play the audiobooks when the subscription expired, you can use ViWizard Audiobook Converter to download Audible audiobooks to MP3. Just click the download button below to start a free trial of ViWizard and you won't be disappointed.