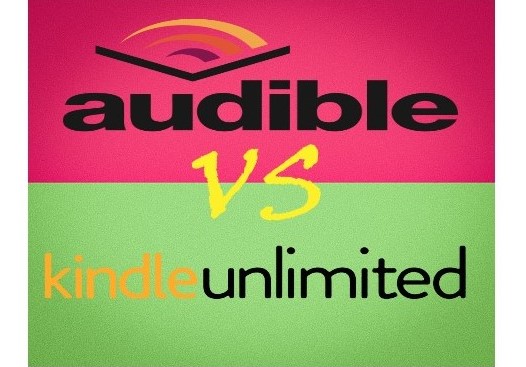 If you're a book worm, you might have considered having all the books you love in your digital devices rather than managing loads of paper books on shelves. Apparently there're many advantages of using e-book service, you can take your books everywhere with mobile devices and read them without having to worry about losing pages or bookmarks.
Today we're going to look at Audible and Kindle Unlimited to help you decide which one you should choose. Both Audible and Kindle Unlimited services are supported by Amazon, but they're actually focusing on different kinds of users. So in the following sections, I'll be giving some insights on Amazon Audible vs Kindle Unlimited.
What are Audible and Kindle Unlimited?
Are Audible and Kindle Unlimited the same? Of course, they're not. Kindle started with an e-book reading device which is owned by Amazon in 2007. Users can buy, read and download any forms of digital media like e-books, magazines and newspapers on the Kindle device. Kindle Unlimited is the newly launched service that provides over 1 million e-books as well as 20,000 audiobooks with Audible narration. A large portion of its titles is independently published by new writers and authors. Titles from large distributing houses are scarce, which means you won't find a huge number of bestsellers or well-known books among these titles.
Audible rolls out service with up to 400,000 titles of audiobooks that can be played on multiple devices. As one of the largest and most popular audiobooks providers, it boasts to have the largest collection of audiobook on the market covering bestsellers, new releases and various genres from romance, fantasy to mystery and Sci-Fi and more.
Audible vs Kindle Unlimited: How Different They Are?
The Ways They Work
Once you subscribe to Kindle Unlimited, you'll directly get access to all the e-books and audiobooks on it. You can borrow 10 titles at a time and read them on any available device. You don't need a Kindle device to read its books, you can reach the content on the Kindle app and also you can download those books for later reading. But the Kindle Unlimited subscription doesn't give you the ownership of these books, once you cancel the subscription, you'll not be able to read them anymore.
With Audible membership, users will be given 1 or 2 credits per month depending on the monthly plan they subscribe to. Credit can be used to buy audiobooks, each credit is worth one title. All the subscribers will get an additional 30% off purchasing any titles without credits, two free Audible Originals each month. Audible Members can exchange audiobooks they don't love within a year of purchase. Even you cancel the Audible subscription, you can still listen to audiobooks you've bought, but these audiobooks have to be played on an Audible app. If you want to play Audible audiobooks anywhere, you can use the ViWizard Audible Converter to convert them to popular formats like MP3, WAV and others.
Subscription Plan
Kindle Unlimited costs $9.99 per month, but since it doesn't give you the ownership of the books, and most of the books on it cost 0.99%, you'll have to read at least 10 books a month to make sense of your monthly subscription. Of course you can read more expensive books during your subscription, but that feels like judging a book by its price.
While Audible provides 2 monthly plans which are Gold Monthly for $14.95 per month and Platinum Monthly for 22.95$ per month. Each month members will be given 1 or 2 credits to purchase audiobooks, and users can own the book forever without extra pay even they cancel the subscription.
Geographical Availability
According to Amazon, Kindle Unlimited is currently available only to US customers on Amazon.com. Customers in the UK, Germany, France, Italy, Spain, India, China, Japan, Brazil, Mexico, Canada and Australia can sign-up for Kindle Unlimited in their local Amazon marketplace. So members outside the US may possibly get a shrunken library while subscribing to the Kindle Unlimited.
Audible is available to members from all over the world. But due to the licensing restrictions, not every book is available everywhere.
Is Audible or Kindle Unlimited Better?
That depends, if you're an avid e-books reader living in the US, then Kindle Unlimited suits you better with its extensive e-books library and affordable monthly price.
But if you're into listen to audiobooks and don't have much time to sit and read, Audible will serves you with the largest audiobooks library and considerate listening experience. There's also a hidden benefit from Audible, no matter how expensive the book is, you can still use your monthly credit to get the book without extra charge and own the book for as long as you want.
Summary
Both Kindle Unlimited and Audible provide good service for digital books readers, the Kindle Unlimited focuses on large books library while Audible provides audiobooks for listening. If you still can't make up your mind to choose one after reading this article, both Kindle and Audible offer a 30-day free trial, you can try them out and then choose the one that suits your needs.
If you want to play your Audible audiobooks anywhere after purchasing or share them to your friends, don't forget to check out the ViWizard Audible Converter.
Download Audible Converter for Free