Audible audiobooks allow you to "read" a whole book while doing other things. If you happen to own an Amazon Echo at the same time, things would become much easier as it allows you to listen to those Audible books on Alexa using just your voice. With the smart Amazon Alexa, the built-in voice assistant of Echo, you can freely control the playback of any Audible audiobook merely via voice commands. Here are two simple ways to use Audible and Amazon Echo to listen to Audible on Alexa.
Method 1. Listening to Audible on Amazon Echo via Alexa
In general, Alexa can read most of your books with the exception of comics and graphic novels on any Echo device. And you can easily play Audible on Echo as long as you're logged into your Amazon Audible account on Echo. Let's go through the whole process and start listening to Audible audiobooks.
Step 1. Open the Alexa app on your mobile device.
Step 2. To find the books, just tap on the Play button and select the Music & Books option.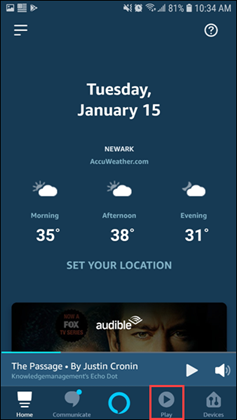 Step 3. Then you will find the list of all the Audible books you have.
Step 4. Choose any title and ask Alexa to read it. To play Audible on Amazon Alexa, simply say: "Alexa, read [name of a book] from Audible" and it will start reading the audiobook for you as you wish.
Then tap the audiobook card on the bottom of the screen to go to the Player screen. You can control the playing of audiobook from the Player screen. There are some options on the Player screen you can use.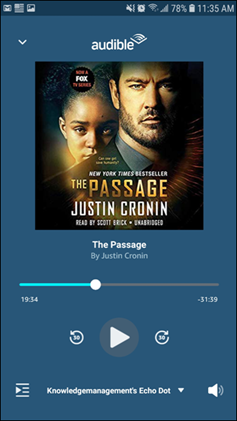 Adjust volume: Adjust the volume of the audiobook.
Play/Pause: You use them to start to play or pause audiobooks.
Jump ahead/back 30 seconds: You find the part you want to listen to by using these buttons. You can also rewind or fast forward with the timeline.
Chapter Navigation: You can use this button to change the chapter of the audiobook.
Method 2. Using 3rd-party Audible to Echo Converter
The alternative way to play Audible on Amazon Echo is uploading the audiobooks to Amazon Music account with the help of Audible to Echo converter software. This solution is highly recommended for Audible users who want to make a backup of their audiobooks on different devices and platforms.
In fact, all Audible books are protected so that only a few selected devices are allowed to play the audiobooks. If you want to transfer and share them on any other MP3 player or mobile device, you should get rid of the protection from those Audible audiobooks firstly. To get it done, ViWizard Audible AAX Converter is a great assistant that could help a lot.
It's a smart and unique Audible audiobook converter that can easily convert the audios from AA/AAX to MP3, AAC, WAV, FLAC, M4A, M4B in 100% lossless quality with 100X faster speed. After that, you'll be able to upload the converted Audible audiobooks to Amazon Music account for listening on Alexa with voice commands.
Key Features of ViWizard Audible Audiobook Converter
Losslessly convert Audible audiobooks
Convert AA/AAX files to MP3, AAC, WAV, FLAC, M4A, M4B
Keep original ID3 tags and chapter information
Convert Audible audiobooks without authorizing on iTunes
Split large book into small segments by chapters
#Guide 1: Convert Audible Audiobooks
This is the complete tutorial of converting Audible audiobooks to unprotected formats by using ViWizard Audible AA/AAX Converter.
Step 1

Add Audible Audiobooks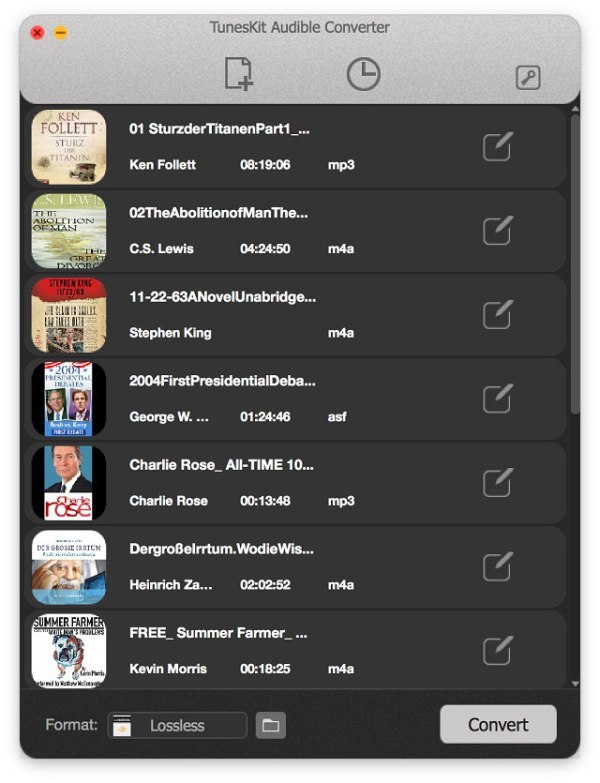 After launching ViWizard Audible Converter, click the Add Files button to add the book files from your Audible to the software. You can also drag and drop the Audible audiobooks into the converter directly.
Step 2

Set Output Format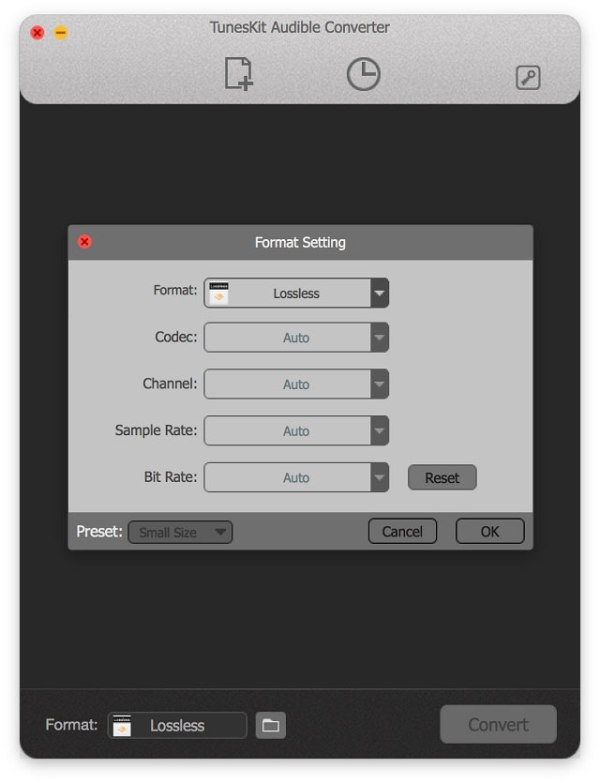 Switch to the Format panel at the bottom left to set the output profile of the audio files. To keep the 100% lossless quality, you should choose the Lossless output format. Otherwise, you can select MP3, AAC, M4A, WAV, etc. as you like. In the Format Settings window, you can also adjust other parameters like codec, channel, sample rate, bit rate, etc.
Step 3

Convert Audible Audiobooks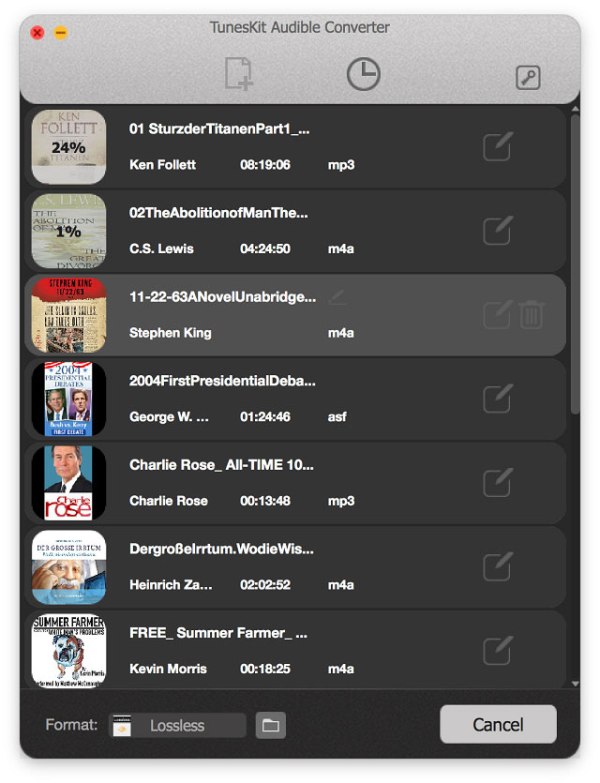 Now, click the Convert button and the program will start to convert your Audible books to common formats at up to 100X faster speed. To locate the converted audio files, you should simply click the Converted icon at the top center.
#Guide 2: How to Play Audible on Alexa
Now you can follow these steps to start listening Audible audiobooks on Amazon Echo via Alexa.
Step 1. Install the Amazon Music on your Mac or PC.
Step 2. Open the app and then copy the converted Audible files into the My Music section.
Step 3. Once the audios are imported to your Amazon account, you can then play them on Echo speakers using just your voice.
More Tips for Audible on Alexa
You may be familiar with Audible. But if it is the first time to listen to Audible on Alexa, you may need some help. In this part, I will introduce some helpful suggestions and tips for you to use Audible on the Echo device with Alexa. For example, you can sync audiobooks across Echo and Audible on your phone so that you will arrive at the right place for audiobooks. And you can merge the Amazon account and Amazon account when you have trouble playing Audible audiobooks on Alexa.
Some Features of Playing Audible on Alexa
You can access most Audible features when you are playing Audible on Alexa. But some features are not supported by Alexa.
What Audible on Alexa can do:
Whispersync for Voice: This is a feature that enables you to continue listening on any device that supports this feature. And you can exchange between listening to audiobooks and reading eBooks if you purchase both of them.
Purchasing with a credit: You can buy audiobooks with a credit.
Narration Speed: You can change the speed of the narration of audiobooks.
Listen to Podcasts: You can choose to listen to podcasts on Alexa.
What Audible on Alexa cannot do:
When you need to listen to Audible on the Echo device with Alexa, you cannot access these two features: Clips & bookmarks and Stats & badges..
Commonly Used Audible Commands for Alexa
There are some basic voice commands you can give to Alexa and ask it to pause, stop, go forward or back while listening to Audible books on Amazon Echo. They are:
"Alexa, read [the book title]."
"Alexa, play [title of a book] from Audible."
"Alexa, next chapter."
"Alexa, set a 20-minute sleep timer."
"Alexa, pause."
"Alexa, go forward."
...
Final Words
To listen to Audible on Amazon Echo, some people will choose to directly connect Audible to Alexa. But if you are an Audible audiobook enthusiast, a 3rd-party software like ViWizard Audible AA/AAX Converter is a nice option to help you convert the Audible books to common formats and back up the Audible books at the same time. Then you can own the books completely and play them on any device.
Disclaimer: Converting Audible audiobooks is solely encouraged for personal backup purpose. Any commercial use of the converted Audible books is strictly forbidden.
More Audible Tips & Tutorials