Audible audiobooks allow you to "read" a whole book while doing other things. If you happen to own an Amazon Echo at the same time, things would become much easier as it allows you to listen to those Audible books on Alexa using just your voice. With the smart Amazon Alexa, the built-in voice assistant of Echo, you can freely control the playback of any Audible audiobook merely via voice commands. Here are two simple ways to use Audible and Amazon Echo to listen to Audible on Alexa.
Method 1:

Play Audible on Amazon Echo using Audible & Alexa App [Online]

Alexa-enabled device owners can make use of the Amazon Alexa app to listen to Audible audiobooks from the device online. With the Amazon Alexa app, it's available to view and manage all titles.
Step 1

Set Up Your Amazon Echo with Alexa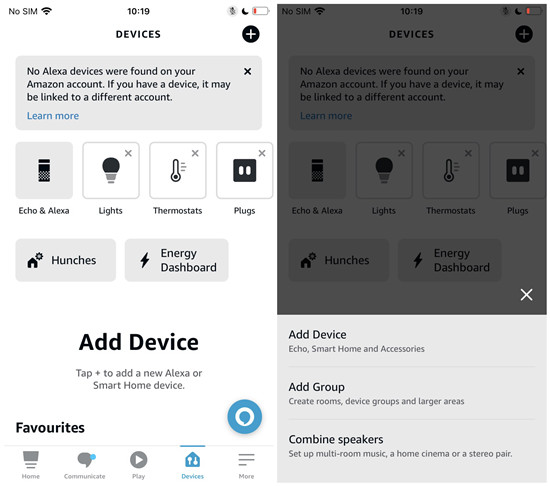 From the Home screen of your smartphone or tablet, locate and open the Alexa app.
Tap on "Devices" at the bottom of the screen.
Tap the "+" symbol (Plus) to add a new device.
Choose "Add Device" and then select "Amazon Echo" from the list of device types.

For Echo Smart Speakers:

If you have an Echo Smart Speaker (Echo, Echo Dot, Echo Plus, etc.), tap "Echo, Echo Dot, Echo Plus and more" under "ECHO SMART SPEAKERS."

For Specific Echo Model:

Alternatively, you can tap "Amazon Echo" under "AVAILABLE DEVICES" and select your specific Echo model.

Ensure your Echo device is powered on.
Wait for the device's LED indicator to turn from blue to orange. This indicates that your Echo is in setup mode.
The Alexa app will likely prompt you with a message like "Discovered New Devices." Tap "Yes" to confirm.
Follow the on-screen instructions to complete the setup process for your Echo device.
Step 2

Link Your Audible Account to Alexa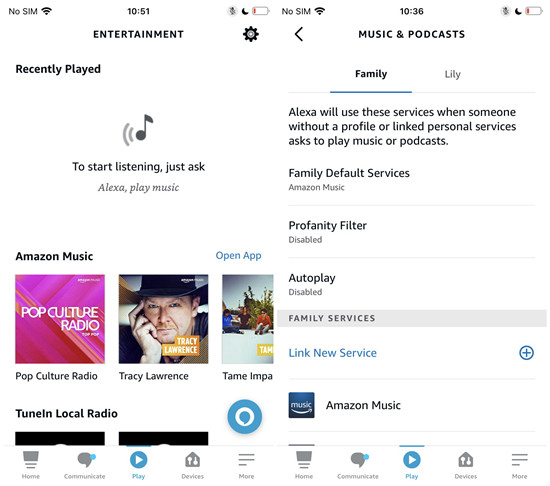 Return to the Home screen of your smartphone or tablet.
Open the Alexa app.
Tap on "Play" to go to the playback screen.
Tap on the "Settings" icon (Gear) to access Alexa settings.
Select "Link New Service" from the settings menu.
Alternatively, you can go to the Home page of the Alexa app, and under "Activity," select "Link Music Services."
Ensure that the Audible account linked to your Amazon account is signed in to the Audible app on your device.
Scroll to find "Audible" under the list of music & podcast services.
Tap on "Audible" to begin the linking process.
Follow the on-screen instructions provided by the Alexa app to complete the Audible linking process.
Step 3

Access Your Audible Library on Alexa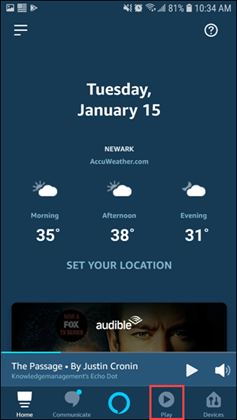 Navigate to the Home screen of your smartphone or tablet.
Open the Alexa app.
Choose "Play" to access the playback screen.
Select "Music & Books" to navigate to the section where your Audible content is available.
Allow the Alexa app a few moments to load your entire Audible Library.
After a brief moment, you will see a list of all the Audible audiobooks associated with your account.

While listening to an audiobook, you can use voice commands to pause playback:

"Alexa, read [the book title]."
"Alexa, play [title of a book] from Audible."
"Alexa, next chapter."
"Alexa, set a 20-minute sleep timer."
"Alexa, pause."
"Alexa, go forward."

In addition to voice commands, you can control playback of your title from the Player screen within the Alexa app.

Adjust volume: Adjust the volume of the audiobook.
Play/Pause: You use them to start to play or pause audiobooks.
Jump ahead/back 30 seconds: You find the part you want to listen to by using these buttons. You can also rewind or fast forward with the timeline.
Chapter Navigation: You can use this button to change the chapter of the audiobook.
By completing these steps, you are establishing the connection between your Audible account and your Amazon Echo device. This allows you to seamlessly access and control your Audible content using voice commands through Alexa.
Method 2:

Play Audible on Amazon Echo using Amazon Music & Alexa App [Offline]

ViWizard Audible Converter is a powerful tool designed to assist Audible users in overcoming the restrictions imposed on audiobooks by converting them into more flexible formats. It becomes particularly useful when you want to play Audible audiobooks on devices that are not directly supported by Audible due to digital rights management (DRM) protection.

ViWizard Audible AAX Converter is specifically designed to convert Audible audiobooks from AA/AAX format to more widely supported formats like MP3, AAC, WAV, FLAC, M4A, and M4B. The converter ensures a 100% lossless conversion quality, preserving the original audio quality of the Audible audiobooks. With a 100X faster speed, ViWizard streamlines the conversion process, making it quick and efficient.

The tool is capable of removing the DRM protection from Audible audiobooks, allowing users to freely transfer and share the converted files on various MP3 players and mobile devices. ViWizard provides multiple output format options, allowing users to choose the format that best suits their preferences or the requirements of their target devices.

Key Features of ViWizard Audible Audiobook Converter
Free Trial
Free Trial
* Security verified. 5,481,347 people have downloaded it.
Convert Audible audiobook to unprotected audio formats like MP3
Split Audible book into several smaller segments by chapter or by time
Support playing Audible audiobooks on any device or media player
Handle the conversion of Audible audiobooks up to 100× faster speed
Converting Audible Books to MP3:
This is the complete tutorial of converting Audible audiobooks to unprotected formats by using ViWizard Audible AA/AAX Converter.
Converting Audible Books to MP3:
Step 1

Add Audible Audiobooks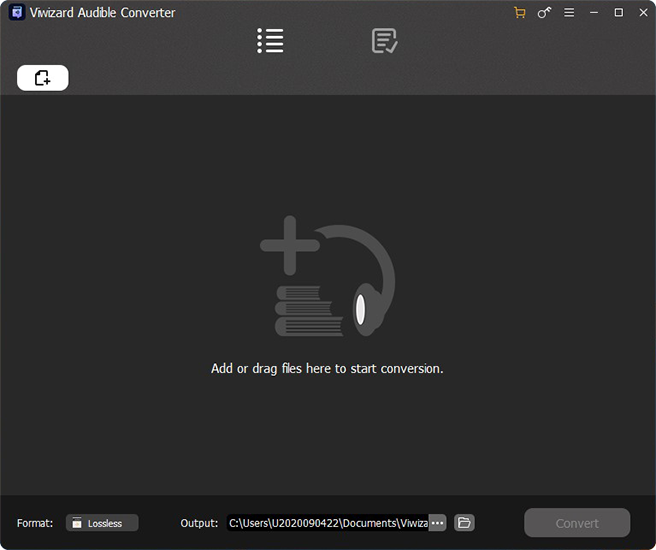 After launching ViWizard Audible Converter, click the Add Files button to add the book files from your Audible to the software. You can also drag and drop the Audible audiobooks into the converter directly.
Step 2

Set Output Format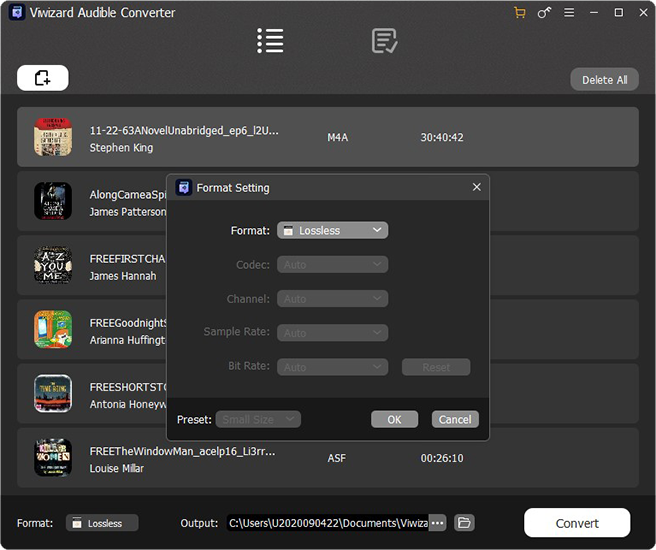 Switch to the Format panel at the bottom left to set the output profile of the audio files. To keep the 100% lossless quality, you should choose the Lossless output format. Otherwise, you can select MP3, AAC, M4A, WAV, etc. as you like. In the Format Settings window, you can also adjust other parameters like codec, channel, sample rate, bit rate, etc.
Step 3

Convert Audible Audiobooks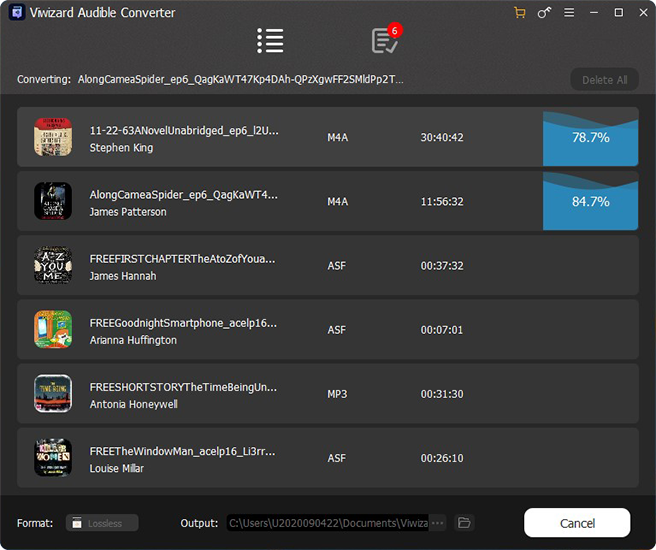 Now, click the Convert button and the program will start to convert your Audible books to common formats at up to 100X faster speed. To locate the converted audio files, you should simply click the Converted icon at the top center.
Uploading Audible Books to Amazon Musiic for Alexa Playback:
By completing these steps, you are converting your Audible books to MP3 and other compatible formats with most media players, including Amazon Music. Proceed to follow the steps to upload your Audible books to Amazon Music for Alexa playback offline.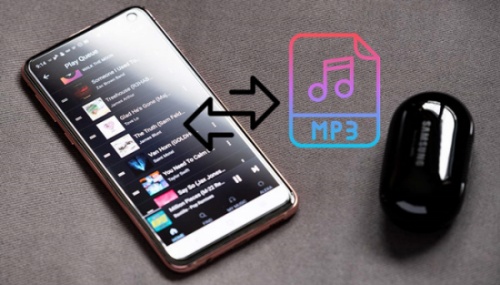 Step 1

Upload Your Audible Books to Amazon Music
Launch the Amazon Music app on your computer or visit the Amazon Music website.
Sign in to your Amazon account. Ensure it's the same account linked to your Alexa-enabled device.
Navigate to your music library within Amazon Music.
Look for an option called "Automatically Import Music From" under Settings.

Click "Select Folder." Locate the folder where ViWizard Audible AAX Converter saved your converted Audible audiobooks. Choose the audiobooks you want to upload.

Begin the upload process. Amazon Music will add your converted audiobooks to your library.
Step 2

Enable Amazon Music Skill on Alexa
Launch the Alexa app on your smartphone or tablet.
Navigate to "Skills & Games" in the app menu.
Search for the Amazon Music skill. If not already enabled, select it and follow the on-screen prompts to enable the skill.
Link your Amazon Music account to Alexa by following the provided instructions.
Step 3

Play Audible Books through Amazon Music Skill
Go back to the Alexa app.
Tap on "Devices" in the bottom menu.
Select "Discover Devices" to ensure your Alexa-enabled devices recognize the newly added music.
Use a voice command such as "Alexa, play [audiobook title]" to start playback.
Sit back and enjoy your Audible audiobooks on your Alexa-enabled device through Amazon Music.
Extra Tip:

Features Supported by Audible on Alexa

Note
Always be aware of the specific features available on Alexa, as the integration may evolve with updates from both Audible and Amazon. While the basics of playback and controls are supported, more advanced features may still be primarily accessible through the Audible app or website.
Features Supported by Audible on Alexa:
Features Not Supported by Audible on Alexa:
While many Audible features are accessible on Alexa, there are a couple of limitations:
Clips & Bookmarks: The ability to create clips and bookmarks within audiobooks is not supported on Alexa.
Stats & Badges: Access to statistics and badges, which are available in the Audible app, is not supported on Alexa.
Conclusion
To listen to Audible on Amazon Echo, some people will choose to directly connect Audible to Alexa. But if you are an Audible audiobook enthusiast, a 3rd-party software like ViWizard Audible AA/AAX Converter is a nice option to help you convert the Audible books to common formats and back up the Audible books at the same time. Then you can own the books completely and play them on any device.
Disclaimer: Converting Audible audiobooks is solely encouraged for personal backup purpose. Any commercial use of the converted Audible books is strictly forbidden.