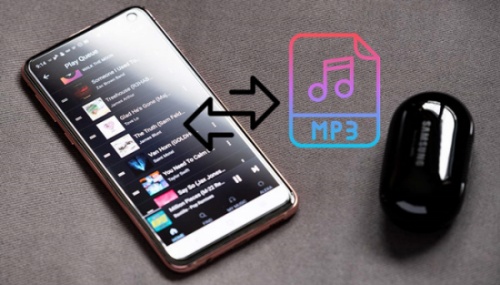 If you have your personal music collection, you'll want to add it to your most-used music service - such as Amazon Music. And fortunately, Amazon Music lets you add files stored on your computer to the Amazon Music desktop. Most music fans wish to bring their own music files to Amazon Music for reasons, one of which is to take advantage of its features that no streaming service has, such as the Amazon Music Exclusive Mode. If you have Prime membership, you can even have the full access to Amazon Music catalog for free with up to 100 million songs to shuffle.
In this post, we'd like to introduce how you can import local files to the Amazon Music desktop app and how to organize them later on in your music library. If you're frustrated with the shuffle-only mode on Prime Music, head to Part 3 to get on-demand Amazon Music contents as local files with our ViWizard Amazon Music Converter.
Part 1.

How to Import Local Files to Amazon Music

It's pretty easy for you to import local files. For starters you'll need to ensure your files are in one regular music format, such as MP3. Then you can import them to the Amazon Music app by using a related option called "Automatically Import Music From".
Importing local files to your Amazon Music library:
Step 1. On Windows or Mac, launch the Amazon Music desktop app.
Step 2. Hover over your profile at the top-right.
Step 3. Select Settings.
Step 4. Scroll until you see the Automatically Import Music From option under MUSIC MANAGEMENT. Click "Automatically Import Music From".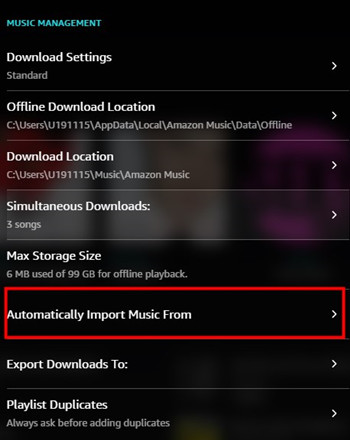 Step 5. Now you should see Amazon Music provides several options such as "Windows Media Player" or "iTunes" already. But you can always add your music folder that contains all your music files to Amazon Music app. Just click Select Folder.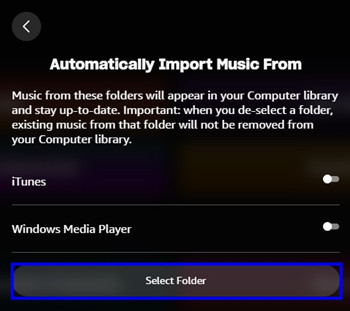 Step 6. Navigate your computer to find the music folder you want to add to Amazon Music. Select the folder to open.
Step 7. Now Amazon Music will scan all the compatible music files contained in the selected source and display the toggle for you to access it on your music library. Ensure to toggle it to make it available.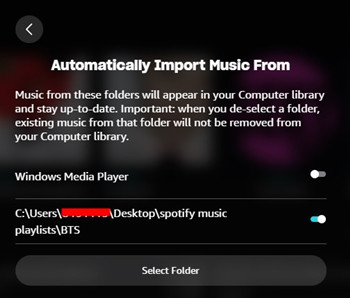 Playing local files in your Amazon Music library:
Step 1. Exit the Amazon Music Settings and back to the previous page of the Amazon Music app.
Step 2. Choose the LIBRARY tab.
Step 3. Select Music.
Step 4. Go to SONGS.
Step 5. Now the songs from the selected music source are here. You can now access and play them in the Amazon Music app with no limits. The best part of it is you can take advantage of the Amazon Music Exclusive Mode for Windows PC to have the sound quality benefits with your playback devices. Read our guide for how to enable or disable Exclusive Mode on Amazon Music.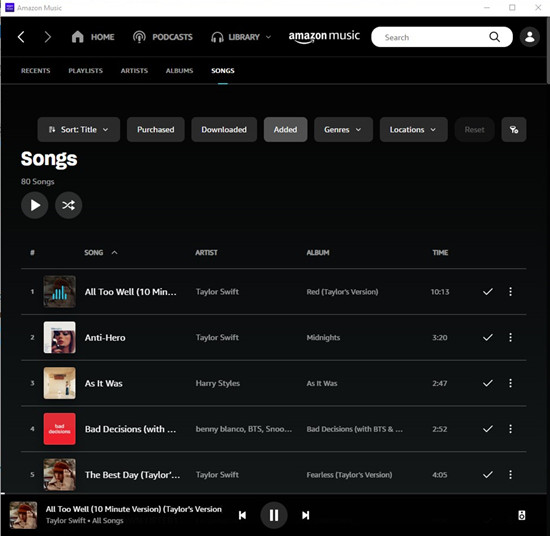 Can't find imported local files in your Amazon Music library?
If you follow the steps above properly but can't find them in your library, all you can try to do is to reload your library.
Reloading your Amazon Music library:
Step 1. Head to Your Profile > Settings.
Step 2. Scroll to RELOAD LIBRARY at bottom.
Step 3. Click the RELOAD LIBRARY button.
Step 4. Select Continue to confirm. And Amazon Music will start to loading your songs.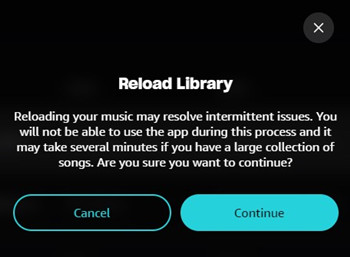 Part 2.

How to Organize Local Files in Your Amazon Music Library

In addition to the basic music control and Exclusive Mode (for Windows only), you can always do more with the added files in the Amazon Music app. You may want to add those files to your Amazon Music playlists. But now if you try to organize your files you'll receive an error message, saying:

"Something went wrong, please contact customer service."

Or:

"You can only play playlists that contain music stored only on your computer. You can create and edit playlists from cloud music, including your Amazon digital purchases and auto-ripped music."

These similar error messages may appear due to some conflicting music sources about this. For most Amazon Music users, the best solution is to create a new playlist for the matching items from Amazon Music catalog manually.
Adding local files to your Amazon Music playlists:
Note
You may not be able to manage to do this if you're using the latest version of Amazon Music app. Since this functionality has been cancelled for a while. But on some old versions of Amazon Music, you can try to make this work.
Step 1. Repeat some steps to access those music tracks in your music library.
Step 2. Right-click on the track form or click the More button (3 dots icon) on the right to open up the drop-down options menu.
Step 3. You should see serval options such as Play New, Add to Queue, Add to Playlist, Songs Credits, Show on Computer, Shop for [artists] and Buy Songs. To add the selected music song to your playlist, just click Add to Playlist.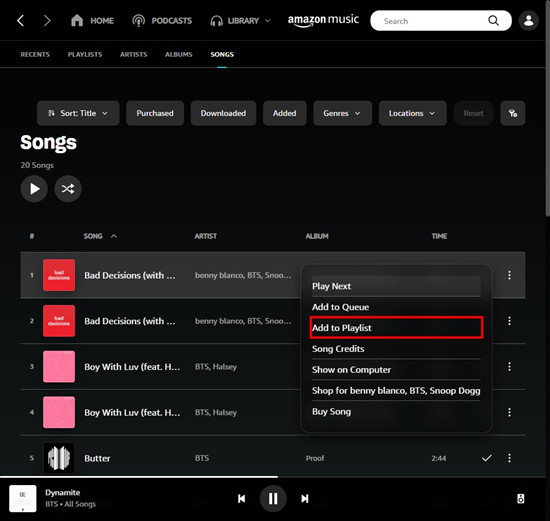 Step 4. Choose the playlist where you want to put the selected song.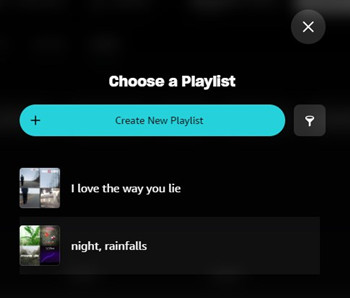 Step 5. Now the music track is added to the selected playlist.
If you encounter with issues to add music to your Amazon Music playlist elsewhere, please read another post: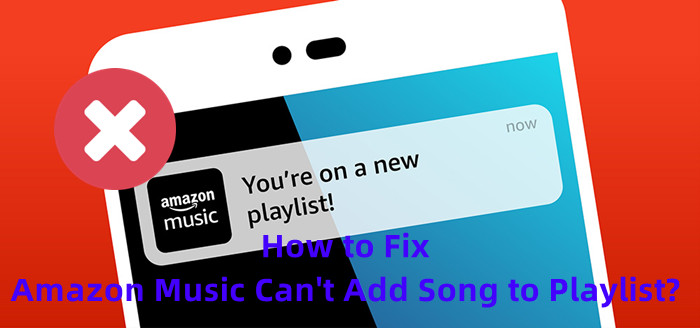 Part 3.

How to Add On-Demand Amazon Music Contents as Local Files

One of the main frustrations that most Amazon users have currently on Amazon Music is the bad functionality of the download service. Especially if you have the Prime membership, you won't able to download any on-demand Amazon Music contents for offline play. Because Amazon Music has expanded the music catalog for Prime members in change of the normal music service. So most Amazon Music users choose to download the contents they want from Amazon Music catalog and add them to the Amazon Music app for offline play. All you need is a professional Amazon Music downloader.

If you're interested in this 3-party tool, look no further. With the DRM-removal function, ViWizard Amazon Music Converter is the best one on the market. Both Prime and Unlimited subscribers can pick this ViWizard software to download contents you want from Amazon Music from music to podcasts. To make them compatible with the Amazon Music app or other software, you just need to convert them in one supported audio file formats by ViWizard: MP3, M4A, M4B, WAV, AAC and FLAC. Then the on-demand Amazon music tracks are yours to put to all your devices.

Key Features of ViWizard Amazon Music Converter
Free Trial
Free Trial
* Security verified. 5, 481,347 people have downloaded it.
Download songs from Amazon Music Prime, Unlimited, and HD Music
Convert Amazon Music songs to MP3, AAC, M4A, M4B, FLAC, and WAV
Retain the original ID3 tags and lossless audio quality of Amazon Music
Support customizing the output audio parameters for Amazon Music
Step 1

Select On-Demand Amazon Music

For starters you'll need to have latest versions of both ViWizard Amazon Music Converter and Amazon Music desktop. Then launch the ViWizard program and head to the desired contents from the Amazon Music app to add to ViWizard via drag-and-drop.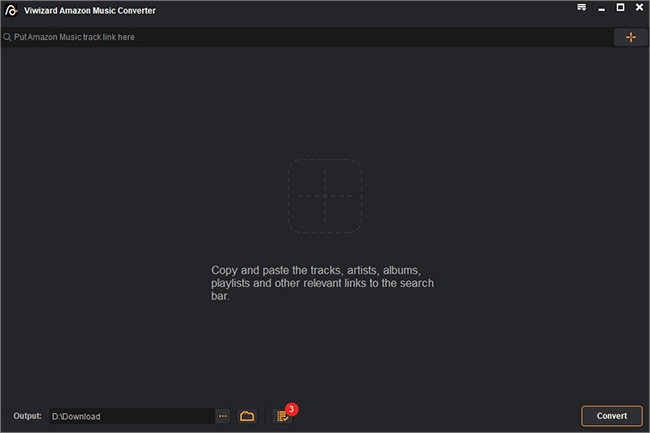 Step 2

Adjust Output Format Settings

As stated, you'll also need to adjust some format settings to make the added music tracks compatible. Click the menu icon > Preferences. And once you got there, choose the Output tab and open the drop-down menu below the Output format. Select MP3 and click OK to save this setting.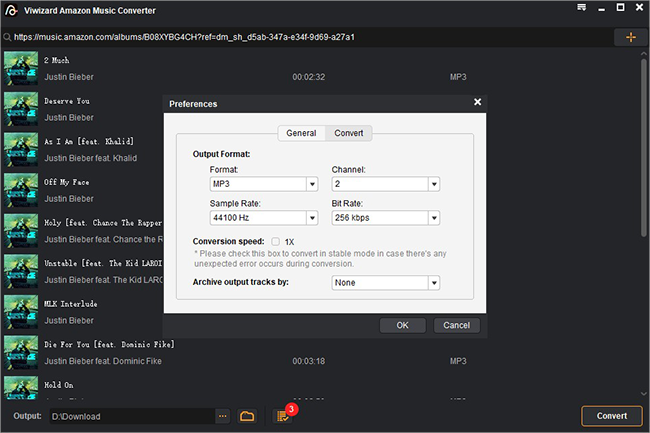 Step 3

Download On-Demand Amazon Music

Don't hesitate to click the Convert button once you're ready. And the ViWizard program will start the conversion at 5x speed. Once it's done, the music files are stored on the output folder, which should be appear on your screen. Now you have the ability to import them to your Apple Music library to play any on-demand music.