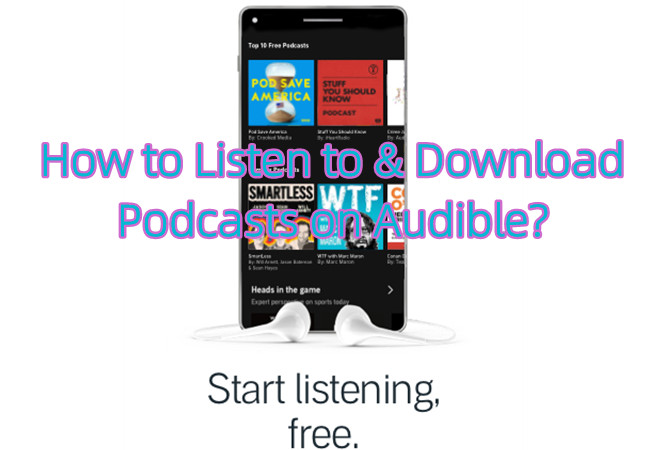 For podcasts lovers, Audible can be one of the best podcasts provider to benefit from. With an Amazon account, there're tens of thousands of Free Podcasts on Audible offered to listen to! Included with membership, there's a wider selection of podcasts from the Plus Catalog, including Harry Potter series - for free.
In this post, we'd like to introduce how to listen to podcast on Audible from its app to website on your device.
Part 1. How to Listen to Podcast on Audible
1.1 Listen to Audible Podcast in the Audible App
Since the Audible app for Windows 10 has been discontinued, the Audible app here is limited for mobile.
For iOS & Android devices: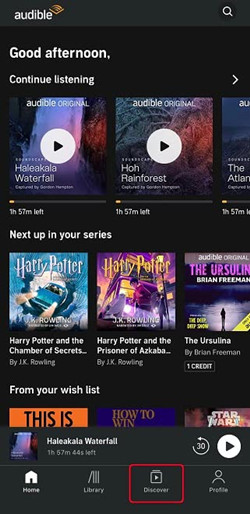 1. On mobile, open the Audible app.
2. Sign in the Audible account or Amazon account.
3. At the bottom, tap Discover.
4. Under Discover something new section, tap on Podcasts.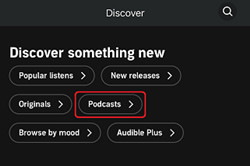 5. Next, select or search the podcast you want to listen to.
6. Scroll down to the Play button next to the episode to listen to.
Now the selected Audible podcast is here for you to enjoy on the app!
1.2 Listen to Audible Podcast on audible.com
On audible.com, the Audible podcast is also simple to access. What's more, some episodes are even for free to listen - without Audible membership.
1. On desktop, use a web browser to go to audible.com.
2. Sign in the Audible account.
3. Once signed in, click Browse.
4. On the left side of the the drop-down menu, click Podcasts under the GET STARTED section.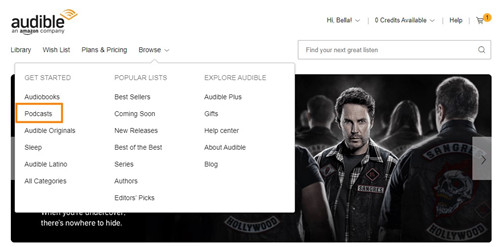 5. In the new categories page, select a podcast to listen to.
1.3 Listen to Audible Free Podcast on audible.com
For non-subscribed Audible users to listen to Audible podcast, this is how to find the Free Podcasts on Audible.
As stated, there're more accessible Free Podcast for podcasts lovers to listen to. Follow these steps to find the section on Audible with an Amazon account.
1. On audible.com, sign in with the Amazon account.
2. Go to Free Audiobooks and Podcasts page on Audible.
Or
2. Repeat the steps to go to Podcasts, then scroll down to Top free podcasts section of the page for more exploring.
3. Click on the free podcast to listen to.
4. If there's an available "Play" or "Follow" button, the selected podcast is free to listen to.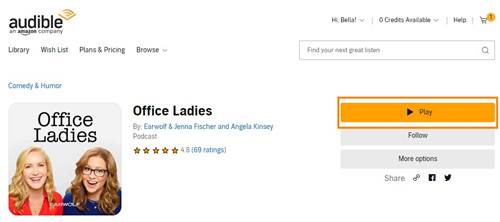 5. Click on the Play or Follow, then the Cloud Player will play this podcast for free!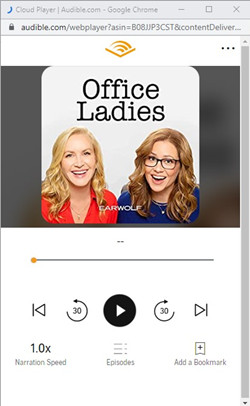 Part 2. How to Download Audible Podcast
It's common for podcasts lovers to download their favorite podcast on Audible, and it's simple with a few clicks and taps.
2.1 Download Audible Podcast in the Audible app
While the process to listen to Audible podcast in the app is similar on iOS and Android devices, the button to tap on to download Audible podcast are different on the iOS and Android app and we'd like to keep the devices separate.
For iOS device:
For starters, repeat the steps to find the podcast you want to download in the iOS app.
1. In the Audible for iOS app, tap Discover at the bottom.
2. Tap on Podcasts to find and tap the podcast you want to download.
3. Tap on View all episodes.
4. Tap on the episode, then Download episode.
For Android device:
1. In the Android app, tap the Menu button in the top left corner.
2. Tap Browse, then tap Podcasts or search for the podcast you want.
3. Tap on the selected podcast, then tap View all episodes.
4. Tap on the episode, then Download.
Once the download completes, you can access the podcast in the Downloaded section to listen to it offline!
2.2 Download Audible Podcast on audible.com
On audible.com, there's no alike Download button to download Audible podcasts on mobile. However, since the download service is included with the Audible membership, some efforts are needed to show to download button next to the episode with a program like Libation.
Once with Libation, it's simple to download Audible podcast in you Audible Library.
Part 3. How to Make Full Use of Your Audible Membership
Another contents included in the Audible Plus Catalog has been accessed with success. However, some Audible members would like to keep benefiting from their accessible contents like audiobooks and podcasts even the Audible membership is no longer to exist and a simple download is not enough because of the DRM-encoded AA/AAX format.
No worries. You can make full use of the Audible Plus Catalog to convert downloaded AA/AAX files to MP3 and more - with one more powerful tool: ViWizard Audible Converter.
ViWizard Audible Converter can help Audible members to make full use of the downloaded AA/AAX audiobooks from Audible by converting them into MP3, AAC, FLAC and more, so on with the chapter info kept. Added with an edit-supported tool, this ViWizard software can help split Audible audiobooks into small parts at the same time.
Key Features of ViWizard Audible Audiobook Converter
Losslessly remove DRM from Audible without account authorization
Convert Audible audiobooks to common formats at 100× faster speed
Freely customize lots of parameters like format, bit rate, and channel
Split audiobooks into small segments by time frame or by chapters
3.1 Convert AA/AAX Files in ViWizard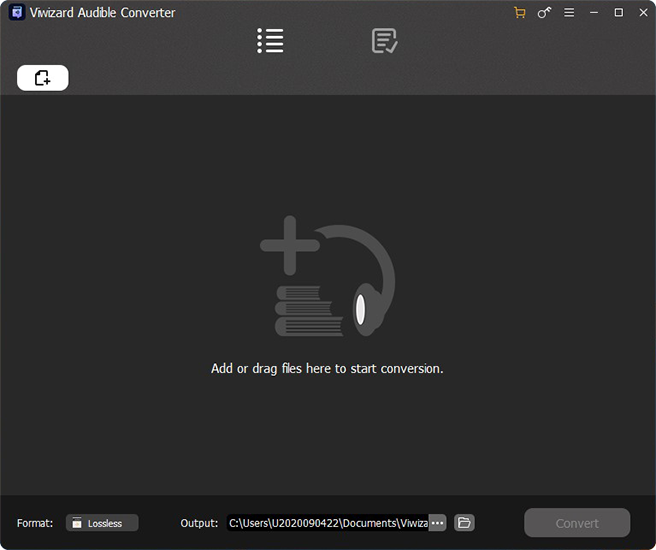 For Windows & Mac devices:
Please download the correct version of the ViWizard Audible Converter before we let you go through the whole converting process.
1. On Windows or Mac, open the correct ViWizard software.
2. In ViWizard, click the Add Files button to add some AA/AAX files to ViWizard.
3. If you want to split the Audible audiobooks into smaller chapters, please click the blue Edit icon next to the title to see more options, including No split, Split every, Split into and Split by chapters.
4. Back to ViWizard's screen, click the Convert button.
Wait while the ViWizard is converting the AA/AAX files into MP3 and boom, there's a brand-new Audible collection!