"Can I listen to Audible offline? I usually stream audiobooks on my home Windows computers with the Audible Cloud Player. It is easy and convenient. But it won't work if there is no Internet connection or WiFi. I wanna know if it is possible to download them to listen on a plane as my family is going to have a trip abroad next month. I am grateful for any help." - Asked by Sydney Torres.
Usually, we don't have access to WiFi after we leave our home, office. It is rather difficult to play Audible online. Sometimes even if we have a mobile internet connection, the cost of using the cellular data for online listening could be high. Thus, playing Audible offline is one of the best ways. Does Audible work offline? Yes! You can either download and play audiobooks through the Audible app on a computer, iOS, or Android device. Alternatively, you can transfer and play Audible books on phones, computers, MP3 players, smartwatches, smart TVs, and any other devices by using third-party software to convert Audible books to MP3. Here I will show you the full tips for both methods.
Listen to Audible Books Offline on Android, iOS, Windows, and Mac
Different from standard audio files, Amazon Audible audiobooks are combined with restrictions. This means all the files are limited within Audible's ecosystem and you can't download them directly without authorization. Fortunately, you can do that through the official Audible app for Android/iOS/Windows/Mac, etc. Now you can follow the steps to listen to Audible books offline on Android/iOS/Windows/Mac.
On Android/iOS
The direct method to play Audible offline on Android or iOS devices is to use the Audible app. Follow this to know how to download Audible books on Android or iOS.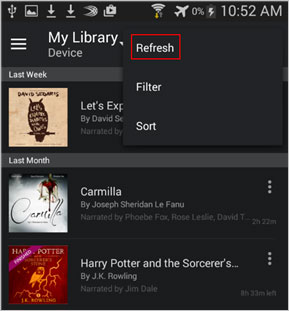 1. Download and install the Audible App to your mobile phone and log in with the account name and password.
2. If you haven't bought your books, you can also tap "Store" to browse your books and buy them within a few clicks.
3. Navigate to the "Library" to find all your audiobooks. They are not downloaded by default, please simply click the cover to initialize the downloading.
4. The time it takes may depend on the file size and the internet connection speed. just wait patiently.
5. When they are done, the Audible audiobooks will be ready to play on airplane mode.
On Windows
On a Windows computer, you can use iTunes or Audible desktop to get Audible books download and listen to them offline. Using Audible desktop is similar to using the Audible app. So here we will introduce how to listen to Audible offline on iTunes only.

1. You will need to download Audible titles first. Go to the Library page of Audible.
2. Tap the Download button next to the title. Then a window will pop up to ask your agreement to authorize your computer. Tap Yes and enter Audible account info.
3. Choose the Activate in iTunes button.
4. After that, click the downloaded title and it will show up in the audiobook section of iTunes. And you can listen to Audible offline on iTunes.
On Mac
If you are using MacOS 10.14.6 Mojave or earlier, you can use iTunes to listen to get Audible offline listening. But since MacOS 10.15 Catalina, Apple cancel iTunes. You will need to use Apple Books to play Audible offline. Here is the guide to achieving Audible listen offline on Mac.

1. First of all, download Audible books to your computer. Right-click the Audible book file and choose the Open with Books option.
2. You need to authorize this computer in the popping-up window. Tap Yes and provide your Audible account info.
3. Tap the Activate Now button. And you will find the Audible books are in Apple Books.
Play Audible Anywhere without Wifi after Downloading and Converting
Does Audible work offline? The Audible app does work very well on downloading audiobooks offline. Almost any newly released smartphones are on the compatible list. However, there are still many feature phones and portable devices which are not supported. If you'd like to transfer Audible audiobooks to your MP3 players such as Sony Walkman, Creative Zen, SanDisk Sansa for offline listening when you are doing exercise, it would be difficult. This is because the protected Audible audiobook files don't allow to be copied. So what can you do?
Take it easy. ViWizard Audible Audiobook Converter for Mac/Windows is here to help. It is developed with the most advanced technology which can crack the Audible protection like a flash. Besides, it is preset with a list of popular audio profiles including Lossless, MP3, M4A, M4A, FLAC, WAV, and so on at 100X faster speed. What is more, to make the output files easier to navigate during playback, it can also split the software by chapters. You can download the free trial version of this Audible Converter now.
Quick Tutorial to Download Audible Audiobooks to Any Devices for Offline Playing
To see how to download Audible to any device and how to listen to Audible offline, check this quick tutorial.
1

Import Audible AA/AAX Files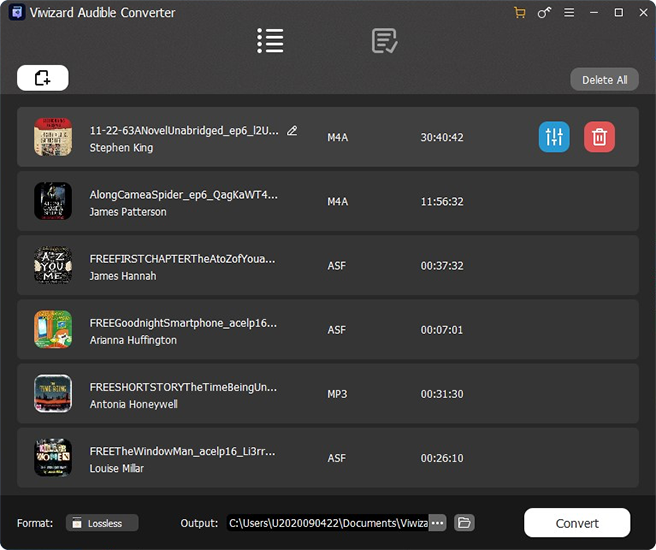 To begin with, please click the "Download" button to install and run the ViWizard Audible Converter. And then you can drag and drop the Audible books from the computer to the ViWizard software main screen. If you haven't download the books yet, you can follow this guide: How to Download Audible Audiobooks.
2

Customize Audible Audiobooks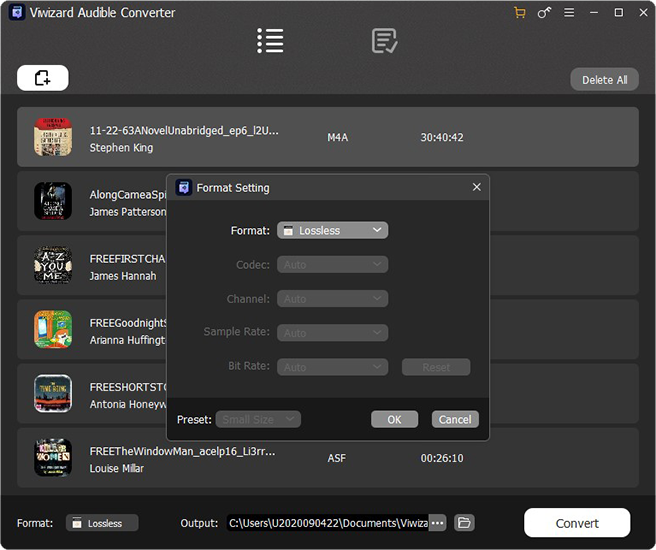 Depending on your supported formats of your portable players, you can select the output format as you want. If you are not sure what format to select, it is always right to select "MP3" which is an universal format for any devices. By the way, usually Audible audiobooks are big with multiple chapters, we'd suggest you click the editing icon which looks like a pen and then select the option "Split audiobook by chapter".
3

Remove Restriction from Audible Books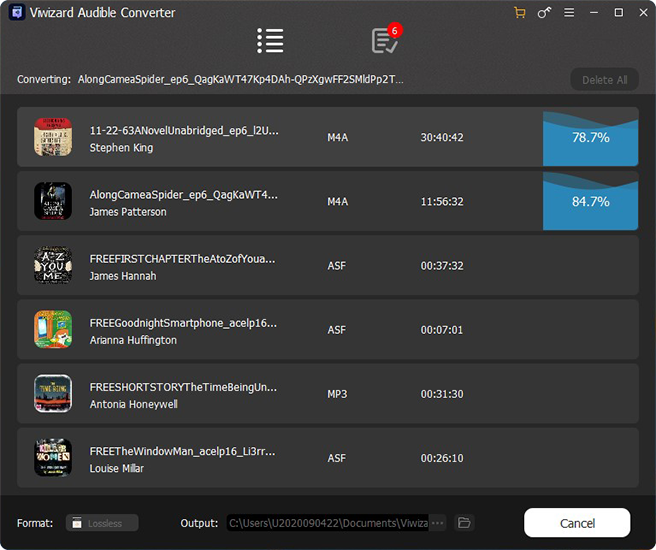 When everything is ready, you can simply click 'Convert', ViWizard will remove protection from your Audible audiobooks. When they are done, the AA/AAX books will become common audio files.
4

Transfer Converted Audiobooks to Portable Players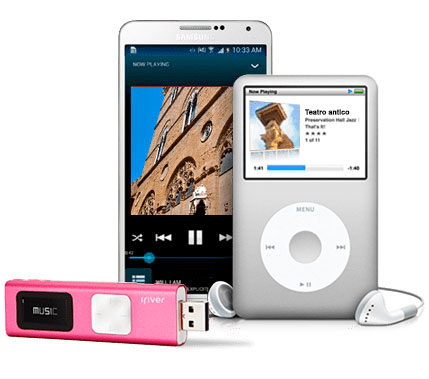 Generally, you can connect any of your portable players to the computer via USB cable and then copy and paste the converted music files directly. But if you are using iPod MP3 players, you'd better transfer the audiobooks by iTunes. You won't need an internet connection to listen to local audiobooks after that.
Bottom Line
So that is all. To play Audible without WiFi or listen to Audible on a plane, if you have a compatible device, the first way will be good enough to help you. Else if you want to transfer Audible to multiple devices, converting the Audible audiobooks to universal formats will be the best alternative solution. What do you think? Just type your comments below.