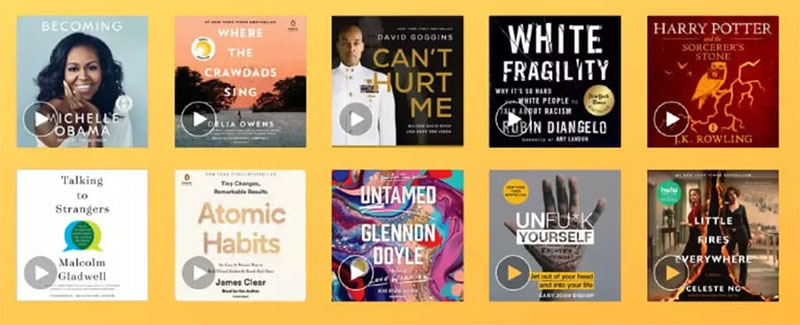 Audible is challenging to beat if you're a lover of audiobooks. It is the go-to option for people who listen to audiobooks, with a massive range of books, some fantastic rewards, and applications that encourage you to listen wherever and anywhere.
Do you know Audible has a Cloud Player? Have you ever used it? The Audible Cloud Player is the crucial name in audiobooks, but there are certain secrets buried under the surface, even though you've spent hundreds of hours listening. Some of the most straightforward ways get the most out of encountering Audible and even save money during the process. There are some useful tips in this article to help you understand Audible Cloud Player better and get your worth from a subscription.
1. What is the Audible Cloud Player?
Audible Cloud Player (also known as Audible Web Player) is an online cloud player that helps you stream and listen to audiobooks on a windows desktop without importing audiobooks to your phone.
It's a great free way to play your background audiobooks despite your cell phone needing to charge. You can view and use the player online for free, whether you have a Paid Audible account or not.
2. When can Audible Cloud Player be used?
It still isn't a wrong choice to have, for all its drawbacks. It's good because we can view and listen to our books without ever having to install an app or download your audio files to your laptop.
Although there are a few other options to listen (including online Audible Manager) to your windows and mac audiobooks, several individuals, including me, find them incredibly overwhelming and not very user-friendly.
Everything you need is an Internet access and some device to load an Audible site and to listen to all of your eBooks.
A perfect way to share your books with your close relatives is also the opportunity to listen to your audiobooks digitally. For your family members and friends to browse and listen to your entire library, it is as simple as exchanging your Audible password information.
3. How to download an Audible Cloud Player?
The Audible Cloud Player is a player focused on the internet. There is no way for it to Audible Cloud Player download. In other words, you don't have to download it.
The player is good for quick listening to your audiobooks, but it only works if the internet is accessible. And you can't use Audible Cloud Player offline. On the positive side, since they were housed electronically (i.e., in the cloud), your books did not take up your data room.
4. How to listen to audiobooks on Audible Cloud Player?
● For family members that share one Amazon / Audible username, the opportunity to listen to your books online is great to have so all family members can access the same library at any time.
● There are not many Audible Cloud Playlist controls, but it gives the minimum necessary to listen to your books.
● Audible Online Player is a perfect alternative to installing an app or uploading your books: You can easily view your books from any device.
● To have your Audible Cloud Player, connect to your Mac or Windows Audible account and press the Library connexion and press Play button to start listening to all of your books.
● Audible Cloud Player is a streaming player from Audible that lets you listen to your audiobooks from a desktop (Mac or Windows) device.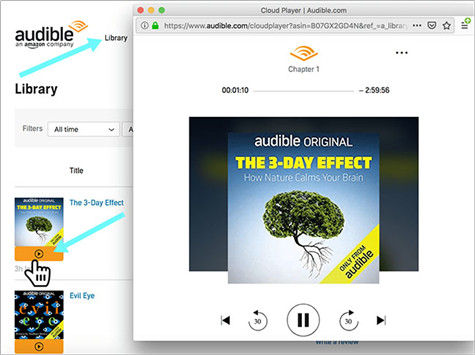 5. What to do when the Audible playback is not working?
When listening to your audiobook, there are many explanations for why you can have playback problems. Examples of issues with playback include:
● Audio discontinues suddenly
● Missing material
● The low output of audio
● Audio skipping
● Noises in static or history
There are a couple of simple troubleshooting measures that can remedy these problems. Such possibilities include:
● Title deletion and re-download
The download may be unfinished or corrupted at times. Delete the audiobook and re-download it from your computer.
● Try a single computer if necessary
For the computer itself, not the Audible app, the problem will likely be. Try using our Cloud Player to listen to the word, and see if the problem continues.
● Try a new format
Changing the download format could fix some problems with playback. For mobile applications, the configuration tab helps you to change the layout. Choose between the high or the ordinary.
Or, you can use a professional third-party Audible converter such as ViWizard AA/AAX Converter to convert audiobooks from AA or AAX to MP3, WAV, AAC, or other formats based on your needs. By doing so, it may solve the audiobook playback not working issue. On the other hand, all the converted books will be able to be listened to on more devices you want with lossless quality.
6. Some extra tips for making most of the Audible subscription
● Get the Echo Audible on
The Amazon-owned Audible, as you would imagine, fits well with the Amazon-made Echo speakers and screens. As long as you have signed into your Echo's correct Amazon account, you can say, "Alexa read my book" to move on where you last stopped off, or say "Alexa read" accompanied by your library's title. You can also rewind, pause, and play using voice recognition.
● Turn to playback for button-free
Hidden in the Audible interface on iOS and Android, there is an alternate replay screen that you can find if you press the three dots and select Button-Free. Few new controls can learn here: stop and resume playback on the phone, swipe left or right to go back and forward for 30 seconds, and long press (Android) or swipe down (iOS) on the computer to connect a clip and a bookmark. To leave, press the top left button.
● Turn to playback from in-car
There is also another screen to use now, but it's much more noticeable. When you listen with one of your audiobooks, you can reach it by clicking on the car icon in the upper right-hand corner. It enhances the interface to make it easy to use when you're driving, so you can tap to pause and restart playback in the center of the screen, tap to go back 30 seconds in the bottom left-hand corner, and tap to add a clip in the lower right-hand corner.
● For more robust advice, add scores
To guarantee that you will get the best reviews that Audible proposed algorithms can come up with, do not hesitate to rate the audiobooks you have listened to. Using an audiobook to press the three dots on the Library page or the screen currently playing, pick Rate and Check to leave your take. By leaving behind any reflections on the book and its audio output, you also help out the rest of the Audible network.
● Share with other audiobooks
Speaking about helping people out, you'll even ask to give it to somebody else after you've checked something. The eBook will be freely accessible and listen to if that user has not yet successfully registered with Audible. The choice to submit books can also be found by clicking on the three dots by the title on the Library screen or by clicking on the three dots in the top hand corner of the window currently being played and selecting Sharing from the list.
Conclusion
To make things easy for listeners, Audible does so in their hands. Another indication of their initiative is the Audible Cloud Player. It is still a popular desktop/laptop. When you think that it's easy for you, you should use the player.