When it comes to audiobooks, Audible stands out from other audiobook services for its enormous audiobook library and high audio quality. Moreover, it is compatible with several devices such as smartphones, tablets, and laptops excluding Mac computers. You can also browse and listen to a bulk of audiobooks on the Audible app or through the Audible web player, although no purchases can be made. When accessing the Audible platform, however, some Audible users, maybe you guys, are getting trapped by an issue of Audible missing chapters. Don't worry. In this article, we'll look at this issue and give you solutions to troubleshoot it.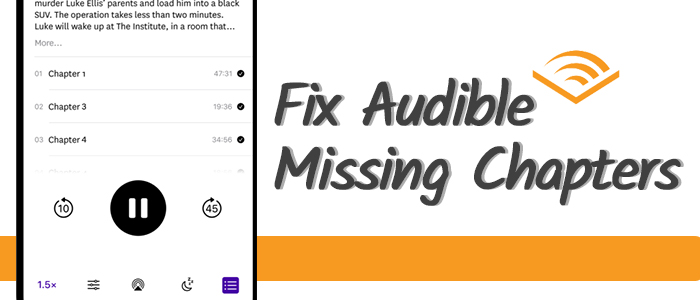 Part 1.

Why Is My Audible App Not Showing Chapters?

Here we list some possible reasons to answer your doubts. You might as well check which step goes wrong and contribute to the Audible book missing chapters.
Reason 1. Internet Issue
We all know that if the network isn't connected, any online content is limited to play. Or if your network is poor or unstable, you might meet the issue of Audible book missing chapters while listening to audiobooks on your device.
Reason 2. Result of the Update
Most Audible fans who have experienced this issue post that they encounter this issue after updating their Audible app. Consequently, this bad update causes Audible chapters out of order or Audible chapters greyed out.
Reason 3. Current Devices Error
Sometimes, the issue may be with the device itself. When your current device corrupts and accidentally erases your Audible data, then the chapters will not show in the Audible app.
Reason 4. Incomplete Downloaded Audiobook
If you are listening to audiobooks you've got from Audible offline, you'd better ensure you have downloaded the full title, not a part or multi-parts. When the audiobook you've downloaded is incomplete, undoubtedly, you are inaccessible to the whole chapter.
Reason 5. Audiobook Rights Restrictions
On rare occasions, some authors are not willing to authorize their work on Audible anymore, and then Audible would remove the whole content. However, the audiobook would still display in your library, but all the chapters are not available for playing.
Reason 6. Censorship Issue
Every website and app regularly reviews and censors all content that was published on their platform, and Audible is no exception. If your Audible app chapters not showing on the playback, chances are that certain chapters include sexual words, harassment and bullying so they can't pass the censorship.
Part 2.

Solutions to Fix Audible Book Missing Chapters

No matter which the above step goes wrong, there are corresponding solutions to fix. Now, scroll down to check out them.
Solution 1. Ensure Stable Internet Connection
Only under a stable network can Audible run smoothly. If you are not sure, open other apps or websites to examine if the network works properly. When you find your network is unstable, disconnect the WiFi network and reconnect it, or try a connection with cellular data on mobile or your personal hotspot on desktop.
Solution 2. Delete and Re-download the Title
Sometimes the download may have been incomplete or corrupted. Remove the audiobook from your device and then download it again. Significantly, choose the full option to download.
On iOS
Step 1. Run the Audible for iOS app and go to Library at the bottom of the screen.
Step 2. Slightly swipe from right to left across the title and tap Remove from Device.

Step 3. Go back to Library and tap Titles followed by All Titles at the top of your screen.
Step 4. Tap the cover art of the audiobook you just deleted and start downloading the title again.
On Android
Step 1. Open the Audible for Android app and head to Library.
Step 2. Tap the overflow button next to the title that leads to a new interface, then select Remove from Device.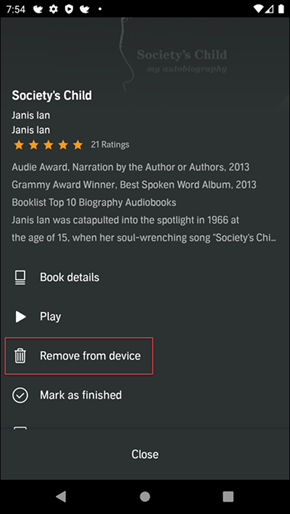 Step 3. Go back to Library and tap Titles > All, then find the downloaded titles you've deleted.
Step 4. Tap on the cover art of the audiobook you just removed, and the title will start to download.
Audible doesn't offer a desktop version for either Windows 10 or macOS. But you can install the Audible Android app for Windows 11. If you have the Audible book missing chapters issue on your Windows 11, you can follow the same steps as the Android users.
Solution 3. Try Another Device
You can switch to Audible Cloud Player if your Audible app can not show chapters. It offers great flexibility for desktop users. Of course, you can change other devices which support Audible. The titles that you purchase from Audible with a credit or credit card are yours to keep forever and are available on multiple devices. This means even if you have canceled your Audible membership, your purchased audiobooks remain in your library.
Solution 4. Change the Download Quality
Sometimes the high quality Audible provides is not compatible with your device, then your chapter that was on playback may sound not clear with noise. Or if your mobile space is not enough, the Audible and audibook chapters will not stream smoothly. Therefore, changing the output format may resolve this Audible not showing chapters issue, but this is only for the Audible mobile app. You are able to toggle between the High Quality and Standard Quality formats in Settings when downloading your Audible titles.
1. Tap the Profile icon in the bottom right corner.
2. Tap the gear icon in the top right corner.
3. Tap Data & Storage to change download quality.
Solution 5. Change the Download by Parts Settings
Audible provides two modes to download audiobooks: Multiple-Part and Single Part. We all know that Audible audiobooks are longer than 12 hours, so you can generally download the title as a single download file or as multiple shorter downloads. Long titles in Multiple-Part will almost always be split into multiple parts to improve download speeds. It can not only save your space but also speed up downloading. Please pay attention if you choose Multiple-Part, then your downloaded chapters may be incomplete. So the Single-Part is a better way to download the complete content and the entire book.
1. Tap the Profile icon in the bottom right corner.
2. Tap the gear icon in the top right corner.
3. Tap Data & Storage to change Download by Parts.
4. Choose Single-Part to access all chapters.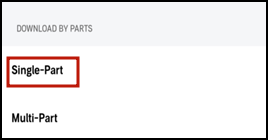 Solution 6. Contact Audible
If the suggested troubleshooting steps don't work and the problem of the Audible book missing chapters still persists, please contact Audible. For the above reasons such as Audiobook rights restrictions and censorship issues, you can try another audiobook platform to listen to it.
Part 3.

How to Convert Audible to MP3 with Chapters

It is noteworthy that Audible reads the title by chapter. However, once you saved audiobooks for offline listening, they can not be downloaded and played by chapter, instead of by a single part or multiple parts. That means you can't enjoy chapter-by-chapter listening. And the downloaded audiobooks are only playable within the Audible app, because they are AA or AAX formats protected by DRM technology.

This time, when you prefer playing the audiobook by chapters and streaming it on other services, ViWizard AA/AAX Audiobooks Converter is perfect for your needs. ViWizard Audible Audiobook Converter is a brilliant tool, not only splitting audiobooks from Audible into chapters but also converting Audible to MP3 with chapters. Just follow the following process then you are free to listen to Audible books by chapters on any app.

Key Features of ViWizard Audible Audiobook Converter
Free Trial
Free Trial
* Security verified. 5,481,347 people have downloaded it.
Convert Audible audiobook to unprotected audio formats like MP3
Split Audible book into several smaller segments by chapter or by time
Support playing Audible audiobooks on any device or media player
Handle the conversion of Audible audiobooks up to 100× faster speed
Step 1

Add Downloaded Audible Files in ViWizard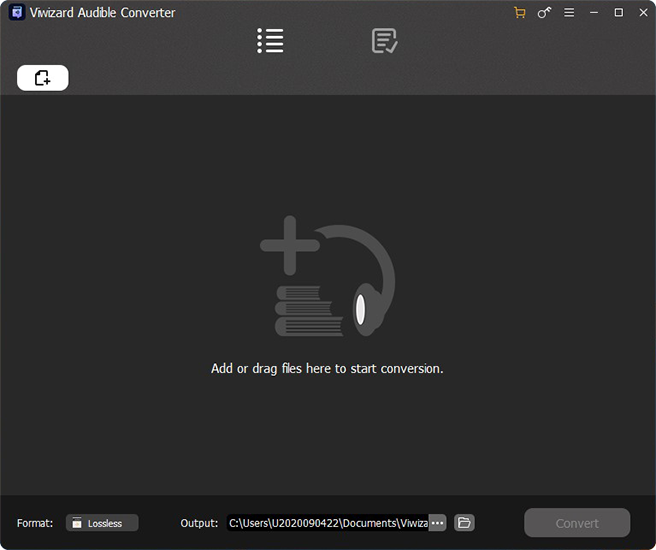 Before starting, ensure you have downloaded the audiobooks from Audible. And then click the upper left white icon Add Files to upload Audible files. Or, you can drag the files from your file folder to the ViWizard software. They are two different but pretty simple ways.
Step 2

Split Audible Books into Chapters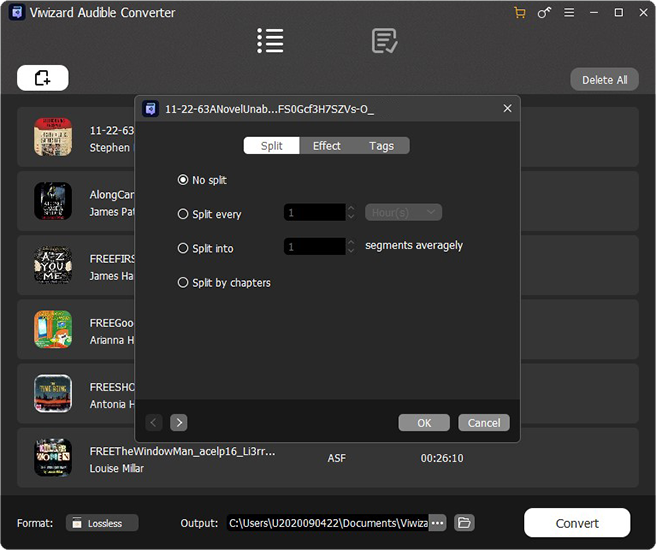 Of course, if you would like to listen to audiobooks by chapters, just click the blue Edit icon across the title, and select Split > Split by chapters > OK. Furthermore, ViWizard also provides other options for you, split audiobooks by time or segments. Whichever is totally up to you. And you can also change the audiobook's tags, and its speed, volume and pitch as you want.
Step 3

Set Output Parameters for Audible Books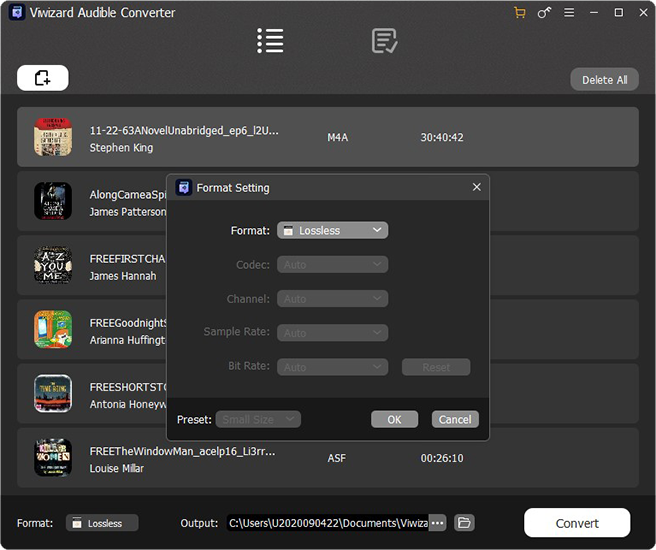 After finishing adding Audible files, now, it offers output options for you to customize as you like. Just click the bottom left Lossless icon, you can change the output format, codec, channel, sample rate, and bit rate. After finishing the adjustment, don't forget to tap the OK icon. If you have the need of listening to audiobooks without the Audible app, we recommend the common MP3 format.
Step 4

Start the Conversion of Audible Books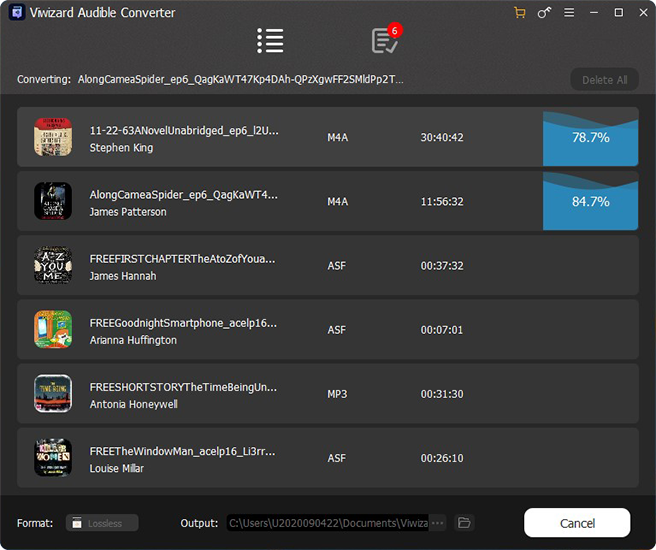 Now, one-click the bottom right Convert button to start converting Audible books to the format you set. Go to the Converted interface, you can easily browse your converted files, otherwise, you can also locate a certain file by searching its title after batch conversion. Of course, you are allowed to listen to the converted audiobooks in the ViWizard.
Part 4.

Frequently Asked Questions about Audible Chapters

Q1.How to Find Chapters in Audible?

A1.For mobile users, tap on the title you would like to listen to on the Library page, and the Audible playback will show after you begin listening. You can see the Chapters icon at the bottom of your Audible playback. For Cloud player, go to library and click Listen now, then you will see Chapters icon on its web-player.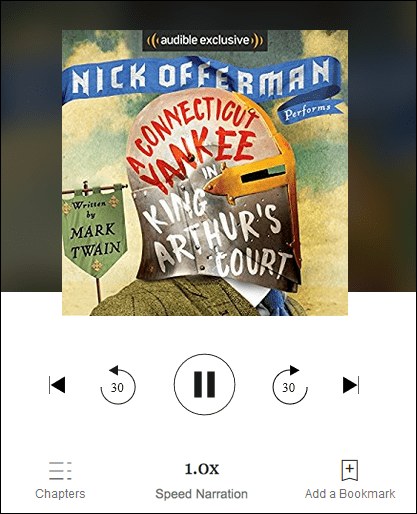 Q2.How to Skip Chapters on Audible?
A2.On the Audible playback, click the Next Chapter icon on the right of the playback screen to skip your current playing chapter. Or you can click the Previous Chapter button to go back to the last chapter in the audiobook.
Conclusion
This article presents 6 possible reasons and corresponding feasible solutions based on the issue of the Audible book missing chapters. Hope the above content may really help you! If you opt to enjoy chapter-by-chapter audiobook reading, ViWizard AA/AAX Audiobook Converter supports split audiobooks into chapters for offline listening. Go for it now!