Audible keeps skipping forward 30 seconds on its own when using bluetooth headphones and it's driving me crazy. Sometimes, when I'm listening, the book will randomly skip ahead 30 seconds. Once it starts, it will keep happening. The book ends up jumping around and nothing makes sense. Even if I rewind, it will do another random jump within a minute or so. I'm just frustrated. Any ideas or suggestions?
-- From Reddit.
Diving into the audiobook world is an acme of enjoyment and great leisure for audiobook lovers. As the largest audiobook seller, Audible gains global popularity. Like other software, Audible can run into unexpected issues. When you use Audible to stream audiobooks, you may encounter the Audible skipping issue like the above user. It's a bummer and can ruin a good mood. If you want to find some solutions and get rid of the irritating issue, then you come to the right place. Let's explore the reason why this issue happens and how to fix it.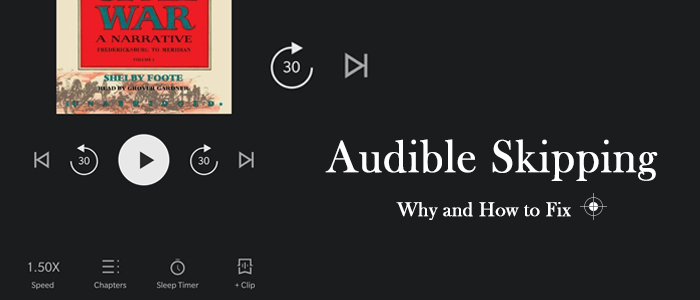 Part 1.

Why Is My Audible Book Skipping?

Audible skipping happens due to various reasons. We analyze possible causes for reference.
1. Poor Connection
The first thing to determine is the connection whether you encountered Audible skipping iPhone or Audible skipping on Bluetooth. When connecting to a Bluetooth speaker or headphones, make sure the distance between the two devices is not too far.
2. Unavailable Audible Content
Sometimes, if Audible skips the whole chapter, it indicates this Audible chapter is missing or inaccessible due to censorship or rights. In this case, no matter what you do, the content can't get back. But this situation rarely happens.
3. Corrupter Audible Files
It is possible that Audible skipping occurs when you listen to Audible offline. This is because your downloaded Audible books are deleted, or sometimes they are not fully downloaded.
4. Audible Glitches
The Audible app occurs bugs and issues from time to time. So the Audible app keeps skipping issue and other problems happen.
Part 2.

How to Troubleshoot Audible Skipping iPhone/Android

After understanding why is my Audible book skipping, here we collect viable solutions for iPhone and Android users to fix this annoying issue. Whatever the reason, there is always a way to fix it.
1. Check the Wireless Connection
As we said above, Audible skipping is largely because of the internet connection. If you connect a poor WiFi, Audible can't access the next or more content, and then Audible skips on iPhone forward or repeats the previous content. So go to Settings to turn off WiFi and then turn on to reconnect it. Reconnecting often refreshes the wireless speed. If the current WiFi still shows poor or intermittent, try to use cellular data or connect to another WiFi.
2. Force Stop the Audible App
Audible bugs and glitches have the ability to cause Audible to malfunction in many terms not only playback errors but download errors. But there is the quickest way to prevent and eliminate these temporary issues. That is forcing us to close the buggy Audible app.
On iPhone, swipe up from the Home screen to access the multitasking interface. And place your finger on the Audible app preview, then swipe it up to throw it away.
On Android, navigate to Settings > Apps > See All Apps > Audible. And select Force Stop on the detailed page.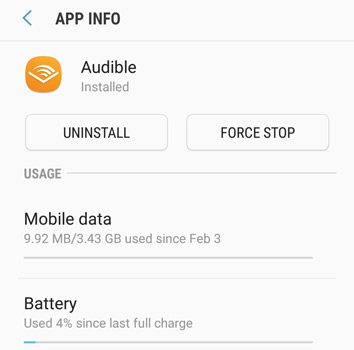 After closing the Audible app, tap the Audible icon on the Home page to reopen it and pick an audiobook to start playing. Perhaps this time Audible will be different and the Audible skipping issue will be fixed.
3. Clear Audible Caches
The cache is a part of the Audible app and is used to store data. Every time you stream Audible or tap an audio title, all these actions are memorized on the caches. But when the cache files are corrupted or heavily accumulated, issues occur. Therefore, getting your Audible caches cleared can stop Audible skipping.
On iPhone, you can sign out and then sign back in to refresh Audible and clear the Audible temporary caches.
On Android, head to Settings > Storage > Amazon Music > Clear Cache.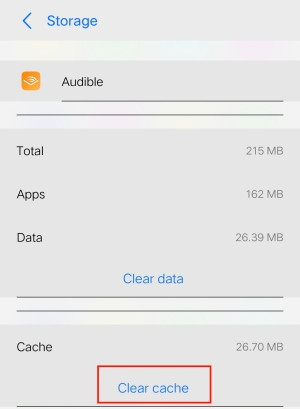 4. Redowload Audible Books
If the Audible book keeps skipping when you get the offline playback, then you should consider removing this problematic book and then downloading it again. Don't worry, the deleted audiobook will be kept in your library. Before performing this action, you'd better check if other books you downloaded exist this issue by listening to them. If Audible skipping only happens to one certain book, then it is necessary to delete it to get rid of some errors.
On iPhone, find the audiobook that Audible skipping happens and swipe left from the title. Tap Remove from Device. After deleting, back to Library > All > All Titles and hit on the cover to download the deleted book again.

On Android, once the Audible book keeps skipping, locate this book and tap the 3-dot button. Select the Remove from Device option from the list. After that, back to Library and find the book you just deleted. Tap on the cover and it will start re-downloading.
5. Update the Audible App
Audible keeps updating its app version for a better experience and quick solutions to bugs. Moreover, updating the app is one of the most classic ways to fix all kinds of issues.
Step 1. Open App Store on your iPhone or Google Play Store on your Android.
Step 2. Search for Audible to see if the Update option is available.
Step 3. Tap Update if the latest version of Audible can be downloaded.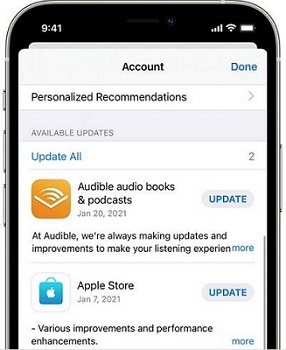 6. Play Audible Books without the Audible App
Belonging to Audible playback errors, Audible skipping happens mostly due to the Audible app. What's more, it is no use occasionally to update the Audible app. So why not give up the Audible app? Although Audible adopts DRM to protect its catalog, things can be easy if you are aided by ViWizard Audible Audiobook Converter. With its help, you can freely stream Audible books without problems and reach a smooth experience. Just hit on the download button below to get your free trial.
Part 3.

How to Solve Audible Skipping on Bluetooth

Searching on the internet, we found there are loads of users who encounter Audible skipping when connecting to a Bluetooth device. Considering this situation, users can firstly perform the above steps first to enable a good Audible app on their mobile devices, and then try the solutions below.
1. Confirm the Bluetooth Device Works Well
When Audible skips on Bluetooth, ask yourself if have you had high-quality Bluetooth headphones or speakers. On rare occasions, intermittent sound or skipping playback is caused by old speakers or damaged headphones. So make sure the current device connected to Audible ready-device can work properly.
2. Reconnect the Bluetooth Device
Whatever the reason Audible skipping on Bluetooth happens, temporary issues can be fixed by reconnecting. Open your mobile device and swipe down to access the Quick Settings or Control Center. Turn off the Bluetooth and turn it back on to reconnect.
Alternatively, you can reconnect it after forgetting this Bluetooth device. This one more step adds more reliability to the chance of solutions. To forget the Bluetooth device, just head to Settings > Bluetooth. Tap into the connected device and select Forget Device. After that, enable Bluetooth on both devices to repair them. Now, play your Audible books through Bluetooth to see if Audible skipping persists.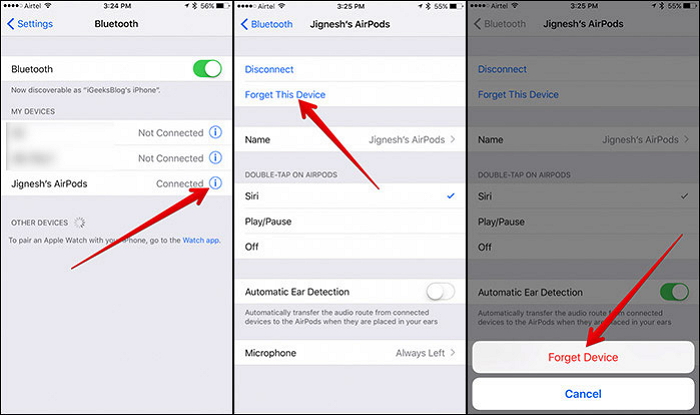 3. Switch Playback to Another Device
Playback issues like Audible skipping on Bluetooth can be localized to your Bluetooth device. Hence, trying another Audible-ready device to play Audible is workable to fix this issue. If your Audible skipping Android Auto, then you can try to use a USB drive to reconnect your Audible-ready device and your car, then play Audible books in your car. Likewise, if Audible skips on Bluetooth headphones, trying a wired headset is another good choice.
Part 4.

Best Way to Stream Audible without Error

Hope the above solutions aimed at different devices are helpful. But there are times they are of no avail. So here we present another perfect way to let you free of errors. Streaming Audible books without the Audible app. After all, the issue occurs within the Audible app. Similarly, the situation will change if you use other players to listen to Audible books. To put Audible books on other players for playing, you have to draw support from an Audible DRM removal to remove DRM protection from Audible and convert audiobooks to unprotected files. As it happens, ViWizard Audible Audiobook Converter can meet your needs.

Designed for Audible users, ViWizard Audible Audiobook Converter is dedicated to converting all Audible books to DRM-free MP3, M4A, M4B, AAC, FLAC, WAV, and more with lossless audio quality kept. After conversion, you are free to play them on any player, device, and platform even without the Audible player. In this way, most errors and issues can be avoided thoroughly. Since it applies an advanced identification technology, it's much easier to manage and organize converted Audible books with its original ID3 tags. If you are not satisfied with the Audible narration speed, volume, or length, ViWizard also enables you to change it to your heart's content. Now, let's see how ViWizard Audible Audiobook Converter works to free the Audible skipping issue.

Key Features of ViWizard Audible Audiobook Converter
Free Trial
Free Trial
* Security verified. 5,481,347 people have downloaded it.
Convert Audible audiobook to unprotected audio formats like MP3
Split Audible book into several smaller segments by chapter or by time
Support playing Audible audiobooks on any device or media player
Handle the conversion of Audible audiobooks up to 100× faster speed
Step 1

Add Audible Files to ViWizard

After downloading the audiobooks from audible.com, find where are Audible books stored on your devices and locate them. Then, launch ViWizard Audible Audiobook Converter and click the upper-left icon Add Files to add single or several Audible books at once. Sure, a simple drag-and-drop can also load Audible files in the ViWizard software. If you'd like to change the audio speed or volume, split the audiobook, or edit tags, please click the blue Edit icon across the title to open the built-in editor.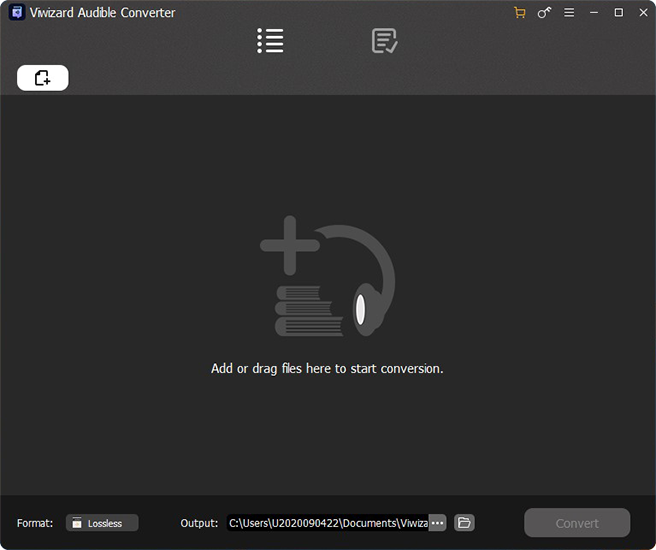 Step 2

Change the Output Format

Now, you are allowed to customize parameters. Click the bottom left Lossless panel, and from the new pop-up window, you are able to adjust the output format, codec, channel, sample rate, and bit rate. After finishing the adjustment, remember to click the OK icon. We recommend the most common MP3 format, so you can listen to them on any platform, any media player, and any device even without the Audible app, aka without the Audible skipping issue.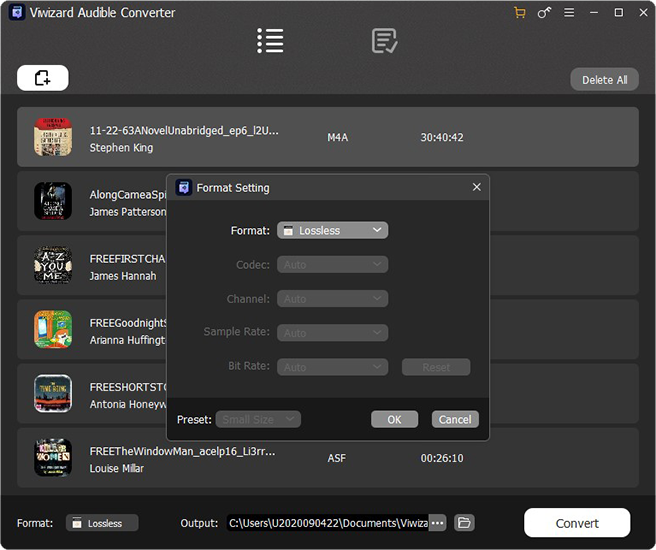 Step 3

Initiate the Conversion

Lastly, click the bottom right Convert button and ViWizard will convert your Audible audiobooks automatically. After conversion, hit on the Converted button at the top bar, and you can easily browse all your converted audiobooks. Also, you can exactly find certain files using the search bar. Moreover, you are allowed to enjoy the converted audiobooks in ViWizard's built-in player or listen to them on other players without restrictions.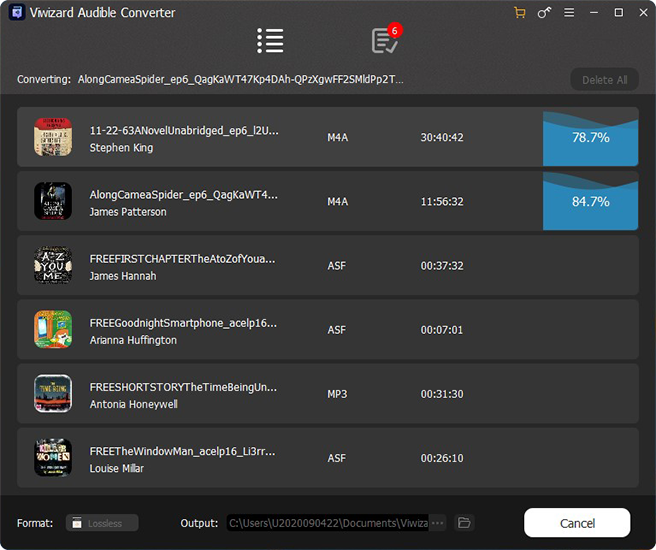 If you'd like to transfer them to your mobile devices or MP3 players for listening, a USB cable is needed. If you opt to get rid of the Audible skipping on Bluetooth issue, make sure the Bluetooth on your device is prepared to cast Audible books.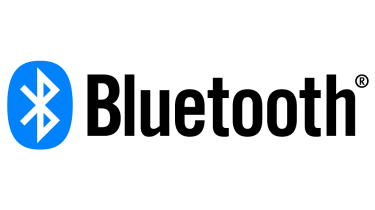 Conclusion
For the questions "Why is my Audible book skipping" and "How to fix Audible skipping", I reckon you have a better understanding after finishing this page. No matter what issues you encounter, remember ViWizard Audible Audiobook Converter is a panacea to solve almost every problem once for all. Just hit on the download button to get a smooth listening and then pick a day to enjoy Audible books - to the hilt.