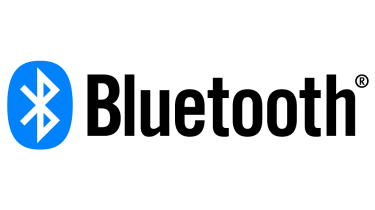 Audible audiobooks enable us to digest knowledge in an easy way by listening instead of reading. Usually you can play Audible books on many official supported devices such as smart phones, Kindle devices, computers and MP3 players. But since not all the devices are on the support list, is it possible to play Audible audiobooks through Bluetooth for devices like high definition Bluetooth headsets and speakers etc. in our daily life? The answer is yes. Today I will talk about more details of the Bluetooth devices and how to stream the Audible files on Bluetooth devices.
Part 1. Bluetooth Network - What You'll Need to Know
Bluetooth is a standard wire-replacment communication protocal designed for low power consumption. It is similar to Wifi in some extent such as similar applications like settings up networks, transferring files and so on. The difference is that Wifi is intended as a replacement for high -speed cabling in work area or home while the Bluetooth is for portable devices to connect without cables.
Bluetooth exists in many products such as phones, tablets, media players, watches, speakers, game consoles and so on. For example, Bose SoundSport Wireless, V-Moda Crossfade 2 Wireless, Plantronics BackBeat Pro 2, Ultimate Ears Boom Brainfreeze, JBL Pulse, Amazon Echo are some of the best Bluetooth headsets and speakers. They are well-designed with clear sound, solid construction which are sure to bring convenience for your everyday music enjoyment.
Part 2. How to Listen to Audible in a Car on Bluetooth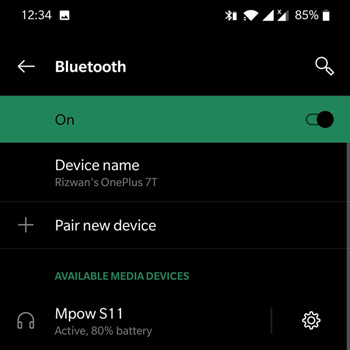 Simplified Guide: how to connect the Bluetooth device to a car?
1. Go to your phone's Settings and click on Bluetooth.
On iPhone: Open the Settings app > Bluetooth. Turn off Bluetooth for about 5 secs, then turn it back on.
On Android: Swipe down from the top of the phone screen, make sure Bluetooth is on.
2. In your car, switch on Bluetooth. Check your car's manual if you need more details.
On iPhone: Pair with [Your car's name] to your iPhone.
On Android: Hold on the Bluetooth icon to see [Your car's name] under the Available section. Or tap the More button > Refresh to find your car device. Tap [Your car's name] to pair both the devices via Bluetooth.
3. Your car will detect your phone and give you directions.
4. When you're connected, open the Audible app to choose your audiobooks and start listening.
Complete Guide: how to connect the Bluetooth device to a car?
The process of setting up a Bluetooth network is referred to as "pairing" because the network consists pf just one "pair" of the devices. Please ensure both the phone and the head unit is Bluetooth compatible.
Step 1

Setup your phone / device

The first step to pairing a phone with a car stereo is to verify that your phone actually has Bluetooth. You may also need to make your phone "discoverable" and check for how to "search for devices". Please note that most devices will remain "discoverable" only for a few minutes.
Step 2

Setup your Infotainment system in the car

Some vehicles have an easily accessible button that you can use to starting the pairing process. Others require you to navigate through the infotainment system. If you are unable to find the button, you may need to read through the owner's manual to find out how to pair a device using Bluetooth.
Step 3

Pair your device to the car

Set your device to "discoverable" and start a "scan for devices" or "search for devices". Connect your device to the car, or the car to the device. Cars send across a code at times which you need to verify on the phone. Tap connect on the device and pairing should be successful.
Part 3. How to Listen to Audible on Speaker Devices on Bluetooth
Normally Bluetooth speakers or headsets won't read audio files including Audible audiobooks directly, so you have to depend on another Bluetooth device to stream audible audiobooks to them. Here I will take a Bluetooth phone and a Bluetooth speaker to show you the detailed method to play Audible audiobooks via Bluetooth step by step.
Step 1

Setup your phone / speaker

Turn on the "pairing mode" on your speaker. The instruction may vary on different brand of speakers, so you can follow the manual or consult the vendor where you bought it. Normally you just need to hold down a button on the outside of the speaker to put it in "pairing mode".
Step 2

Setup the Bluetooth settings on your devices

Find and enable "Bluetooth" on the settings of your phone. Just click "settings", you will see a Bluetooth icon under the "Network connections" panel. Please just enable it and then it will start to searching Bluetooth devices within its range.
Step 3

Pair your device to the speaker

Start to pair both devices. It takes a few seconds or minutes for the phone to detect the speaker. When the search is done, you can tap the speaker to connect. Sometimes it may prompt you to input the pin code too. If so, just find the pin code on your speaker and input it to pair your phone with the speaker.
Step 4

Play Audible audiobooks on your phone

After paring successfully, you just need to play Audible audiobooks on your phone via the Audible manager and it will stream the Audible files to the speaker automatically.
Part 4. How to Listen to Audible on Kindle E-reader on Bluetooth
You can also pair your device via Settings in a Bluetooth-enabled Kindle.
Note: You need to turn the Wi-Fi on and complete the over-the-air update in order to pair a Bluetooth device.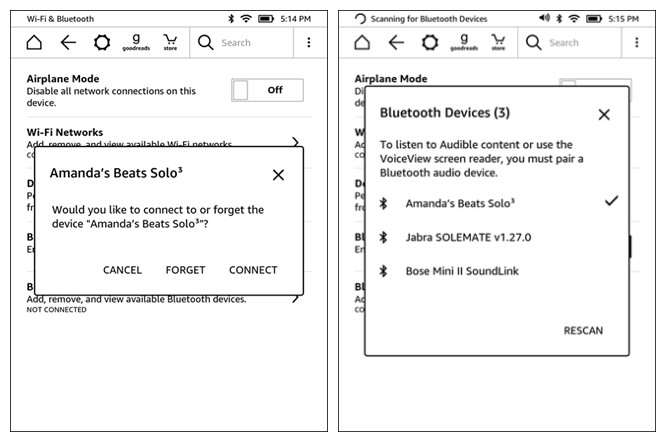 1. From the Home screen of the Bluetooth-enabled device that runs the Audible app, put the Bluetooth device into "pairing mode".
2. Tap the Quick Actions button on the toolbar.
3. Tap All Settings.
4. Make sure Bluetooth is set to On.
5. Tap Bluetooth Devices.
6. Tap on the device you want to pair.
7. Tap Connect.
You can also connect a Bluetooth device right from the Audible player screen by tapping on Bluetooth not connected and follow the prompts.
Part 5. How to Solve Audible Problems on Bluetooth
We understand that Audible users will find problems on Bluetooth, you can see the checklist here.
Checklist:
1. The device and the Infotainment system may not be compatible. In some cases, you may be able to use Bluetooth for phone calls, but the system is still not compatible with other apps.
2. The device and car system need to be in close proximity.
3. The devices may not be set to "discoverable".
4. Your car may be in motion while pairing.
5. Try to turn Bluetooth OFF and back ON, and try again.
1.1 Audible Not Working on the Bluetooth-enabled Device
Most issues can be fixed with a repairing. You can go through these steps properly.
1. From the Home screen of the iOS device, open the Settings app > Bluetooth. Make sure Bluetooth is turned on.
2. Find the Bluetooth-enabled device in the Devices list.
3. Tap the information button next to the name of the Bluetooth-enabled device.
4. Tap Forget This Device.
5. Repeat some steps to go to Settings > Bluetooth to reconnect the Bluetooth-enabled device.
1.2 Audible Automatically Playing in the Bluetooth-enabled Device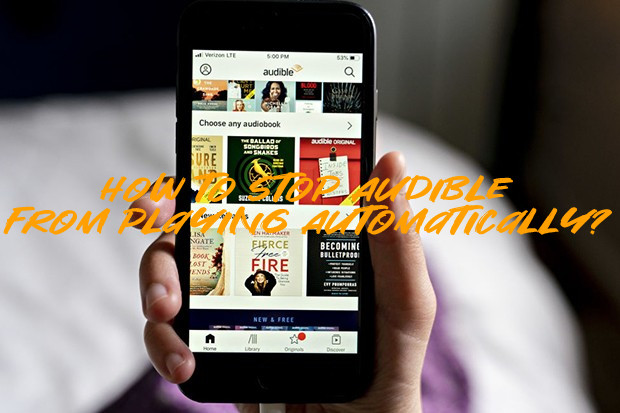 If you find that the Audible app automatically play the last Audible title on Bluetooth, you can find more fixes in another post:
Bonus Tip: How to Listen to Audible on Non-Bluetooth Device
Sometimes if you have another device which is neither in the Audible support list nor does it has a Bluetooth, you won't be able to enjoy Audible files from it easily. But are you totally stuck here? Don't despair. Thanks to the third-party ViWizard Audible AA/AAX Converter, you can turn the DRM protected Audible AA and AAX to common universal audio files such as MP3, then you will be able to transfer the MP3 files to any devices for playback.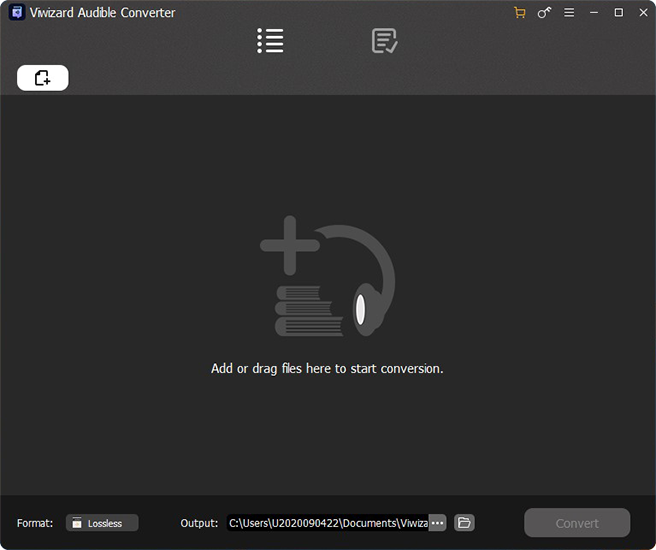 ViWizard Audible Audiobook Converter for Mac/Windows is special for converting Audible AA and AAX files, it is light-weight but has powerful features such as multiple output formats, splitting audio files, customize audio parameters. The most important is that the converting process is lossless with a 100X faster speed. It offers a free trial version. If you are interested in it, just press the download button to download the right version to try it out. In a word, it takes only 3 steps to convert your Audible files. For more details, please visit: How to Convert Audible AA/AAX to MP3.
ViWizard Audible Audiobook Converter Key Features
Losslessly convert Audible audiobooks without account authorization
Convert Audible audiobooks to common formats at 100X faster speed
Freely customize lots of parameters of output audiobooks with ID3 tags kept
Split audiobooks into small segments by time frame or by chapters