If you like listening to audiobooks, you should not miss Audible. Audible is a powerful audiobook streaming service. It has included more than 200,000 audiobooks, many of which are classics or bestsellers. To meet the different needs of the users, it has collected and produced a dozen titles in audiobooks.
If you want to get Audible audiobooks, just download the Audible app from the app store of your phone. It has supported on iOS and Android devices. However, there're more and more people reported that Audible keeps pausing when screen locks. It is frustrating when your hands are busy with other things while the Audible is interrupted. No worries. Today, we will tell you how to fix Audible stopping when screen locks.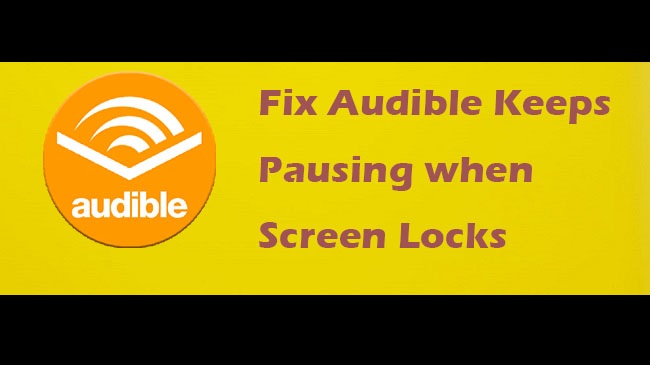 Part 1.

Possible Reasons that Audible Stops When Screen Locks

There're many reasons behind Audible keeps pausing when screen locks. The most common reason is the app or device is in the old version. Other reasons may be the internet, setting errors, and others. Here we have listed some.

-Connecting a poor or intermittent network.

-Changing your device's settings.

-Listening to corrupted Audible audiobooks.

-Enabling the battery saving mode on your current device.

-Running out of space on your device.

-Using the outdated version of the app or operating system.
Part 2.

Fixes to Audible Keeps Pausing When Screen Locks iPhone/Android

In this part, you will figure out how to fix Audible keeps pausing when screen locks. You can follow the guides below one by one to fix the error by yourself. It's not so difficult. Now, let's dive in.
1. Restart the Audible App
At times, bugs and temporary issues caused by the Audible app itself can be fixed by a restart. Moreover, if the Audible app keeps crashing, it is hard to access and play Audible content, let alone play them when screen locks. Hence, forcing stop Audible and then reopening deserves a try.
On iPhone to Restart Audible:
Step 1. Swipe up from the bottom of your iPhone to open the Task Manager.
Step 2. Then locate the Audible app.
Step 3. Press and hold on to the Audible page and scroll up to close the app.
Step 4. Then go back to the Home page to restart the app.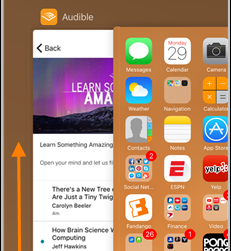 On Android to Restart Audible:
Step 1. Open the Settings apps, and go to Apps or Apps & Notifications.
Step 2. Select All Apps to view all opened applications.
Step 3. Tap the Audible app and choose the Force Stop option.
Step 4. Go back to the Home page and tap the Audible app icon to reopen it.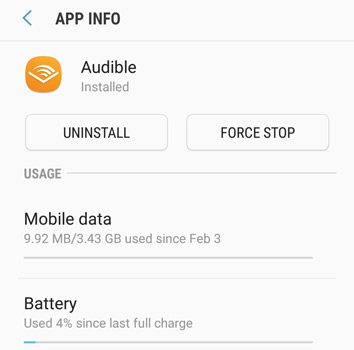 2. Allow Background Activity
If you want to continue to use an application when the screen locks, you are required to enable the background activity. Otherwise, it can't work properly and then Audible stops when screen locks. Here's how to enable background app refresh or background activity on iOS and Android devices.
On iPhone to Enable Background App Refresh:
Step 1. Tap the Settings app icon on the Home page.
Step 2. Choose General and locate the Audible app.
Step 3. If the Background App Refresh permission is disabled, please toggle it on.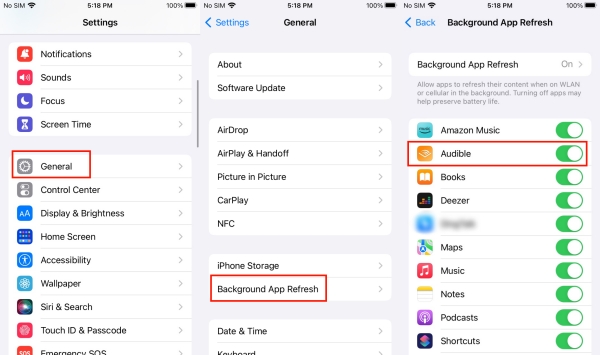 On Android to Enable Background Activity:
Step 1. Navigate to Settings and go to Apps.
Step 2. Find and tap on the Audible app.
Step 3. Select Battery and toggle the Allow Background Activity option.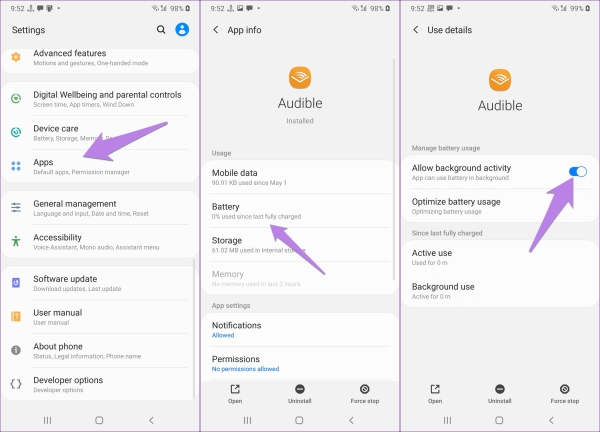 3. Disable the Battery Saver Mode
If your Audible app is set to restricted in your device's battery settings, Audible won't play on lock screen or in the background when you leave the app. For uninterrupted playback when the screen locking or visiting another app, try to turn off the low power mode or battery saver mode on your device to allow Audible to run in the background.
On iPhone to Turn Off the Low Power Mode:
Step 1. Go to Settings and scroll down to the Battery section.
Step 2. Tap into it and you can use the toggle switch to turn on/off the Low Power Mode.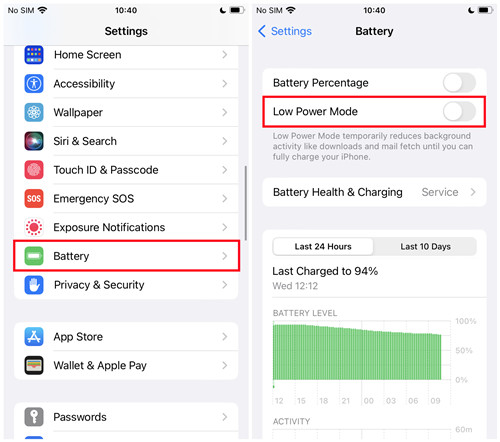 On Samsung Phone to Turn Off the Restricted Mode:
Step 1. Open Settings > Apps > Audible.
Step 2. Hit on the Battery option and choose Unrestricted.
On Pixel Phone to Turn Off the Adaptive Battery Mode:
Step 1. Head to your device's Settings and tap Apps > See all apps.
Step 2. Select the Audible app and choose Battery.
Step 3. Under the Manage battery usage section, select Unrestricted or Optimized.
4. Re-download Audible Titles
Even though downloading Audible books for offline listening is convenient when there is no internet connection, if you pick an audiobook that is corrupted, then it won't be played on your device. Therefore, you need to remove and re-download the corrupted book. But before that, please make sure your device has enough storage for the audiobook.
Step 1. In the Audible app, locate the corrupted Audible downloads in Library.
Step 2. Hit on the three dots button (Android) next to it or swipe left from the title (iOS).

Step 3. Then hit on Remove from Device.
Step 4. Tap the audiobook cover to redownload it.
5. Update the Audible App
The outdated application often causes different types of issues. While updating the app regularly often gains a better experience and most known bugs and issues would be patched by the developers. To Update the Audible app on iPhone or Android, just go to App Store or Google Play Store. In the search bar, enter Audible to see if the update option is available. If yes, please tap the Update button to get the latest version of the Audible app. Once the updating is complete, open Audible to start playing and close the screen to see if the issue of Audible stopping when screen locks persists.
6. Update Your Phone's OS
Audible keeps pausing when screen locked Android or iPhone might be with the system itself. When the OS of your current device is out of date, it may easily be infected by malware or runs slow, and your lock screen won't work to show the Audible player. So making an update to enjoy a trouble-free experience. Before updating your phone's operating system, be sure that your iOS or Android device is fully charged so it can finish the update process completely without a pause.
For iPhone: Head to Settings > General > Software Update > Download and Install.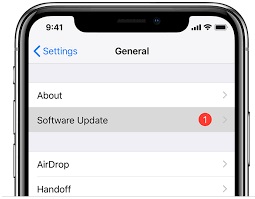 For Android: Go to Settings > System > System Update.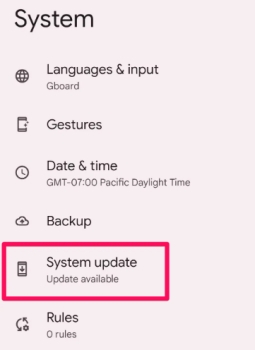 7. Switch to Another Lock Screen (iOS 16)
If your iPhone supports updating to iOS 16 and above, then you can create multiple lock screens and switch between them. On rare occasions, the current lock screen gets stuck and then the issue Audible keeps pausing when screen locks iPhone occurs. This time, just turn to another lock screen to play Audible books. Tap and hold on to your current lock screen, and swipe left or right. Tap on your new lock screen. Once you've switched lock screens, try playing any Audible title and using the lock screen player to control the playback. If this issue was caused by your lock screen then it can now be fixed by switching the lock screen.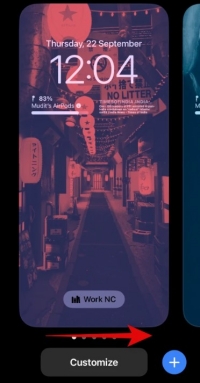 8. Reinstall the Audible App
Uninstalling the app is often used for fixing various issues since it can get rid of the bugs thoroughly. However, a uninstall of the app will reset the app settings, and all the Audible downloads will be deleted from the device. So why do we put this way last, and you should be careful with your choice.
Step 1. Long press the Audible app until the card shows up.
Step 2. Then choose Uninstall (Android) or Remove App (iPhone).
Step 3. Confirm to delete the app totally.
Step 4. Then open Google Play Store or App Store, and search and download the Audible app on your mobile device.
Step 5. Reopen the app to log in with all the required info, and see if the Audible keeps pausing when screen locks issue persists.
Part 3.

Best Way to Play Audible Book Offline without Interrupt

There's another solution to fix Audible keeps pausing when screen locks. Audible audiobooks are encrypted AA/AAX files that can't be played without the Audible app. However, the Audible app will have played an error sometime. Is it any way to play the Audible books without the Audible app? Of course, the answer is to convert Audible audiobooks to MP3 files with an Audible converter.

To get lossless Audible audiobooks, we suggest using ViWizard Audible Audiobook Converter. It features a unique function that allows you to effortlessly crack the protection of Audible files without an account or iTunes. Simply enter your files and press the Convert button, and ViWizard will do the rest. It can convert all downloaded Audible books to various acceptable formats such as MP3, M4A, M4B, AAC, FLAC, WAV, and more while retaining the ID3 tags, allowing you to completely circumvent the constraints of Audible books. ViWizard will save the lossless audio for you so you may experience the full richness of the narration. What's more, it enables you to make the narration louder and change the speed. This tool has a 100X quicker speed, thus the conversion takes only a few minutes.

Key Features of ViWizard Audible Audiobook Converter
Free Trial
Free Trial
* Security verified. 5,481,347 people have downloaded it.
Convert Audible audiobook to unprotected audio formats like MP3
Split Audible book into several smaller segments by chapter or by time
Support playing Audible audiobooks on any device or media player
Handle the conversion of Audible audiobooks up to 100× faster speed
Just click the above link to install ViWizard Audible Converter on your Windows or Mac. And use this tool to convert Audible books without DRM protection. After that, transfer all converted audiobooks to your phone for playing. If you use the built-in player to listen to Audible, then the issue of Audible stopping when screen locks will not occur.
Step 1

Import Local Audible Books to ViWizard

Start the ViWizard Audible Audiobook Converter on your computer. To add audiobook files to the converter, just click the Add Files button in the top-right corner or drag the downloaded Audible files from your computer to ViWizard. To modify each audiobook, click the Edit icon on the right side. In this area, you may split the audiobook by chapter or time, change the listening speed, and edit the metadata tags.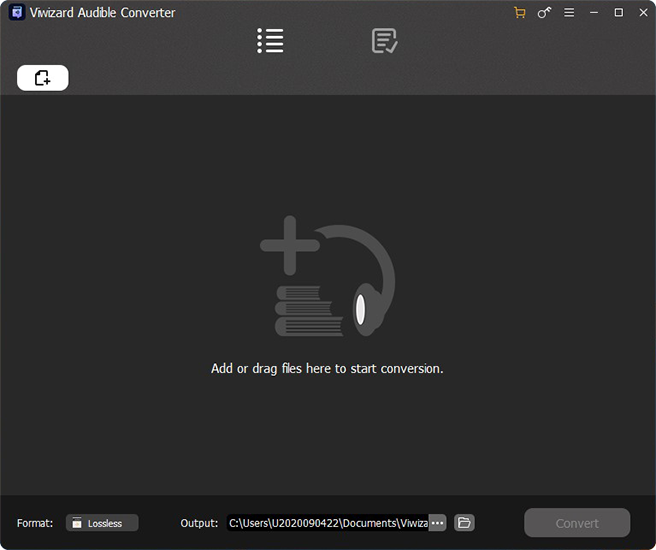 Step 2

Choose Output Parameters for the Audible Books

Then, in the lower-left corner, pick the output format by clicking the Format panel. In this scenario, the MP3 format is an ideal choice. You can also adjust options such as the channel, sample rate, bit rate, codec, and so forth. Remember to click the OK button to save your changes. Of course, you are able to set your preferred output location by hitting on the three dots on the bottom.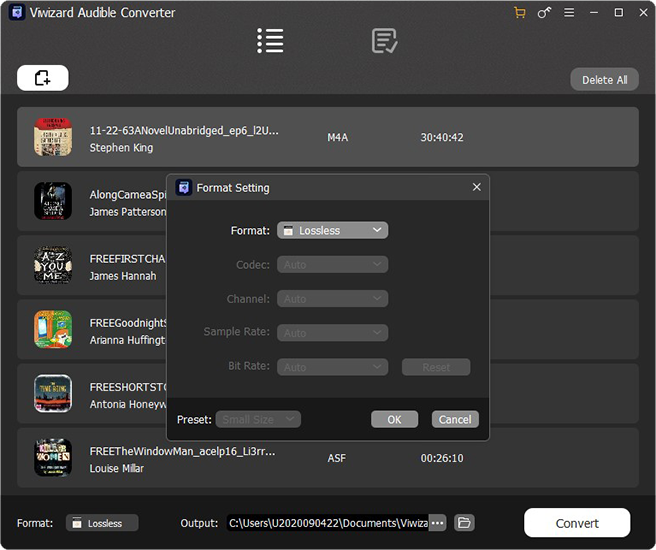 Step 3

Initiate the Conversion of Audible Books

After you've verified all of the selections, go to the bottom and click the Convert button. The converter will begin downloading and converting the Audible books to MP3. When the conversion is finished, click the Converted button at the top to view all converted Audible books. You can also preview and play the converted MP3 Audible files in the ViWizard program.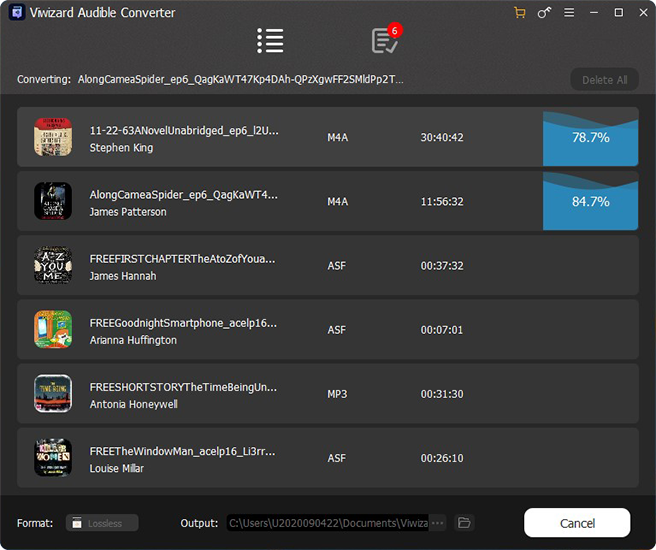 Step 4

Transfer Converted Audible Books to Phone

On the ViWizard Converted list, use the search icon to locate converted files in your local folder. After finding, use a USB cable to connect an Android smartphone or iPhone to your computer. And copy or sync the Audible files or folder from your computer to your mobile phone. After moving Audible books to your phone, you can play them with the built-in player on your phone. In this way, the Audible app pauses when screen locks would be removed.
Conclusion
Now you have learned how to fix Audible stopping when screen locks. The first solution is to change some phone's settings. Then check if there is an update to the Audible app or the operational version of your device. If necessary, try to reinstall the Audible app to fix the error. If you want to play Audible books without the buggy Audible app, you can use ViWizard Audible Audiobook Converter which can make Audible audiobooks playable on multiple devices without much effort. And you can use it to play Audible offline without any interruption or restriction.