Today, the Audible app keeps crashing when my iPhone screen goes into sleep mode. It's driving me crazy. How to fix this Audible app crashing iOS 7 problem? Thanks in advance.
To listen to Audible books, we usually use the Audible app. Audible has launched Audible for Android, Audible for iOS, Audible for Windows 10, and Audible desktop for users to playing Audible books. However, there is no perfect app in the world. According to some Audible listeners, a crashing problem has happened to Audible recently. If you find the Audible app stops suddenly from time to time, you may get this Audible crashing problem. But no need to worry, since we will help you solve this Audible app crashing issue with 10 solutions. Just keep reading.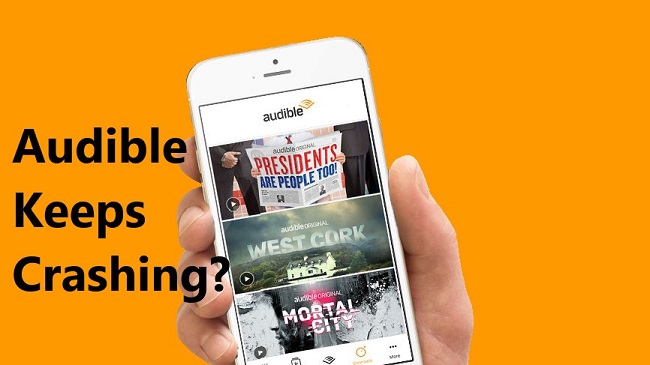 Why Does Audible Keep Crashing?
Audible app crashes can happen for several reasons. It might be due to problems inside the app itself, like bugs or glitches. Using an outdated app version or having a device that's not fully compatible can also cause crashes. Sometimes, the app's data can get messed up, or there might not be enough space on your device. Network issues or other apps running at the same time can lead to crashes too. Even specific audiobooks could be causing problems.
Part 1.

How to Fix Audible App Keeps Crashing

To fix this, try updating the app, clearing its data, and making sure your device's software is up-to-date. If problems persist, you might need a AA/AAX Audible audiobooks converter to convert the format into a more usable one, like MP3.
1. Force Stop Audible App
Forcing stop the Audible app that keeps crashing stops the app's current processes and allows you to start it fresh. If the Audible app is acting up, try force stopping it before reopening.
For iOS: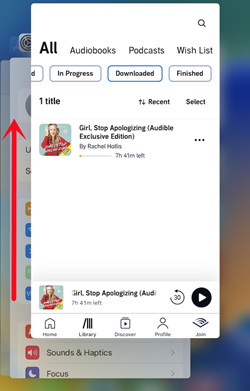 From the Home Screen, swipe up or double-click the Home button to access all app previews.
Swipe left or right to find the Audible app's preview.
Swipe up on the Audible app's preview to force stop it.
For Android:
From the Home Screen, go to "Settings" > "Apps & Notifications" > "All apps" > "Audible."
Tap "Force Stop."
Afterward, restart the Audible app to check if the problem persists.
2. Restart the Phone
A simple device restart can clear temporary glitches and refresh system resources. Restarting your iPhone or Android phone closes all running processes and starts fresh. Whenever you encounter issues, try restarting your device first.
For Android and iPhone:
Press and hold the side/top button until the power-off slider appears.
Swipe the slider to the right to power off the device.
Wait for a few seconds for the screen to go black.
Hold the side/top button to restart the device.
After the device reboots, restart the Audible app.
3. Clear Audible App Cache
The Audible app cache stores temporary data. Clearing it can resolve issues caused by corrupted cache. If you're using an Android device, clearing the app cache can help.
For Android:
Go to "Settings" > "Apps" or "Application Manager."
Find and tap on "Audible."
Tap "Storage" or "Storage & Cache."
Tap "Clear Cache."
4. Remove Audible App Widget
Widgets can sometimes conflict with app functionality. Most users add the Audible app widget to the Home Screen for quick and convenient control of the Audible app. However, sometimes the Audible widget can cause the Audible app to crash.
Removing the widget from the Home Screen stops it from running in the background and potentially conflicting with the app's functionality. If you have added an Audible widget to your Home Screen and are experiencing app crashes, please remove the Audible widget to see if it resolves the issue.
For iOS: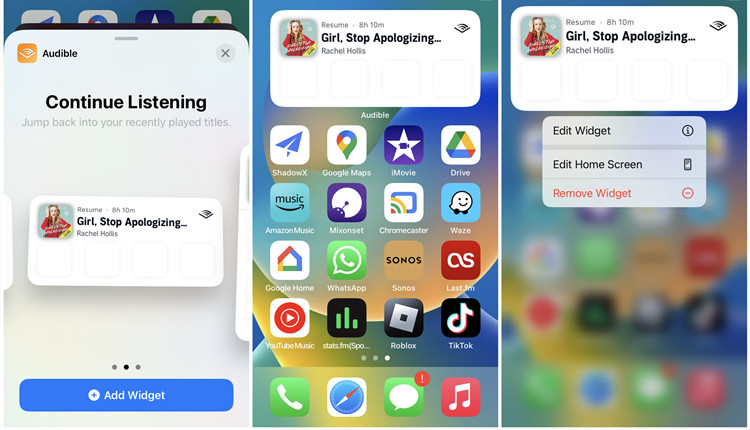 On the Home Screen, locate the Audible app widget.
Touch and hold the Audible app widget.
Tap "Remove Widget" > "Remove."
For Android:
On the Home Screen, locate the Audible app widget.
Long-press the Audible app widget.
Drag it to the "Remove" section to remove it from the Home Screen.
5. Disable Battery Settings
Battery optimization settings may limit app background processes, which can cause issues. Disabling these settings for the Audible app can help as it allows the app to run more freely in the background. Check if battery optimization is affecting the Audible app and consider disabling.
6. Update the iOS/Android OS
Outdated operating systems can lead to the Audible app compatibility problems. Updating your device's OS can resolve such issues. OS updates often include bug fixes and improved app compatibility. Please ensure your device's OS is up to date. If not, update it by following these steps:
For iOS: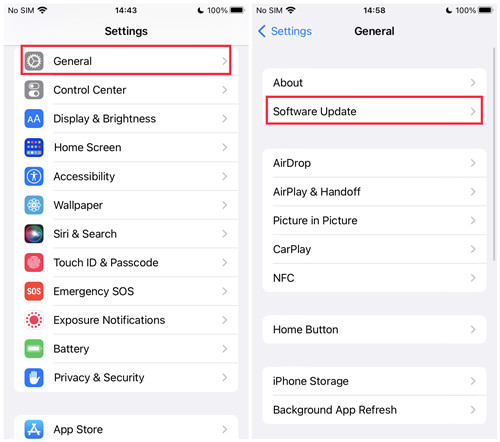 Go to Settings > General > Software Update.
Check if an iOS update is available and follow the instructions if needed.
For Android:
Navigate to Settings > System > Advanced > System update.
Check the Android version and Security patch level to see if an update is required.
7. Update the Audible App
Like OS updates, app updates often include bug fixes and performance improvements. The latest version of the Audible app is likely to have fewer issues and potentially include bug fixes to the crashes.
For iOS:
From the Home Screen, open the App Store.
In the search bar, enter "Audible" and tap "Update."
For Android:
From the Home Screen, open the Google Play Store.
In the search bar, enter "Audible" and tap "Update."
8. Delete Audible Downloads
Corrupted or incomplete audiobook downloads can cause the Audible app to crash and deleting them can help. Removing problematic downloads ensures the app doesn't try to access them. If you suspect a download issue, delete problematic downloads and re-download.
On both iPhone and Android: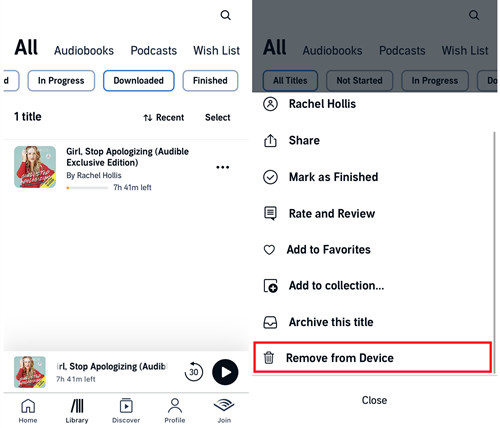 Open the Audible app.
Tap on "Library."
Find the downloaded audiobook you want to delete, and tap the three dots (ellipsis).
Select "Remove from Device."
9. Reset Audible App
Resetting the app means restoring it to its default settings, which can resolve issues caused by custom configurations. It removes any customized settings that might be causing problems. Try resetting the Audible app if you've made a lot of custom changes.
On both iPhone and Android:
Open the Audible app.
Go to your profile or account settings (usually located in the bottom right or top left corner of the app).
Navigate to "Help and Support."
Tap on "More" (often represented by three dots or lines) to access additional options.
Choose "Reset Application."
Confirm the reset by tapping "OK."
10. Reinstall Audible App
Sometimes, app files can get corrupted. Reinstalling the app ensures you have a fresh, uncorrupted copy. You should completely remove the Audible app and then install it anew.
For iOS:
Tap and hold the Audible app icon on your Home Screen.
When the icons start to jiggle, you will see an "X" icon in the corner of the Audible app icon. Tap the "X" icon.
On the popup window, tap "Delete" to confirm the uninstallation.
Go to the App Store, search for the Audible app, and tap "Install" to reinstall it.
For Android:
Open the Google Play Store app.
Tap the profile icon (usually your profile picture or initials) to access your account settings.
Go to "Manage apps & devices" or "My apps & games."
Locate the Audible app in the list of installed apps.
Tap the "Uninstall" button next to the Audible app to remove it from your device.
To reinstall, simply go back to the Google Play Store, search for the Audible app, and tap "Install."
Part 2.

How to Listen to Audible Audiobooks with No Issues

If you're experiencing issues with the Audible app, you can try accessing your Audible library using alternatives:
Solution 1: Switch to Another Audible Platform on Your Device
Use the Audible web version, also known as Audible Cloudplayer, to access your audiobooks via a web browser. This platform may offer a different interface and may be more stable on some devices.
Solution 2: Convert Audible Books for Your Device
If you want to use other audio players to listen to your Audible books and the Audible app continues to crash, you can consider converting Audible books from the AA/AAX format to a more widely supported format like MP3. ViWizard Audible Converter is one of the tools you can use for this purpose.
Using ViWizard Audible Converter allows you to convert Audible books into a format that is supported by a wide range of audio players, which can be especially helpful if you encounter issues with the Audible app.

Key Features of ViWizard Audible Audiobook Converter
Free Trial
Free Trial
* Security verified. 5,481,347 people have downloaded it.
Convert Audible audiobook to unprotected audio formats like MP3
Split Audible book into several smaller segments by chapter or by time
Support playing Audible audiobooks on any device or media player
Handle the conversion of Audible audiobooks up to 100× faster speed