I need help. Yesterday I downloaded Audible and signed up. I bought a book from Audible. But I found that Audible not working then. I could not play this audiobook whatever I tried. Any suggestion?"
Speaking of the audiobook service, Audible always comes first. However, nothing can be perfect even the best audiobook service exists issues. For instance, the above Audible user is not alone indeed. After using Audible for a long time, a lot of Audible users also find that Audible not working on their devices from mobile to desktop or they get trapped in other frustrating troubles. These include but are not limited to Audible not playing, audiobooks not in the Audible library, Audible not downloading, and forth. Which will prevent them from playing Audible audiobooks normally. So are there any solutions that can troubleshoot the Audible app/cloud player not working? You will get some from the content below.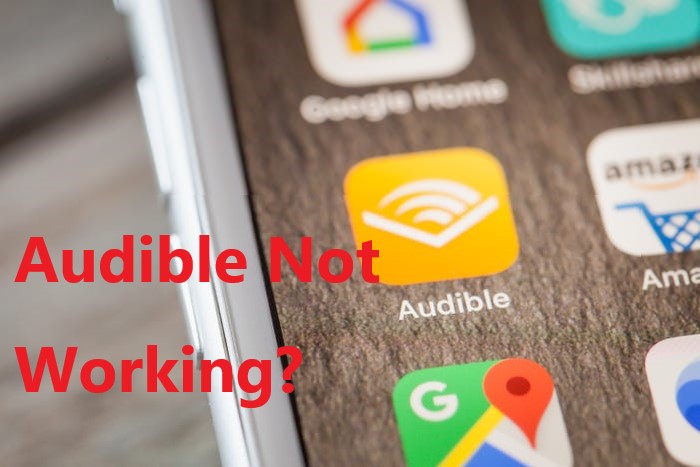 Part 1.

Why Is Audible Not Working on Mobile or Desktop

If Audible is not working has haunted you for a long time, you might as well check which step was wrong. Some possible reasons Audible stops working are as follows:
The network you connect to your device is poor and intermittent so you can't access Audible catalogs.
The Audible app is out of date, which causes temporary issues like Audible won't work properly.
There are many caches on your app that stop you from running Audible and enjoying audiobooks anymore.
Part 2.

Common Ways to Fix Audible Not Working for Mobile/Desktop

In this part, We've collected common fixes to troubleshoot the Audible app not working issue for mobile devices - like iOS and Android and the Audible cloud player not working problem for Audible desktop users.
Solution 1. Force Stop the Audible App or Website
Most issues surrounding the Audible app - like the Audible app not working can be fixed with a simple force stop of it. If the Audible app hasn't been forced to stop but closed instead, its program will continue to run in the background and won't make sense to clear the app errors.
On Android, users can force stop and clear the cache of the Audible app via the device Settings > Apps & Notifications > All apps > Audible > Force Stop.
On iOS, to force stop it, users should adopt a different method via a swipe up from the Home Screen, then swipe up the Audible app's preview to make it stop.
On the desktop, just click the cross icon beside the Audible tab on any browser to close the Audible cloud player. Also, you can exit the browser to achieve this.
Solution 2. Sign Out and Back Into Your Account
If Audible still stops working and you can't access it, you'd better try sign out then back in the Audible app or the website. Sometimes, your account may cause this temporary issue.
Note
On iOS, once your Audible account is signed out of the app, you will lose all the Audible downloads, which is an alternative step to clear the Audible cache for iOS.
On the Audible app, head to Profile > Settings > Sign Out > Sign Out again to confirm to sign out of your Audible account. Once you have logged out, reopen Audible and it will prompt you to enter your Audible credentials.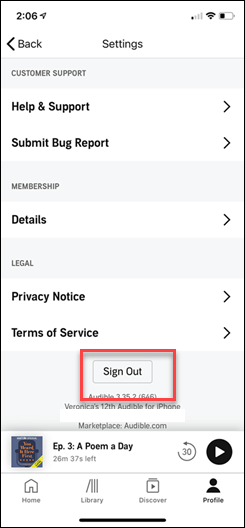 On the Audible website, hover the cursor over your name and you can see the Sign out option from the dropdown list. Click it you will sign out immediately and then sign in at the top right corner to back.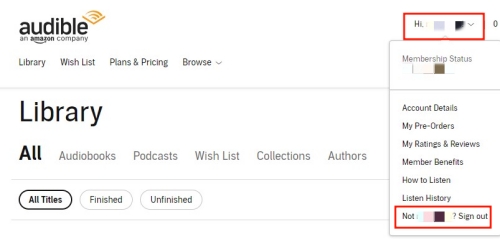 Solution 3. Clear Cache or Cookie
Clearing the browser cookies and caches regularly makes Audible work better and smoother. Since too many caches or cookies on your device will make conflict with your apps and browser. Sometimes, they just cause loading or lagging issues. However, they can also result in software not working issue once they accumulated to some amount.
Note
There is no way to clear app caches on iOS devices unless you uninstall the app to remove all data.
On Android, open Settings from your Home screen. Select Apps > Audible > Storage > Clear Cache.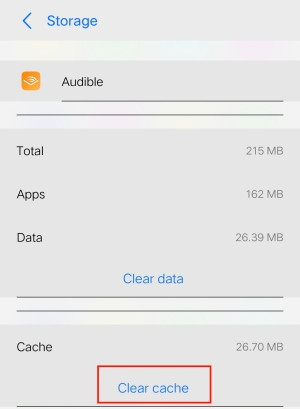 On a browser - like Google Chrome, go to the options menu > Settings > Search > Cache > Clear Browsing Data, then select Cookies and other site data and Cached images and files to Clear data.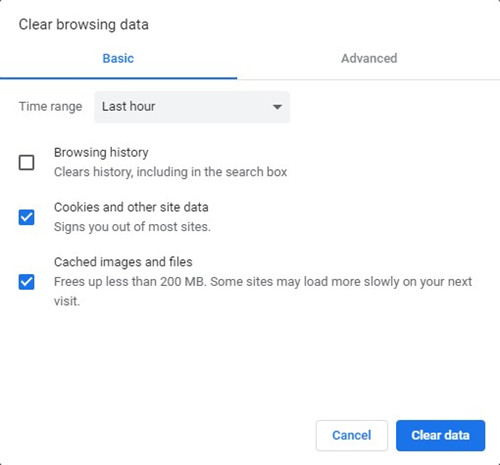 Solution 4. Disable Anti-virus on Browser
If you enable anti-virus protection for your browser or software, then it is possible that the anti-virus system recognizes Audible as a harmful website. This also leads to the Audible cloud player can't work well. The tutorial for disabling the anti-virus protection is depending on your operating system and your computer. So you can ask the official site to consult instructions in detail. After that, restart your PC to save changes and this time, the Audible cloud player not working issue might be fixed.
Solution 5. Restart the Current Device
As the Audible not working issue might be with the device itself instead of the Audible app. If your device doesn't respond to your action and Audible can't be opened in time, we recommend restarting the device which will fix the errors with apps and devices.
To restart the Android and iOS devices, press and hold on the side/top button until a power-off slider appears on the screen, then swipe it to the right to power off the device. After the screen blacks out, hold on the side/top button to restart the device. You can now reopen the Audible app for Android or iOS to check whether the Audible not working issue still persists.
To restart the desktop, just select Apple Menu > Shut down or Start > Power > Shut down.
Solution 6. Try Another Audible-enabled Device
If the issue is with the device, a simple reboot won't work. However, if possible, you can use another device to stream Audible audiobooks. These are some best devices for Audible: iPod, Fire tablets, Amazon Echo, and more. As the alternatives to mobile devices for iOS and Android, you'll have a different listening experience with them. Of course, you can change your browser to fix this problem. The Cloud player is compatible with a variety of browsers - like Google Chrome, Mozilla Firefox, Apple Safari, and Microsoft Edge on the latest version of each.
Solution 7. Redownload the Audio Titles
Presumably, Audible not working owing to your audiobooks in the library being corrupted or changed. In this situation, you may as well delete the audiobooks and download them again. Removing Audible books from the library and downloading them is super simple.
On Android, find the audiobook you want to remove and tap the overflow button next to it. Tap Remove from Device to delete the downloaded book. Back to Library > Titles and tap the cover to download it again.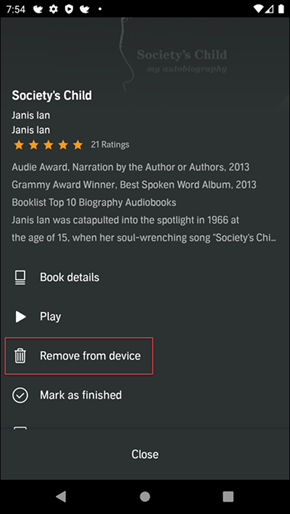 On iOS, locate the title on your Audible library and swipe left. You will see the Remove from Device option. After that, tap Library > Titles and tap the cover to redownload.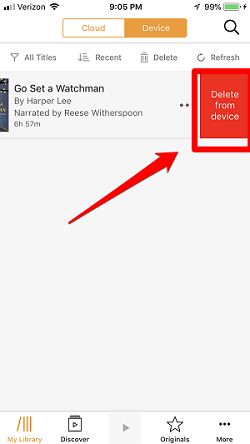 On the desktop, you can find your Audible files in the Download folder to remove them permanently. Now, visit Audible.com and select Library from the top menu to find the audiobook you'd like to download. Hit on the Download option on the right of it.
Solution 8. Use a VPN Tool or App
Related to the Amazon credentials, possibilities are that Audible is blocked in your region. To bypass this, you can go to App Store or Google Play Store to find a powerful VPN app for your iOS or Android device. After that, you should use Audible with no more issues like Audible not working.
Solution 9. Update the Audible App
If all the steps are tried with no luck, then the luck is with the latest version of the Audible app, which includes the immediate fixes to this Audible app not working issue. Furthermore, updates often can patch bugs that are caused by the Audible app and cause the Audible not working issue.
On Android, go to Google Play Store and enter Audible on the search bar. Check if an Update button is available to install the latest version.
On iOS, open the App Store and search for Audible, then tap the Update option if it is available.
Solution 10. Uninstall the Audible App
Of course, you can uninstall the Audible app to make it work. Needless to say, this is a classic and effective procedure to solve most errors. And almost issues can be avoided after uninstalling since it is equal to refreshing and resetting the data of the app.
On Android and iOS, tap and hold the Audible app icon on the Home screen until the Uninstall or Remove App button appear. After that, you can go to Google Play Store or App Store to search for Audible to reinstall it.
Part 3.

Ultimate Fixes -- Play Audible without the Audible App

My audible app not working. I've got a newer phone with the latest version of Android, and recently the audible app hasn't been functional, so I restarted my phone to see if that would fix it but it did not. I deleted and reinstalled the audible app and after logging in it froze. After closing out of the app and opening it I was logged in, but not really because my library (over 200 titles) was gone and nothing would load. Don't know what to do, I like to use audible and I've bought a lot of books that I intend to read."

Given that some users are tired of uninstalling and reinstalling the Audible app, logging out and back in again, and trying almost every way but nothing seems to work. Here we recommend you give up using the Audible app or the cloud player to listen to Audible audiobooks. You can use a music player on your device to play your downloaded Audible audiobooks. This is the best way to get rid of issues and get smooth listening. As we all know, Audible audiobooks are in AA/AAX formats, which are not supported by other music players. You need to convert your Audible audiobooks to a common format first.

To convert Audible audiobooks to other formats, the tool needed is ViWizard Audible Audiobook Converter. ViWizard can convert Audible books to many audio formats like MP3, M4A, M4B, AAC, FLAC, WAV, and more with an incredibly 100X faster speed. You can keep the original quality of the Audible audiobooks if you choose the Lossless option. Most importantly, this tool does not need you to give the iTunes account authorization or install the Audible app, which is necessary for many other Audible converters. The ID3 tags the chapter information of your audiobooks will be saved by this tool so that you can split the Audible book by chapters or edit tags as you want. At the same time, this professional tool enables you to change the narration speed, volume, and pitch based on your needs.

Key Features of ViWizard Audible Audiobook Converter
Free Trial
Free Trial
* Security verified. 5,481,347 people have downloaded it.
Convert Audible audiobook to unprotected audio formats like MP3
Split Audible book into several smaller segments by chapter or by time
Support playing Audible audiobooks on any device or media player
Handle the conversion of Audible audiobooks up to 100× faster speed
Step 1

Upload Downloaded Audible Files to ViWizard

Before starting, ensure you have downloaded the audiobooks on your PC. And then click the upper-left icon Add Files, and you can add several files at once. Or, you can drag the files to the ViWizard software. They are two different but pretty easy ways. As we said above, you can change the audio speed, split the audio, and edit the tags by clicking the blue Edit icon on the title.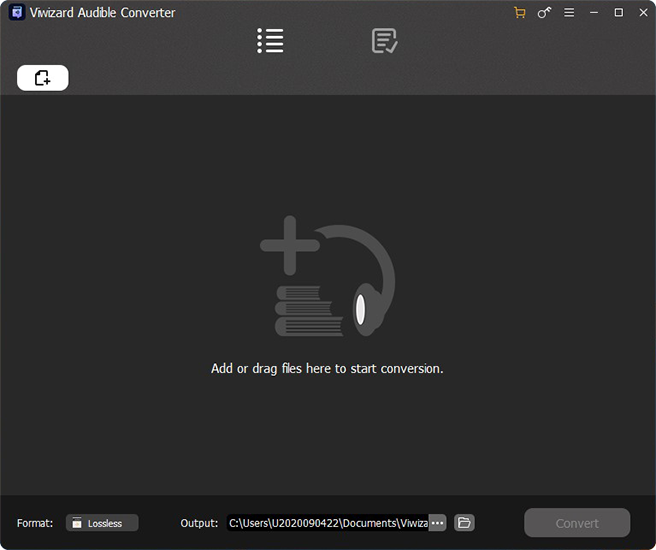 Step 2

Change Output Parameters for Audible Books

After you add Audible files successfully, now, it offers output options for you to customize as you like. Just click the bottom left Lossless icon, and you can adjust the output format, codec, channel, sample rate, and bit rate. Please set the most common and compatible MP3 format as the target format so that you can enjoy Audible books on any player and device. After finishing the adjustment, don't forget to tap the OK icon. If you would like to download as lossless, then leave it behind as default.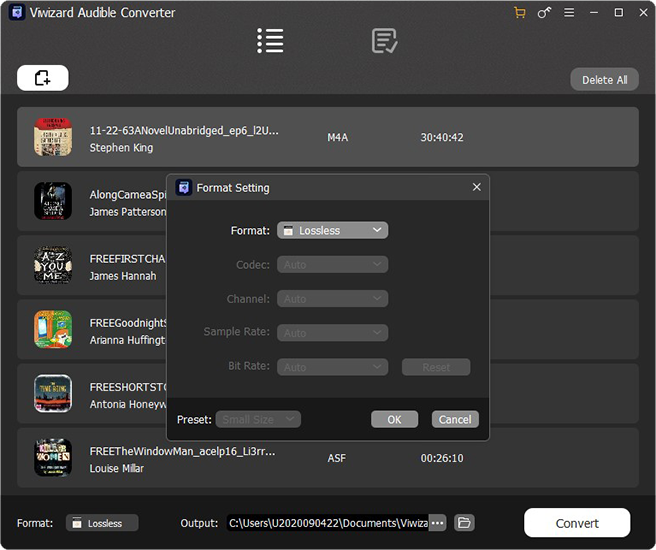 Step 3

Start Converting Audible Books in MP3

Lastly, click the bottom right Convert button to start converting Audible files to any format you set. Go to the Converted interface, you can easily browse your converted files or use the search bar to search some certain files after batch conversion. Of course, you are allowed to listen to the converted audiobooks in ViWizard's built-in player. Now, it can't be easier to listen to Audible audiobooks without Audible.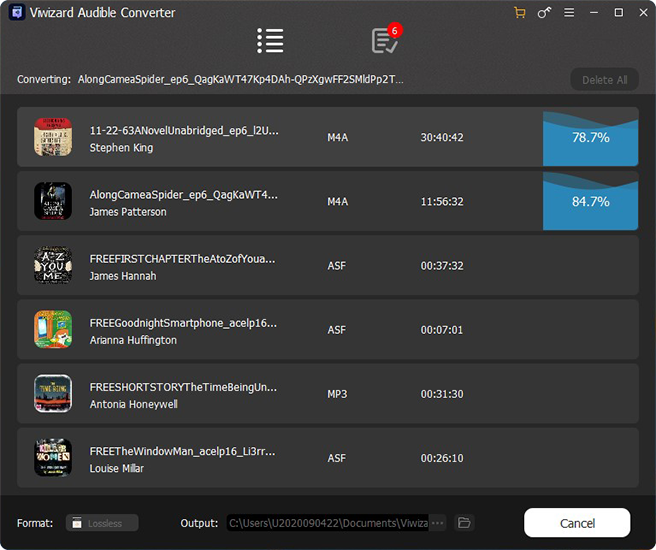 Conclusion
From the above parts, you have got 11 ways to fix Audible not working on mobile and desktop. You can follow the detailed common ways above that often troubleshoot most issues. If none of them work, you can directly try the ultimate way -- convert purchased Audible audiobooks to MP3 files via ViWizard Audible Converter and then listen to Audible books without using Audible.