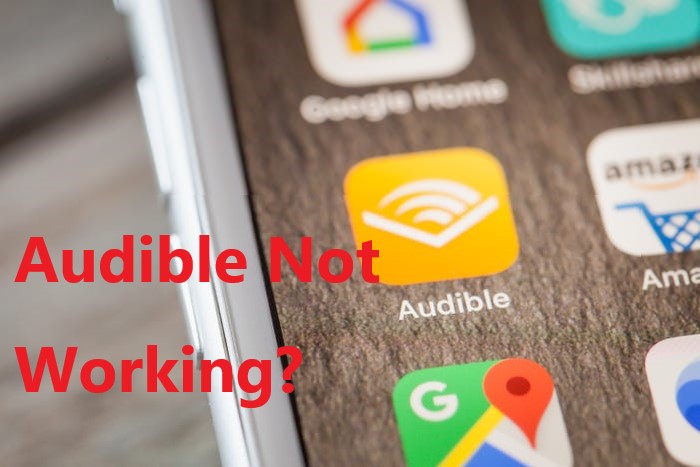 I need help. Yesterday I downloaded Audible and signed up. I bought a book from Audible. But I found that Audible not working then. I could not play this audiobook whatever I tried. Any suggestion?"
But nothing can be perfect, even the best relationships have communication issues. Some Audible users find that Audible not working on their device from mobile to desktop. Here list some of the problems such as Audible app not working, audio stops suddenly, Audible not playing, wrong content and, etc. These problems prevent them from playing Audible audiobooks normally. Are there any solutions that can troubleshoot the Audible problems? You will get some from the content below.
Part 1. How to Fix Audible App Not Working on Mobile
In this part, We've collected fixes as common steps and alternatives to troubleshoot the Audible app not working issue for mobile devices - like iOS and Android. Based on the features of the Audible mobile apps on the devices, we also kept the steps separate.
Common Steps to Fix Audible App Not Working on Mobile
1. Force Stop the Audible App
Most issues surrounding Audible app - like Audible app not working can be fixed with a simple force stop of it. If the Audible app hasn't been forced stop but closed instead, its program will continue to run in the background and won't make senses to clear the app errors.
Note: On Android, the Force Stop and the Clear Cache buttons are in the same location. We do recommend to Clear Cache before Force Stop the Audible app.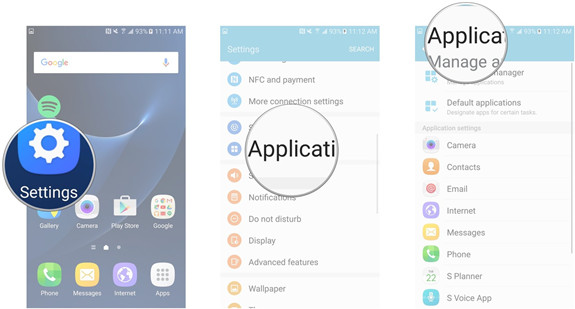 On Android, users can force stop and clear the cache of the Audible app via the device Settings, Apps & Notifications > All apps > Audible > Clear Cache > Force Stop. Or on iOS to force stop it, users should adopt a different method via a swipe up from the Home Screen or double click the Home button instead, then swiple up the Audible app's preview to make it stop.
2. Sign Out and Back In the Audible App
If the Audible app can be open, you should try sign out then back in the Audible app.
Note: On iOS, once your Audible account is signed out of the app, you will lose all the Audible downloads, which is an alternative step to clear Audible cache for iOS.
On Android, go to Profile > Settings > Sign Out > Sign Out again to confirm to sign out of the Audible for Android app. On iOS, go to More > Settings, then tap and hold the bottom of the screen where the app's name locates for 5-10 seconds. After that, prompt to Sign Out. You can sign back in the Audible app, or restart the mobile device for better performance.
3. Restart the Device
As the Audible not working issue might be with the device but not the Audible app, we recommend restarting the device, which will fix the errors with apps and devices and make the former steps function well at the same time.
To restart the Android and iOS devices, press and hold on the side/top button until a power-off slider appears on the screen, then swipe it to the right to power off the device. After the screen blacks out, hold on the side/top button to restart the device. You can now reopen the Audible app for Android or iOS to check whether the Audible not working issue still persists.
4. Update the Audible App
If all the steps are tried with no luck, then the luck is with the latest version of Audible app, which includes the immediate fixes to this Audible app not working issue.
On Android, go to Google Play Store > Search > Audible, then check if an Update button is available to install the most recent app version. On iOS, go to App Store > Search > Audible, then check the similar Update button. If available, tap the Update button.
5. Check Data and Time
Audible app won't work when the Date and Time settings are not correct.
On Android, go to Settings > General management > Date and time > Automatic date and time, then reopen the app for Android or restart your Android device. On iOS, go to Settings > General > Date & Time > Set Automatically, then repeat the steps to restart the app for iOS and your iOS device to fix the Audible not working issue with Data and Time setting.
6. Uninstall the Audible App
Of course you can uninstall the Audible app to make it work.
On Android, on the Home Screen > Audible app for Android or Audible app for iOS, tap and hold the app icon until a Uninstall or Delete button is available to continue. After that, you can go to Google Play Store or App Store to search for Audible to redownload it.
Alternatives to Fix Audible App Not Working on Mobile
1. Use Another Device
If the issue is with the device, a simple reboot won't work. However, if possible, you can use another device to stream Audible audiobooks. These are some best devices for Audible: iPod, Fire tablets, Amazon Echo and more. As the alternatives to the mobile devices for iOS and Android, you'll have a different listening experience with them.
2. Use a VPN app
Related to the Amazon credentials, possibilities are that Audible is blocked in your region. To bypass this, you can go to App Store or Google Play Store to find a powerful VPN app for your iOS or Android device. After that, you should use Audible with no more issues like Audible not working.
3. Redownload the Titles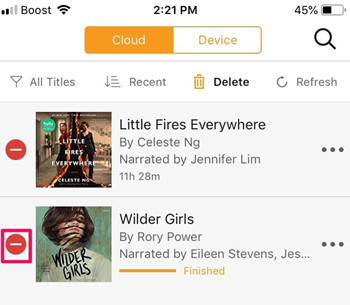 If other functions of the Audible app is going well, you can try to delete the audiobooks, then redownload them - but with some changed Download settings - like Download by Parts and Download Quality.
Note: After the uninstall of the Audible app, Settings like Download settings will be reset.
We understand after the steps have been tried, there might be a loss of the downloaded titles on Android and iOS. However, at least this method is an alternative to make the Audible books work fine to listen offline.
On Android, go to Settings > Download Settings > Muti-Part Downloads, then back to Download > Download Quality, then switch it from High Quality to Standard Quality.
On iOS, go to My Library > Settings > Content Settings > Download by Parts > Multi Part, then back to Settings > Data & Storage > Download By Quality, then switch it to Standard Quality.
"Download Audible Titles on Desktop":
Part 2. How to Fix Audible Not Working on Desktop
For starters it's hard not to mention that Audible Windows app won't work because the app for Windows has been discontinued. In this part, we'd like to discuss about the Audible Cloud Player built-in Audible's official website - audible.com.
Common Steps to Fix Audible Not Working on Desktop
1. Reestablish the Internet
While Audible mobile app users download and listen to titles on mobile, Audible users can stream the titles online using the CloudPlayer.
Just like Amazon Music, the similar Amazon product - Audible requires a solid internet connection to play the audio online. You should try reestablish the internet or switch to another connection - either WiFi or cellular connection.
2. Clear the Cookies
If the internet connection works fine, we should clear the browser cookies and caches to make it work better for CloudPlayer.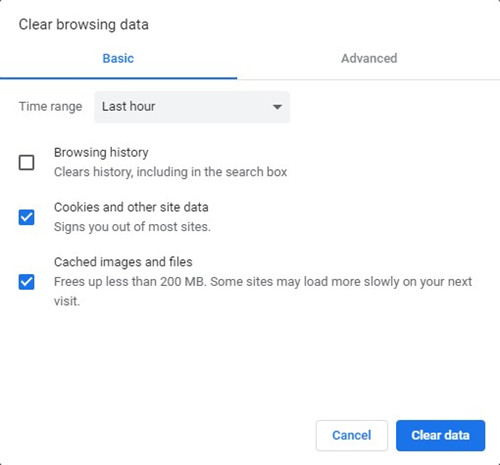 On the browser - like Google Chrome, go to the options menu > Settings > Search > Cache > Clear Browsing Data, then select Cookies and other site data and Cached images and files to Clear data. After a while, full close the browser to go to audible.com > Library, then try Play a title.
3. Use a VPN Tool
If the Audible is blocked on your region, you should also try use a VRN tool to fix this Audible not working issue.
4. Disable Anti-virus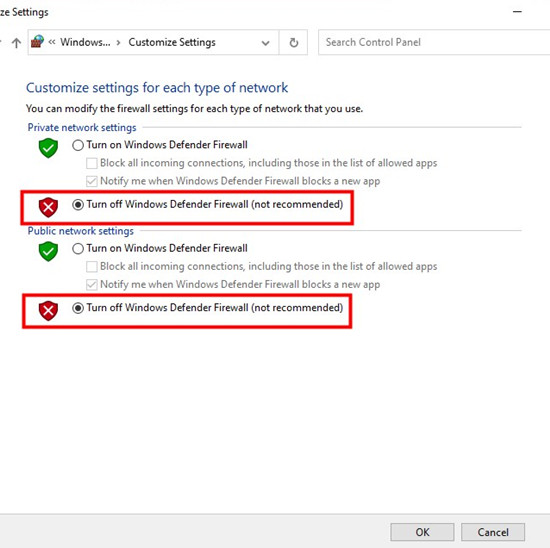 Your anti-virus can recognize Audible as a harmful website. You can disable the Windows defender in Windows to go to Windows Search Box > Check firewall status > Turn Windows Defender Firewall on or off > Turn off Windows Defender Firewall > OK.
Now restart your PC to save changes and you will be able to fix Audible not working issue with the CloudPlayer.
Alternatives to Fix Audible Not Working on Desktop
1. Use Another Browser
The Cloudplayer is compatible with more browsers - like Google Chrome, Mozilla FireFox, Apple Safari, Microsoft Edge on the latest version of each. On Windows or Mac, choose one above to use Cloudplayer with no more issues.
2. Use the Alternatives Apps
For Windows, if the Audible Cloud player is not to prefer, there're more apps like AudibleSync, Audible Manager and even iTunes to access to the titles in Audible Library, but the features are different based on the chosen app. For Mac, you can still use iTunes or Apple Books to access the synced titles from Audible.
3. Convert the Titles
If the Audible not playing or working problem cannot be solved after you try the methods above, you can give up using Audible app to listen to Audible audiobooks. There is a better way for listening. You can use a music player on your device to play your downloaded Audible audiobooks. As we all know, Audible audiobooks are in AA/AAX formats, which are not supported by other music players. You need to convert your Audible audiobooks to a common format first.
To convert Audible audiobooks to other formats, the tool need is ViWizard Audible AA/AAX Converter. ViWizard can convert AA/AAX to many audio formats like MP3, FLAC, M4A, AAC, and more with an incredibly 100X faster speed. You can keep the original quality of the Audible audiobooks if you choose the Lossless option. Most importantly, this tool does not need you to give the iTunes account authorization or install the Audible app, which is necessary for many other Audible converters. The ID3 tags the chapter information of your audiobooks will be saved by this tool. If you want to use ViWizard AA/AAX Converter to have a try, you can download it and use the free trial version now.
ViWizard Audible Audiobook Converter Key Features
Losslessly convert Audible books to MP3 without account authorization
Convert Audible audiobooks to common formats at 100× faster speed
Freely customize the output audio parameters such as sample rate
Split audiobooks into small segments by time frame or by chapters