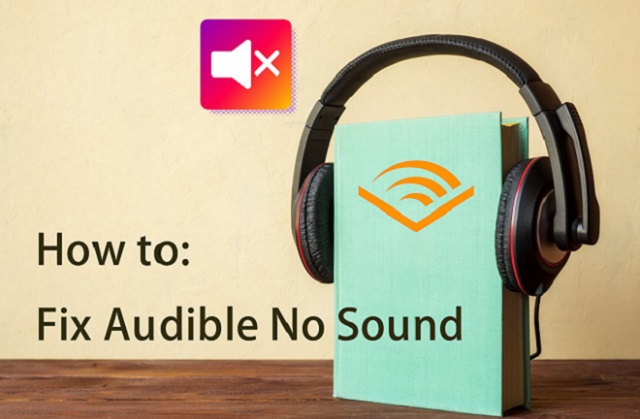 Audiobooks have become more and more popular these years. Many young people start listening to audiobooks. Listening to audiobooks can make full use of their spare time, such as on the way to work or in the queue. Audible is a leading audiobook streaming platform and has accumulated millions of users since it was launched.
It can be frustrating to open the Audible app with eager anticipation, only to be met with an eerie silence when you should be immersed in your favorite audiobook. Audible, a treasure trove of millions of captivating audiobooks, can occasionally leave you wondering why there's no sound. But fear not, for this enigmatic issue can often be attributed to a variety of factors.
Part 1.

Why Audible Not Playing Sound

If you've ever found yourself in the frustrating situation where Audible refuses to play sound, you're not alone. It's a common issue that can arise for various reasons, leaving you with the silence when you should be immersed in your favorite audiobook. So, why does this happen?

The culprits behind Audible's refusal to play sound can range from app-related glitches to device malfunctions or even the improper download of audio files. These diverse reasons can be frustrating, but fear not, for there are universal methods that can help troubleshoot and resolve this issue. In the next section, we will guide you through these steps, ensuring that you can once again savor your audiobooks as intended.
Part 2.

How to Fix Audible Not Playing Sound

Let's dive into the troubleshooting process to ensure you can enjoy your audiobooks as they were meant to be heard.
1. Check Device Volume
Ensure that the volume on your device is turned up and not muted. Sometimes, the issue might be as simple as having the volume set too low or the device muted.
Android: Swipe down from the top of your screen to access the notification panel. Ensure the volume slider is up and not muted.
iPhone: Use the physical volume buttons on the side of your device to increase the volume. Also, check the mute switch on the side of the device.
2. Restart Audible App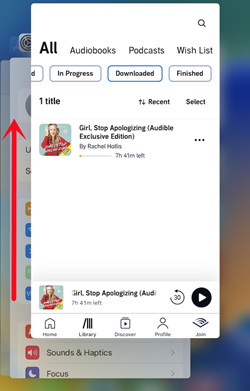 Closing and reopening the Audible app helps clear any temporary glitches or issues that may be preventing sound from playing.
Android: Go to Settings > Apps & Notification > All apps, and find "Audible." Tap "Force Stop." Then, return to the home screen and restart the Audible app.
iPhone: Double-press the home button (for iPhone models with a home button) or swipe up from the bottom of the screen to access the app switcher, find Audible, and swipe it up to close it. Then, tap the Audible icon to reopen the app.
3. Update Audible App
Outdated app versions may contain bugs that can affect audio playback. Updating the app ensures you have the latest fixes and improvements.
Android: Go to the Google Play Store, search for Audible, and tap "Update" if available.
iPhone: Open the App Store, go to the "Updates" tab, and check if Audible has an update available. If so, tap "Update."
4. Restart Device
A device restart can resolve various software-related issues, including those that might be causing audio problems with Audible.
Android: Hold down the power button, then tap "Restart."
iPhone: Hold down the power button and either the volume up or down button (depending on your model) until you see the power-off slider. Slide it to turn off your device, then press and hold the power button to turn it back on.
5. Download Audiobook
Downloading audiobooks for offline listening can help if you're experiencing issues with streaming due to network problems. Downloading stores the audio locally on your device.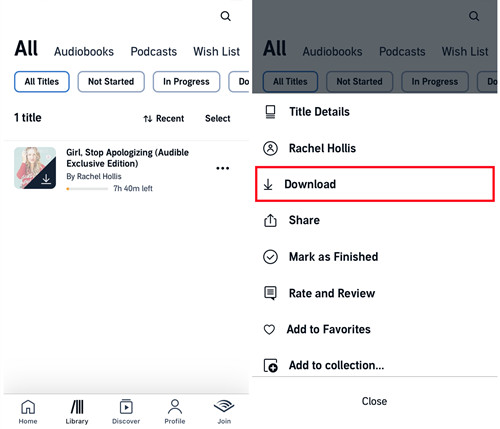 Open the Audible app, go to your library, and ensure that the audiobook you want to listen to is fully downloaded. If not, tap on it to download.
If you the problematic audiobook is downloaded already but has no sound, remove it from your device and try streaming it in Audible catalog instead can help.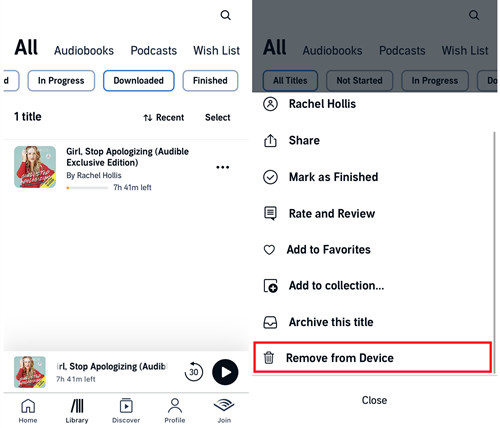 Open the Audible app, go to your library, and find the problematic audiobook that's downloaded to your device. Tap on the three dots and select "Remove from Device." After that, go to home page of the Audible app and access the audiobook in Audible catalog and stream it online.
6. Check Audible Account
Verify that your Audible account is in good standing and your payment method is valid if you're using a subscription service. Payment issues can affect access to audiobooks.
Use a mobile web browser to go to the Audible website (audible.com) on your device, and ensure to log in to your Audible account by tapping the hamburger menu. To check your membership details, tap "Your Name" and make sure your membership is active and there are no billing issues in the "My Account" section.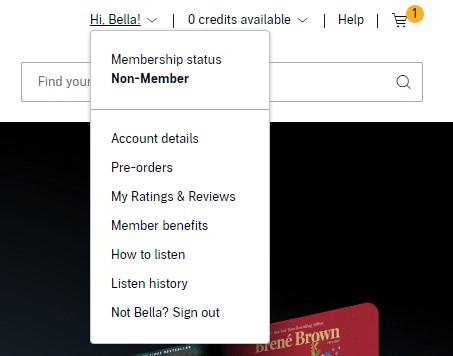 If you're using a computer, go to the Audible desktop site and sign in. Hover over your mouse over "Hi, [YourUsername]!" in the upper-right corner of the page. You can check your membership status in the dropdown menu that appears. You can also click "Account Details" to view your membership details.
7. Check Audiobook
If the specific Audible book has no sound when you're trying to play it, ensure that the title is compatible with your device and is not corrupted. Trying a different audiobook can help identify if the issue is with a particular title.
Open the Audible app, go to the home page, and search for any title in Audible catalog and try playing it to see if the problem persists. If you determine the issue is specific to one audiobook, try switching to another Audible platform (ex: CloudPlayer for desktop), device, or both and playing the problematic audiobook.
8. Clear Cache and Data
On Android devices, clearing the cache and data for the Audible app can remove any temporary data that might be causing problems.
Android: Go to Settings > Apps > Audible > Storage > Clear Cache, and then tap "Clear Data."
iPhone: iOS doesn't allow manual clearing of app cache. Consider proceeding to Step 9 for resetting the app or Step 10 for reinstalling the app.
9. Reset Audible App
Resetting the Audible app involves clearing the app's data and resetting it to its default state. This step can help if there are any corrupted settings or data within the app that are causing sound playback issues.
Android and iPhone: Open the Audible app, go to your profile, and find "Help & Support." Tap the hamburger icon and access additional options, including "Reset Application." After that, confirm the reset.
10. Reinstall Audible App
Uninstalling and then reinstalling the Audible app can help if there are issues with the app's installation or configuration.
Android: Go to Settings > Apps > Audible > Uninstall. Then, reinstall it from the Google Play Store.
iPhone: Press and hold the Audible app icon until it jiggles, then tap the "X" to delete it. Reinstall it from the App Store.
Part 3.

How to Listen to Audible without Playback Issues

If you've encountered persistent playback issues with the Audible app, including Audible app not playing sound, and are looking for an alternative way to enjoy your audiobooks on various devices, the ViWizard Audible Converter might be the perfect solution for you.
Why Use ViWizard Audible Converter?
If you've experienced sound issues on one device, switching to another might be a viable option. However, Audible's limitations often mean you can only listen within their app on specific devices. The ViWizard Audible Converter allows you to break free from these restrictions, making your audiobooks playable on a wide range of devices.
ViWizard Audible Converter is a versatile tool that can convert your Audible audiobooks into various formats, including MP3, FLAC, AIFF, WAV, AU, and more. This compatibility ensures that your audiobooks can be played on virtually any device or media player. You can enjoy your audiobooks in lossless quality, and the conversion is performed at an impressive speed - 100 times faster than real-time.

Key Features of ViWizard Audible Audiobook Converter
Free Trial
Free Trial
* Security verified. 5,481,347 people have downloaded it.
Convert Audible audiobook to unprotected audio formats like MP3
Split Audible book into several smaller segments by chapter or by time
Support playing Audible audiobooks on any device or media player
Handle the conversion of Audible audiobooks up to 100× faster speed
Step 1

Load the Downloaded Audible Books to ViWizard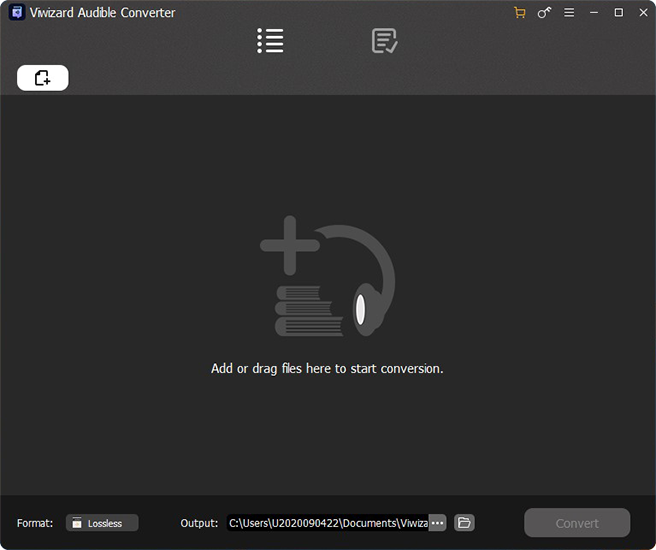 Open the ViWizard AA/AAX Converter on your desktop. To load the audiobook files to the converter, just click the Add Files button in the top-right corner or tap the logo with an earphone to choose the audio you need from the computer. Or you can drag and drop the local files to the converter directly.
Step 2

Tune the Output Parameters of the Audible Books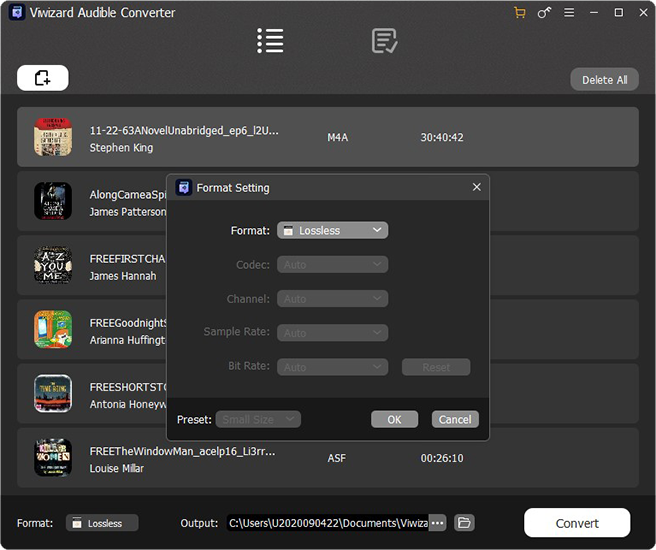 To edit each audiobook, click the Edit icon on the right side. Here you can split the audiobook by chapter or time, change playback speed, and rewrite the info tags. Next click the Format panel on the bottom left corner to choose the output format. Here the MP3 format is a good choice. On the window, you can adjust some parameters like channel, sample rate, bit rate, etc. Remember to click the OK button to save all the settings.
Step 3

Click to Convert Audible Books to MP3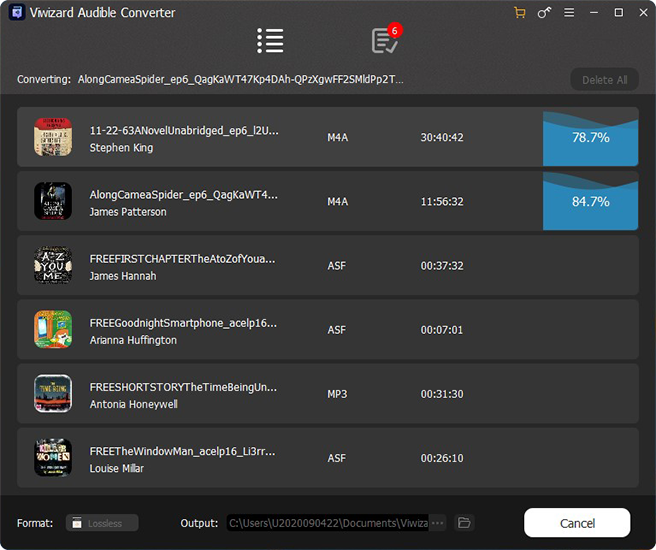 After confirming all the settings, hit the Convert button on the bottom. The converter will start to download the Audible books into MP3. When the conversion is done, you can click the Converted button on top to view all converted Audible books.
Conclusion
With ViWizard Audible Converter, you can overcome Audible's limitations and enjoy your audiobooks hassle-free on any device or media player of your choice. Whether you're troubleshooting playback issues or simply want more flexibility with your Audible audiobooks, this tool provides an excellent solution. Give ViWizard Audible Converter a try, and you'll have the freedom to enjoy your Audible audiobooks wherever and whenever you please.