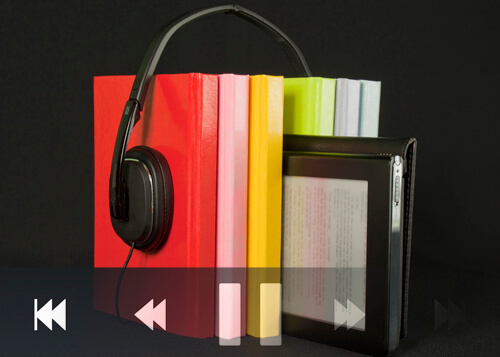 There are times when we want to change the narration speed of Audible audiobooks such as if we have too many books to listen in a short time or we simply want to ingest the knowledge in a faster rate. I was so surprised to see how fast the people around me to listen to Audible audiobooks until I find the trick to speed up the playback speed.
Actually this can be done easily by doing some settings on the players or using an Audible converter to convert audible audiobooks with a customized speed. Are you interested in adjusting the speed of Audible audiobooks too ? Please just continue to read on in this article, I will get you covered with all the details here.
Set the Playback Speed for Audible Audiobooks
Audible files are supported to be played on a few apps like Audible Manager for computer/phone, Audible Cloud Player, Windows Media Player, iTunes, but only Audible mobile version and Windows Media Player come with the options to adjust the speed.
Audible for phone: Go to the Player screen of the Audible app, tap the 'Narrator Speed' icon, you will find the options to choose the speed from the options 0.5x, 1x, 1.25x, 1.5x, 2x or 3x.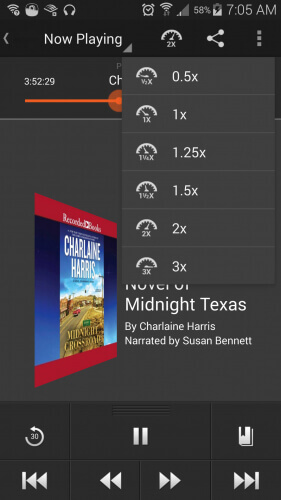 Windows Media Player: You can load your audiobooks to play on Windows Media Player first, then you can right-click on the play button and choose the playback speed, slow playback, normal playback or fast playback.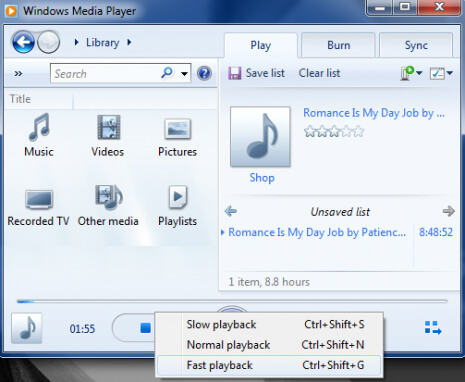 The drawback of this method is that the options are limited and sometimes the sound may be distorted due to the speed is either too slower or too faster. In addition, some players don't have the options to change the speed, so you can't enjoy the audiobooks with the same speed anywhere.
Convert Audible Audiobooks with a Customized Speed
Thanks to the third party ViWizard Audible AA/AAX Converter for Windows/Mac, you can now customize the playback speed you required for Audible files and convert them to new format of audio files. Besides, it will help you remove any DRM limitations which may reduce your listening experience such as authorizing Audible files. After converting, you can copy and paste the files to play anywhere in theory.
Easy Steps to Speed Up Audible Audiobooks
ViWizard Audible Audiobook Converter is developed with a most intuitive screen yet powerful features to convert Audible files to MP3, MKA, M4A, M4B, AAC, FLAC, AC3, M4R, split chapters, change the playback speed, volume and pitch and so on.
1

Add Audible audiobooks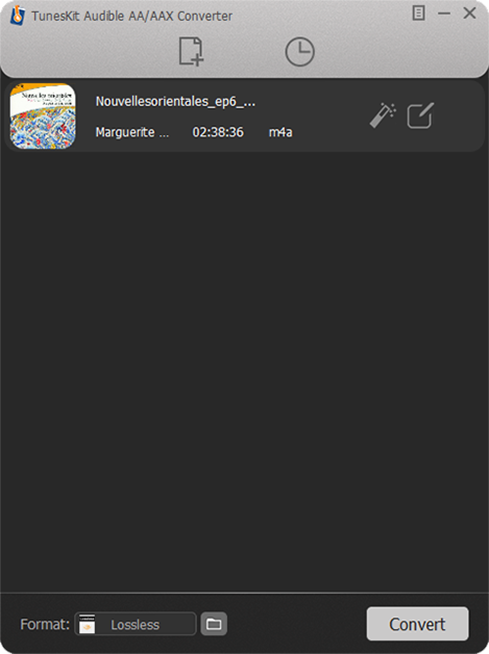 Before changing the speed, please make sure you have already downloaded Audible audiobooks to your computer first. On Windows PC, you can use the Audible Download Manager to help you download the Audible AA or AAX files. On Mac computer, you can download them into iTunes directly. When they are downloaded completely, you can drag and drop them to the ViWizard Audible AA/AAX Converter or click 'Add Files' button to import them.
2

Change narration speed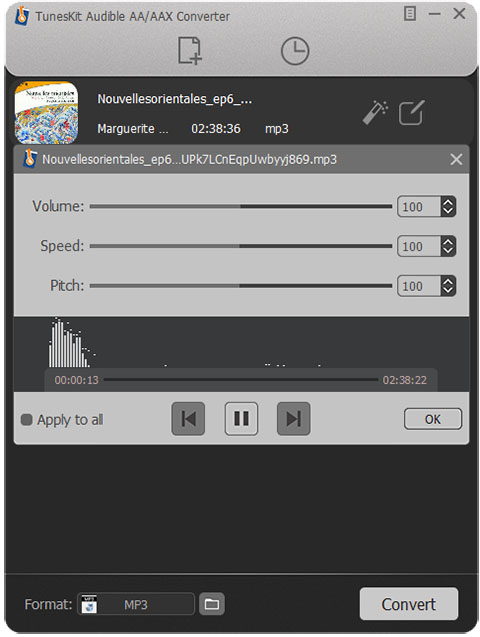 ViWizard Audible Converter offers the option to change your format, speed, volume, pitch, tags, chapters. To change the playback speed, please click the icon beside the Audible audiobooks you imported. Then you can select the right play back speed you want from 1% ~ 200%. You can either change it from the bar or input the value you desired.
3

Convert Audible files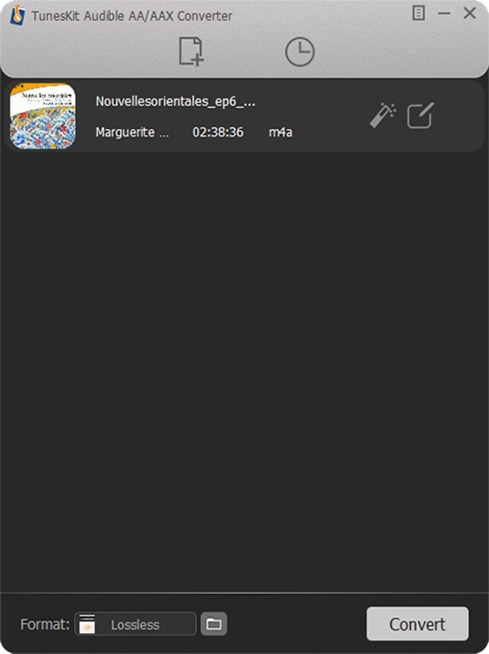 At last, you can click 'Convert' to transcode your Audible audiobooks to the new audio files with the speed you customized. By adopting the advanced lossless converting technology, the output quality will be the same as your source files and you don't need to worry about if there is any quality loss.
All in all, this Audible Converter offers a perfect way for you to change the output speed with up to 0.01 accuracy. You may listen to your Audible audiobooks at a relatively slow speed at the beginning and increase it gradually as the time goes on. I am sure it will help to improve your productivity and have more enjoyable experience in acquiring knowledge from Audible files. Giving the situation that the trial version is totally free, why not give the trial version a shoot? Hope this helps you all.