The audiobook is an increasingly popular method for reading books and one that has been popular for a quite long time now. If you are an audiobook reader, you would know how convenient it can be to stay well-read even if your routine doesn't allow you to curl up with a good book often enough. Audible, a leading audiobook service makes it easy to find your favorite plots from their library.
With the emergency of audiobooks, people prefer to choose some audiobooks to fall asleep before their bedtime. At the same time, people are willing to listen to an audiobook to improve their sleep. But someone would ask how to stop the audiobook when they fall asleep. A sleep timer will solve this problem for you. Does Audible have a sleep timer? Yes! Here we would introduce the detailed operating steps to set Audible sleep timer and an alternative method if you face Audible sleep timer not working problem.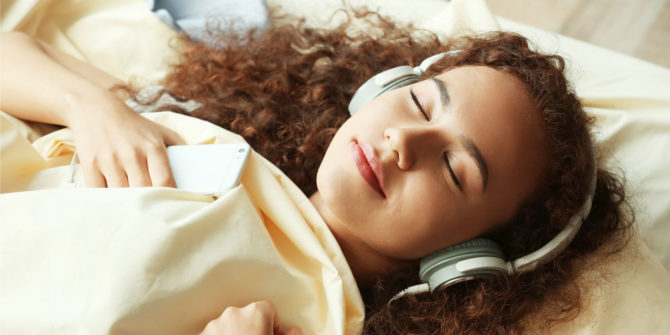 Method 1: How to Set Sleep Timer on Audible
The sleep timer is a function added to the Audible app that allows you to set a timer for when the audiobook should stop. By using this feature, you can listen to your bedtime story of choice and not have to worry about stopping the audiobook at some point in the night. This also assures you of not falling asleep with the audiobook playing and waking up to find the audiobook had finished.
Step 1. Make sure that you have Audible installed on your smartphone or Windows 10 computer. Launch Audible and tap an audiobook to open the player screen.
Step 2. You will see the Sleep Timer function below the main screen of Audible. Just tap the Sleep Time icon.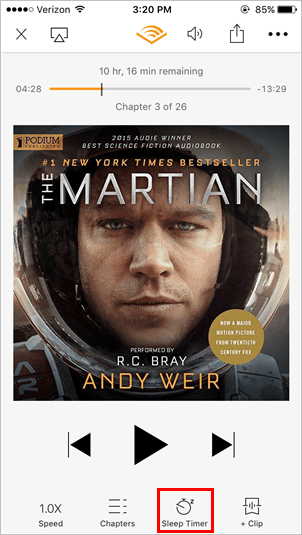 Step 3. Set your sleep timer for the desired amount of time like 8 minutes, 15 minutes, 30 minutes, or others. Once the Sleep Timer is set, the audiobook will stop playing after however long you set the time for.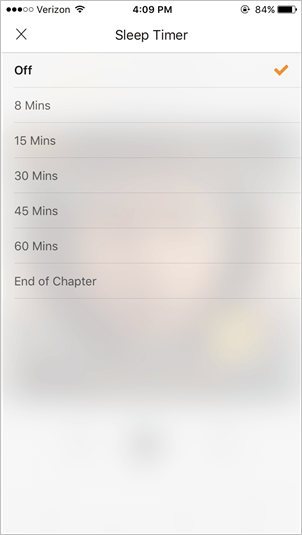 Method 2: How to Set Sleep Timer on Audible with Music Players
Sometimes, the condition of the Audible sleep timer not working would happen. In this case, the best method is to listen to these Audible audiobooks on other players. For example, you can listen to audiobooks on a music player with a sleep timer feature.
However, all Audible audiobooks are encoded in the format of AA or AAX. Therefore, Audible's content is only accessible through special proprietary closed software, including unauthorized playback prevention utilizing an Amazon username and password. To get rid of the limits on Audible books and play Audible books on other players or devices, it is especially important for converting Audible AA/AAX to plain audio formats with a helper - ViWizard Audible Audiobook Converter. This converter supports converting AA/AAX to MP3, M4B, AAC, and more formats with lossless audio quality and ID3 tags kept at a 100X faster speed.
ViWizard Audible Audiobook Converter Key Features
Losslessly convert Audible audiobooks without account authorization
Convert Audible audiobooks to common formats at 100X faster speed
Freely customize lots of parameters of output audiobooks with ID3 tags kept
Split audiobooks into small segments by time frame or by chapters
Here is how to convert Audible books with ViWizard. You can download the free trial version with the Download buttons above to have a try.
Step 1. Import Audible Audiobooks to ViWizard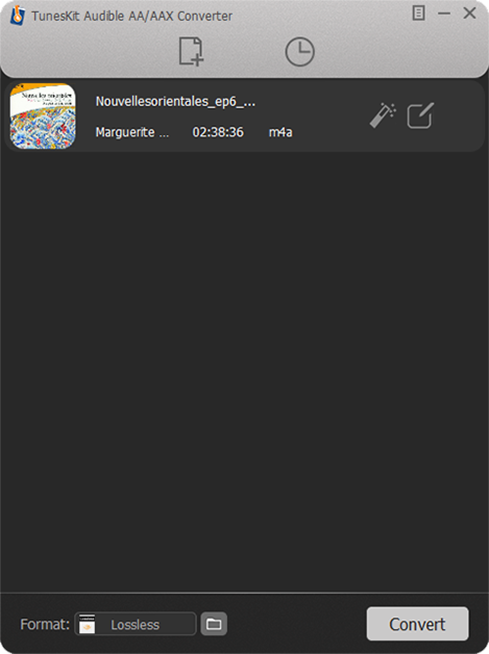 Simply launch ViWizard Audible AAX Converter. Then click the Add Files button to load Audible AAX or AA audiobooks from your computer. Or directly drag and drop your selected Audible audiobooks to the main screen of the software. A ton of Audible audiobooks can be added to the converter once for batch conversion.
Step 2. Configure the Output Format of Audiobooks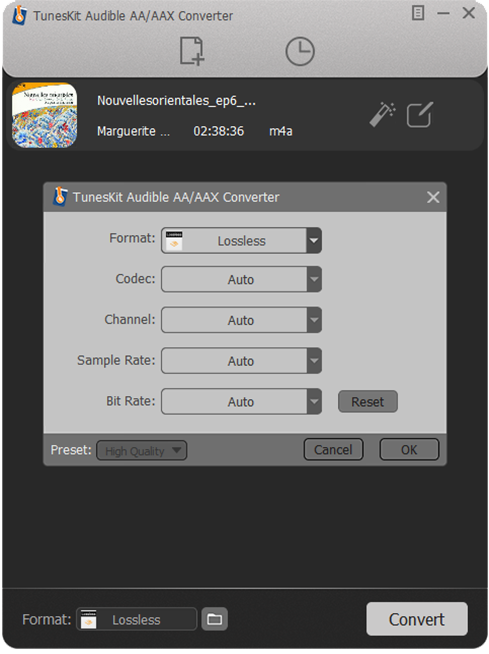 After your selected Audible audiobooks are imported into the converter, just click the Format panel at the bottom left of the main screen and choose the output format from the pop-up window. The default output format is lossless which will generate audiobook files without touching the original audio tracks at all.
Step 3. Edit and Convert Audible Books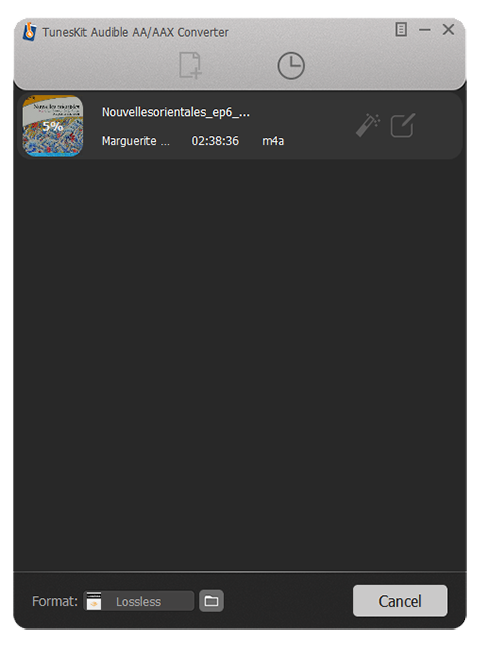 Before starting the conversion, click the Edit icon listed in each column of the audiobook file to split the audiobook into several small files via chapter or time frame. Then tap the Convert button to start converting AAX or AA to M4B or other formats at up to 100X faster speed. After the conversion, just bring the converted audiobooks to a music player and set sleep timer on Audible books.
How to Set Timer on Audible Books with Another Player
When it comes to music players with a sleep timer feature, Spotify might be a good option. Here we will take Spotify as an example to tell you how to set Audible sleep timer on these players. You can also set sleep timer on Audible books with Apple Music or other players you use. At the very beginning, you need to add these audiobooks to Spotify.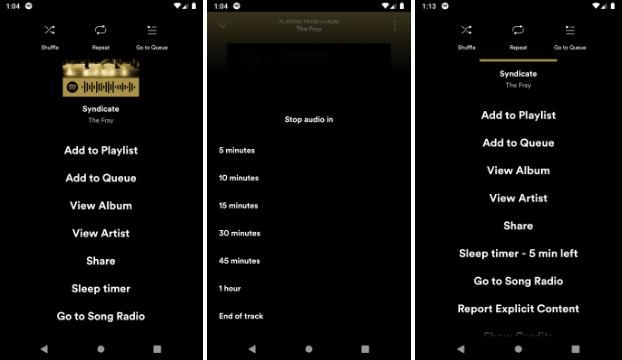 Step 1. On the Spotify app on a computer, go to Settings > Local Files and switch Show Local Files on. Click ADD A SOURCE to select the audiobooks folder. Then sync these audios to your phone if you want to listen to them on your phone.
Step 2. Launch Spotify and log in to it on your phone. Select the audiobook and tap the 3-dots button.
Step 3. Tap the Sleep timer button and choose a time limit. You have set Audible sleep timer with Spotify app.
Additional Tip: Combine Audible Sleep Collection with Sleep Timer
Audible Sleep Collection is a collection of audio experiences designed by Audible to help users get a better sleep experience. There are 8 categories in Audible Sleep Collection: Meditations, Bedtime Stories, Soundscapes, Sound Baths, ASMR, Sleep Reflections, Sleep Mornings, Sleep 101s. It is a part of the Plus Catalog and can be accessed by Audible Plus and Audible Premium Plus memberships. You can access Audible Sleep Collection with any devices that are compatible with Audible. Here is how you can listen to Audible Sleep Collection.
Step 1. Sign in to your Audible account. Go to the Sleep Collection page(audible.com/ep/sleep).
Step 2. Select the title you want to listen to and click the Add to Library button.
Step 3. You can use the Audible sleep timer for Audible Sleep Collection, to make your sleep even better.