"Is there a way to automatically turn Spotify off after some time? If not, is there any official wish-list thread – so I could make Spotify stop playing music after some time? Reason is very simple – I tend to play music when going to sleep, and it would be great if it stopped after some time, to avoid playing all night long into the morning." – from the Spotify Community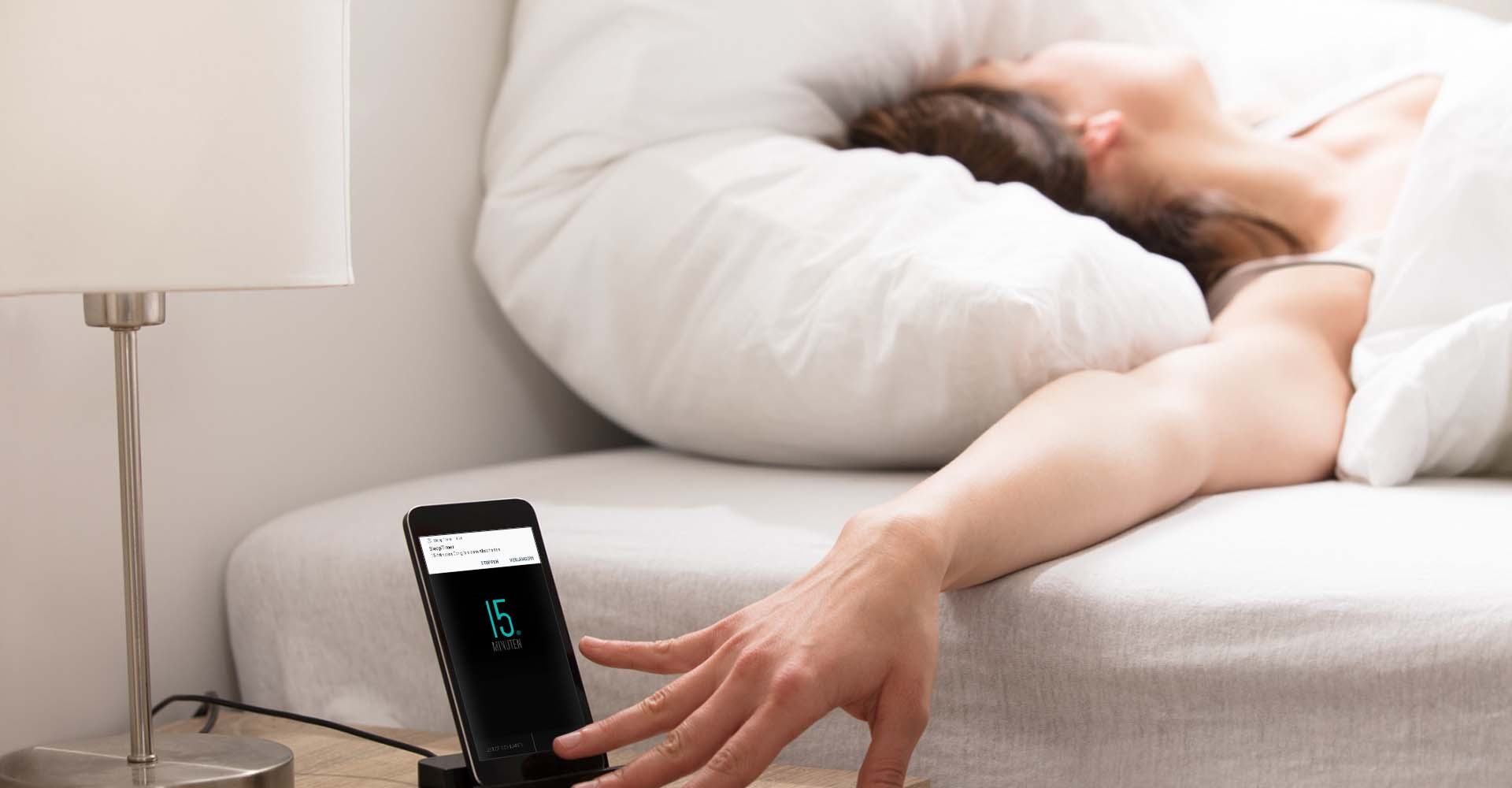 Spotify did the unthinkable - they had added a highly requested feature from users - a sleep timer. The feature is now available on Spotify for Android and iPhone. As you'd expect, this feature stops music playback after a set amount of time has passed, a handy option for those who like to fall asleep while listening to their favorite tracks. The feature's addition shouldn't come as much of a surprise, though. What's more, we're here to talk about Spotify sleep timer and introduce how to set sleep timer on Spotify across your devices.
How to Set Sleep Timer for Spotify on Android
Spotify is finally adding a built-in sleep timer for their users when they are listening to songs before bed. The sleep timer feature is coming first on Android. It means when you go to bed, you can start listening to an album or a playlist and stop playing them with the support of the sleep timer after a certain duration.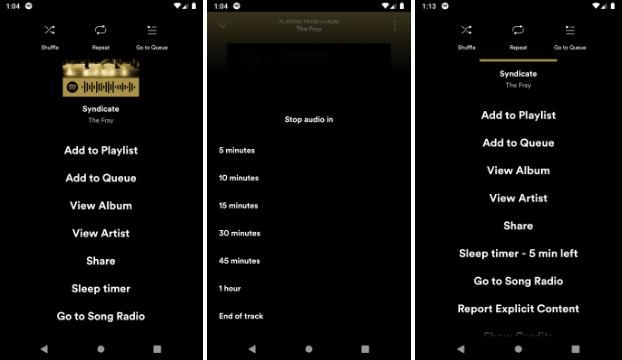 Step 1. Make sure that you have install the lasted Spotify on your Android phone and launch it.
Step 2. Play any track or playlist you want to hear and tap on the overflow icon on the top right of the Now Playing screen on Spotify.
Step 3. Scroll down to find Sleep Timer and tap it then a pop-up window appears, prompting you to select a time to stop playing.
Step 4. Choose between 5, 10, 15, 30, 45, and 60 minutes, or until the end of the currently playing track.
Now your Spotify sleep mode will be set, and the countdown will show up in the same overflow menu. You'll see sleep timer like in the picture above. When the time has elapsed, the music stops.
How to Turn on Sleep Timer on Spotify iPhone
As we talk about, the sleep timer feature is first available for Android for the time being, and it's now offered to iOS users. Regardless, it's still great to see Spotify adding this highly requested option for users. All iOS users can simply use Spotify sleep timer on their iPhone, iPad, or iPod to stop playing their music after the timer finishes.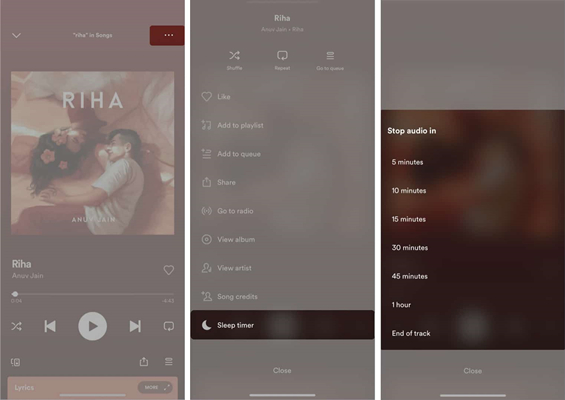 Step 1. Open the Spotify app on your iPhone and go to play an album or playlist you want to listen to.
Step 2. Tap on the Now Playing section at the bottom of the screen and then tap the three-dot at the top right.
Step 3. A list shows up on your screen for you to choose from. Scroll all the way to the bottom and tap Sleep Timer.
Step 4. You will lots of time length for you to choose from. Set the desired time length of your sleep timer and then tap on the option.
Part 3. How to Set Sleep Timer on Spotify Desktop
It's easy for you to use Spotify sleep timer on your iPhone or Android device. However, it's not compatible with the Windows and Mac versions of the Spotify app. If you want to add a sleep timer on Spotify for desktop or laptop, you may need the help of a third-party tool - ViWizard Music Converter for Spotify. It can help you download songs from Spotify to your computer without a premium account. Then you can use any other media player with the built-in sleep timer to play Spotify songs and stop playing your music after some time on your computer.

What Can ViWizard Spotify Music Converter Do?
Listen to all soundtracks on Spotify without the distraction of ads
Download all soundtracks from Spotify to MP3 or other plain formats
Get rid of all digital rights management protection from Spotify
Configure all sorts of audio parameter like channel, bit rate and more
Step 1

Upload Spotify Music to ViWizard Software

Launch ViWizard Spotify MP3 Downloader on your computer. Then you will see Spotify desktop being loaded automatically. Go to your Spotify library and choose any track or playlist you want to extract from Spotify as MP3. Drag and drop your desired items to the main screen of the converter. Alternatively, copy and paste the music link into the search box for adding songs.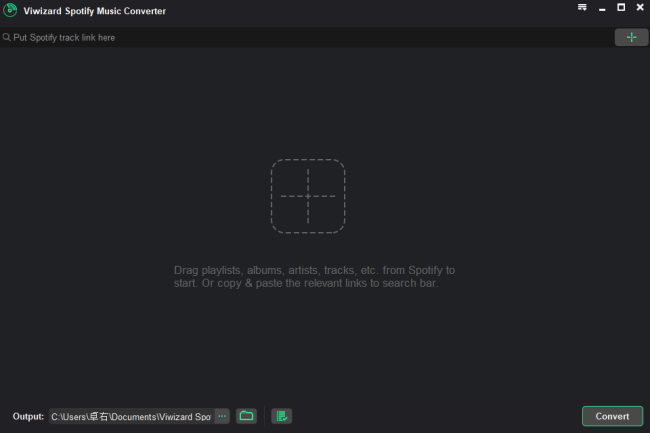 Step 2

Configure the Output Audio Parameters

After all songs or playlists from Spotify are imported successfully, navigate to top menu - Preferences where you can set MP3 as the output format. Besides, you are allowed to set the bit rate, sample rate, channel, and conversion speed. It also supports other common audio formats, including AAC, WAV, FLAC, M4A, and M4B.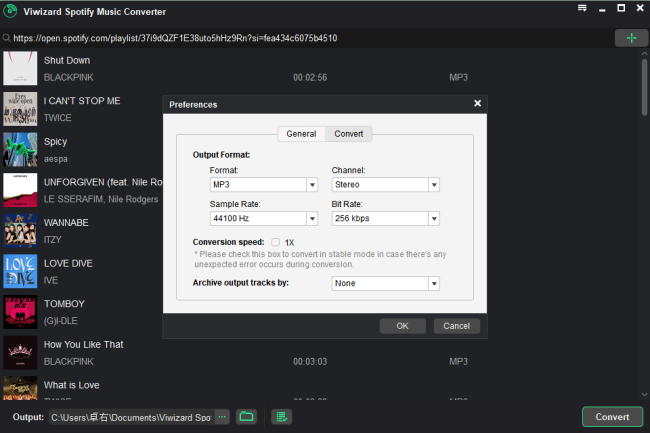 Step 3

Download Music from Spotify to MP3

When all is set up, click on the Convert button at the right corner to start converting Spotify music to MP3. When the conversion process is done, you can find all MP3 files which are extracted from Spotify by clicking the history folder. Then you can do whatever you, such as playing them through a media player with the built-in sleep timer.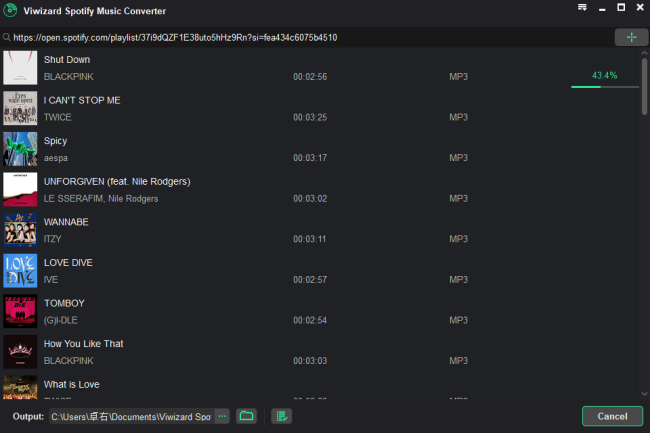 How to Set a Sleep Timer for Podcast on Spotify
Spotify is rich in music resource which has surpassed most of music streaming platforms. There are more than 65 million tracks available on Spotify. Lots of singers tend to release their official music tracks on Spotify for the first time. Except for listening to songs, you can also access a number of podcasts. Here we're going to tell you how to set a sleep timer when you are listening to podcasts on Spotify.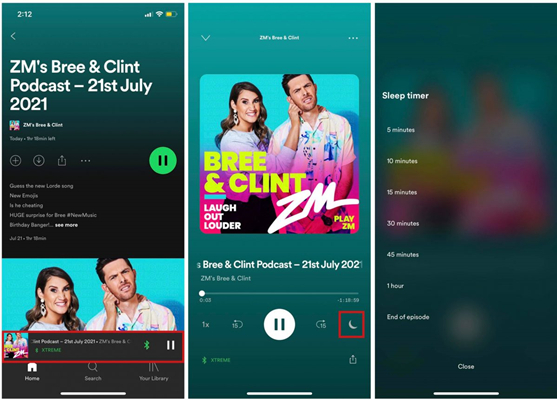 Step 1. Launch the Spotify app on your device and find the podcast you want to play.
Step 2. Go to the Now Playing screen by tapping on the podcast at the bottom of the screen.
Step 3. Tap the moon icon in the bottom right corner and you'll see the list of sleep setting time.
Step 4. Choose between 5 and 1 hour or End of Episode, and after some time, the timer sleeper will automatically close the Spotify app.
Conclusion
That's all. If you want to set Spotify sleep timer on your device, then you could quickly know the details from this post. What's more, with the assistance of ViWizard Spotify Music Converter, you can download Spotify songs and play them through other media player with the built-in sleep timer.
More Spotify Tips & Tricks