Are you tired of waking up by hearing the standard alarm clock tones every morning? If so, you can start waking up to a specific song of your favorite playlists supported by Spotify. This will surely strengthen the motivation behind waking up so early. And there are numerous ways to use Spotify as alarm. You can use the following methods to set Spotify as alarm on your iPhone or Android phone, and then have a stress-free morning or day.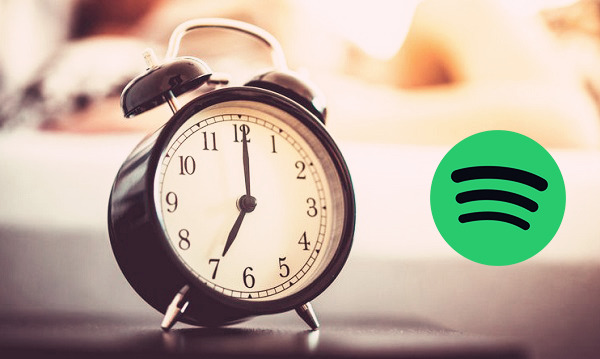 Part 1. How to Set Spotify Song as Alarm on iPhone
There is no better way to be woken by your favorite, soothing song. It's easy to set alarm for iPhone with Spotify songs or playlists. Here we would recommend Music Alarm Clock for Spotify to you. With this paid app, you can start the alarm setting process on your iPhone, and let's check out how to.
Requirements:
Account for Spotify Premium needed
Have mobile internet to load your songs

Step 1. Download and install the Alarm Clock for Spotify app on your iPhone.
Step 2. Open your Spotify account by logging in and tapping anywhere on the screen. This will open the settings.
Step 3. Pick on Alarms then click on Add so as to create a new alarm. You can settle on your favorite song or any other song that you want to play as the alarm.
Step 4. Now you can set the time. It is also recommended that you select how frequent you want the alarm to repeat.
Step 5. Go to Playlist and tap on it. Then click on Add at the right upper corner.
Step 6. Pick on the Spotify song that you want to set as your iPhone alarm. Tap on Done to complete the alarm setting process.
It doesn't matter how long your alarm will ring. What matters is that you are listening to your favorite tunes at the right time. To continue enjoying your favorite selection, you can tap 'continue playing' button to keep Spotify playing even after switching off your alarm. Your mornings are never going to be the same again given that you wake up to a soothing music.
Part 2. How to Set Spotify Music as Alarm for Android
To set Spotify music as alarm on the Android phone, there are two programs available for you, respectively SpotOn and Google Clock App. With the two alarm clock apps, you can easily enjoy Spotify soundtrack alarms every morning. You can download them from the Google Play Store and then follow the below steps to set a music alarm.
2.1 Set Spotify as Alarm on Android with SpotOn
Setting an alarm using Spotify has been made easier with various apps that are currently available. One such app is SpotOn, which works best on Android devices. Besides having a simple interface, SpotOn is slowly gaining rise among Android users. These steps are all you need to Spotify as Android alarm.
Requirements:
Account for Spotify Premium needed
Leave the phone with Internet connection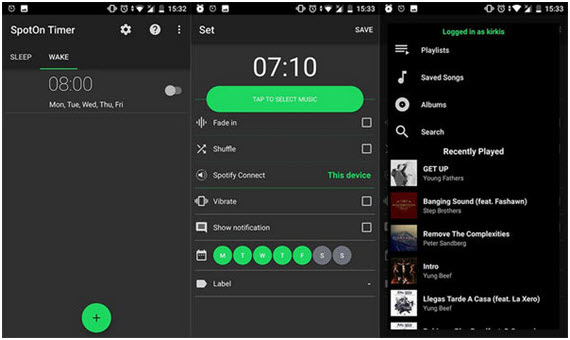 Step 1. Download and install the SpotOn app on your Android phone.
Step 2. Sign in to your Premium Spotify account.
Step 3. Tap on WAKE tab in order to create a new alarm.
Step 4. While at the account, you need to set the particular time that you need your alarm to produce sound.
Step 5. Tap on the TAP TO SELECT MUSIC button. Remember you are free to choose a playlist or album.
There are also some other effects that you can incorporate as you use Spotify songs as alarm. These include adding a fade in effect, shuffling your songs or letting the alarm vibrate as well.
2.2 Set Spotify as Android Alarm with Google Clock App
Google Clock app is also available for the same purpose. This is simple and doable because the support of Spotify soundtrack alarms is a new feature on Google Clock. So, you can set any song from Spotify as alarm for Android devices with a Premium account. But free users will have random tracks that will be automatically generated.
Requirements:
Account for Spotify needed
Have mobile internet to load your song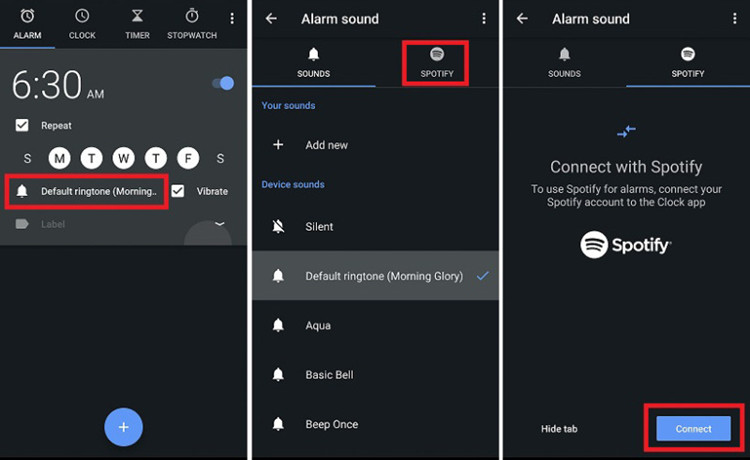 Step 1. Start by opening the Google Clock application, and then click on any alarm of your choice to edit. Or alternatively, you can click on a + icon to create a new alarm.
Step 2. Go to the Sound icon and click on it. You will then be redirected to a Spotify tab that you need to tap.
Step 3. For the first timers, you have to connect to your Spotify account. Do this by simply tapping on the connect icon to continue.
Step 4. Once you have linked Spotify account to Google Clock, you can then select an album or playlist from your recently played tracks. Just browse from your Spotify catalog of music and search for the songs of choice. A song that soothes your heart and not the normal ugly tones that wakes you up every day.
Note: If you are using the free account of Spotify, you are highly suggested to follow the 3rd method below which will enable you to select any Spotify track as you wish as alarm on your phone.
Part 3. Ultimate Solution to Set Spotify as Alarm on iPhone & Android
No matter whether you are using iPhone or Android phone, you can set Spotify song as alarm in a much easier way. That is, using a third-party audio converting tool like ViWizard Spotify Music Downloader to download Spotify songs and playlists offline so that you can directly transfer them to your phone as alarm.
Why Spotify music cannot be set as an alarm on your device directly? This is because Spotify songs are protected by Digital Rights Management — a technology that prevents you from using Spotify music freely on non-approved devices. Therefore, in order to break the limit for using Spotify as alarm easily, you need to remove DRM from Spotify first. And that's what ViWizard Spotify Music Downloader will do for you.

ViWizard Spotify Music Converter Key Features
Download Spotify playlists and songs easily
Convert Spotify songs to MP3, WAV, FLAC, AAC, etc.
Preserve lossless audio quality and ID3 tags
Download Spotify tracks at up to 5X faster speed
3.1 Download Spotify soundtracks via ViWizard program
Step 1

Add Spotify songs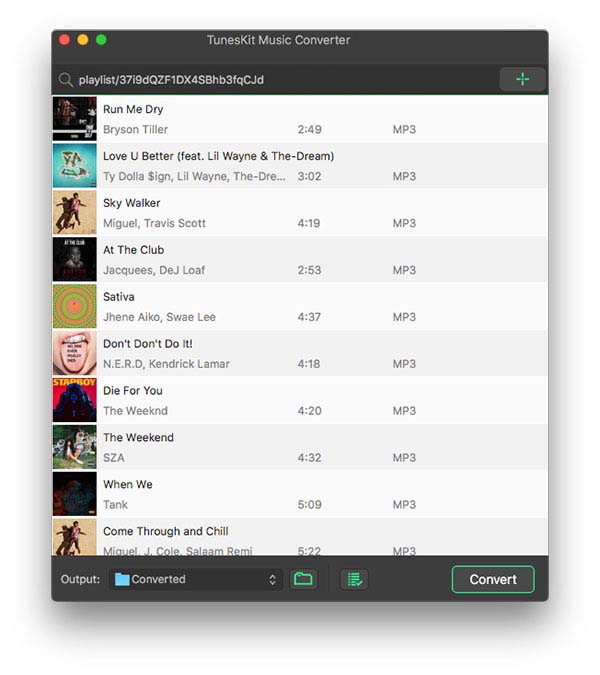 Open ViWizard Music Converter for Spotify, then directly drag any track or album from Spotify app and drop the files into ViWizard downloading screen. Or in the other way, you can paste the URL of the Spotify songs or albums to the search bar and click OK to locate the songs.
Step 2

Set output format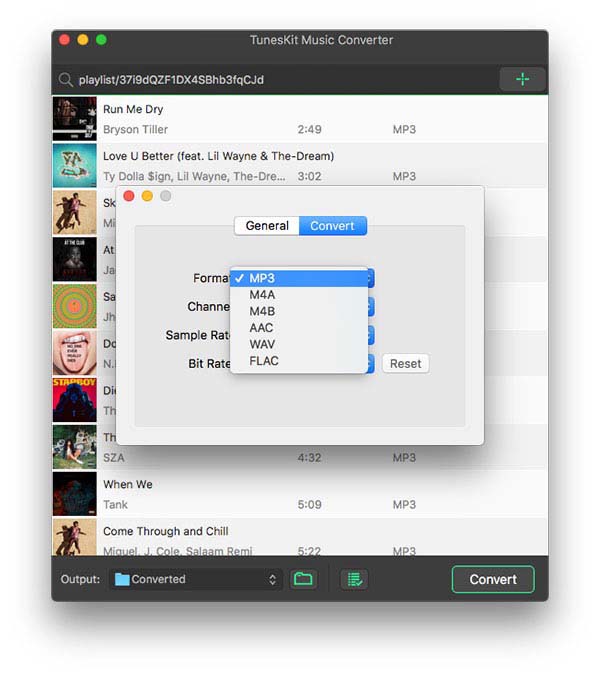 Simply click the menu bar and choose Preferences to select the output format, adjust the bit rate, channel, sample rate, etc.
Step 3

Download Spotify songs offline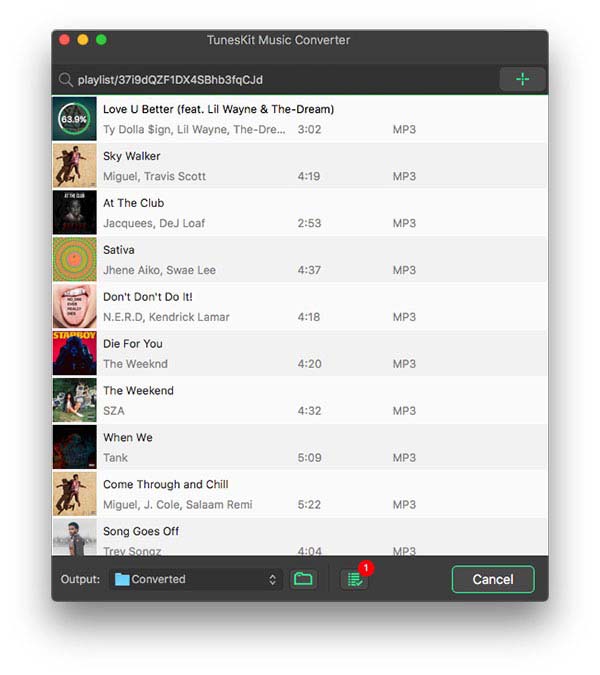 Now click Convert button at the bottom right and the program will start to download and convert your Spotify tracks to common formats at up to 5× faster speed.
3.2 Set Spotify soundtracks as alarm for iPhone & Android
After downloading completed, you can find the offline songs from history folder. Next, you may sync Spotify songs to iPhone via iTunes or transfer them to Android with USB cable. Then let's see how to use Spotify songs as alarm on your iPhone or Android phone.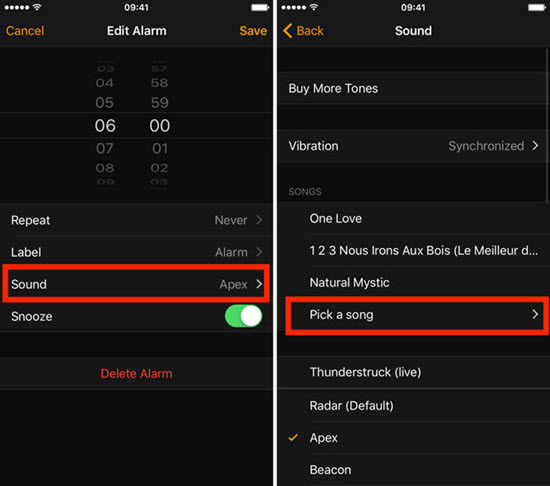 1) Open the Clock app on your iPhone then tap the Alarm tab.
2) Tap +(plus) button to set up an alarm then set the time.
3) Choose the Sound option then tap Pick a song to select a Spotify song you sync.
4) Tap the song, then go back and tap Save to confirm your setting.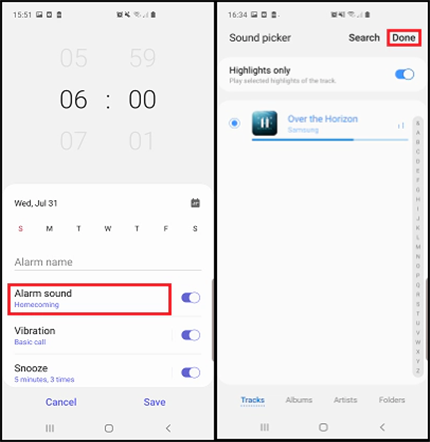 1) Launch the Clock app on your Android phone then tap the Alarm tab.
2) Tap +(plus) button to add an alarm and choose the time.
3) Tap the Download arrow then browse Spotify songs you want to set.
4) Now tap Add new > Your Sound file to set Spotify song as alarm.
More Spotify Tips & Tricks

Matt Smith is an amateur writer engaged in ViWizard in 2013. He is a movie lover who write a lot of movie reviews for many websites and blogs.