When making a video slideshow, great background music will always bring a sparkle to it. And when it comes to the most renowned provider of the hottest background music, Spotify definitely deserves the name. However, since all the songs from Spotify are licensed for use within the application only, it's impossible to directly add music from Spotify to video editors like iMovie or InShot for further editing.
It's easy to find a great video editor but you cannot use Spotify music with any video editing software. As Spotify is a subscription-based streaming music service, you can listen to music online or offline. But all the music from Spotify is protected by digital rights management. The only method to make Spotify music playable is to remove DRM from Spotify and convert Spotify music to the format compatible with the video editor.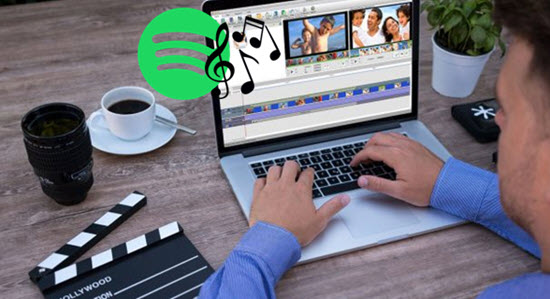 In other words, to make Spotify songs editable with video editors and add music from Spotify to video as background music, DRM removal software for Spotify could be the key to solve the problem of adding Spotify music to video. Here we'll introduce the most reliable method to help you download music from Spotify for video, as well as the step-by-step guide to add Spotify music to video with various video editing tools.
Part 1.

How Can I Add Spotify Music to My Video?

To seamlessly incorporate a Spotify song into your video project, you'll need to obtain it in a format compatible with video editing software like Adobe Premiere Pro or iMovie. Since Spotify songs are encrypted, they require conversion into a compatible format, such as MP3. This is where ViWizard Spotify Music Converter steps in, offering you an essential and versatile tool for achieving this transformation.
Why Choose ViWizard Spotify Music Converter?
ViWizard Spotify Music Converter is a dedicated software program designed to extra audio from Spotify. With ViWizard, you're not limited to just MP3; you can convert Spotify songs into various commonly used formats, including M4A, M4B, WAV, AAC, and FLAC. While some video-editing software with Spotify integration may offer only a limited selection of tracks, you can choose from a wide range of songs, playlists, podcasts, and audiobooks originally from Spotify's vast music library.

Key Features of ViWizard Spotify Music Converter
Free Trial
Free Trial
* Security verified. 5, 481,347 people have downloaded it.
Download Spotify songs, albums, playlists, podcasts, audiobooks
Convert Spotify music to lossless MP3, AAC, FLAC, WAV, M4A, M4B
Support playing offline Spotify music on any device at any time
Compatible with Windows and macOS, as well as, the latest Spotify
ViWizard lets you customize your music tracks by adjusting output settings. You can fine-tune parameters such as sample rate, bit rate, channel, and codec. The best part? ViWizard ensures that your downloaded Spotify music maintains its original audio quality. By choosing ViWizard, you equid yourself with the tools needed to create videos that resonate with your audience and leave a lasting impact.
Note: It's important to emphasize that the downloaded music using ViWizard is allowed for personal use only and should not be used for any commercial or public purposes without proper licensing or permission.
Part 2.

How to Download Music from Spotify on PC/Mac

From here you can set the output format for the compatibility with the video-editing software, and set sample rate, bit rate, channel, codec as you like.
Step 1

Drag Spotify Songs to ViWizard Spotify Music Converter

After launching ViWizard Spotify Music Converter, wait till the Spotify app is completely loaded. Then login your Spotify account and browse the store to locate the songs you want to add into video and then drag the tracks or albums into ViWizard main window.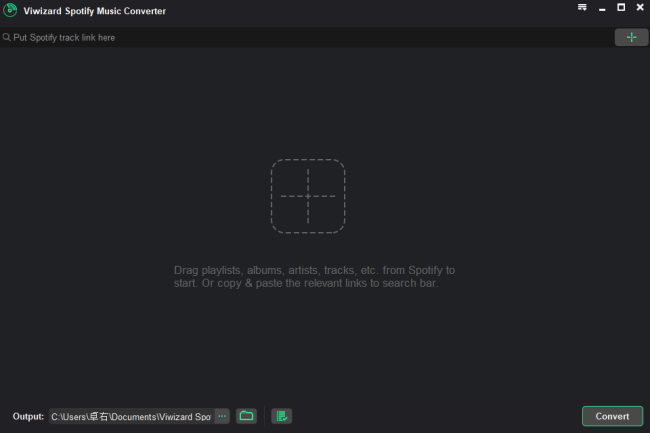 Step 2

Choose MP3 as the Output Audio Format

Once the tracks are imported into the program, simply move to the menu bar and select 'Preferences'. There you can set output format, audio channel, codec, bit rate and sample rate flexibly. In order to make the music files recognizable by most video editors, you are highly suggested to select MP3 as output format.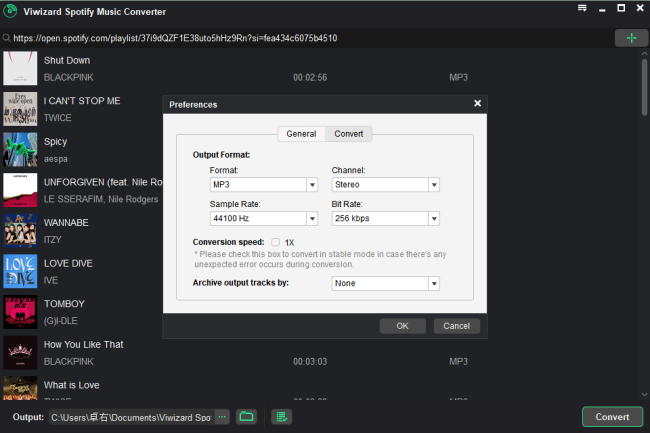 Step 3

Download and Convert Spotify Songs to MP3

Now you can initiate the conversion process by clicking the 'Convert' button of ViWizard Spotify Music Converter. Then it will begin to remove DRM and convert the Spotify songs to DRM-free MP3 as expected. After the conversion, you can find the converted music files from the history folder by clicking the Converted icon.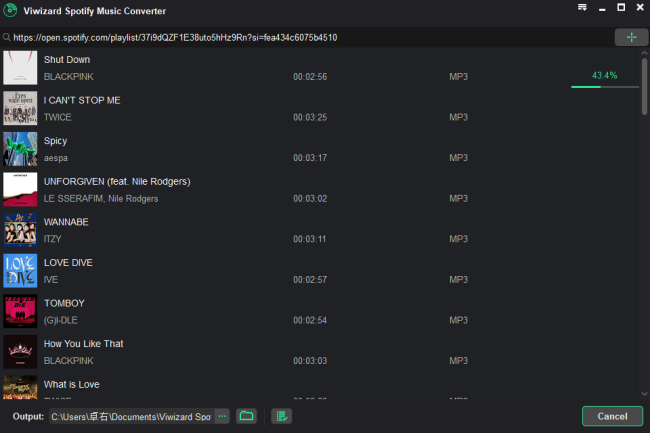 Till now, you're about halfway done. The rest job is to add the downloaded Spotify tracks into video editor for editing. There are many video editing software you can choose. Among them, iMovie, Adobe Premiere Pro, and TunesKit AceMovi are good options for both video engineers and beginners. Here we'll show you how to add music to a video from Spotify on your Mac or PC.
Part 3.

How to Add Spotify Music to Video on PC/Mac

No matter amateur or professional videographers can film, edit, and publish their cinematic creations with various video editing tools. There are plenty of video editors available for your computers and mobile devices. iMovie, Lightworks, and Premiere Pro are good options for the editing of videos on the computer.
1. iMovie
iMovie is a user-friendly video editing software widely accessible to Mac users, iPhone, iPad, and iPod users. Here's how to add Spotify music to your iMovie project:
In the iMovie app on your Mac, create a new project or open an existing one. Then, select "Audio" above the browser.

In the sidebar, choose "Music" or "iTunes" to access your music library. The selected item's contents will appear as a list in the browser.

Browse to locate the Spotify music track you wish to add to your project. You can click the "Play" button next to each song to preview it before adding.

When you've found a Spotify song you want, simply drag it from the media browser to the timeline. From there, you can trim and edit the track you've added to the iMovie timeline.
2. Premiere Pro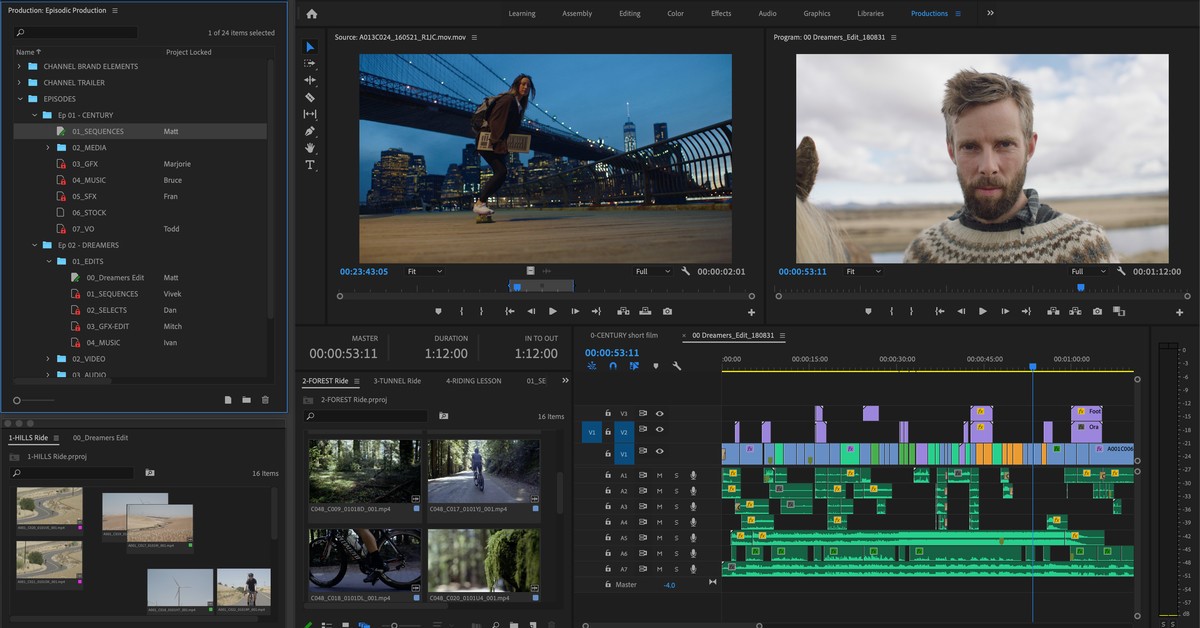 Adobe Premiere Pro is a powerful, timeline-based video editing software used for professional video editing and trimming. Here's how to add music to your video in Premiere Pro:
With your project open in Premiere Pro, select "Audio" at the top of the screen. Alternatively, you can choose "Window" > "Workspaces" > "Audio" to access your Spotify music.
Choose "Window" > "Media Browser" to open the Media Browser panel and browse your Spotify audio files.
Click on the file you wish to add and then select "Import" to include it in the Project panel.
Select "Window" > "Project" to reveal the Project panel, then choose the audio file you've added.
Double-click the audio file to open it in the Source panel, and drag it to the sequence in the Timeline panel.
3. AceMovi Video Editor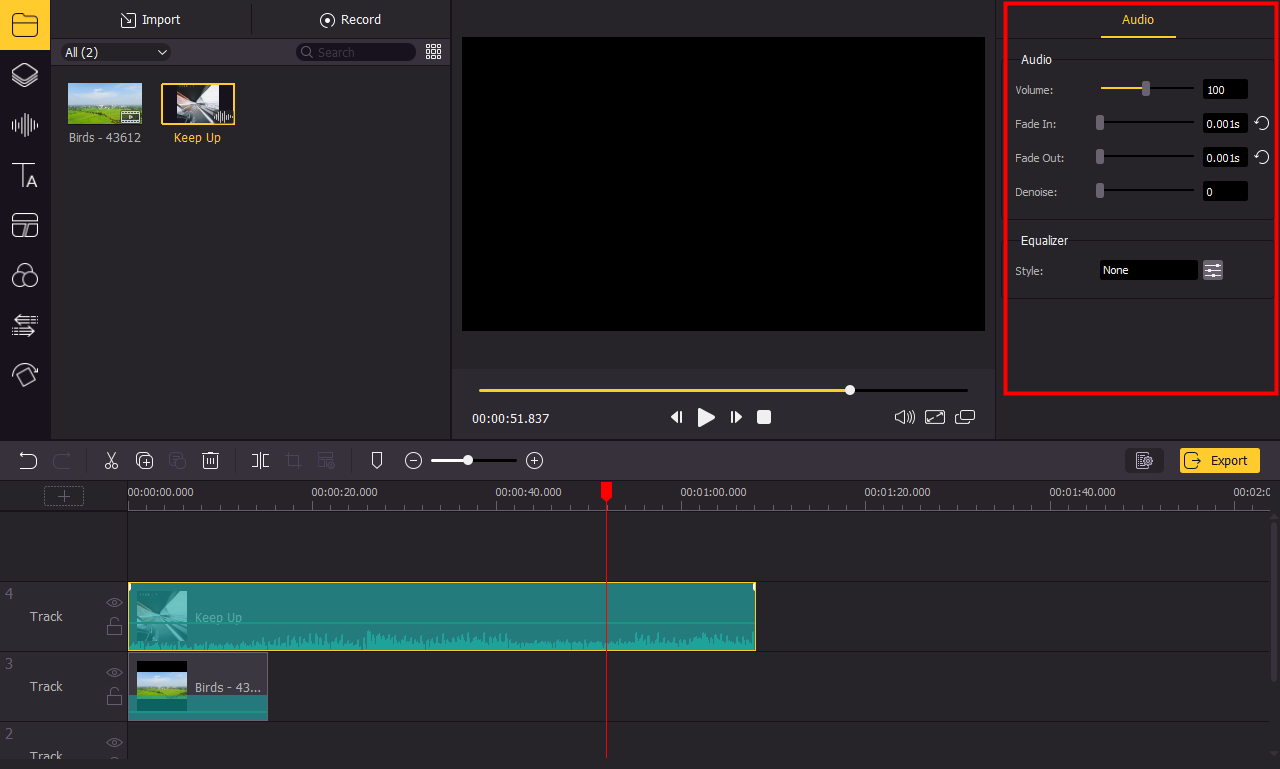 AceMovi Video Editor is a versatile and straightforward video editing software suitable for videographers of all levels. You can easily add Spotify music to your video and customize it according to your needs. Here's how:
Start by downloading and installing TunesKit AceMovi on your Mac or PC computer.
Open the program and create a new project on your desktop.
Click the "+" button or "Import" button to add Spotify songs to AceMovi. Alternatively, you can import the songs into the media bin by dragging and dropping them.
Drag and drop the selected track to the timeline.
Click on the audio clip and adjust it as needed, including the volume, fade-in, or fade-out effects.
Part 4.

How to Add Spotify Music to Video on iPhone/Android

You can use InShot, KineMaster, GoPro Quik, and so on to edit videos directly on your phone after recording interesting things.
1. InShot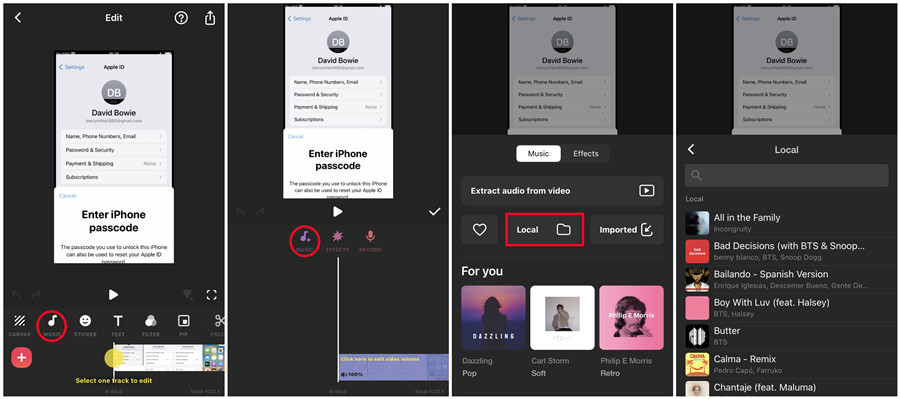 InShot is a powerful video editor with professional features, including the ability to add music to your videos. Here's how to do it:
Open InShot and select the "Video" menu to start a new project.
Choose and add the video to which you want to add background music from your device's library.
At the bottom of the screen, tap the "Music" menu and then select "Tracks."
Go to the "My Music" tab and browse your Spotify music files.
Tap "Use" next to each track you want to add to your video.
2. KineMaster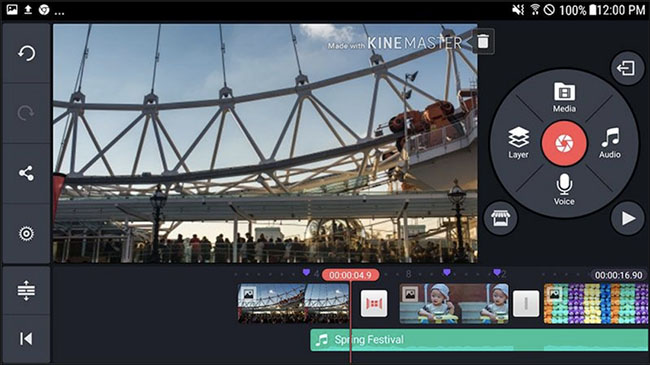 KineMaster is a versatile video editing app available for both iOS and Android devices, offering a wide range of editing tools and features. To add music to your video using KineMaster, follow these steps:
Open the KineMaster app on your mobile device.
Create a new project or open an existing one, and then add the video to which you want to add background music.
Locate the "Audio" or "Media" option in the app's toolbar (the exact name may vary depending on the version). Tap it to access your media files.
Choose "My Music" or "Local" to browse your Spotify music files on your device.
Select the specific music track you want to add, and it will be imported into the app.
After adding the music to your project, you can easily adjust its position and duration to match your video by dragging and trimming it as needed.
3. GoPro Quik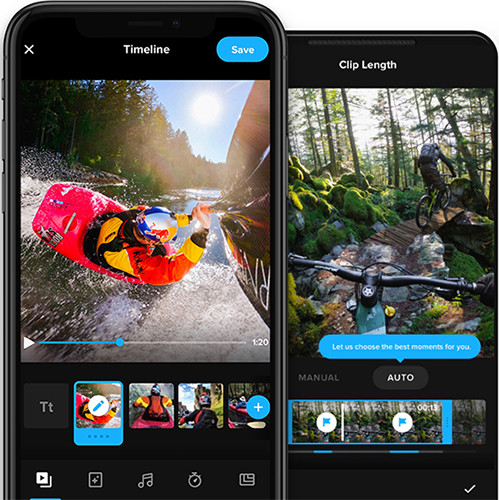 GoPro Quik is a mobile editing app known for its editing tools and the ability to add your personal music to videos. Here's how you can add music to your videos with GoPro Quik:
Open the GoPro Quik app on your mobile device.
Tap "Add" to create a new project and then add the video you want to enhance with music.
Located in the bottom toolbar, tap the "Music" menu.
Choose "My Music" and find the Spotify music files you've converted in your collection.
Select the specific track you want to add, and it will be seamlessly integrated into your video.
Part 5.

Resources for Adding Spotify Music to Your Video

Now that you've become adept at seamlessly integrating Spotify music into your video projects using the ViWizard Spotify Music Converter, it's time to broaden your horizons. We've extensively explored a variety of popular video editing tools to ensure you have a rich array of resources at your fingertips. With the power of Spotify music enhancing your videos, you're poised to craft compelling video stories for your social platforms. Here, you'll find a selection of additional guides and tools to assist you:
Add Spotify Song to Video on Computer:
Add Spotify Music to Video on Phone:
Add Spotify to Video Story on Social Platforms:
Conclusion
And voila! From the above method, you would know how to add music from Spotify to a video. After learning the process, it should be a quick and reliable method. If you want to learn how to cut music from Spotify and use Spotify music with those video editors in detail, just go to read the related post.