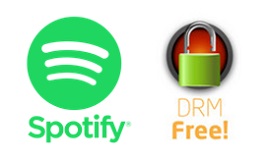 Spotify, the largest music streaming service in the world, offers the ability to access over 75 million songs for online streaming or offline listening. However, as Spotify is proprietary, all songs from Spotify are protected by digital rights management. Thus, the playback of Spotify music is restricted within the Spotify app.
In other words, it's impossible to listen to Spotify songs on those devices not compatible with Spotify, including MP3 players, Switch, CD burners, and more. To break the limit so as to play offline Spotify songs, removing DRM from Spotify is imperative. Here is the best Spotify DRM removal tool, as well as, the easy guide to remove DRM from Spotify efficiently.
Part 1.

Can I Remove DRM from Spotify?

If you've ever wished to liberate your Spotify music from the constraints of Digital Rights Management (DRM) and wondered if it's possible, the answer is yes. While Spotify applies DRM to protect the rights of content creators, there are legitimate tools available that can help you remove DRM, allowing you to enjoy your music more freely:
Top 5 Spotify DRM-Removal Tools:
Before proceeding with any DRM removal tool, it's crucial to act responsibly and adhere to Spotify's terms of service and applicable laws. These tools are intended for personal use only, such as creating backups or enjoying music on non-supported devices. Now, let's explore the possibilities of a DRM-free Spotify experience together!
Part 2.

How to Remove DRM from Spotify Music/Podcasts/Audiobooks [PC/Mac]

It's easy to remove DRM from Spotify, and you can hand this task to a reliable DRM removal tool for Spotify contents and get it done instantly. ViWizard Spotify Music Converter is recognized as one of the most effective and user-friendly tools for removing DRM from Spotify music. Here's why it stands out:
It efficiently removes DRM from various Spotify tracks, allowing you to enjoy your music, podcast episodes/shows and audiobooks without restrictions.
It retains the original audio quality of the Spotify tracks, ensuring that there's no compromise on sound fidelity during the DRM removal process.
It boasts a simple and intuitive interface, making it accessible to users with varying technical expertise. The straightforward design allows for a seamless DRM removal experience.
It supports various output formats, all are designed free from DRM, giving you the flexibility in choosing the format that best suits your preferences and device compatibility.
It enables batch conversion, allowing you to process multiple tracks simultaneously, saving time and effort.
Remember, the downloaded DRM-free music is strictly allowed for personal use only. ViWizard Spotify Music Converter is a tool designed to enhance your personal listening experience. Please adhere to Spotify's terms of service and use the converted content responsibly, respecting the rights of content creators. Happy listening!

Key Features of ViWizard Spotify Music Converter
Free Trial
Free Trial
* Security verified. 5, 481,347 people have downloaded it.
Download Spotify songs, albums, playlists, podcasts, audiobooks
Convert Spotify music to lossless MP3, AAC, FLAC, WAV, M4A, M4B
Support playing offline Spotify music on any device at any time
Compatible with Windows and macOS, as well as, the latest Spotify
Step 1

Add Spotify Tracks to ViWizard

Open ViWizard Spotify Music Converter and wait till the Spotify app is loaded. Then browse your music library in Spotify and locate any track, album, or playlist that you want to remove DRM from. Simply add your chosen Spotify songs to ViWizard program by drag-and-drop. Or you can copy and paste the link of the music track into the search bar on the converter.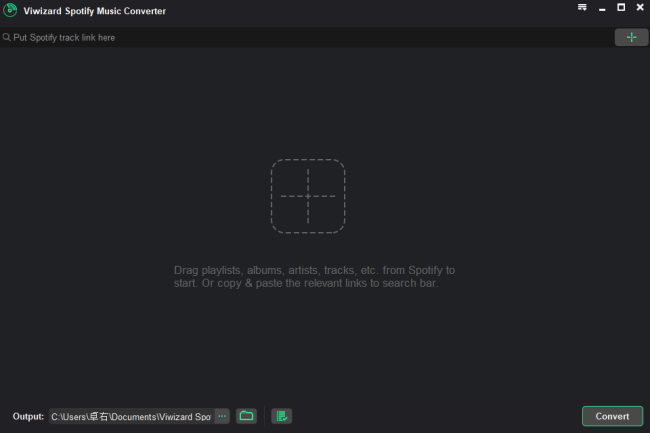 Step 2

Set the Output Profile for Spotify

After importing the Spotify songs to ViWizard, you should click the top menu > Preferences to load the output settings window, where you can select output format, set bit rate and sample rate, as well as the conversion speed. As ViWizard supports six popular audio formats, you can choose MP3. Then click the OK button to save the settings.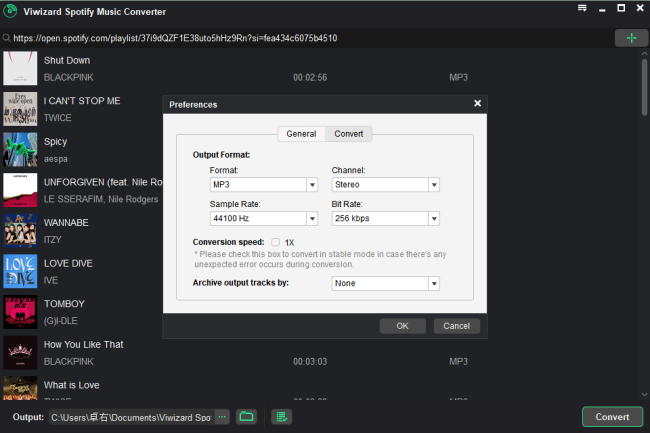 Step 3

Start DRM removal Process for Spotify

Now click the Convert button at the bottom right of the converter, and it will begin to remove Spotify DRM. All the Spotify songs will be converted from protected OGG Vorbis files to unprotected MP3 files or other DRM-free formats as you wish. After conversion, you can transfer those converted Spotify songs to other devices for playing.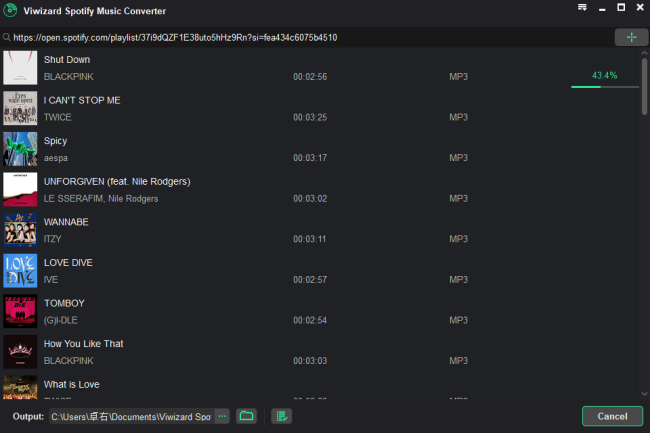 Part 3.

How to Transfer Spotify Music to Mobile without DRM [iPhone/Android]

Now that you've successfully used ViWizard Spotify Music Converter to liberate your Spotify music from DRM, the next exciting step is transferring these DRM-free tracks to your mobile device - whether you're an iPhone or Android user, we've got you covered.
For iPhone Users: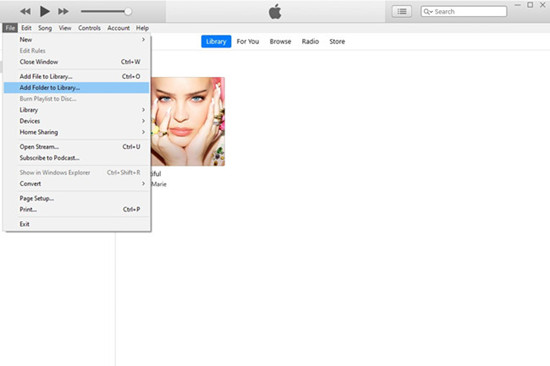 Connect your iPhone to your computer using a USB cable.
Open iTunes on your computer.
Click on the device icon in iTunes.
Navigate to the "Music" tab.
Check the "Sync Music" option.
Select the converted Spotify tracks in your local library.
Click "Apply" to start the sync process.
For Android Users: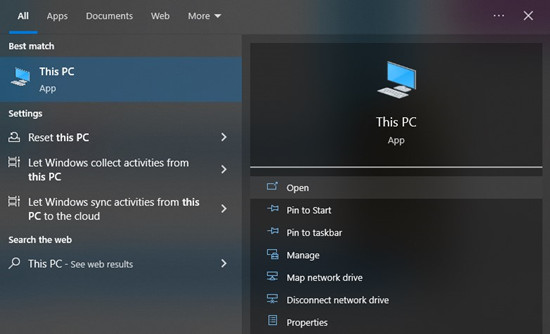 Connect your Android device to your computer via USB.
Access your Android device's file system on your computer.
Locate the "Music" or "Media" folder on your Android device.
Copy and paste the ViWizard-converted Spotify music files into the designated folder.
Part 4

FAQs about Spotify DRM

Q1: Is Spotify DRM Protected?

A1:Yes, all music available on Spotify is protected by Digital Rights Management (DRM). This means that the usage, modification, and distribution of Spotify music are controlled, and access is restricted to devices authorized by Spotify.

Q2: What Is Spotify DRM?

A2: Spotify employs Digital Rights Management (DRM) technology, a form of protection utilized by subscription-based streaming services like Spotify and Apple Music. DRM regulates the use of copyrighted digital media content, ensuring that songs acquired through Spotify cannot be easily copied or shared with non-approved devices or platforms, even for users with a Premium Plan subscription.

Q3: Why Remove Spotify DRM?

A3: The primary reason for removing Spotify DRM is compatibility. Protected Spotify OGG Vorbis files may not be compatible with certain devices, necessitating the removal of DRM for playback on non-approved devices. Additionally, removing DRM becomes crucial if you discontinue your Spotify Premium subscription, as downloaded songs will deactivate and cease to function in Offline Mode.

Q4: Is It Legal to Remove DRM from Spotify?

A4: The legal status of removing DRM from Spotify is complex and varies globally. While the use of DRM is not universally accepted, laws in some countries and regions criminalize its circumvention. Determining the legality of removing Spotify DRM is challenging, but in many places, removing DRM for personal offline use is generally supported.

However, it's essential to be cautious, as removing Spotify DRM may violate the Terms of Use agreed upon when purchasing digital content from the platform. We highly recommend that users have a clear and lawful purpose for removing DRM, such as creating local backups or playing music on non-supported devices, and emphasize the importance of using DRM removal tools responsibly and within the bounds of applicable laws and regulations.

Q5: Can Spotify DRM be removed?

A5: Yes, Spotify DRM can be removed legally by using a reliable DRM removal tool. While there are various options available, it's crucial to choose a tool that is reputable, user-friendly, and adheres to legal and ethical standards. Here we introduce either for desktop and mobile devices for this purpose.
Conclusion
The process of removing DRM from Spotify is pretty simple with the help of ViWizard Spotify Music Converter. If you are looking for a feasible way to help you remove Spotify DRM, just try it, and you'll find it out. Furthermore, you can download Spotify songs without Premium and listen to them anywhere and anytime.